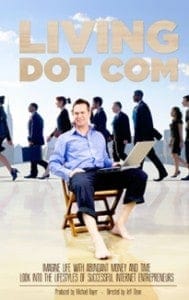 Sometimes I come across cool documentaries, and now I did –  Its a documentary about affiliate marketing & super affiliates earning millions of dollars per year.    Sounds cool right?
Let me introduce LIVING DOT COM,  a new documentary by Michael Bayer.   It sells for around $20 bucks,  so I bought it and watched it and liked it a lot.   It starts off with the real truth about the world today,   gone are the days where people were living the american dream, working their entire life for 1 corporation, or 1 factory.   Now-a-days,  only the strongest survive – ones who can think, and not just perform robot like functions.    
All those jobs got automated and outsourced to discounted labor bots in China and India, etc.     Sad reality but true – all fueled by capitalist greed, nothing is ever enough.
Living Dot Com explores this from the affiliate marketing angle and how things have shifted so much toward the age of information.    It's worth a watch,  you can buy it at the official site here.
PS: Short post, because I hate writing movie reviews.   But thought I'd share.