It has been almost 2 months since Affiliate World in Berlin where I had the chance to meet a network that has their own Cash On Delivery style offers. If you've been following my blog, I am a HUGE fan of COD offers because they are easier to convert than your typical diet/skin trials. People just give their name, and number then the call center calls them to confirm address, once they do you get paid – easy as that.
I was super thrilled when I found this network, as they have a lot of variety of unique product offerings that are licensed in Europe on the COD model.
So, as usual I signed up and gave access to one of my media buyers to do some tests with them, and let me tell you the EPC's were better than I expected, which helped increase our overall profit.
You are probably wondering, what is this network I speak off – well, if you were in Berlin, you might have seen their huge stand, they are named TerraLeads. [you can sign up here]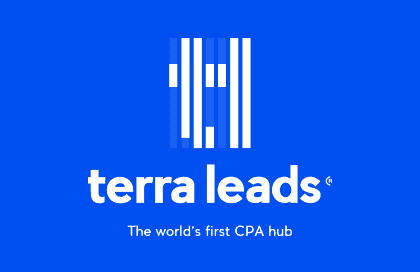 TerraLeads doesn't only produce/manufacture their own products in the health/beauty/diet/adult verticals, they also send them through rigorous testing to ensure they are EU certified. If you follow the news in the aff world, you probably heard of the crazy enforcement the FTC is doing in the USA on unlicensed products; well, they believe it's better to be safe than sorry so they spend a fortune to get their products tested, and licensed so when you promote it as an affiliate, you won't run into issues later down the road. Last thing you want is to promote unlicensed products, and be named in a lawsuit because some lady burnt her face using a cream made in who knows where. With TerraLeads this won't happen, as they only carry licensed products for you to push.
Their default offers are pretty bad ass; but there's something very special about terraleads that truly sets them apart from other COD style CPA networks.
Ready for it?
I couldn't believe this and thought is was uber cool when I heard about it… They can create your own brand, that's 100% exclusive just for you for FREE so you can promote it, and have ZERO, zilch, nada competitors!! I must agree, I haven't done this yet, we did a test run using their readily available offers; but trust me, your own private labelled offers are always money – so try it ASAP!
Enough talk, how do you get started so you can make money with terraleads?
First things first, be sure to pick your traffic source – I prefer to run our campaigns on Facebook or Google Adwords because they do a great job at keeping the fake bot traffic at a low.
After you got your traffic sorted, you'll want to grab yourself an account to the TerraLeads panel that combines a tracker, and landing page hub all into one.
PS: Make sure you put me as referral so you get approved fast; they don't approve everyone if you sign up out of the blue – so make sure to use my name!
In case you are a newbie, here are some questions that they are going to ask during the approval process (take this as a cheat sheet)
How many leads per day are you planning to send? Which geos do you run traffic in? What is the main source of your traffic? What other CPA networks do you work with already? How do you know iAmAttila? (just kidding)
After you pass the test (which you will if you prepare, or you say I referred you) then you will get an AM assigned to you, who will be available 24/7 via email/skype to help you pick the best offers to start with.
Here's a tip: make sure u get the latest EPC report over the last 7 days, and also the latest revenue report broken down by offer ID for the last 7 days… (i prefer revenue reports, because my theory holds true, the more revenue an offer has, has to validate the facts its making money else people would not push it so hard!)
Once you've got approved as an affiliate, here's what to expect..
Their interface is state of the art, they allow you to choose from existing offer, create a unique stream of offers and also generate API integration so you can create your own landing pages (my favorite, I did super well on COD offers running custom API landers, you might have seen my main stage presentation in Berlin)
Here's a screenshot of what it looks like for the curious minded..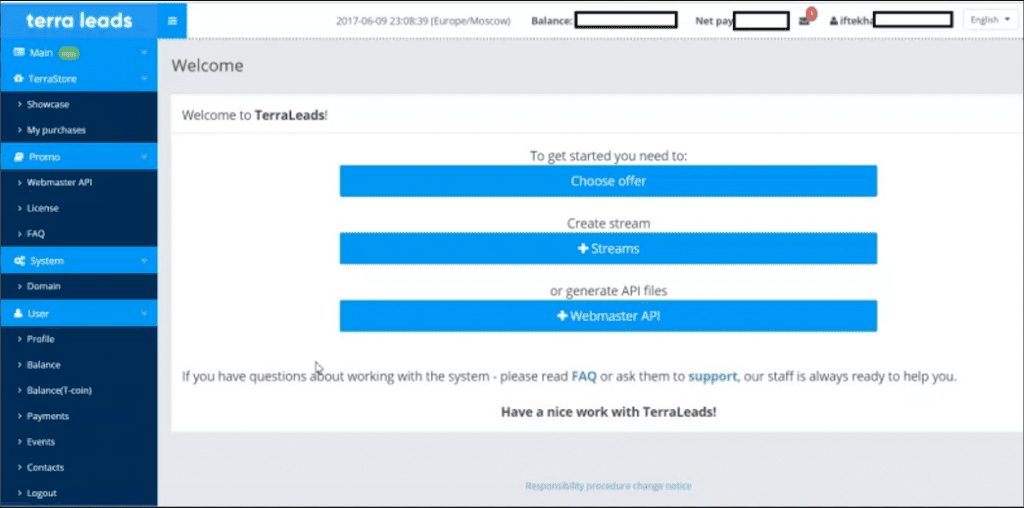 The left part contains navigation through the interface, including access to leads, list of offers, statistics data, purchases, payment lists, etc.
Their built in split testing feature truly kicks ass, you can setup real time split tests, integrate facebook pixels, as well as analytics UTM codes and even 3rd party tracker pixels/postbacks like Voluum (and others)
There's one mega difference in their affiliate panel that i never seen in any other COD networks; they actually let you see number of calls that came in, how much were approved, and what kind of comments the call center reps left and what the customers who ordered the product said about it.. you can use this intel to come up with awesome angles, no other affiliate is running – again, a golden nugget if you wan't to make $$$
Here's a screenshot of what an offer looks like when you open the stats; it's super detailed and they show cost, amount of deductions, level of approval and goods sale dynamics schedule by the geographic feature (countries).

How do you get paid? The all important question..
let me tell you a story, when i started as a media buyer, one of the things I hated is the shitty once a month aka net 30 payout a network typically puts you on when you are a new affiliate with them, after a while they might put you on weeklies.. but what if you need cash fast, because your bank roll is small?
With terra leads they have a unique system of payments, where you can request payment anytime, daily, every 2 days, 3 days, whatever you prefer. They can wire you money, pay you via paypal, paxum, e-payment service, web money – or even cash if you insist (j/k)
In conclusion, It's been two months since we've been working with TerraLeads, and I decided to write this quick post and share my experience. You should try them if you are looking for a reputable network that can make you money; it's that simple. Get your account here, and be sure to use me as your reference to get approved fast!
Cheers
-iAmAttila