It's been over two weeks since AWE ended, and what a show it was. My favorite conference of the year, every year. Barcelona is a nice city, in reality; a city that seems much bigger than it is. There's just so much people; that I checked on WikiPedia what is the population of Barcelona? And I learned it's 1.65 million people, which is actually less than my city of Budapest.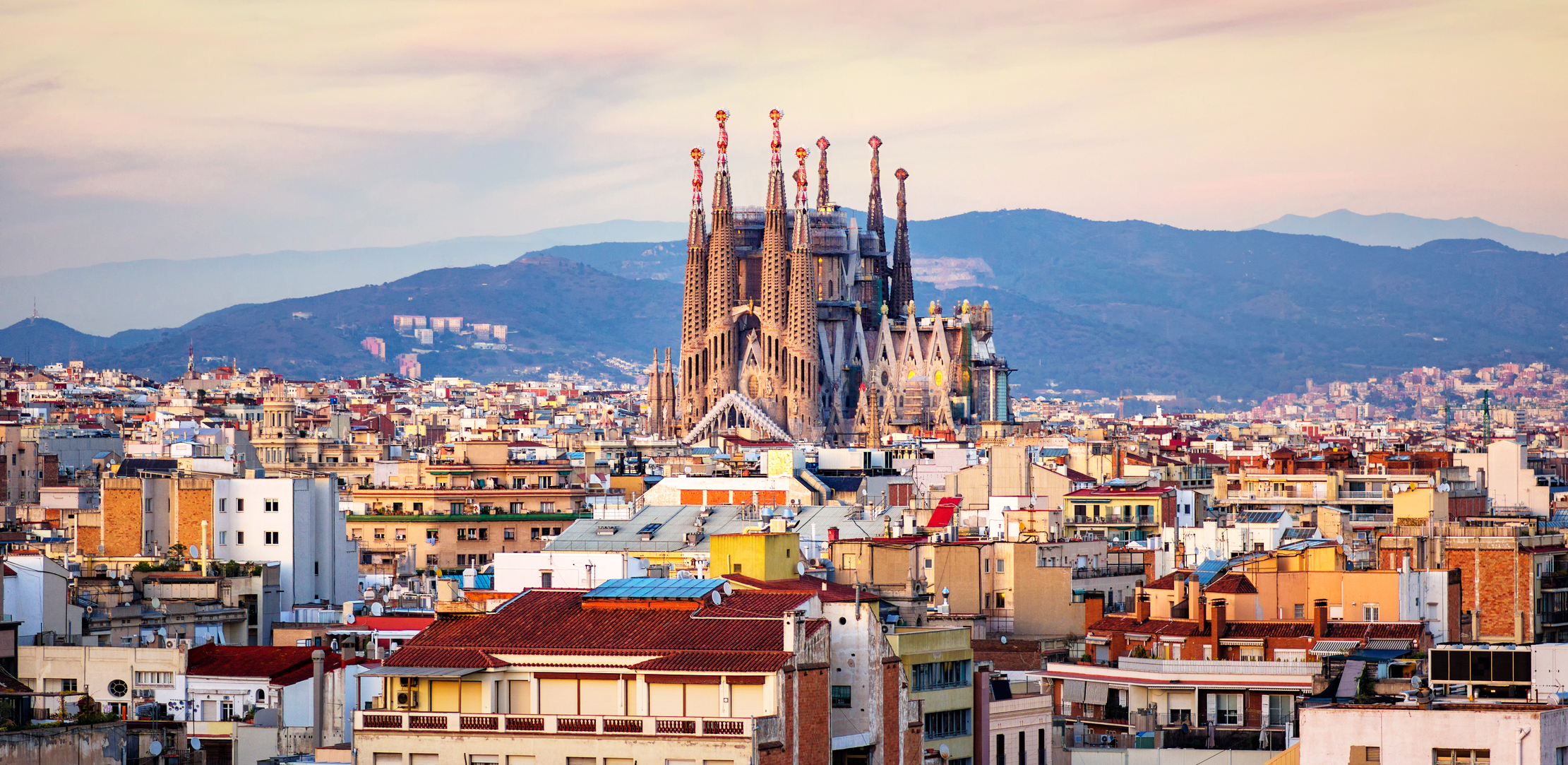 I was shocked to say the least, maybe it's the fact that it's always so hot in Barcelona, people flock to the streets and parks to get out of their warm apartments; who knows. Here in Budapest, people stay inside mostly, and visit Lake Balaton, or the swimming pools / thermal baths – but even though it's a bigger city you don't see that many people like in Barcelona. Anyway, it was WILD.

We even took the Hop On Hop Off tour bus, but more on that later.

We arrived in Barcelona at 11PM on July 6th. The plan was to check in to our AIRBNB that was 1 block from the venue, then head to sleep and next day enjoy the day with the family. After all, it was my son's 9th birthday, and we wanted to celebrate.
Our Crazy AirBNB Story…. Upon arrival, we got dropped off at Terminal 3, and our bags were dropped off at Terminal 4. A good mile walk away – that was fun at 11PM with kids!! Anyway we got our bags, and hitched a ride with a taxi to our AirBNB. Upon arriving, the employee from the company greeted us, ushered me into the kitchen made me sign some papers and pay some tourists taxes then vanished really fast. And THEN, is when I was greeted with HELL. The AirBNB I booked that had nice reviews, was so dirty, so worn out, we were totally ripped off. As if they have identical AirBNB's and use the wrong pictures to promote themselves. The sheets were dirty AF with human toxic stains of the smelly nature, and there was blood spots on it and everything. My wife freaked out at me, like if I knew this was planned – no, i booked a 5 star, beautiful place with clean everything that looked immaculate. Anyway, we weren't going to stay here – so I got onto Hotels.com and started looking at hotels Nearby. I called Hilton Diagonal Mar, and they said sorry we are fully booked (thanks to Disney Cruises).
So I started calling every 4-5 star hotel I could find on the hotels.com website, and when I did, no one had availability, or if they did, it wasn't big enough for our family. It was now 2AM. I decided to call Hilton HHonors in USA, and luckily they were able to help – they called Hilton Diagonal Mar and got us two executive rooms so at 2:30AM we left the dirty, rippoff of AirBNB and went to Hilton. I immediately uploaded all the photos/videos of this shady place and filed a dispute. At 4AM! Which was a very good decision. Because the owner, rejected my request to get a refund of $1150 out of the $1780 I paid, saying I signed the paper (remember from above?) and on the paper it says apartment was perfect condition. I never in the world expected someone to swindle me like this; especially one on AirBNB with good feedback.
Long story short, after a lot of back and forth, thanks to me submitting claim at 4AM before they could go and clean up the place, and make it look like it was spotless – I was able to get all the $1780 back. Thanks AirBNB for making it right! The crazy, scammer host probably regrets not giving me $1150 refund and still earning $600ish bucks – but hey greed is a bad thing; always.
Anyway, we woke up the next day, and asked our son. What do you want to do for your birthday – AquaPark or Amusement Park. He said AquaPark!! So off we went to ILLA FANTASIA, a huge aquapark outside of barcelona in the town of Vilassar de Dalt. Upon arrival, my wife says… wow, there's a ton of chicks in thongs here, and there's a ton of muscle dudes – are we at the right place?
Of course we were, so we walked up to the gate and they said – SORRY they can't come in, only you guys (by they, they meant the kids). We are like WHY! They said today aquapark is closed, as it's a HUGE EDM festival called Matinée Summer Festival! Now it all made sense why there were so many college kids in barely any clothes drinking it up Fast n Furious style with music blasting.
When we tried to get a taxi back, we received the surprise taxi cabs from Barcelona due to some law cannot take people back to Barcelona. A local taxi company has to do that. LOVELY. Out in the middle of no where with two little kids, and we're stuck.
There were two cops chilling in their cop car, so we asked them for help – they were nice enough to call a cab from the local town for us, and they also let the kids chill in their cop car away from the heat and the naked ladies.
What an adventure! Taxi there was 50 euros, taxi back 50 euros == 100 euro wasted on nothing 😀 We at least got to see a ton of interesting things.
Ended up going down to PuroBeach and going for dinner to celebrate Armin's 9th birthday.

It's a very nice pool / chill area inside Hilton with an extensive drink menu to the stars! Kids had a lot of fun swimming while Dora & her sister Niki were enjoying the sun. I was on the phone talking to everyone and making plans for the evening with affiliates.

We headed out to dinner, found a kick ass grill place at the diagonal mar right next to the hotel. After dinner, Ella from Adcombo invited us to come to their party at One Ocean Club Barcelona, right in the Marina. HERE WE GO!!
Robin from uDroppy, my Wife Dora, Una and Ella from Adcombo
They were quite flashy
AWE was at a new venue this year, the venue was HUGE. The taxi driver took us to the wrong entrance so we had to walk almost a kilometer (0.6 miles for yall americans). Upon arrival, we saw the venue. WOW it looked majestic from the outside with AWE flags waving. Tons of people lining up to get their pass.
The shirt says "Keep Calm and Just Cloak It' – blackjack did not pay me for this I swear.
So Miro and I, stood in line. But then PHIL came and said hey u can stand here at the other booth so we fast tracked it. Got my pass super quickly!! THANKS!! Here it is, what do you think? Nice huh?
When I walked through the door, I immediately ended up at the Media500 booth. It was just right there, next to the main stage and I ran into my good friend G from Media500! He introduced me to these guys:
After I did what I always do, and went on a walk around, I ran into Besmir from STM at the optimizer booth.
Then I continued my journey and had to sit down for this one..
Ran into Jenny from Dating Factory, she's always busy manning the booth. Met her for the first time in Italy at the Italian Expo Conference that's happening every year in Rome. She's super cool and energetic, if you wanna run dating offers talk to her, tell her I sent you!
By this time, I lost my main man, Sales Manager MIRO from Banners&Landers and shortly received the text that he's in the smoke pit and to head out there, as there's bunch of people that wanna meet me.
The venue was pretty easy to get around, and was super roomy so it was no problem to make my way out to the back. They did a great job organizing it. When I arrived, I was rushed by Dasha from RedTrack, she had a present for me, check it out:
I ran into a lot of cool people in the smoking area / beer garden. One of them was this lady named Leslie, she is an affiliate marketer that actually runs campaigns. Guess there's more affiliate marketer ladies not just FbQueen these days. Which is awesome!! We really need more ladies in the world of affiliate marketing!
Had an interview for Media500's newsletter with Ben up on top of their booth. It was awesome up there as it had AC and you could get a nice panoramic view of the conference from above.
After the event, came the biggest party of the night. Affiliate After Hours!! Media500 rented a killer VIP area and kept the champagne flowing all night. Here's a pic of Alex Fedotoff and his lovely wife, Angus Kong the legendary ecom marketer, Dora (my wife) and me.
The next day aka day 2 of AWE; we thought started at 10AM, but it actually started at 11AM. When we got there, there were hundreds of people outside… we waited, and chilled outside until they opened the doors, then it was ON (again)!
After the show, it was a bit chill eating some awesome food with Miro before he flew back to Serbia. Sadly he missed the craziest show of the conference by Media500 – Bob Sinclair at Opium Barcelona. In 2018 (last year's Affiliate World) we've found a killer chinese restaurant inside Diagonal Mar Mall, so we had to go back for 2nd time the food is just so damn good!
After we said Goodbye, I got ready and picked up Dora who was busy all day hanging out at the beach with the kids enjoying the sun. We got ready, and soon the Media500 limo came to pick us up and take us down to OPIUM for the most bad ass party of AWE with Bob Sinclair!!
And that ended the show for me on a BOOM. What an awesome night it was, can't wait for the next one!! After AWE was over, it was family time. We chilled, did some shopping, hanged out the playground.
Can't wait for the next one, Affiliate World Asia here we go!! Will be my first affiliate world in thailand EVER!! Can't wait for it!! Get your ticket now for 50% OFF here!
Biggest Takeaways from AWE 2019!

Crypto, Sweeps, Ecom is dominating this year. I'm always the guy to follow the money, and I'm glad I started running crypto over a year ago. I met Media500 and since the FTDs started poppin I haven't looked back. They got awesome geos no one else has, and the best, and fastest support/ams that are available 24/7 pretty much to help in any way needed; even fund accounts to help scale if you want!

For Sweeps, the $1 trials are doing super well. Met tons of guys running sweeps on FB and PUSH using survey style landers that are killing it.

Ecom is changing, what you see on youtube from all those gurus is utter bs. Most stuff doesn't convert. The guys that are killing it, are brute force testing 100s of products and failing super fast. They are also targeting worldwide rather than just USA and seeing sales from all over. Video Ads are the key to making ecom work on Facebook, and I've met some guys running Video Ads for ecom to long-form landers on Youtube too. So that might be a great idea to try.
Biggest dissapointments. NUTRA. A once striving industry is dying. It was due to the regulation against MIDS, making trials a thing of the past and new CC cards that killed this industry. Those in denial will say its more alive than ever, but no its not. That is not true. The old big boys were not at the show, or had tiny cheap little stands. That means there's no money to shell out huge cash for big booths. They are watching their budgets closely. I used to do a lot of nutra before, and these days getting accounts up and live is hard as hell. Google and Facebook can detect intent in advance even before you cloak, their AI is just that smart. Sadly trying alternative methods like lead gen to lead magnet, then re-marketing and emailing and what not, is not that effective as the cost to get leads is high on places like FB, and most people don't take the offers this way. They really need the news/celeb gossip style landers where someone they know used it, and loved it which is harder than ever to do enmasse like before.
As far as traffic sources go, Facebook and Google are the best for the current verticals that are making money; however PUSH and building your own database from the PUSH traffic you buy is also a good solid way to go. POPS is also making a comeback, especially with great behind-the-scenes support from guys like ZeroPark that give you weekly top placement IDs to target inside iAmAffiliate. SMS was a big buzzword these days, since this way you can bypass policies that google and facebook have for ads that work. Biggest problems affiliate face is where to get databases, you can find sellers everywhere but who knows if what they are selling is really that, or if its a virgin database or was abused to hell before so people ignore it.