I've known Mike for YEARS and when I was looking for interesting people to interview, I knew he was the right man to ask!  WARNING:  You won't be dissapointed!  Guaranteed!    Just like my previous interview, I give you ALL the goods, from A to Z on a man that to me is a legend in our industry.     PLEASE Share this interview with friends, co-workers, relatives, help spread the word and the story that is…
Mike Schwalbach's nontraditional "rags to riches" story will inspire you to go beyond the numbers and look at what really matters if you want to be successful.
Where does the story of Mike begin?
On one hand, I'm a self-made man who has found success through hard work. I was born in Amsterdam and raised by my mother, a German-speaking Portuguese immigrant. She left my father who was an alcoholic when I was very young. We had practically no money, living in the Bijlmer area of Amsterdam – a place which is not considered to be very nice. Everything I've learned about entrepreneurship comes, in a way, from her. She was a real survivor.
It was tough, honestly, but it made me who I am. I learned to work hard from a young age and found my entrepreneurial spirit early. I was independent and always made my own money because I had no other choice. My parents didn't have to give me anything, which was good. I used that energy to build a number of successful businesses over the years.
On the other hand, I'm an entrepreneur who has been active in our industry for quite some time. I was one of the first heavy users of the internet, and I've always looked for opportunities, which means I've been a part of many projects that people know… I was involved with the company that built most of the major Dutch search engines, such as Funda (which is still the biggest real estate site in the Netherlands), Autotrack.nl (which targets audiences that need to buy a car) and AskJolene. I went to some of the first shows in our industry, InterNEXT and Phoenix Forum back in the late nineties, where I started to build relationships which have lasted to this day.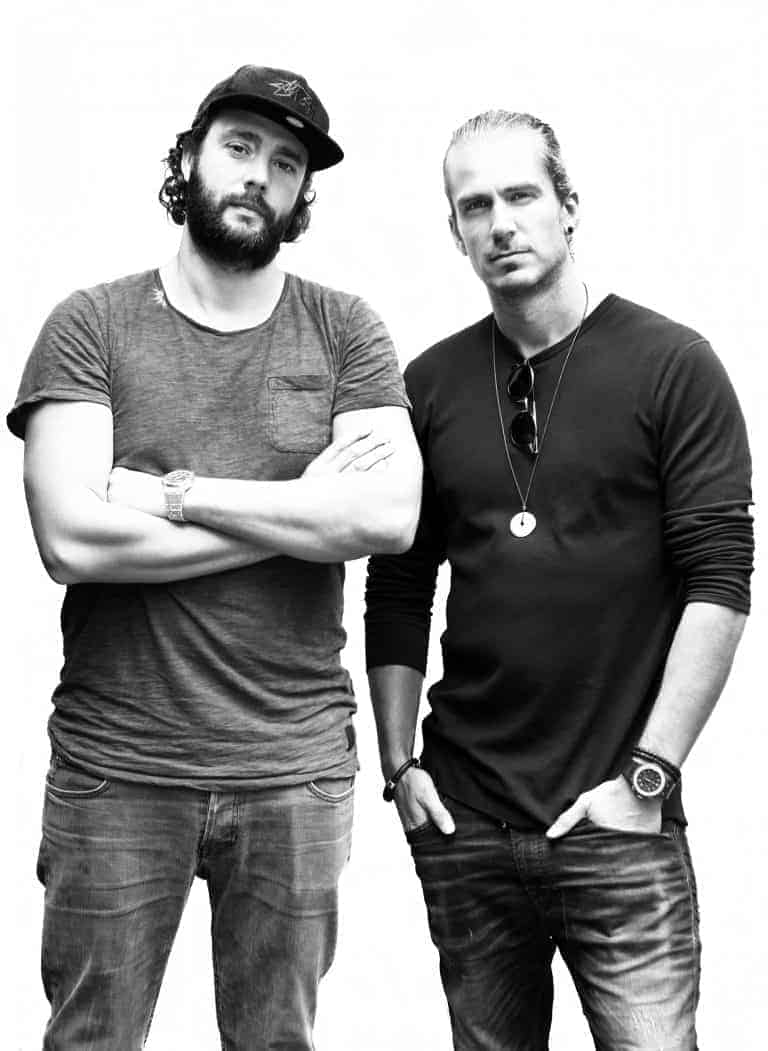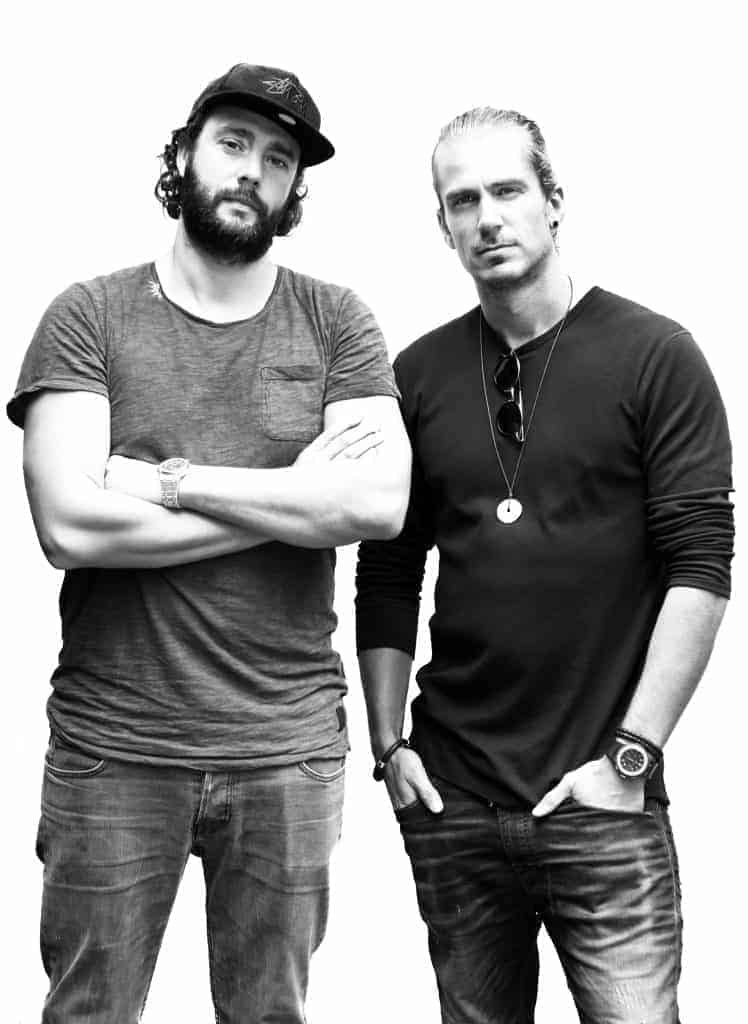 Along with my business partner Iwert, who was one of the first super affiliates, I'm also the founder of a successful network: Advidi. Creating and growing a network was really an important development for me. It was about building a sustainable company in a market that was still very fragmented. I believed that there was room for a company that would approach the business in a more professional way. We are one of the key players when it comes to handling our clients professionally, and we stay ahead by treating our staff in the best possible way and expanding our company strategically, which in turn helps us gain market share and create opportunities for our staff. It's a big challenge to make sure you keep ahead and keep moving out of your comfort zone, but the rewards are just as great.
Even though Iwert and I aren't involved operationally any more – which wasn't an easy decision, but I think the right one – we have installed a management layer that we're very happy with. We're still present in the office and provide strategic input.
If you guys don't manage Advidi, what are you doing now then, aside smiling all the time and flying 1st class?
In the last year we have been focused on making our management stronger. We've guided them ourselves by organizing various sessions to discuss the business. We are still involved as the Advisory Board for Advidi, meaning we will get involved on all decisions that affect strategy or long-term commitments. A few times a year, we go to a separate location with the management to come up with new ideas and insights.
As far as what Iwert and I do with the rest of our time, I will tell you: we are investing in various companies in this industry, mostly in companies that have shown some traction. We are also helping companies that need Private Equity for growth or are seeking an exit. At this moment we've invested in a few advertisers, some big affiliates, technology companies in the tracking space and banner serving. On the affiliate side, we mainly invest in partners that can help grow Advidi. We help our clients with the connections we have in our network, such as social media accounts, tracking solutions, company setup and setup targeting with existing data.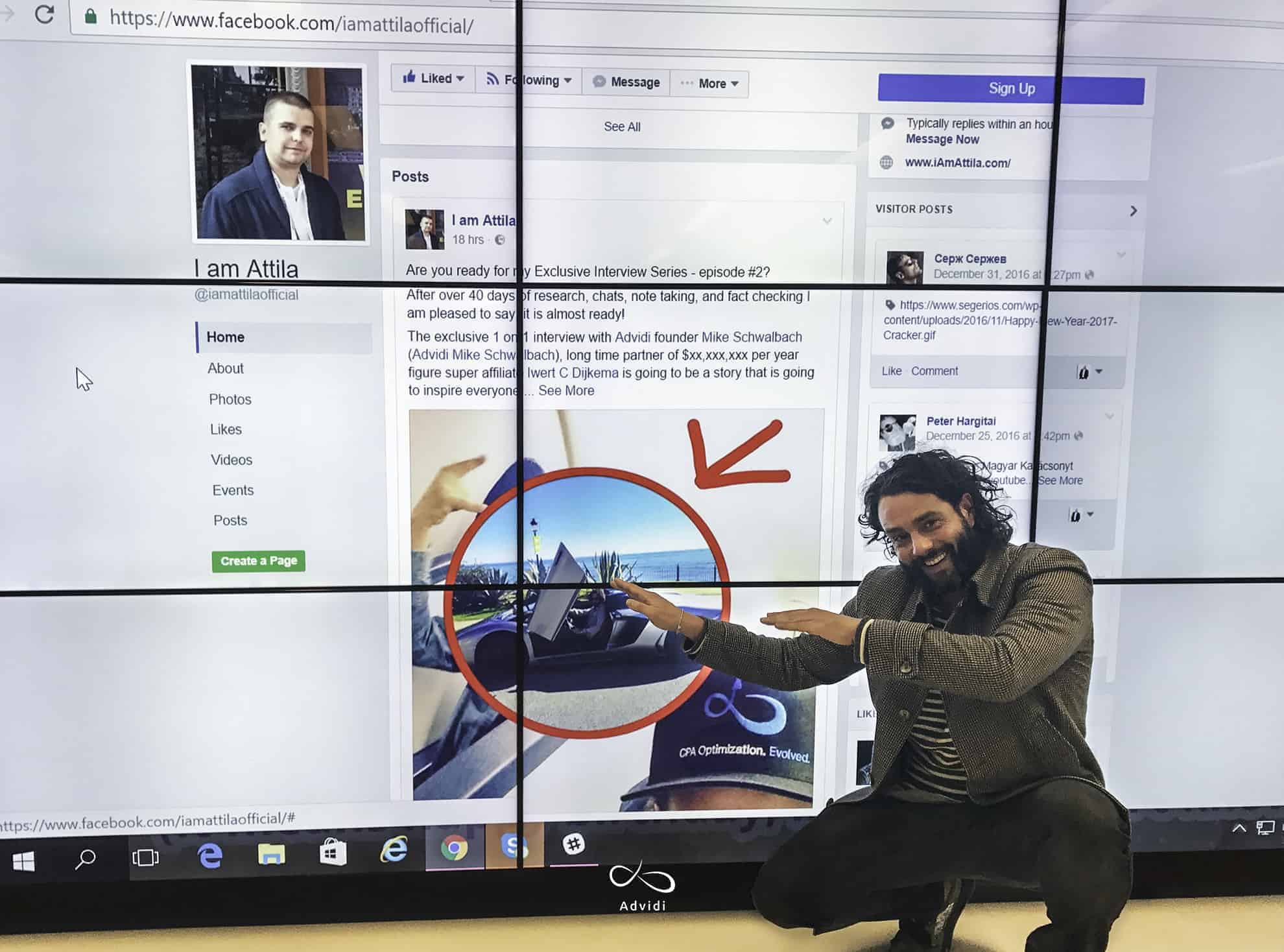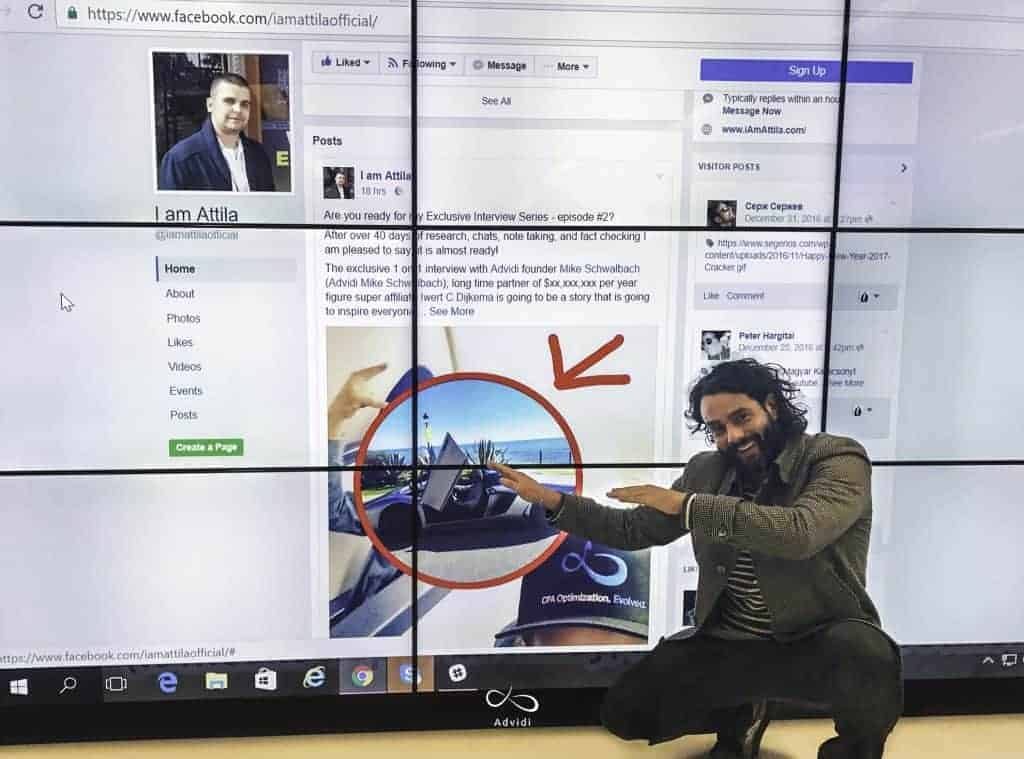 We also put a lot of effort into staying in touch with the community. Of course we visit your blog, Attila 😉 but the list also includes the STM forum and other well-known influencers. It's important for us to gather as many perspectives as possible, so we take the time to read up on what they're doing.
In 2017 we will focus more on helping our investments grow and creating synergy between the companies. On the personal side, we want to find new challenges in life and explore ways to give back to the world.
And how did you and Iwert meet?
We actually met through our friend Ivo Nota, who has also been in the industry for a long time. He's now one of the partners at Advidi and the VP of Affiliate Management.
Ivo asked me if I knew Iwert, who was already well known in the industry. He was active – even buying media on AskJolene, along with some other companies I was connected with. But we didn't know each other.
We ended up meeting for dinner and really hit it off. We talked about business and strategies all night. We had a really good connection right away. Sometimes you meet someone you like, but you're not going to call them the next day. You have to wait a few days, you know? With Iwert, I was too enthusiastic. I called him the next morning and said "Hey dude, we had a good connection. Let's meet up again." He was like "I was hoping you would call already haha!"
And in two weeks, we had a company in an 80m2 office overlooking the canals of Amsterdam.
Did it really work out just like that? That was how you started Advidi?
No – actually, our first project was different. We were planning to create a dating site… a real dating site – not something scammy with fake profiles, where you chat with someone in the Philippines. I put in all the money I gained from AskJolene, which I had just left at the time. At one point my wife was even asking me to get a normal job since "this thing with Iwert is not making any money." She had a good job at RTL and was supporting me and the household already for a while.
Well, she was right… it wasn't our greatest success, to be honest. We got visitors and conversions, but it was really hard to run a casual dating site with real members. 99% were male. Maybe you can guess – the females were getting spammed, creeped on. They'd get 20 unwanted pics before saying hello.
So the first project wasn't a financial success, but something good came out of it – we learned that we would be good partners. The project also gave us lots of insight into running a product as an advertiser… we had to set up customer support and merchant accounts, install gateways, optimize user interfaces and perform fraud detection on traffic. We were still doing media buying the whole time, successfully. So we stopped the dating website after about two years and decided to focus on media buys.
How much did you sell AskJolene for?  
I can't disclose the number, but looking back at what happened after I left, I am happy. AskJolene was discontinued in 2013 by its owners due to a conflict with one of its mainstream products. This information is publicly available online if you want to read more about it.
What was the biggest revenue month for AskJolene? How much?
I recall we ran Statsremote and had over 800 programs added in there. The owner of Statsremote was always happy with us since we provided all new advertisers when they launched. This is because we crawled every possible TGP out there. At our peak we were ranked 132 on Alexa, having over 20M visits a day. 80% of the revenue came from TGP listings and 20% off advertising we sold. (I don't want to get into the numbers, but as an affiliate you must be able to calculate the revenue based on the amount of impressions.)
Were you successful as media buyers?
Yes. Things were different then. Back in the day, it was fairly easy… we bought thousands of spots directly on all kinds of websites, uploaded banners and sent the traffic to a handful of dating sites. And we made money. It was that simple.
At one point we realized we needed to start diversifying our traffic. We had to optimize more and send traffic to different offers across different geos. And that's what gave us a brilliant idea – or so we thought. We actually wrote a business case for this back then: a system which could rotate offers based on geo and all sorts of settings. It would allow you to add products and diversify your traffic based on the source.
This was back in 2012, and at the time, we were very focused on our ideas. We didn't worry too much about competition. We were isolated, doing our own thing… sure, we had friends in the business, but we dealt with them directly.
At some point soon after we started working on this business case, Iwert called me up while I was on holiday. It was my birthday and I remember thinking, "Oh, cool – he's wishing me happy birthday." But there was something else he was excited about…
"Hey Mike, what's up, I just found this software. It's called HasOffers, and it's crazy. It does everything we wanted to do…"
By then, HasOffers had already been out for a while. We had never heard of a CPA network – we didn't even know it existed. It was a big realization that there were already companies out there that do this, who were all running the same generic software to do it. That was what we had written our whole plan for.
When I got back from holiday, Iwert had already started implementing HasOffers and instantly started making more money. We used to buy flat fee banners, 50%-100% of the spots. With HasOffers, we were then able to split our traffic. Instead of sending all of the traffic to one offer, we were sending Germans to German sites, Dutch to Dutch sites, French to French sites… and that's basically how we started a network. We invited some big media buyers, mostly friends we already knew, who all used our system to optimize traffic.
We built some auto optimizers where we just needed to push one URL (or banner iframe) where many banners, landers and offers in various geos were auto-optimized in the backend. We ran so much dating traffic on that system… the volume was insane. At that time Advidi was not born yet – this was different. We had a lot of offers that we collected and ran traffic to privately with a few befriended whales.
Funny story about our first URL – it was confiscated by ICANN soon after we first ran it. We registered the domain on an email we weren't using any more. It was confiscated since someone complained about a possible spam email (we didn't even use email), but we didn't reply to the complaint so it got pulled offline. I remember in the middle of the night getting a call saying all our traffic was lost. We're talking at least 1 billion banner impressions per day, so that was a big loss for us. We transferred everything to another URL within 48 hours; that domain was actually just one we had. We didn't think about a name, we just wanted to solve the issue.
How big of a loss was that for you? How did that affect you?  Did you not sleep well that night, or for a week? Affiliates have a real hard time dealing with potential downfall and losses… so this is a great lesson for them.
The total value of the traffic lost in those 48 hours must be at least 1,200,000,000 banner impressions hosted from our own banner server. Beside these, our partners were also running their own banners (self-hosted or on a 3rd party platform), pops and direct traffic. Many of you know the prices of pops and banners back in the days, so do your calculations 😉 Of course we compensated the partners for the lost revenue.
Another main issue was that we had many big sites hosting our iframes. This damaged our reputation because tubes don't like it when an empty iframe is loaded. So we had to convince them that this was a one-time glitch. It shows that a small error can cause a lot of damage. If we had tracked all our domain registrations well then we would have received the ICANN email and nothing would have happened. The main lesson was that you need to structure and document everything well. Iwert and I always had the rule that both of us must have full access to everything, even each other's emails if needed. So we now have a more transparent and structured way of working where we always file everything correctly.
As for dealing with losses, that brings up a good point. I think it's important to mention that I have always worked my ass off and that I've always been 100% business-minded. For years there was no balance in my life between work, social, family and health. The balance was skewed 90% toward work and I sacrificed a lot on the other aspects. In the last year, I've realized I want to be a good dad as well. I want to make sure I see my friends and family while taking care of my body. Being more in balance has made me work smarter and with greater dedication. Eventually everyone needs balance to be able to perform well. That helps you stay focused when you hit a down period.
So how did Advidi come to be?
Well, we worked on a lot of optimization techniques, many that were new to the industry. Our techniques included optimizing per GEO, Device, Browser and time of the day; we also routed converted users to fresh offers.  We kept a lot of that private… it wasn't until 2013 that we opened Advidi to traffic. We started going to shows and inviting people to join. The network was still closed, but we were open to new traffic on an invite basis. It wasn't until May 2013 that we opened up to the public, and we were fully transitioned away from media buying to focus on the network.
We had great success as a private network, but I wanted to create something that would last, where new ideas would flow. Something I could feed energy into and expect to get energy in return. My goal was to create an environment with colleagues doing something challenging. I wanted to build a family, basically. I'm always driven by people who are having a good time and are happy. I'm also driven by compliments, that's something that drives me and encourages me to go further. That's why our office looks so nice – people come in and say "whoa" and I go "yeahhhh!!" – we could have spent ⅓ of the budget and had something nice, but this was important. Advidi, for me, is about more than money. It's like a child in a way, and I'm very proud of it.
Of course, this didn't happen all at the start, but our philosophy hasn't changed. I was working from 8am to 9pm every day – often even on Saturday. When it comes to work, I want to feel like I'm in an environment where I want to go. Even though we didn't have much money in the beginning, we still bought a lot of plants. And we still had cooking – we had a small team of 6-8 people in the beginning and we all cooked every day. Those things seem small, but they have always been very important to us – creating the right atmosphere gives us a feeling of home in the office, which helps us do our best work.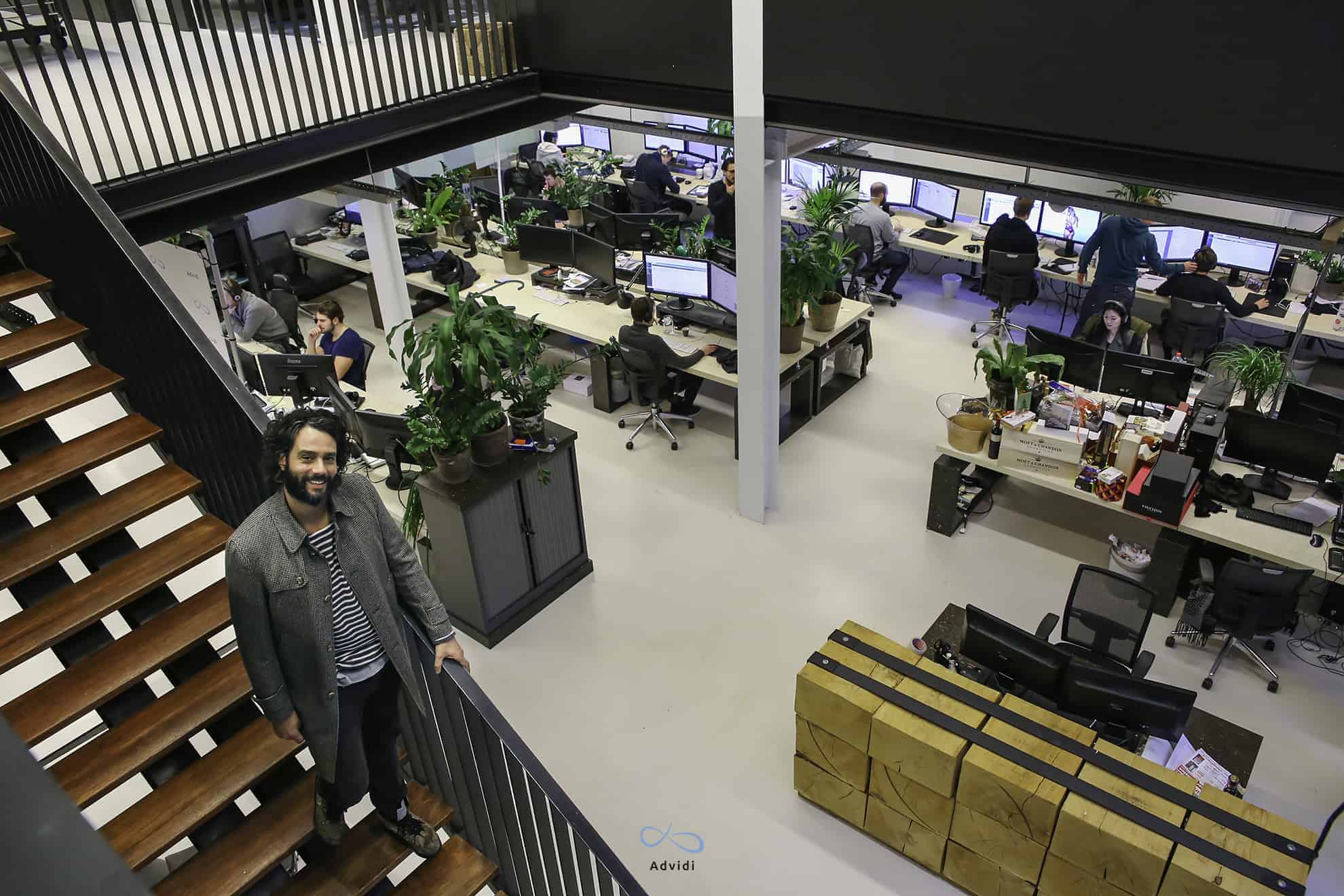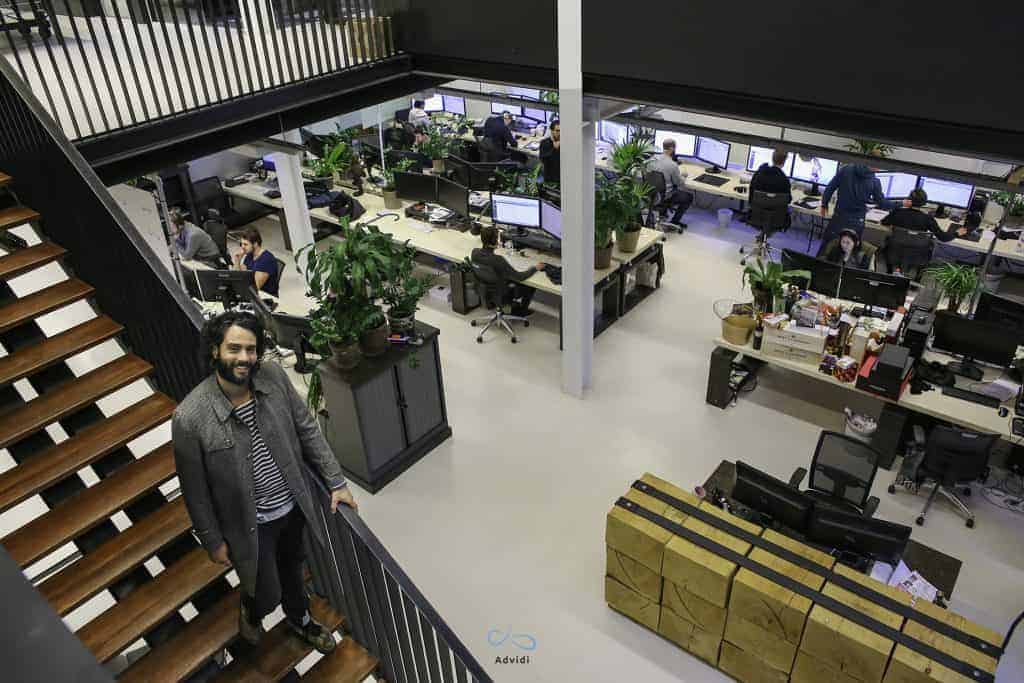 That office is really nice, who designed it? Do you have any before pictures, and after pictures? How much time did it take? What did it cost?
A befriended designer, Osiris Hertman, designed our office. He actually did a really great job with Iwert's house a few years before, giving it a nice cozy feeling – as soon as we decided to plan a new office, we knew we wanted him to bring the same attention to detail to our "home away from home". We really did everything… the building was a gym before and we changed the layout and did everything from scratch. I can say we went over budget multiple times easy, but why we did this is clear: we wanted it to be a place where we can come in and feel like we want to work there. It helps with our reputation, recruitment and internal happiness.
What makes Advidi stand out?
Although we're a money-making company, I think Advidi is unique in how much we value being genuine and personable. We really have a skin. We have a website, a team, a nice office, a real presence at shows. We have personality… we've got balls! And I think we have a good culture within the company. That's something I would definitely like to inspire others with.
Beyond this, there are the practical points. We always pay affiliates and have a very thorough vetting process for advertisers – we're very stable. In fact, we were burned for about $1.5 million in the last year by advertisers, and we ate that cost rather than pass it on to affiliates who invested in quality traffic. Our consistent growth is proof that this formula works; we grew by 449% in our first year running, and we're still growing significantly – but more importantly, we're more stable since our relationships with our advertisers are well established and we're protected against revenue swings. We protect anyone in our network and always try to offer them more – not just more than competitors, but more than they expect from any network. This includes private tools and technology, but it also involves a personal approach to each partner. I want anyone who works with Advidi to feel like they're getting the attention and care they deserve.
I think if you look back on my first venture with Iwert, the dating site – that's a big part of our core. We are genuine, all the way through. If you look at Advidi and the verticals we're active in, some of the products can be aggressive – but we'll never push products that cross the line. For example, we'll never push a cryptolocker or malware.
There's always a thin line between making money and what is acceptable. As a company, we try to be as fair as possible. We generate income, of course, but it's not by all means. We often have affiliates who reach out to us with fraud email or stolen databases, or content locking traffic – that's traffic we don't accept. I think being in this aggressive business, we try to keep it as clean as possible.
Everything is built around that philosophy, but we always add unique value. We want to change the face of affiliate marketing by putting people first, then profits. The bottom line is that when you join Advidi, you can expect to make more money. And we accomplish that in more than one way – it's not just our technology or our people, it's the connection they have.
Every network says they are different, but overall have the same offers or use the same backend like has offers. What are some offers only you guys have and no one else does? What else can you offer to affiliates that others even if they tried could not?
Our service is what we're most proud of. We pay on time – we've paid more than $100,000,000 to affiliates since we started. We understand the business really well, so we can think from the perspective of our advertisers and affiliates. That allows us to give advice that translates directly into more revenue. Because we think of our affiliates and advertisers as partners, not clients, we're in the boat with them. Their success is our success. The bottom line is that when you join Advidi, we take care of you and your business. Making that our priority has helped us get to where we are now, and that's not something we're willing to change.
Of course, we also have exclusive top offers in the Dating market for NL/BE/DK/UK and SE already, with more on the way. We successfully provide affiliates with cap in 4 different verticals, which is a difficult accomplishment that we're very proud of. Our core – providing great service – is what helps us and our partners keep the numbers high.

You and Iwert have been on the scene for a long time, which means a lot of people in the industry really look up to you. Is there any advice you'd give affiliates nowadays? Any mistakes you see affiliates making?
I think the most important thing I see is a lack of focus on what's most important. Lots of affiliates start getting flashy as soon as they make a bit of money. They buy a car and a nice watch and post it on Instagram. It's normal that people want to show their successes. I do that as well and I know it's part of this industry. It's a fun thing, but it also gets boring. I noticed that the ones that are really succesfull get bored with it and do it more sporadically; in the end it's not adding that much to your life. If you make serious money for a longer time you will start to become more humble and will notice that being flashy attracts the wrong people.
I went through this myself – and in many ways, I still have a flashy side. I dreamed of a fast car my whole life. Then I got one… and after 2 weeks, the feeling is gone. It's not sustainable.
A lot of people will tell you that the lesson here is that you need to be smart with your money. That's true, but I think there's something even more important. Basing your intentions on materialistic goals won't bring you anything but jealousy and envy. You need to think about how people will respond. In many cases, they'll think you're arrogant, not impressive. It doesn't bring you positive vibes. Doesn't give you the type of energy that translates into more success and value.
On top of that, it's a distraction. It's important to keep your focus. Success requires maintenance. If you switch your focus to celebrating your success, you'll lose sight of what got you there.
I did some crazy stuff in my youth, but I didn't lose my focus. When I bought things and they didn't give me the same feeling after two weeks, I learned about what's valuable. So now I'm spending more time sharing experiences and trips rather than showing off stuff.
I recommend affiliates who are just finding success to consider their actions not just from a financial perspective, but from a social perspective as well. What you do will come back to you, so think about how you want to be perceived by people you care about. They will last. That feeling you get after buying a watch? The Facebook likes? Those won't. It's better to make friends than fans.
Very good insight, too bad most don't get it. They feel if you don't flash, they won't think you are big, thus they won't want to work with you. This goes back to what you said – when you started your private network, you invited some big guys to work with you – whales. In the land of affiliates, where everyone's killing it, how do you tell who is really doing well vs the bullshitter? I personally know a lot that talk a big game, drive rented cars, but live in shitty ass apartments and when they post pics from their house and you see the popcorn ceiling from the 1990s it's obvious they are far from killing it? Everyone reading this interview will think, "but if you don't flash then no one will know and they will leave you out from opportunities."  But I agree, that flashing attracts also really bad attention too.
We are European, which is slightly different from US-based companies. We care less about flash and look more into the core of the companies and clients we work with. European modesty. How do we judge clients? By building a relationship on conversations and trust. We always start slow and build up business, since we are not in it to get burned. We also ask for many various documents when we start to work together and perform due diligence on people and companies via an internal process we've developed, which includes reviewing third-party data and checking referrals. We never judge people by the car they drive (they might have rented it anyway lol).
That means we also try to be as genuine as possible. You can see us having fun, sure, but there's more to it than that. It's more than the money – it's the people you meet and the experiences you share with them.
This is pretty cool, unfortunately most people enter affiliate marketing to make big money. That's why you have failed affiliates turned gurus flashing rented Bentleys, laptop on the beach pictures, and other "lifestyle" imagery because most want to come in and get their entitlement measured in money. I am seeing a pattern here, where those who do this for fun, enter the marathon and those who come for the quick buck, fail and vanish really fast. What do you think?
One thing to consider is that nobody in this industry will release their current tricks, since it's a changing market. That means a lot of the information you're finding from gurus and blog posts is not relevant any more. They can't give away the good stuff without risking their own business. But at the same time, the message new affiliates are getting from these sources sets high expectations. That's why a lot of people fail.
Of course you can learn a lot from gurus, but I suggest you go STM, BHW, and FB groups to gather information. A guru course can give insight on the way you should think and which tools you should have. The market we are in is not that hard. It's about being persistent, testing your products and campaigns. Mostly the threads on forums are just a bit outdated, but they have been successful in the past. So it's about finding out which patterns and processes have been used. For some a guru course can be the foot on the door to get into the business. I met many affiliates that have followed a course and are now successful. But they used the information they received in the right way. For example, imagine an intense workout training series (like the Insanity DVD series). You can watch the DVDs and understand them in theory, but if you don't actually exercise, you won't get any results. You need to put in the time and hard work. And then you can still follow the steps and get upset because the results aren't coming right away. A lot of people will have this experience and complain that these DVDs don't work, but it's just an excuse for not really trying to get things done.
The people who get involved in communities and understand that they have to work hard and be patient will become successful. Those who come in for the flash and think it's easy money won't last very long. Even when you hit a successful campaign, it doesn't mean you're good – you're only as good as your last campaign 🙂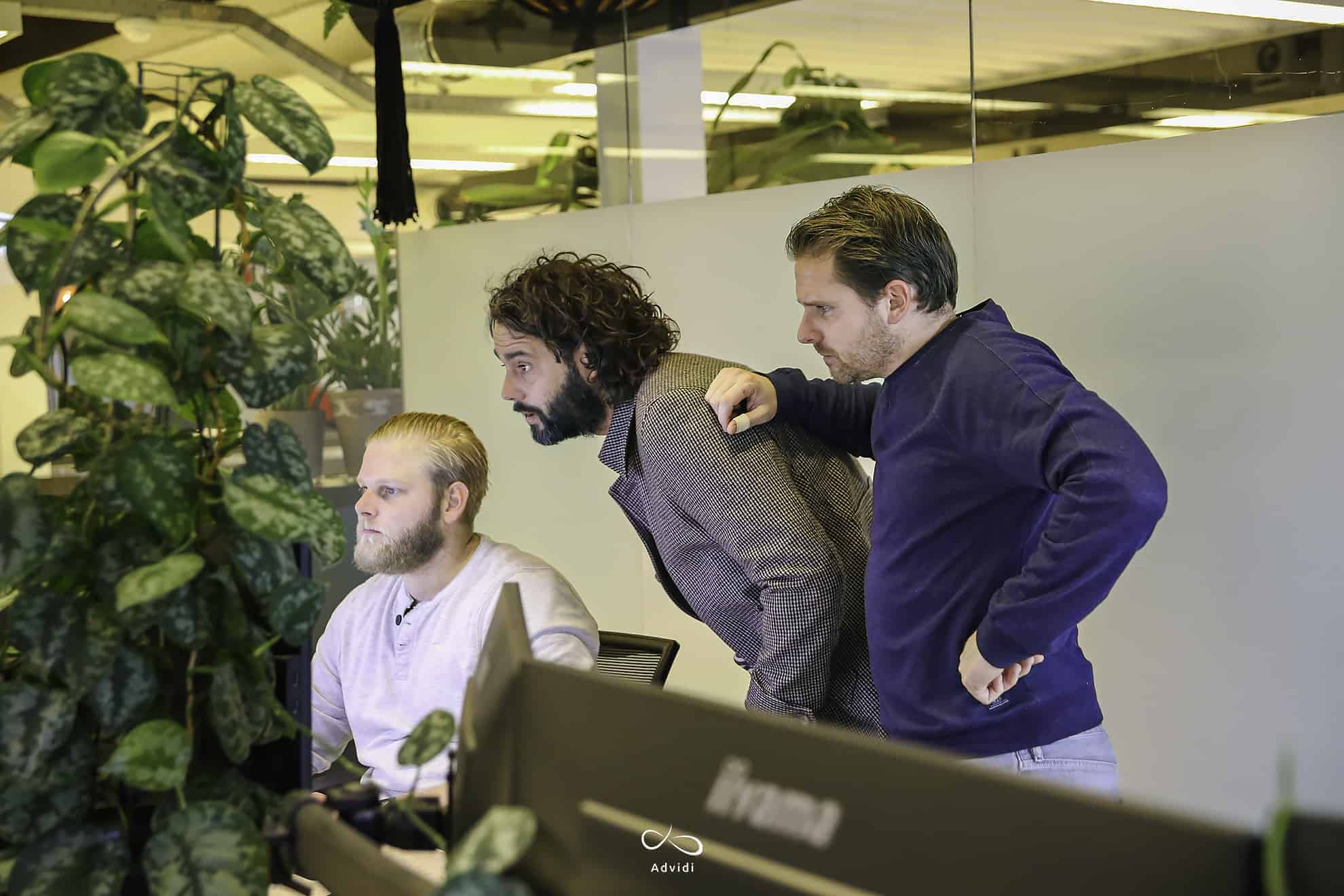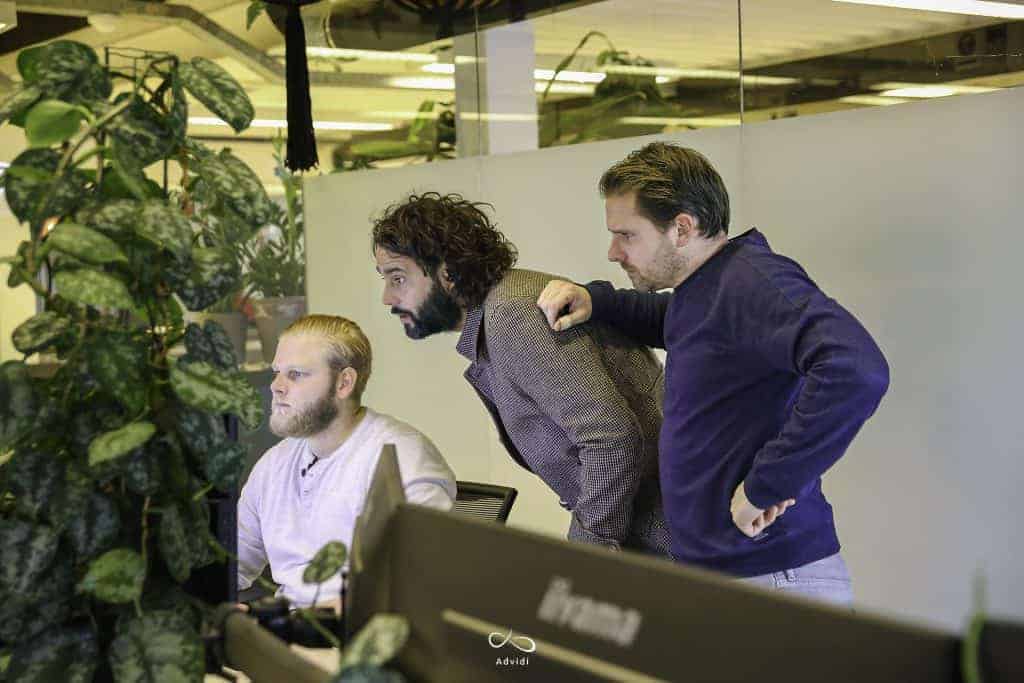 Are you still running the show at Advidi?
No, not directly. Iwert and I have stepped back from our roles and are now board members. We're still involved, but not operationally. We advise our partners, Mark (CEO), Ivo Nota (VP of Affiliate Management), Mark Nolte (VP of Business Development), Jan Willem (VP of Finance). We advise and help to guide them.
The reason for this is that I discovered I wasn't happy last year – I wasn't happy with my role. I had to do too much operational stuff. I set the structure in place, but then I had to follow up on it myself too much. Since the company grew so hard, we needed more specialists than generalists, and so we started to hire more qualified people. We installed a management layer and added team leads. Last year we hired a CEO, Mark. We interviewed him six times, three hours each. And then we had to make sure our key stakeholders in the company approved as well. In the end, I don't think it was me that hired him. I think they hired him, and it's why he has worked out so well.
This is very interesting, a lot of us who run our affiliate business feel the way you felt, that we still have to do so much follow up despite paying everyone to do the work. How did you find the right guy to think for you, so you can relax and know if something happens, the question is raised to check and make sure that something didn't happen, or if it did, it was handled the way you would have handled it?
First off, we encourage personal development heavily. People are given the time and resources to read books and have memberships to Harvard Business Review, Bloomberg, all affiliate magazines and websites, Lynda, etc. That allows us to keep a strong core at all levels, from management down to the interns. It also helps our management team trust the processes and protocols they've put into place. If we can count on our employees to take pride in their work and give them the resources to do that, they'll not only get the job done well, they'll be happy while doing it. Keeping people eager helps us maintain our structure.
As for bringing in people, we have a corporate recruiter who is dedicated to properly vetting new hires. Then our teams are set up in a way that they can give extensive training and make sure that they have everything they need to do well – including making sure they fit in with the team on a personal level. We put a lot of effort into onboarding new people.
We've also implemented intensive management training (half a day per week) to ensure the plans we set in place are carried out. After a restructuring of all processes by our CEO Mark in 2015, we feel confident that the systems in place are working. We're not dealing with the same frustrations that many affiliates are because we put a focus on the people we hired rather than the work they promised to do.
That does mean we have to rely on management more than some companies. To find the right people for management / C-level positions, we have at least 4 conversations of 3 hours each. We start talking about the business and their knowledge, but then we move on to their private side – We ask, "Who is this person? What does his life look like, and what can we expect from him?" We go over everything, including discussing business cases, proof of knowledge and executions. Last we do dinner to meet each other in a personal setting.
And with this in place, do you feel more confident in the way your business is run when you're not around?
Well, after we hired our new CEO, Iwert and I left for a holiday – we spent 2.5 months totally off the radar. That was a way to relax, let go, and empower the management. When you have a strong team that you've vetted thoroughly, you can trust them. And we really do. So yes, we are finally able to step back a bit, but that doesn't mean we slow down. It means we have more time to focus on new opportunities and ways to make our current businesses stronger.
In our work, we are very tough and ambitious. But I have also been learning to let go and trust. Everyone needs to let go every now and then. Our role is now to encourage collaboration and communication. We are still involved, but we don't have any responsibilities that prevent us from exploring opportunities. I'm personally very focused on the glue that keeps us together – making sure everyone is happy and doing their best work.
Where did that philosophy on running a company come from?
I think it came from a bad experience I had at a previous company before AskJolene – no need to name them here, those who know know. I was falsely accused of something and basically used as a scapegoat. It wasn't true and I was cleared of everything very soon, but it really changed my perspective. I realized in that moment that I never wanted to be that kind of boss. I never want to be someone who would hurt somebody that works for me. In my nature, I'm someone who wants to be liked by people. I want to provide an environment where people love to give and receive compliments. That comes from my experiences, both the good and the bad.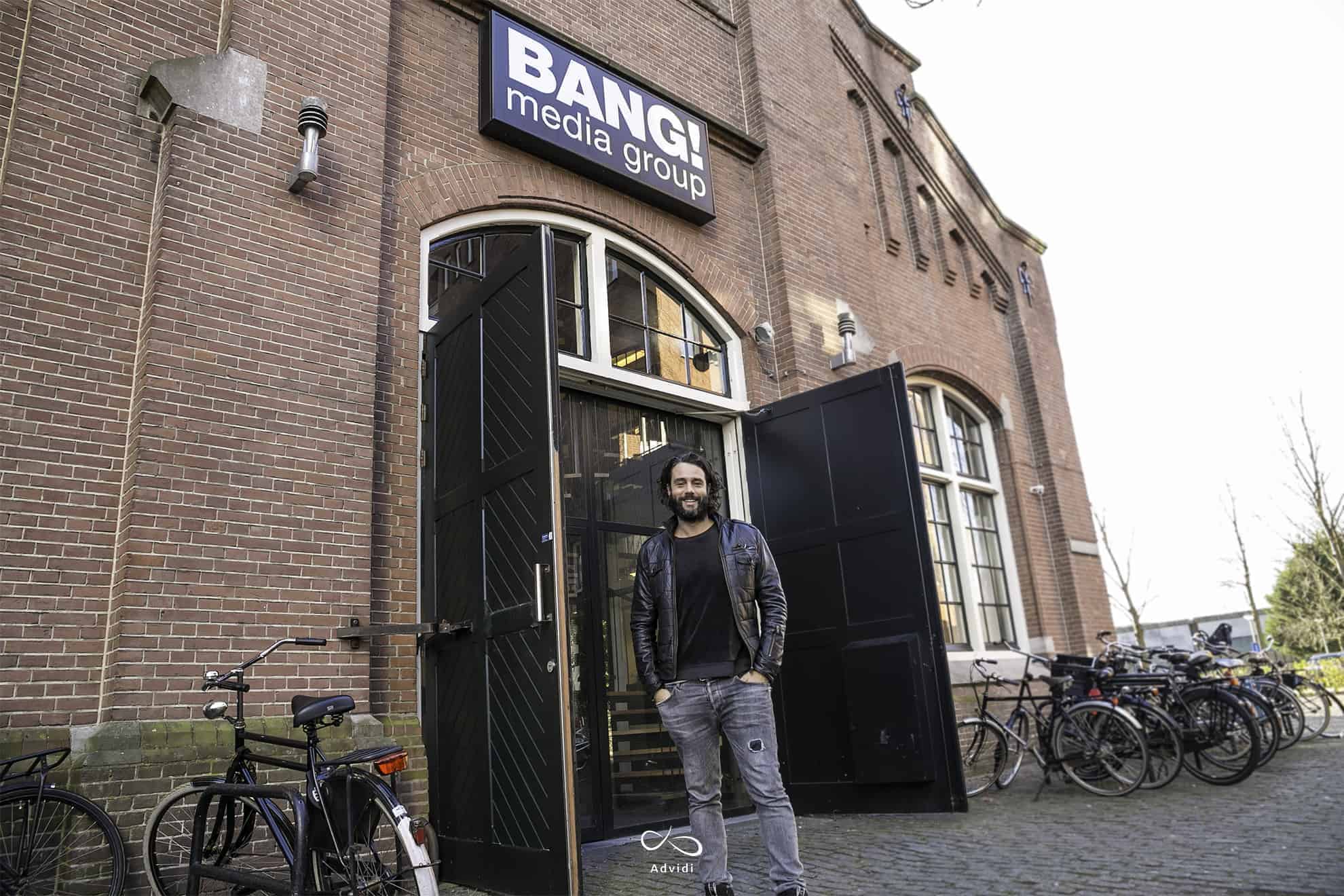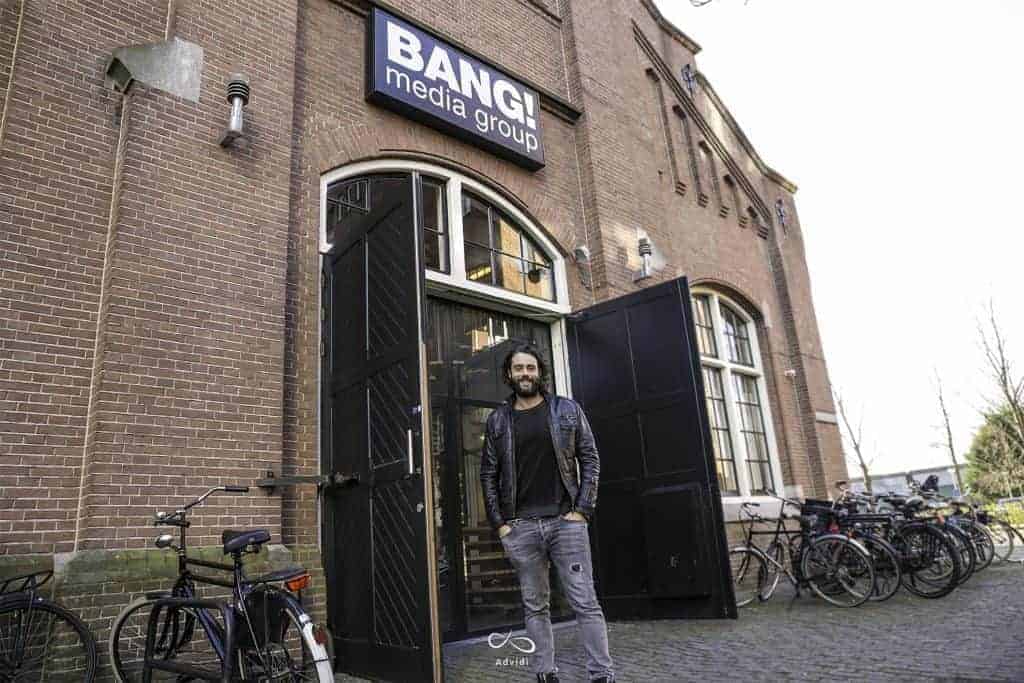 One of those experiences was at AskJolene, which I know many of us are curious to learn more about.
Yeah, AskJolene was special. That was a good experience. I brought a lot to the table, but I also learned a lot there.
For those who don't know, AskJolene was a casual search engine that was a huge innovation at the time. It was based on WG's technology – the same technology behind Funda, AutoTrack and Job Vacancies Crawling (which is often sold to big Career listing sites). Those are all still successful companies in the Netherlands. I was surfing the web one day and came across it by chance. I realized there was an opportunity there, so I asked them if I could advertise on their site. They said "huh? Media buys? We don't know what you mean." …yeah, it was a long time ago 🙂
So I met with the owner, the CEO of WG, to discuss opportunities. He had built an search engine just to see if he could store and classify data. It wasn't meant to be anything big, actually – it was just a personal project he was running.
The way it worked was pretty simple, but it had a huge impact on the industry and the technology was revolutionary at the time. Before the tubes were out there, you had TGPs (Thumb Gallery Posts). They don't really exist any more, but back then there was actually a big business model where you could advertise on these websites and upload galleries and make money. AskJolene used WG's technology to crawl all these TGPs and pull the content from the descriptions. A lot of sites had the same content, but they all used slightly different descriptions. We leveraged this huge database of descriptions to create a fully functional search engine that could deliver accurate results for anything. You could search whatever you wanted – we had more than 2 million galleries in there that pointed to thousands of sites. We had it all in one search engine. Nobody else had what AskJolene could offer.
Of course, it wasn't making money when I joined. The business wasn't very well understood, but it was growing rapidly because Google was indexing our results. We had all the descriptions from thousands of sites manually describing the (same) galleries, so we got high positions for most keyword searches. We reached 20 million hits a day in almost no time at all.
From there, we just had to monetize. In one weekend I subscribed us to about 800 affiliate programs, which was actually not a lot back in those days… it's different now. Anyway, we signed up and started swapping in affiliate links. We rewrote all the codes of those TGPs into our codes. In the first month, we received about 200 payments from various advertisers. We couldn't believe it. Back then, everyone was paying by checks, so we went to the bank with large stacks and deposited them all. Some of them had some very interesting names which they printed right on the check – maybe they didn't want us to be able to cash it 🙂 But it all happened very quickly. That's how AskJolene made our first money – it was very successful as soon as we figured out what to do with the traffic.
I was happy with AskJolene. I drove an hour and a half each day to Eindhoven, and that's when I started going to shows. We went to all the early conferences, and that's where I started building my network. I met a lot of people along the way. I got to try out creative ways to promote us. Everyone knew AskJolene, and that often gave me a chance to meet them.
After a few years of success and really learning the industry, I ended up selling my shares and moving on. And that was my involvement with AskJolene.
So AskJolene existed, and then you joined the company and then it went big? There's this big mystery where everyone thinks you started it. How much revenue did AskJolene do the first time you received the checks?
AskJolene didn't exist yet, just the technology did. Back then it was a project called EuroSpider which hadn't been developed yet. I found it online by coincidence and contacted the owner. Then we came up with the name AskJolene – like AskJeeves, but the naughty version. Jolene refers to the Dolly Parton song 😉
Was AskJolene your first big success?
No, not exactly – I was always a big fan of the internet, and I worked in a few companies. One of them I mentioned earlier, an experience that wasn't so good.
But I didn't get my start with the internet. I always had side businesses and I worked hard. I actually started my first job as a carpenter when I was 13, which I loved. At one point I bought a ton of snowboards with old branding – one of the Dutch telcos was switching their name, so I got discounted prices. I made brochures and sold them all in three shifts for a nice profit. That's when I really realized I could make my own money.
Around that time, I bought a bicycle garage in Amsterdam that was attached to my house. I was getting paid monthly for all the bicycles and motorcycles/scooters stored there. That gave me a lot of leverage. I was living for free and also making money. It was my first experience with passive income, which I liked, but I was always missing something – something I wanted to create when Iwert and I started Advidi.
I kept going with my garage after I was successful in online marketing – at one point I even had three storages in Amsterdam, which I only recently sold. I worked in a nightclub as well, at Escape – one of the biggest clubs in Amsterdam at the time. I did that on and off for 6 years and it was fun, but very hard work. I was working until 4am, doing physical work, then collecting rent around town. I loved this, but at some point, I realized I needed to do something with my head. It wasn't sustainable.
So how did you transition to online marketing?
My mom and stepdad (whom I consider to be my Dad) always thought I was going to school, but I was always hustling. I remember being pretty good with school when I actually went, but that was pretty rare. I finished up to the third year and at one point I had to go to an internship somewhere.
That was my first real experience with online marketing. I chose an internship in Costa Rica, where my assignment was to build a website and a brochure for a canopy tour company. I decided to fly to Houston, buy a car and drive two weeks down to Nicaragua.
Well, those two weeks turned into six months 🙂 I made money along the way, did some surfing. I made it eventually, and even though the guy was pissed (and confused that I even bothered to show up), we ended up becoming friends. He helped me pass my internship. I learned Flash and HTML – that was great. I like to know how things work, especially online.
I actually wanted to stay in Costa Rica – I even bought land and had a resort planned out. That didn't turn out, but the property is still there. I visited recently. A lovely cottage on the Caribbean coast in the middle of nature.
When I came back to Holland, I kept working at the nightclub and soon had the opportunity to transition to a marketing job. That's when I switched from physical work to online marketing.
Everyone knows being successful online as an affiliate marketer requires a lot of knowledge, however from doing the interview with you, and with Robert Gryn prior, both of the times it seems all this vast knowledge everyone says you need to know (HTML, CSS, Photoshop, PHP, coding, etc etc) is not necessary for million dollar successes. STILL, I bet people wonder, what are your computer skills – or is the secret to your success the fact you aren't too technical? How would you answer this question?
I'm technically strong and can manage technical projects, but it's more important to me that I can motivate people and get respect by giving it. Iwert studied econometrics and is very analytical, while I'm more focused on the personal side of business. I think a big part of my success doesn't have to do with whether or not I'm technical, but more because I'm persistent and am not afraid to plan long-term, even if things take longer. One example is a project we did last year when in October 2015 we thought it would be live and running in December 2015, and 1 year later it wasn't ready and bleeding heavily with 5 staff members and lots of technology built. And only now it's starting to make profit.
As long as you believe there is a market and potential, stick to it and try to execute. Motivate the team that's running it, even if it seems like they want to give up. Some things just take more time. As soon as I give up my team will give up.
Where do you see the industry going in the next 5-10 years?
I think our industry is well ahead of the mainstream market. The way we push CPA is way ahead. Many advertisers in our industry are aggressive with their products – but imagine taking this business model to a mainstream company – a product that has repeat buyers as their main customers. The CPA model could be introduced to the mainstream. That's something I see happening in the coming years. More and more products moving into this direction.
Right now it's simple – you have a product and you go to a major advertising company and get a large budget. And what do they do? Most of the budget will go to branding campaigns. It will go to television, which is unmeasurable, and it will go online on big platforms, like AdWords and Facebook, where (over time) most of the traffic is primarily based on branding, not conversion. It might eventually go to a website where they can buy something, but the tracking and the business model behind it is a bit outdated.
So I believe in 5-10 years from now, most of the spend from big companies like these will go to CPA models. Instead of offering 10 million to boutique agencies and just saying "do your thing" they'll require a percentage to go to performance marketing. That's what we do. There's something to gain there.
Is there a reason this hasn't happened yet?
The market is not ready for it. The big companies don't have the technology. The business is not very transparent – there are plenty of middlemen taking a cut along the way. For every dollar, you're getting something like 40% on the actual result. The margins in performance marketing are much better.
If you look back, Facebook started advertising 7 years ago. It feels like forever, but it's not really that long ago. Look at other tools built on that – Uber, food delivery apps, etc. A lot of transactions go through the internet. This trend will certainly continue. It will get easier and easier to buy stuff online – GooglePay just got introduced, so you can connect your credit card to various platforms. And then look at the amount of interaction online – it's insane. This ball won't stop rolling for a long time, so there is a lot of opportunity out there.
What is the most important lesson you've learned over the years?
I think it's the importance of people and positive energy – I find a lot of new opportunities, but they need to give me energy. I'm not money focused. I think you should feel comfortable with the people you work with. You need to feel excited to meet those people again. You should say "I'm going to work with this guy again, and we're going to challenge each other." If you only work with money, you end up working with people who are maybe making a higher ROI, but they don't give you energy. Everything in the end is energy-driven. You have to divide yours in the way you choose. You probably have a friend – you spend one hour with him and he sucks your energy out. As soon as you eliminate all the energy-costing events in your life, you're gonna gain more energy, and the outcome is going to be much more positive.
That's something that really drives me. When I meet somebody and there's energy, there's something positive… then I think there's also potential. If someone comes to me saying "Hey, I can make you money…" and they have an aggressive sales pitch, where I'm thinking "Okay, maybe he's right, maybe I can make another X amount of money." That sounds really good, but I always keep one thought in mind: "If I have to sit with that dude for 3 hours at an airport – or have dinner at a restaurant – am I going to have an enjoyable evening? Or am I going to be polite, and it's going to cost me energy? Do I have to pretend I like him?"
No. I don't do that. I want people around me that give me positive energy. And I try to give them positive energy as well. I have learned the value of loyalty, honesty and patience. In that process, I've also learned not to pretend, whether it's pretending that I like someone or pretending that I'm someone who I really am not and never have been. I'm taking the effort I used to put into pretending and I'm spending it on people and experiences that matter. At the end of the day, it's important to ask why we're making our money – not just how much. Never forget why you started. I would challenge both new and experienced affiliates to think about that. To consider the context of their actions and make sure that they're being honest with themselves, that they're giving themselves good energy – and more importantly, that they aren't afraid to cut out the bad energy, the poor influences, the people and situations that only lead to more of the same. I've learned that the people who take this to heart are not only the most successful in this industry, they're also the happiest.
A word from Mike to you
Thanks for taking the time to read my story. I will be visiting Las Vegas this year with ASW. Although I am not operational any more, I want to know what moves this industry and I always love to catch up with old friends and speak with new rising stars.
Advidi is always trying to contribute back to the industry and its events. We just released the Las Vegas city guide, feel free to check it out.
Happy new year all,
Mike Schwalbach
WHAT A STORY – DON'T YOU AGREE?  I love doing these exclusive interview series, it really helps us all learn a lot about the leaders in our industry.  If you have a suggestion or would like to be considered for a private 1 on 1 interview with me, send me an email at me@iamattila.com  and if you want to watch more interviews check the interview with Robert Gryn and Vashishtha Kapoor.