Media500 is a powerhouse when it comes to Crypto offers. Crypto is gaining extreme popularity ever since it hit new milestones. More and more people want to invest it, and this is a great opportunity for affiliate marketers to drive highly targeted traffic.
One of the best demographics for crypto offers is the male demo. Where do you find males? Porn sites of course like xhamster, xvideos, pornhub and many many more.
The next question is how do you advertise on these porn sites, going direct to them and asking for an ad spot probably costs a MILLION dollars per month right? Well yes, but here's the good news.
There are adult specific traffic sources that let you buy placement specific traffic. So you can hand pick some of the most popular adult sites online, and just buy banner spot on the right column if you want to.
This is what this guide is all about.
Step #1 – Find Out What Ads To Use, And Which Landers To Run – The Quick Guide To Spying On Adult Traffic
A lot of newbies make the mistake of not checking what works. What I mean is, they don't look at what competitors promoting crypto offers do to make money. Instead they think their ideas are worth millions and just start shooting in the dark.
Success has always been about taking what works and adapting it for me, that's why I am a major advocate of using competitive intelligence tools to learn what's already proven to be making $$$.
It's super easy to find what works. All you need is a spy tool like AdPlexity Adult.
After you sign up and login, all you have to do is use the keyword search section and type in some common keywords associated with crypto offers:

bitcoin
crypto
investment
$250

and you will get a results of the different ads running, what countries they run in, and on which sites/traffic sources.
Here's what I saw when I searched for the magic keyword 250. Why 250? Because that's how much someone has to deposit to get paid out the big bucks for conversion.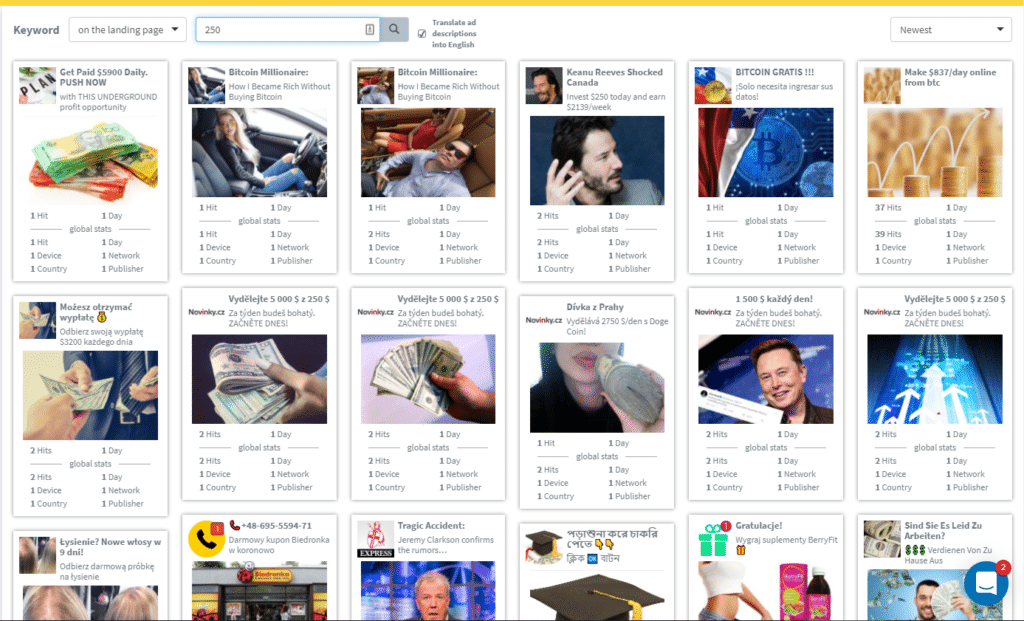 Click here to read my very detailed tutorial on how to spy with AdPlexity, i cover 7 different strategies that affiliate marketers use.
Step #2 – Talk to your rep at Media500 and ask for the best offers in the top 3 geos above
After spying, you will see a clear picture which countries had the most ads. Take the top 3 from here and write it down.
You will then reach out to your rep at Media500 and ask them "What are the best converting offers doing the most FTDs in these geos?"

They will come back with offer URLs and in many cases, give you even landing pages and angles ideas. This is good thing to consider, you may even throw them into your campaign on an A/B split test.

Write down the offer URLs, make sure you tag the links for the subID where you will send the click ID back to your tracker from Media500. (If you are unsure what this means, read my tutorial about RedTrack right here)
Step #3 – Setup Your Tracker and Putting Your Media Buy Campaign Together
Without a tracker, you will not know where your profits came from. We performance marketers need it. Good thing RedTrack makes it easy to track all your ads, landers, clicks, and all kinds of granular data and even filter out fraud.
Get a tracker here, if you don't already have one or login to your RedTrack account here.
After that click OFFER Sources at the top and add Media500.
Next, click on OFFERS and add all the offers you got from your rep at Media500.
Next, click create new campaign, and fill in the details here. I cover how to setup a campaign in detail here, but you are smart -it's just filling out all the fields and putting in the information. We cover advanced things here, so just consult the RedTrack tutorial if unsure right here.
Step #4 – Setup Your Campaign on ExoClick (it's the same on TrafficJunky)
This my favorite part, setting up the money maker! Login to your ExoClick account or sign up if you haven't yet.
Click on Campaigns > NEW CAMPAIGN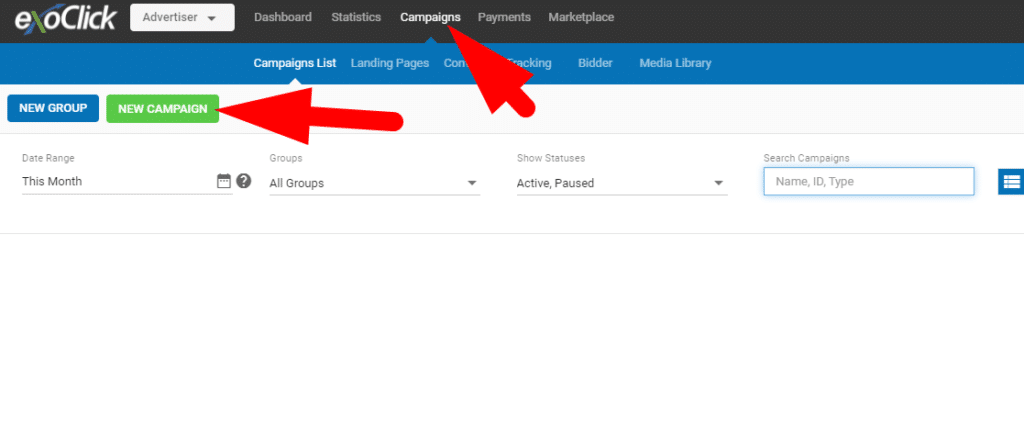 Fill in campaign name, select entertainment & lifestyle, then Tech/Business News and select the 300×250 banner. Leave everything else as is.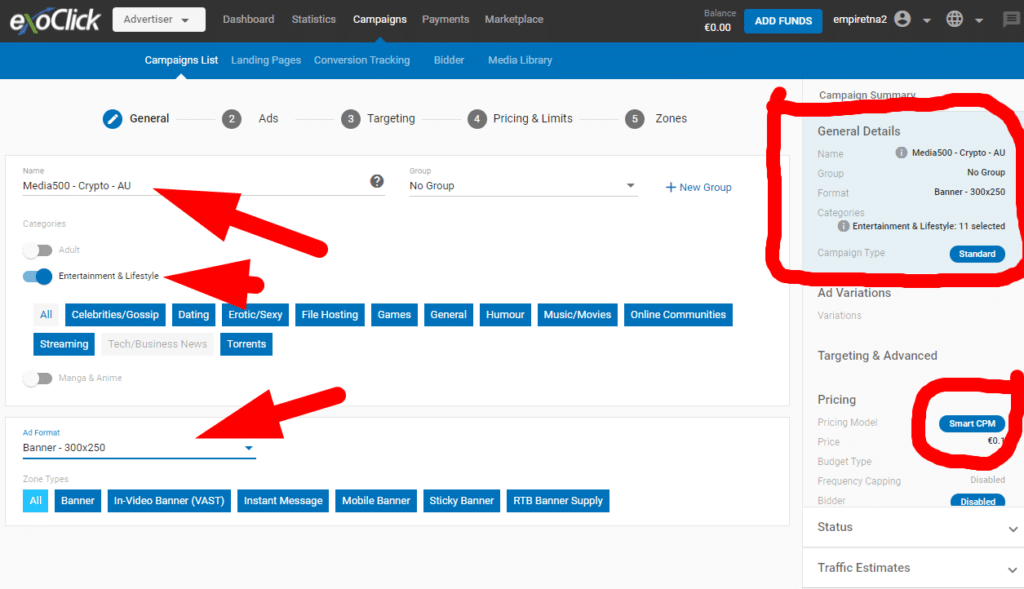 Upload Your Ads On The Next Screen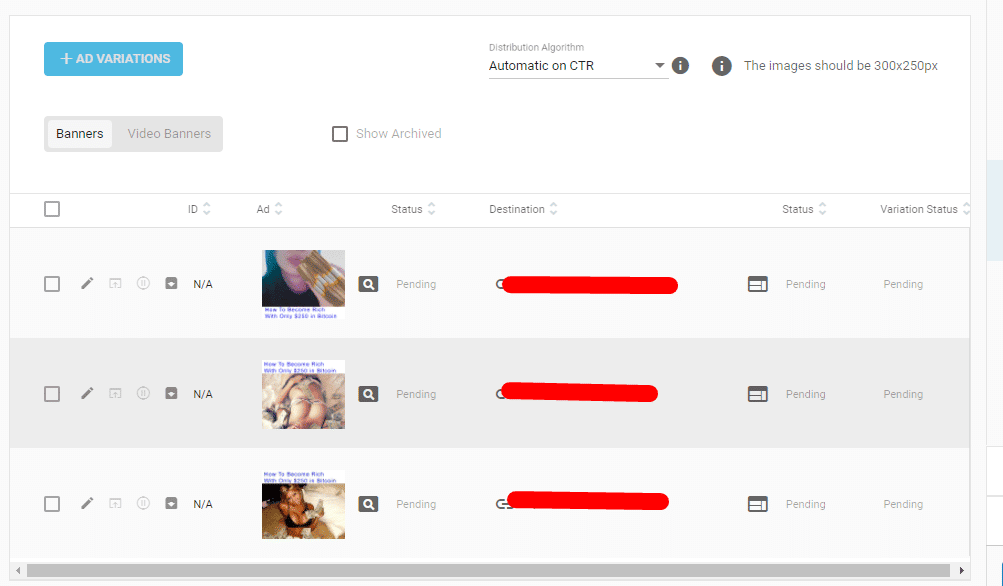 Add the location (for me Australia)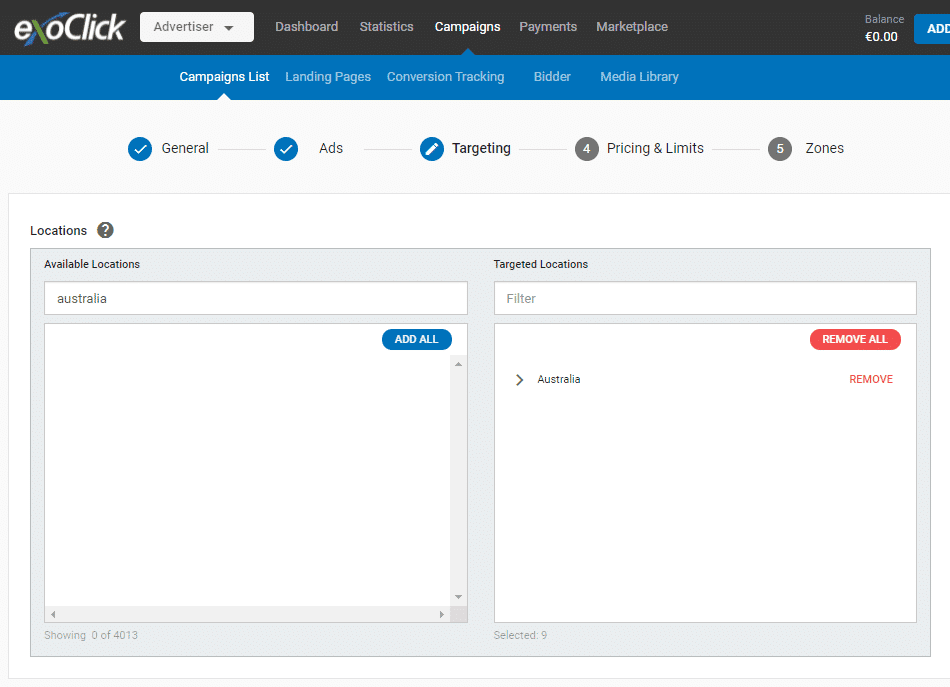 This is very important, make sure you select minimum prices. And bid the lowest possible for the country.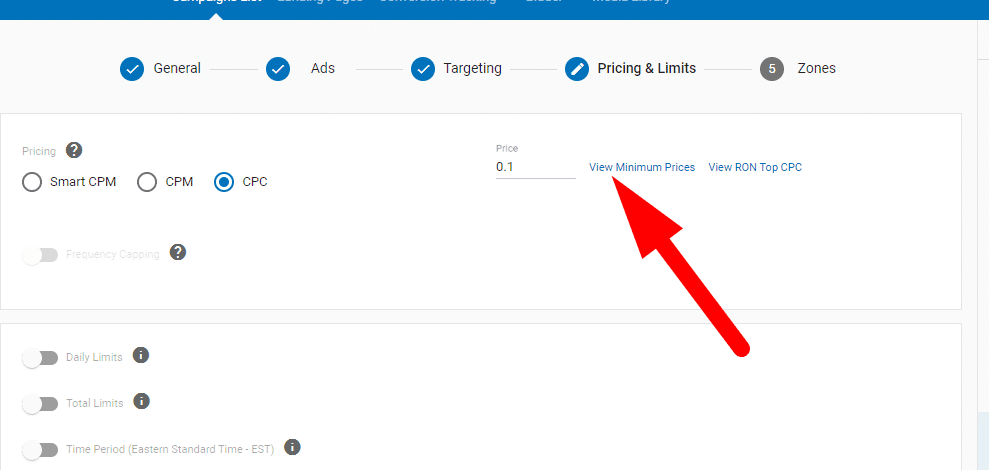 We want Banners, WEB ONLY (this is important, because mobile converts like shit for crypto) and we want MEMBERS ONLY area traffic. Members Only means they signed up, and in many cases have credit card and are proven engaged shoppers.
The minimum CPC for me is 10 cents in Australia for this traffic.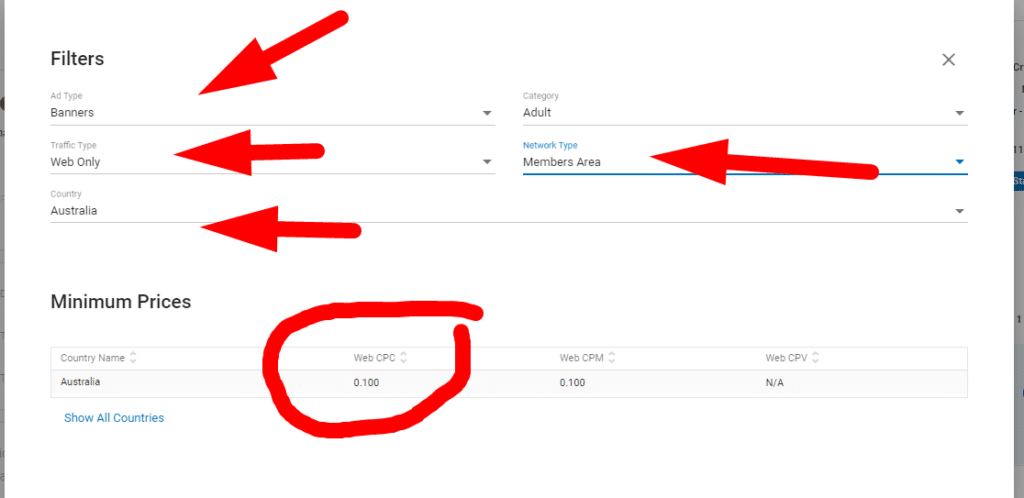 On the next screen we select our targeting.

Decheck include partner networks (we don't want rebrokered traffic as it might be remnant left over crap)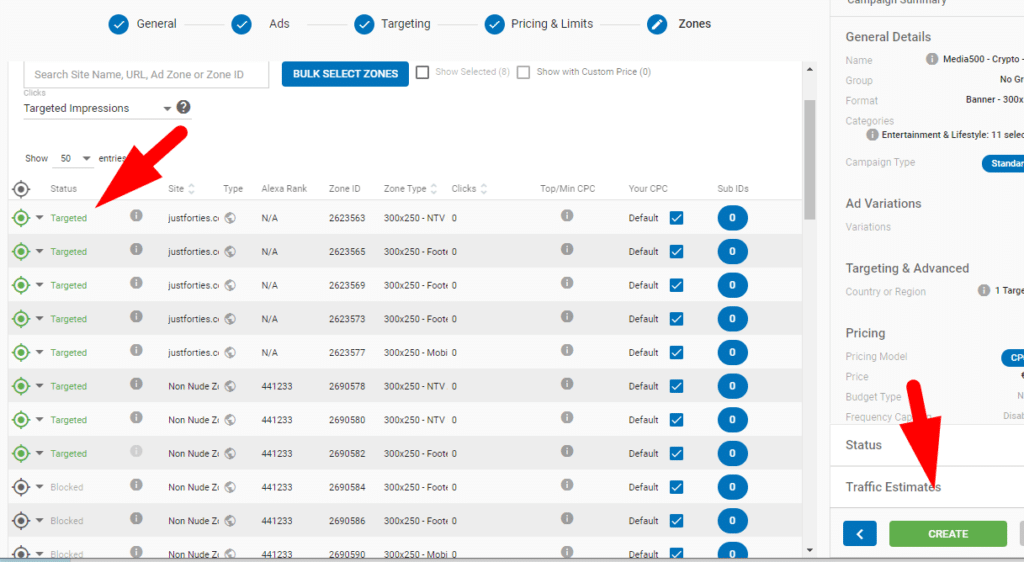 That's it, our campaign is now up and pending approval. Once approved, traffic should start flowing in.
Step #5 – Wait for the data & pending approval to be over.
We should wait until approval then monitor the traffic closely. I personally just set a budget ie $100 to spend, and then check back the next day to see what's up and review the data.
Some people like to wait for approval then watch in real time what happens and block accordingly. If your campaign isn't approved in 24h reach out to their support to see whats up. They are super friendly over at ExoClick so they should square you out real quick if there' an isssue anyways.
Step #6 – Optimize & Scale Your Crypto Campaign on ExoClick
After traffic starts coming in finally, do not make decisions based on the data inside ExoClick. You will want to use RedTrack for that and dive deep into the stats.
If you got leads, then check where they came from. What device, what OS, what time of day. This is super important because it's how you can discover pockets of profits to target later via ExoClick targeting.
A general rule I use when optimizing ExoClick adult traffic campaigns is the offer payout calculation.
If we a lead is worth $20, then we want to spend at least 5x that per banner to get enough data before culling any of our ads creatives.

So since we're running 1 landing page here, and 3 banners. We'd have to spend $300 to test and see where we see the most leads coming from.
If we were to add another landing page, we'd effectively have to double our budget from $300 to $600 to be able to send enough statistically significant data to Media500 so we can track which converted, which did not convert.
Conclusion
Are Adult Traffic Sources a viable traffic option for crypto offers? Absolutely. But get ready to dig deep into your test budgets as they have MASSIVE volume. One way to manage the risk of overspending is to bid low, use CPC and always, always use DESKTOP targeting.
Another tip that worked well for my team is to go for members only area traffic. This tends to be way, way better quality than RUN OF NETWORK (open to everyone) traffic.
Another tip. See if you can put ads onto ESCORT/HOOKER sites. People that hire hookers usually have money so they are a perfect target audience for Media500 crypto offers.
UPDATE: This is an old article, media500 has now renamed itself to Suprememedia. You may sign up for an account here >>
DISCLAIMER: For educational purposes only!
The information contained in this Website is provided for informational purposes only. No recipients of content from this site, clients or otherwise, should act or refrain from acting on the basis of any content included in the site without seeking the appropriate legal or other professional advice on the particular facts and circumstances at issue. iAmAttila expressly disclaims all liability in respect to actions taken or not taken based on any or all the contents of this Website.
Any information sent to iAmAttila by Internet e-mail or through the Website is not secure and is done so on a non-confidential basis.
Some links within the Website may lead to other web-sites, including those operated and maintained by third parties. iAmAttila includes these links solely as a convenience to you, and the presence of such a link does not imply a responsibility for the linked site or an endorsement of the linked site, its operator, or its contents.
This Website and its contents are provided "AS IS" without warranty of any kind, either expressed or implied, including, but not limited to, the implied warranties of merchantability, fitness for a particular purpose, or non-infringement.
The original contents of this website are Copyrighted materials and are subject to the restrictions and protections set forth in the Copyright Act.