This is the blog post that you have been searching for! If you want to find out more about target audiences and lead quality optimization, this resource will tell you what you need to know about the basics.
Let us be honest for a second, every single entrepreneur and marketer can feel overwhelmed as there are loads to take in. It does not matter if you are just starting out or have been doing it for some time, everyone is trying to improve and searching for that striking quality.
After you have read this blog post, you will be one step closer to becoming an expert at understanding the system behind marketing. This system has been used by big brands to sell their products and services and can work for both small businesses and big ventures. It does not matter if you are selling digital merchandise or a service, this system will work for your business.
Why? Well, this system works because it takes advantage of all the aspects of business growth. In short, if you want to grow your business you need to get more customers, increase the average transaction value per customer and get a customer to complete more transactions.
Read along, because what I am about to share here you will not find anywhere else.
First things first, you will have to familiarize yourself with the steps to lead quality optimization. If you do not want to end up wasting valuable resources, you will need to read about new strategies such as Google Analytics, SEO and Facebook Ads while reminding yourself of the lead quality optimization process. There is no real value in grasping something like SEO if you do not know how to apply it to this process.
So, without any further ado, here are the seven simple steps that you need to memorize to grow your business:
Identify the product
Select a source of traffic
Provide a lead magnet
Share a tripwire offer
Provide a core product
Provide a profit maximizer
Have a return path
By sticking to this process you can sell services and/or products to different target audiences, from financing to beauty products!
Identify the product
Business is actually quite straightforward. You get money to transfer your customers from a so-called "before state" to where they desire to be. During this so-called "before state", the consumer is unhappy about something. This unhappiness can be caused by boredom, pain or fear to mention only a few possible reasons. Now once they arrive at where they desire to be, their lives will improve. They will no longer experience the pain, boredom or anxiety.
In short, consumers don't actually buy a service or product. What they do buy are solutions. They buy something that will take them to where they desire to be.
The majority of businesses that are unsuccessful do not provide their potential customers with this desirable situation. A mediocre marketer will only emphasize what customers will get if they buy the product or service, but to be exceptional at marketing you need to tell the customer how he/she will feel and the changes that they can look forward to. An excellent marketer will tell them that they will improve their social standing if they buy their product or service. Therefore, to clearly identify the desired result that your business can provide is the key if you want your business to be successful.
To be able to identify the end result that your business can offer, complete the following table.
With the help of the answers that you got after you have completed this table, your marketing team will be able to put together a message that will have a marked effect on your target audience.
Now, the gap between your target audience's before and after state is referred to as value. So, if you want to make your product or service more expensive, all you have to do is make sure that the gap between these two states is bigger. You can achieve this by designing a better product or service or improving your marketing.
Select a Source of Traffic
Contrary to popular belief, your business does not have an issue when it comes to traffic. The source of your problem is most likely with its business model, offering or how it measures things. Just consider the following… What would you do if you got paid each time someone visited your website? Well, you would most likely find a way to get traffic to your website! As a matter of fact, you could pay people just to visit your website and your profits could still be equal to the costs. If you grasp lead quality optimization, nothing will stand in the way of your business! So, traffic is not an issue.
There are many social media platforms such as Facebook, Twitter, and Pinterest that are in fact standing in a queue just to sell targeted traffic to you. In addition to these popular platforms, there are SEO and pay-per-click service providers too that also want you to get more traffic. You just need to grasp how to calculate the value of traffic and how to get the most value from that traffic. If you fail to comprehend how lead quality optimization works, all strategies will just be a waste.
Business owners often become discouraged as they do not have any systems in place or operate without a context. That is where iamattila.com can help. I can show you how to get traffic with the help of Facebook Ads, email marketing campaigns or blog posts. Though, you first have to grasp how the system works. The objective, irrespective of which source of traffic you select, is to drive users through the funnel.
You have a wide range of traffic sources to select that include email marketing campaigns, Facebook Ads, Twitter, blog posts, SEO, banner ads and YouTube to mention only a few. However, before you use multiple traffic sources it is best to first master one source and then move on to the next one. Everything starts with your lead magnet…
Provide a lead magnet
You are probably wondering what a lead magnet is, right? Well, in short, it is something really inviting that will be worthwhile to a visitor in exchange for his/her contact details.
As a matter of fact, this can be regarded as the very first transaction between your business and a potential customer, even though no one is getting paid. Your lead magnet will generally be shared on your landing page which has been designed in such a way that it can convert cold traffic into leads. In order to be successful, the lead magnet has to offer real value to your visitors, but rest assured that your landing page does not have to be showy.
Here is an example of a great lead magnet: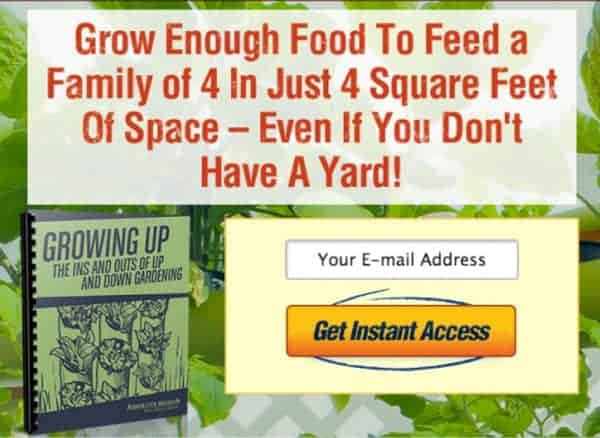 The purpose of the lead magnet is to boost leads. Though, not all lead magnets are just as successful. A good lead magnet will convert more than half of your website visitors into leads. So, what is the secret?
The best lead magnets understand that being specific is crucial if you want to increase your leads. So, there is no need to come up with an offer that is complex. In order for your lead magnet to be effective, you just need to make sure that your offer directs a great deal of interest and is specific (see the example above). Remember that your visitors have a problem and they are looking for a way to solve it. So, lead magnets that can remedy a specific issue for a particular target audience will create more leads which translate to an increase in tripwire sales.
Share a tripwire
This step will set you apart from the majority of your rivals. Your first objective is to get more customers. Thus far you have only created leads with the help of lead quality optimization and so getting brand new customers is still on your to-do list.
If there is a visitor who has shown interest via the lead magnet, you will share with him/her a tripwire offer. Now you are most likely wondering what exactly is a tripwire offer, right? In short, it is a very cheap offer that no one can refuse. Generally, it can be anything from $1 to $20 (though, depending on the industry it can be as much as $500). Its only goal is to convert potential customers into paying customers. Even if the customer is spending only a couple of dollars, it is great if you can convert a potential customer into a buyer.
The secret is to create an offer that your leads will not be able to say no to and the most popular way to achieve this is by making it available at cost price (which means that in some instances you will make less money than what was spent to buy or produce it).
Remember that the goal is to get new buyers and not to make a profit as nothing beats having a list of paying customers. In fact, this tripwire offer is the most influential step that you can start to implement irrespective of the fact that it will not enable you to make any money immediately. There are many different kinds of tripwire offers that you can use such as software, webinars, physical products or even books. You do not need to look far to see great examples of tripwire offers.
Here is an example of a tripwire offer: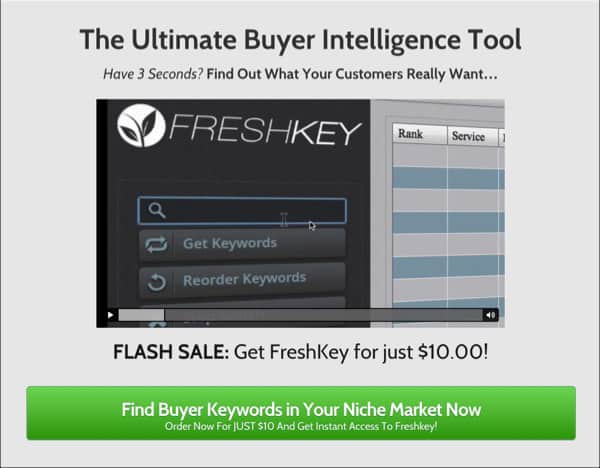 In short, the idea is to convert as many lead magnet leads into buyers even if it means that you will make a loss as you know that you will be getting a new buyer and this can lead to profit via the following steps: core offers, profit maximizers, and return paths.
So, let us turn the focus on how you can boost the value of the average transaction per customer. Needless to say, in order to be successful, you need to know who your target audience is, where they can be found and which services/products they need.
Provide a core product
Your core product will be the best product that your business produces or sells. In other words, your flagship. The majority of businesses are not successful if they share a core offer to a cold prospect. Though, when you make use of lead quality optimization and tripwire offers, you will experience a significant improvement in your sales. Essentially you have already had two prior transactions with this paying customer.
In some instances, the sales that you make via your core product will lead to profits. Though, if this is not the case, you can view this as a chance to get even more paying customers. As mentioned earlier, this is how your business will grow from strength to strength. While your rivals are attempting to be profitable by providing core products, you are not dependent on your core product to be profitable. As a matter of fact, the majority of successful companies do not become profitable until they start to focus on profit maximizers and the return path.
Provide a profit maximizer
With the help of a profit maximizer you can boost the value of the average transaction per customer. The majority of businesses rely solely on selling their core product. As a result, they are encountering many battles. For example, a department store will sell computers at a price that customers will not be able to ignore, but thanks to things like warranties and installation, they can maximize their profits. Other examples of profit maximizers include subscriptions that are charged as recurring billing and prompts like "customers who bought this also bought…" and "frequently bought together".
Here is an example of a profit maximizer:
In short, a profit maximizer is an offer that is made after the initial sale. Remember that the biggest cost was to get the new customer which was the goal of the tripwire offer.
So, ask yourself what you can cross-sell and upsell and identify what you can include with your core product. It can also be effective to find a way to include a membership or subscription. By identifying what you can use as a profit maximizer, your business will experience endless success.
Have a return path
The final step that you can use to expand your company is to get a customer to complete more transactions. This is where the return path becomes important. The return path's objective is to have strategic interaction with your prospects and paying customers on a regular basis so that they will make many more purchases. Remember that with the help of your lead magnet you already have their contact details and so you can continue to market new lead magnets, tripwire offers, core products and/or profit maximizers to them. In short, a return path can be something like an exit offer, loyalty program or content marketing that encourages your customers to return.
By implementing these seven simple steps, you can expand and develop your company!