Lead Generation on Facebook Ads – Here's an actual step by step tutorial that will teach you how to launch profitable wh lead gen on FB ads even after the IOS14 update. This solution makes sure even iPhone, iPad and Mac users get tracked.

Before we jump in, it's important to mention that most RedTrack reviews never teach how to use the #1 affiliate marketing tracker in the industry to track everything from iOS (even after the iOS 14 update that ends tracking using the pixel).

In this very detailed guide we are going to give you actual, step by step instructions on how to use RedTrack to its fullest potential while teaching you how to run white hat lead generation campaign. (Great lead gen offers are available at Clickdealer, and Suprememedia btw, leave a comment if you want an intro so your account will actually get approved and not ignored.)
When it comes to RedTrack pricing, it has by far one of the most appealing costs to new affiliate marketers. They offer a free trial for 14 days, after that newbies can opt for the base package that costs only $49/month, or less than $2 a day.
We've arranged for a redtrack.io promo code that you can use to get even more of a discount and save money on this amazing affiliate marketing tracking solution.
Use the coupon code: iamaffiliate50 to get 20% off for an annual subscription when you sign up for a RedTrack account.
In this complete RedTrack guide I'm going to teach you how to set up RedTrack from scratch ready to be used on Facebook.
---
If you much rather watch a video tutorial, we have made another guide where we teach how to setup Facebook Conversion API using RedTrack Tracking & Attribution Statistics Tool below:
How to Create Your RedTrack Account Step By Step
Creating your Redtrack account is easy. They offer a 14-Day Free Trial and all you need for that is an email address. We also have a redtrack.io coupon for you, be sure to use it -> iamaffiliate50
Here's how you get started. It's very easy and quite fast.
Go to Redtrack.io and click on Start Free Trial.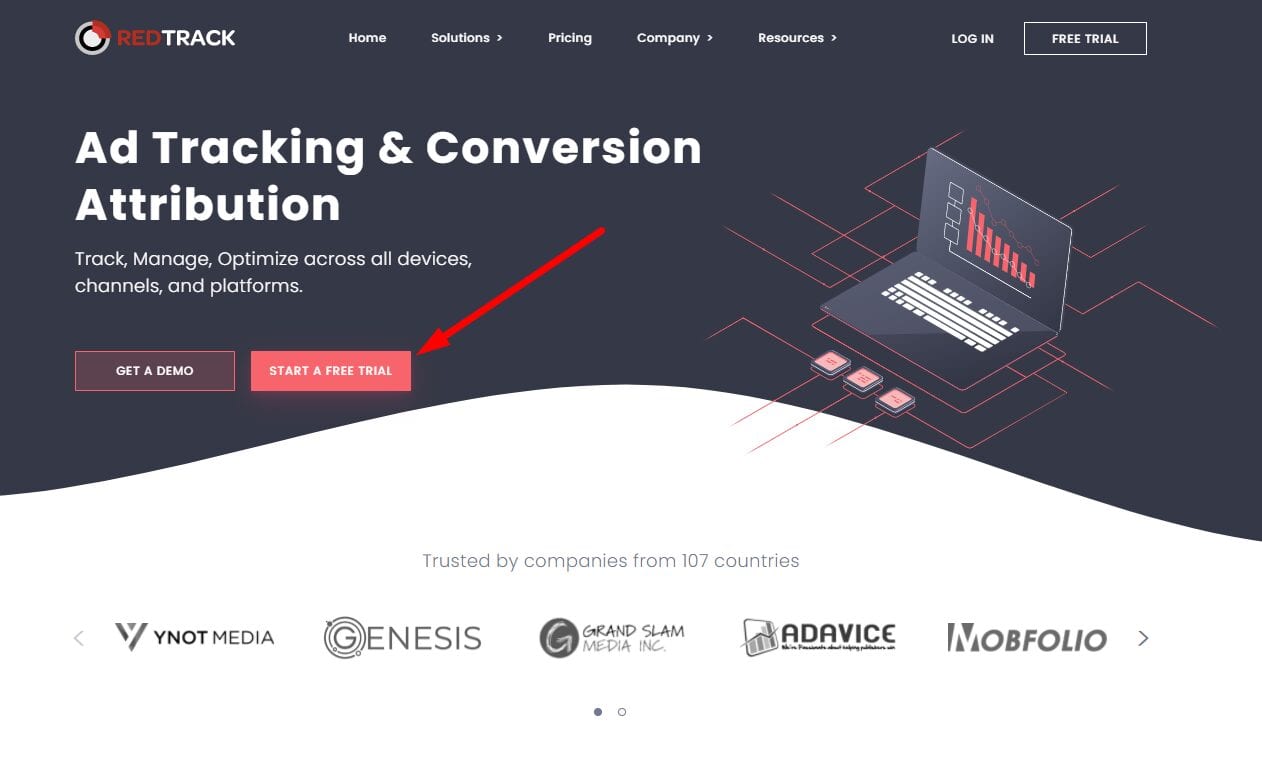 Then you need type in your email address, your password and you can use our Promo Code: iamattila50 and click Sign up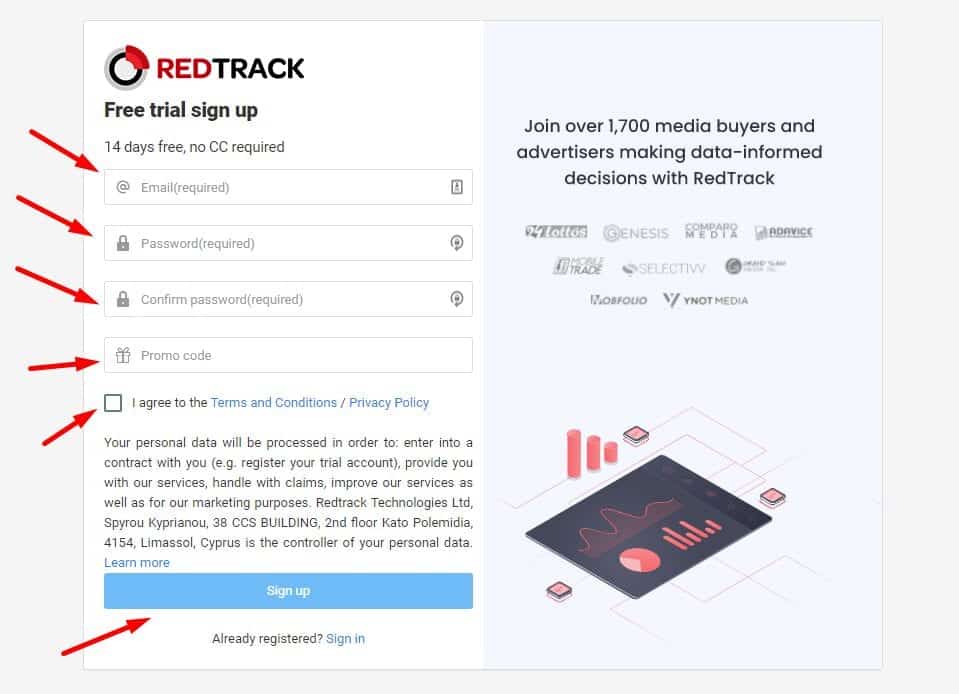 Next, type in your name and select the interface language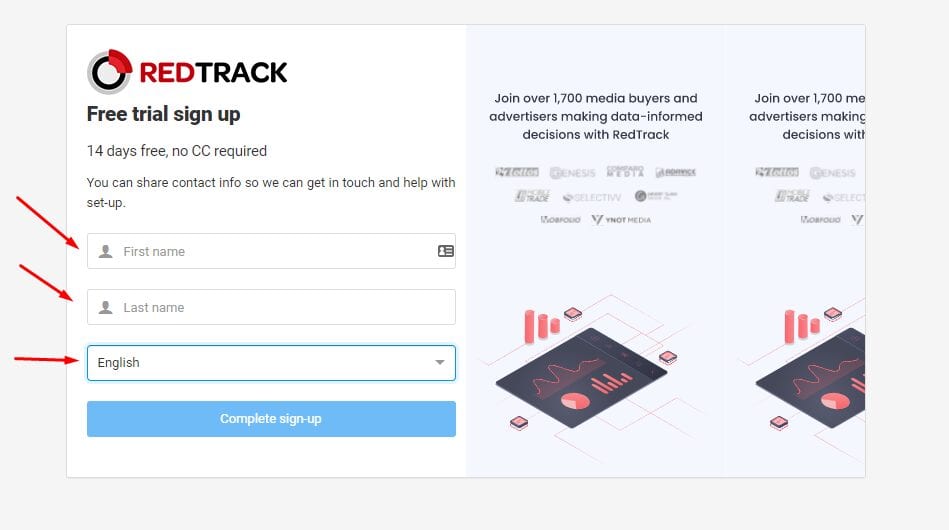 Next you just need to confirm your account via email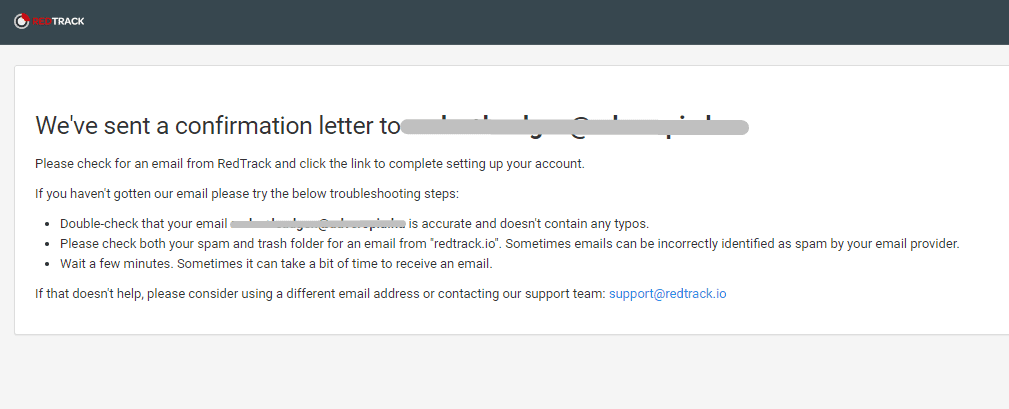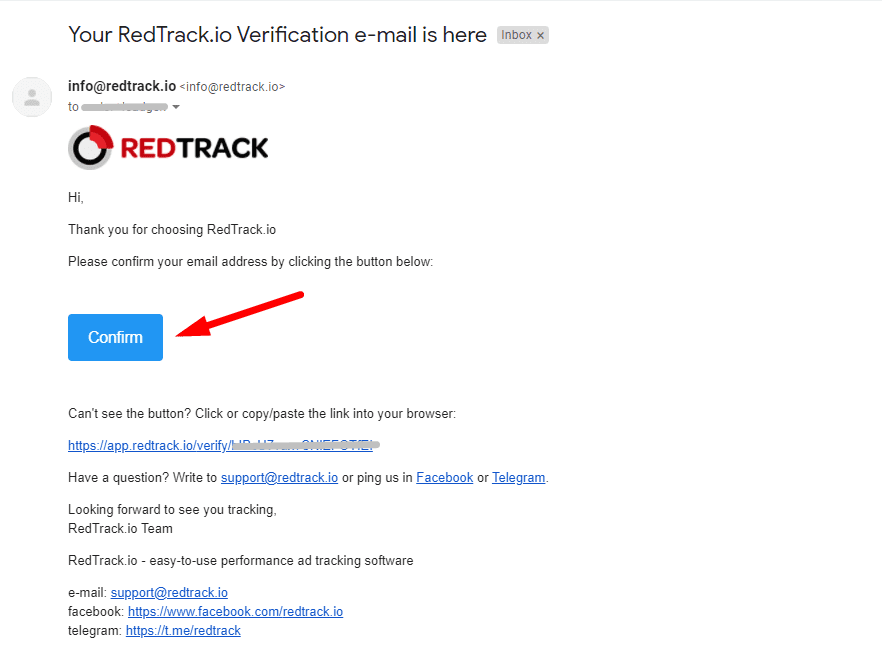 And finally you just need to answer a few questions to complete your trial account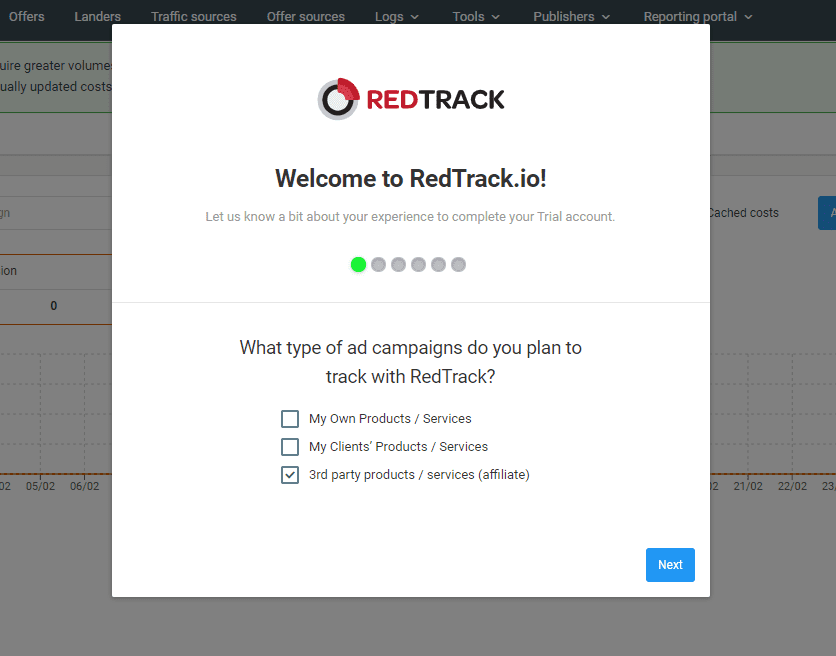 That's it, your RedTrack account is ready to use.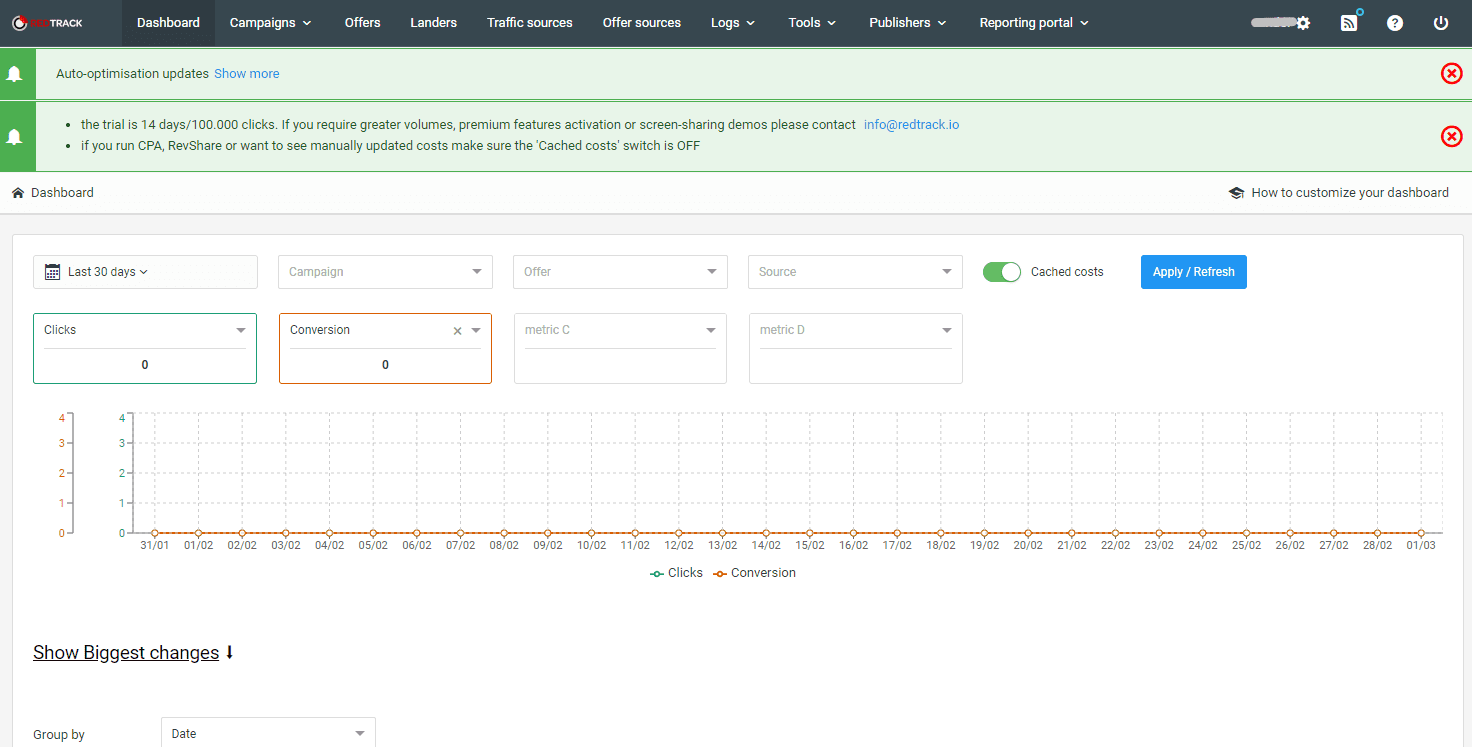 ---
How to Add Your Own Custom Tracking Domain
RedTrack is giving you their own default tracking domain, but for security reasons it's better to use your own custom tracking domain.
For example if Facebook bans your default tracking domain you can easily fix the issue simply by using another custom domain.
To set up your custom tracking domain, you need to have your own domain.
Once you have it go to your domain registrar's website and you need to add a new CNAME record. The setup can be slightly different depending on your domain registrar, but the principal is pretty much the same.
So, first you need to add a new CNAME record.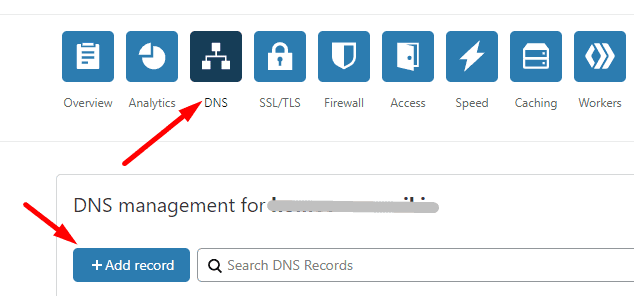 Then select Type:CNAME, the NAME can be anything you like, that will be the word at the beginning of your domain, for example: secure.mydomain.com
Then you need to point this to your RedTrack dedicated tracking domain that you can find in your Profile—Dedicated tracking domain settings:


Once CNAME record has been added, go back to RedTrack, click on Tools and select domains and click New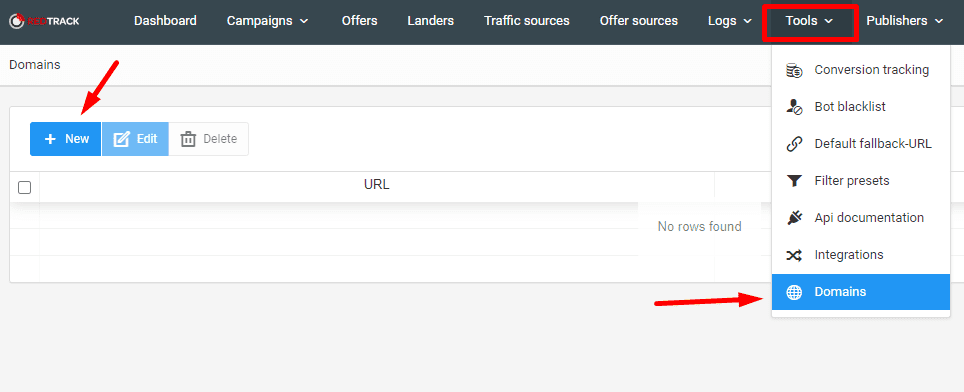 Then you need to put your custom tracking domain in the URL box and click save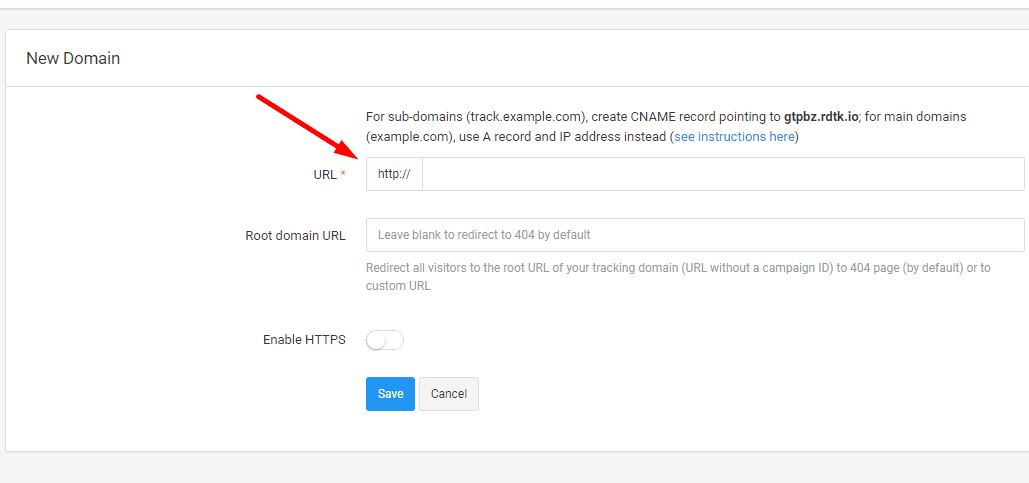 ---
How To Enable SSL For Your Own Custom Tracking Domain
You must have an SSL certificate to be able to add your custom domain to RedTrack.
To configure SSL for your custom tracking domain, go to Tools—Domains, select your custom domain, click Edit, check Enable HTTPS and copy paste your Certificate and Key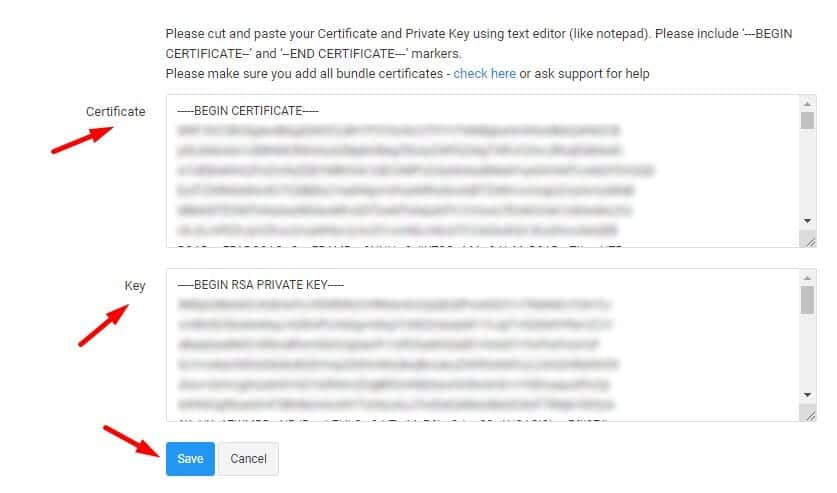 ---
Adding Your Landing Page(s) To RedTrack
Adding your landing page is very easy, just go to Landers and click on +New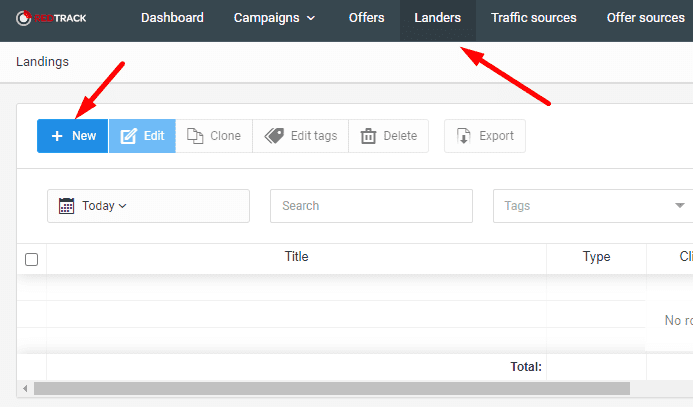 Then name your Landing Page, paste your landing page link to the URL box and click save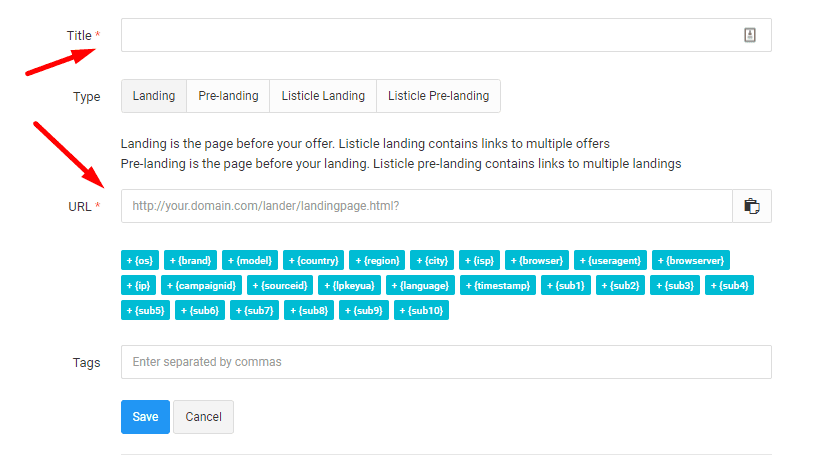 ---
Adding Offer Source (CPA network)
To be able to add the offers you want to promote, you need the add the Offer Source (network) first.
RedTrack has a bunch of built in offer source templates, so all you need to do is to click on Offers Sources and +New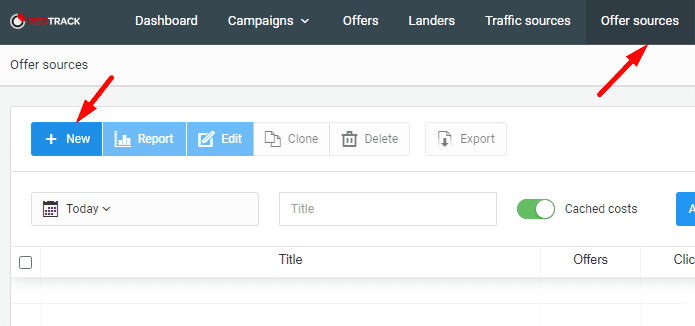 Then find the Network you are working with, and click on the Add button, that's it
---
Adding Offers
To add the offers you want to promote, go to offers and +New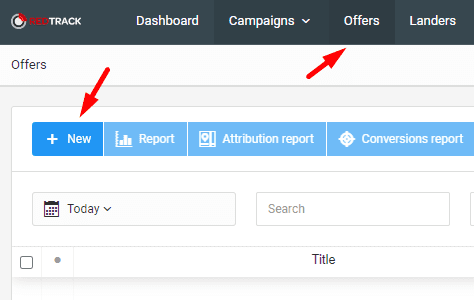 Then type in the offer name, select the offer source, and paste in the Offer URL, make sure the URL contains the click_id, and ensure you are sending it on the correct parameter. (ask your CPA network rep for help)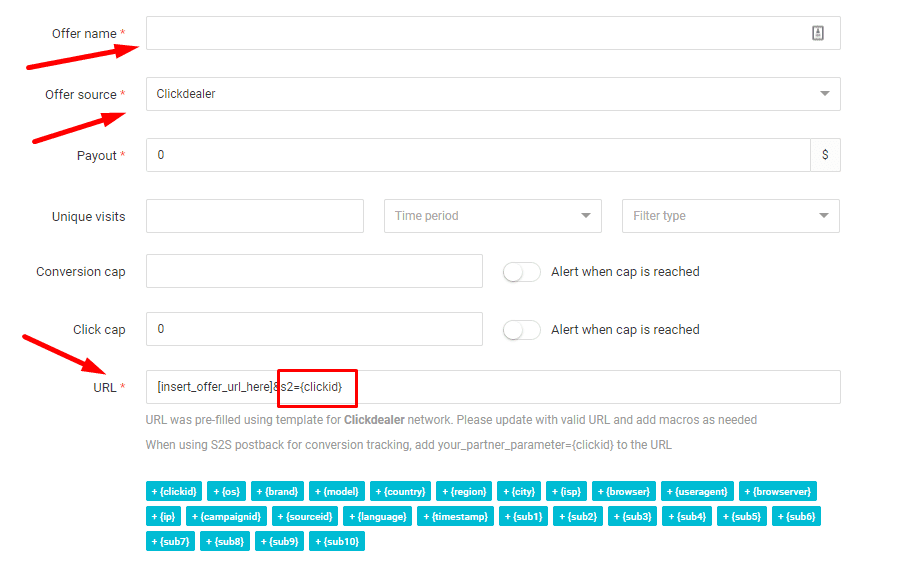 ---
Adding Traffic Source
You also need to add the traffic source where you are going to run your campaigns. (Facebook, Google, ZeroPark etc.)
With RedTrack it's super easy since they have pre built traffic source templates. So go to traffic sources, +New and simply select your traffic source and click on the green Add button.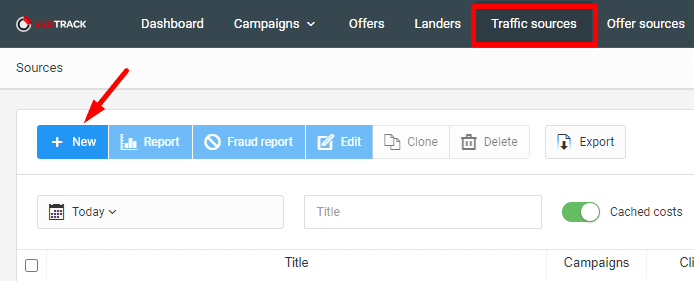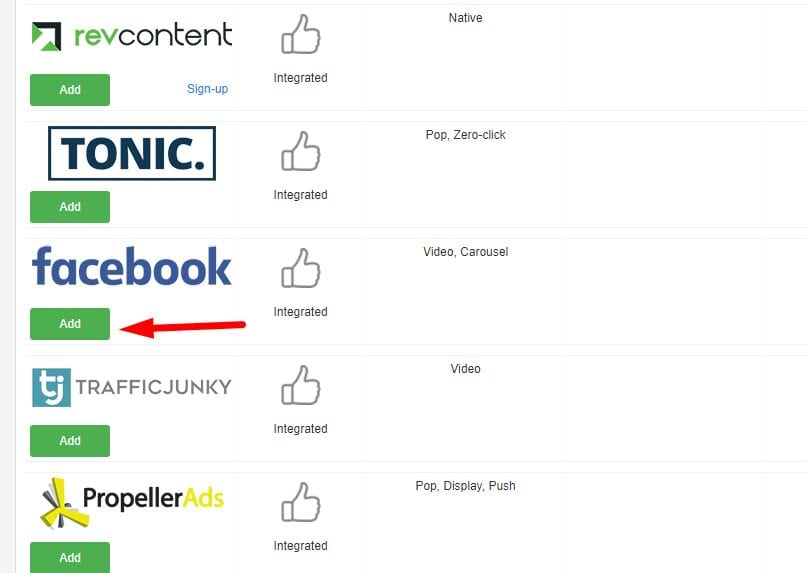 ---
Tracking Campaign Setup
Now we have everything to create our first tracking campaign. So let's go to campaigns and +New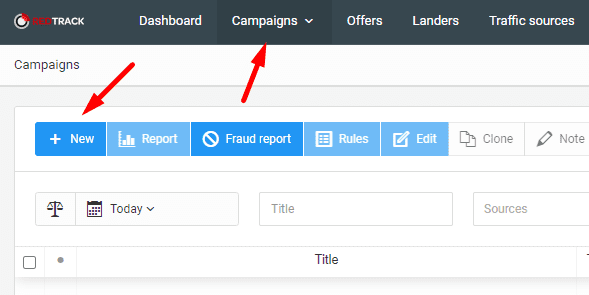 Then name your campaign, select the traffic source, and also your custom tracking domain.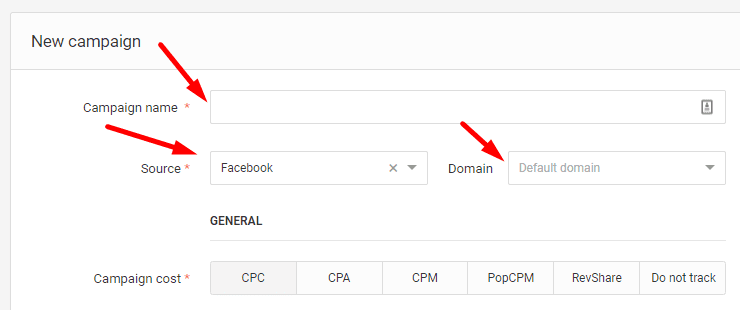 Next, select your landing page, and offer.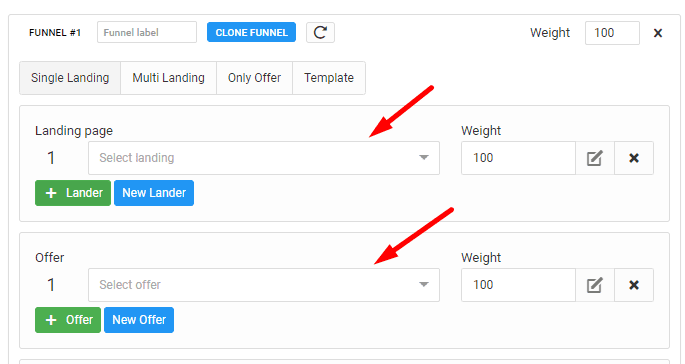 Then click save and your Click URL (the link you are going to promote) will be generated.

---
How To Configure Your Campaign and Landing Page to Use No Redirect Tracking
No Redirect tracking is when you use your landing page link instead of the tracking campaign click link, so the traffic is going directly to your landing page without any redirects.
This type of tracking is essential for Facebook and Google Ads mostly.
Each RedTrack campaign generates both Tracking campaign Click links and No Redirect Scripts as well.
The No Redirect script lets you track all the data you need even when traditional tracking links can't be used.
The campaign setup is the same for no-redirect campaigns as well, but you are going to promote your landing page URL in your traffic source.
To generate a no redirect script, go to your campaign, locate Tracking Options and switch from Redirect to No Redirect tracking

It will automatically generate your No Redirect Script that you need to add to your landing page source code.

You can use Notepad++ or Sublime Text to add the script to your landing page.

---
How To Configure and Add Google Tag Manager Code and Facebook Pixel to Your Landing Pages.
As a general rule, we only add Google Tag Manager script to our landing pages, and then inside Google Tag Manager we add the pixel events to fire on a specific action.
First go to Google Tag Manager and create an account, if you haven't already.

Type in your account name and select your country.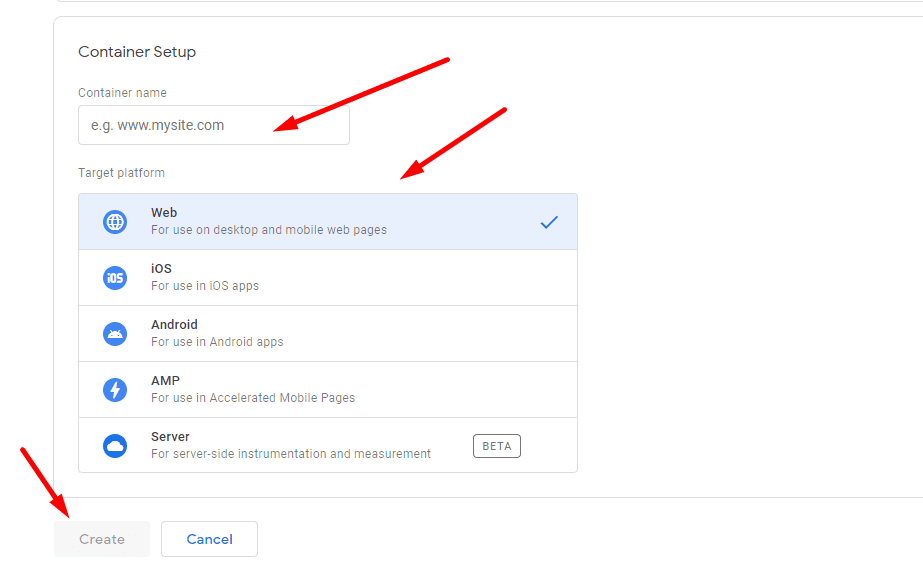 Then type in your website's URL, select Web and click on Create.
Next you need to add the Google Tag Manager Code to your landing page(s)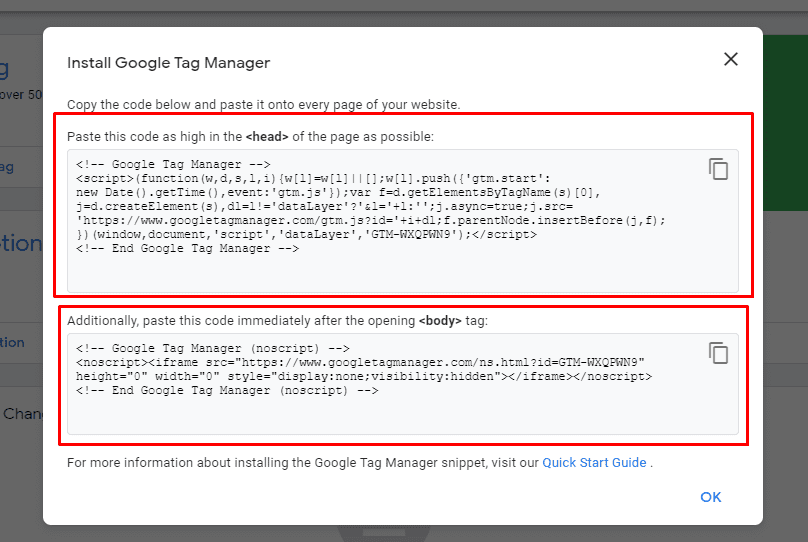 The first part of the code goes in the <head> of your landing page

The second part goes after the opening <body> tag.

After that, go back to Tag Manager, you need to create a new tag by clicking on the New Tag button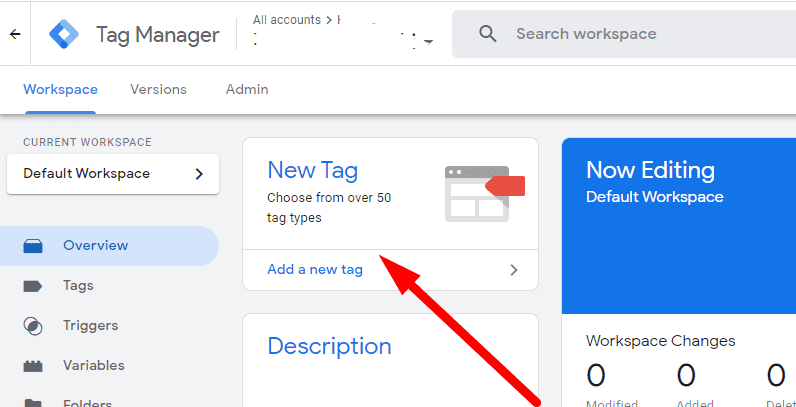 Then name your Tag and click on Tag Configuration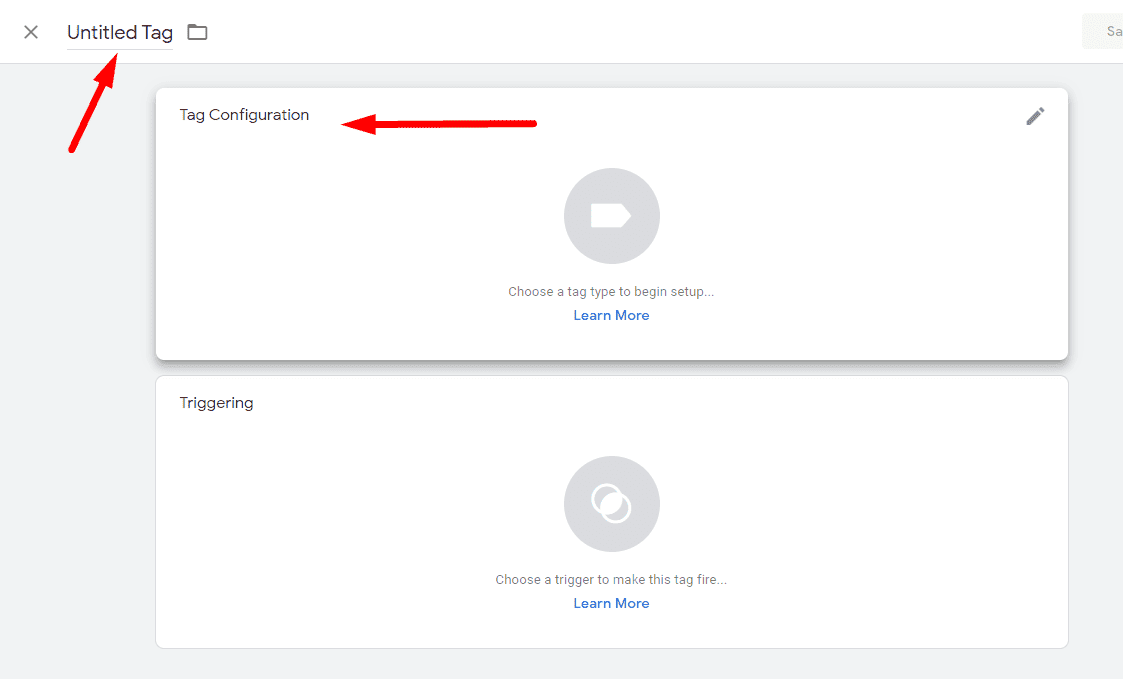 I'm going to configure 2 types of tags. The first one is going to fire a page view pixel with a 5 second delay. So if a visitor spends at least 5 seconds on the page, the page view pixel will fire.
To do this, select Facebook Pixel as your Tag Type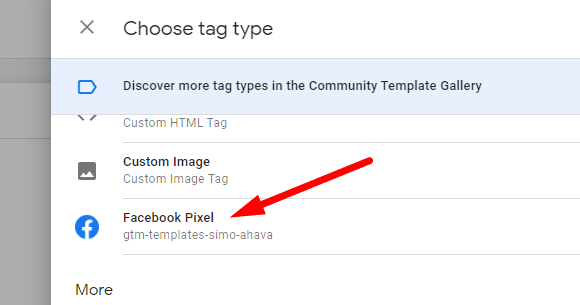 And add your facebook Pixel ID and select PageView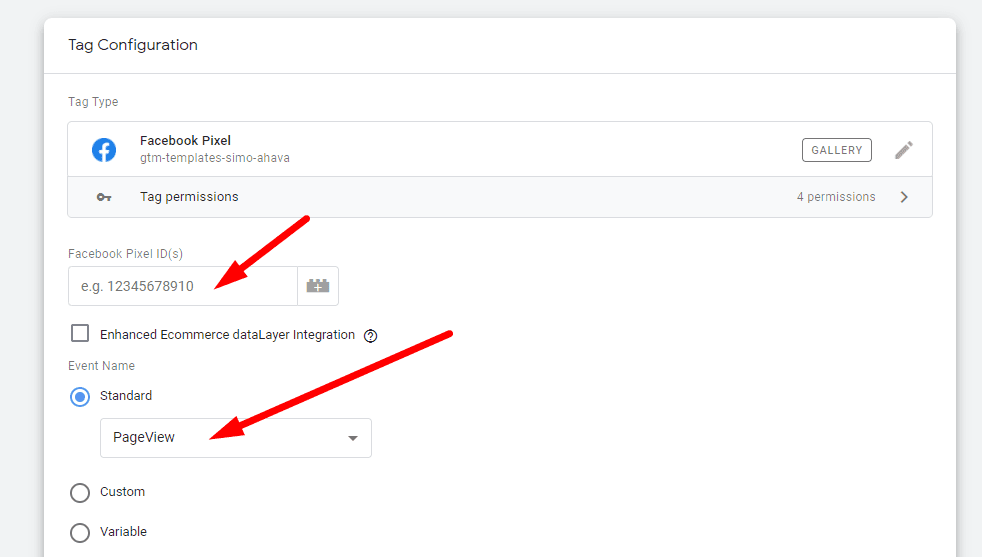 Then scroll down and click on Triggering

Create a new Trigger, and choose Timer as trigger type.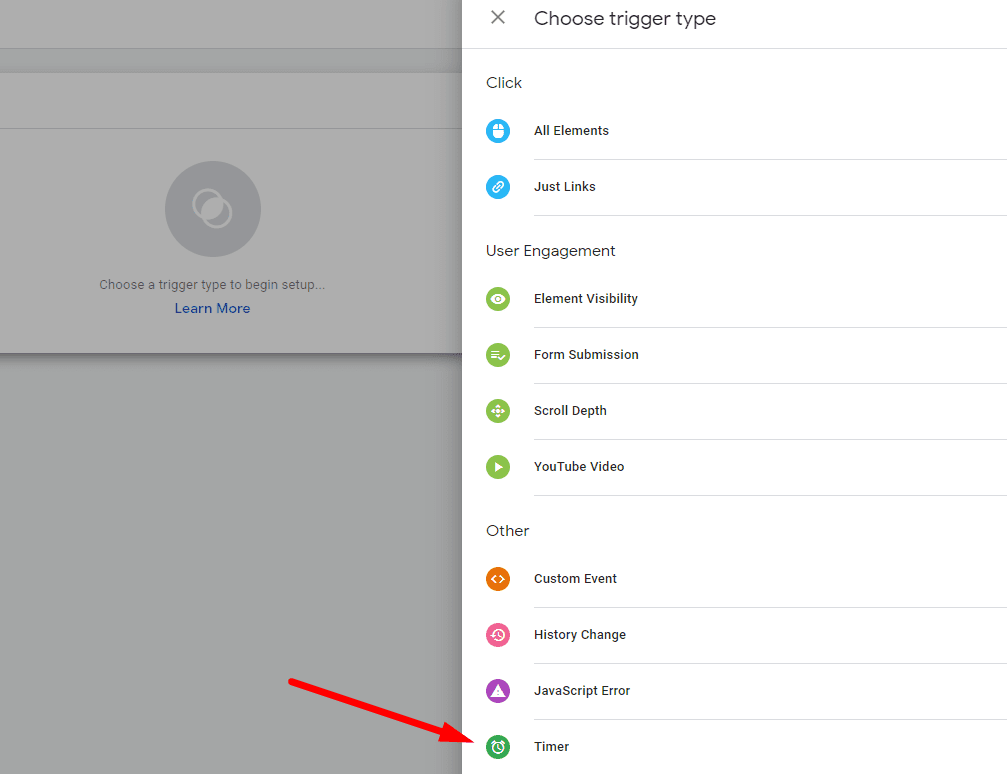 Then type 5000 in the Interval box, to get 5000 milliseconds delay, which is 5 seconds, and configure the trigger to enable it when your page URL contains ''life-insurance'' for example (or whatever word your landing page url contains)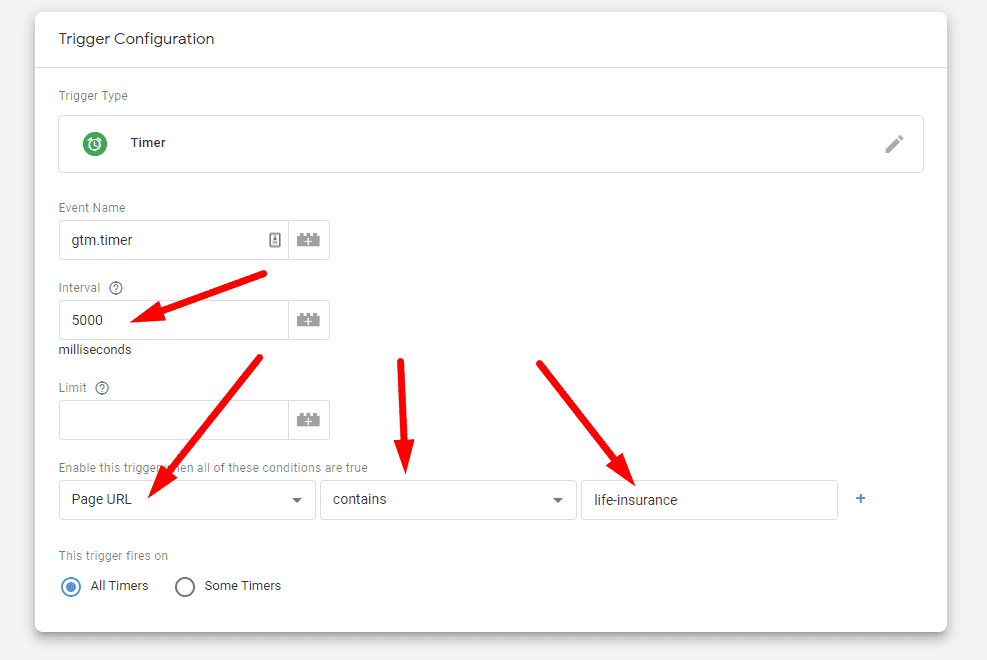 Click Save and Publish changes.
The second tag type is going to be OnClick, which means, whenever a visitor clicks on any of the links in our landing page, it's going to fire an Add to Cart pixel.
So click on the New Tag button again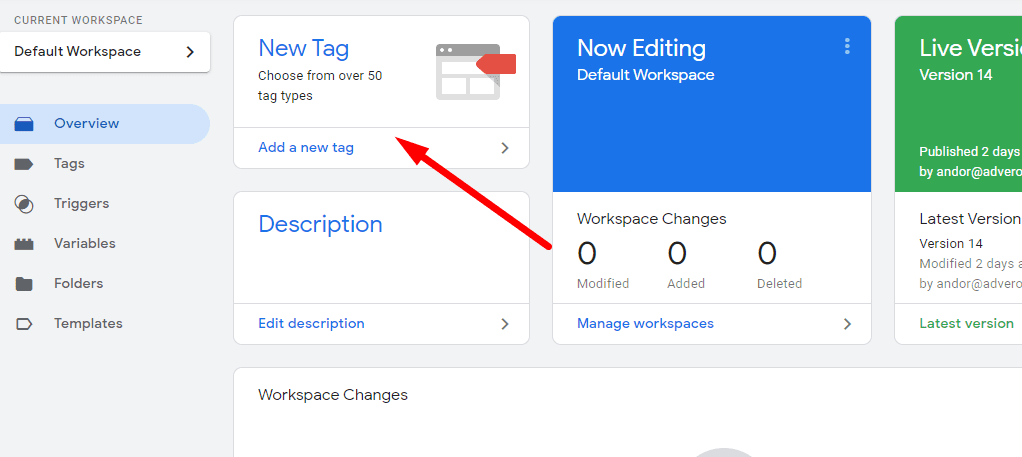 Then Tag Configuration—Facebook Pixel, add the Pixel ID again but this time select Add To Cart instead of PageView, because we want to fire an Add To Cart event when someone clicks on any of the outgoing links that takes them to the offer.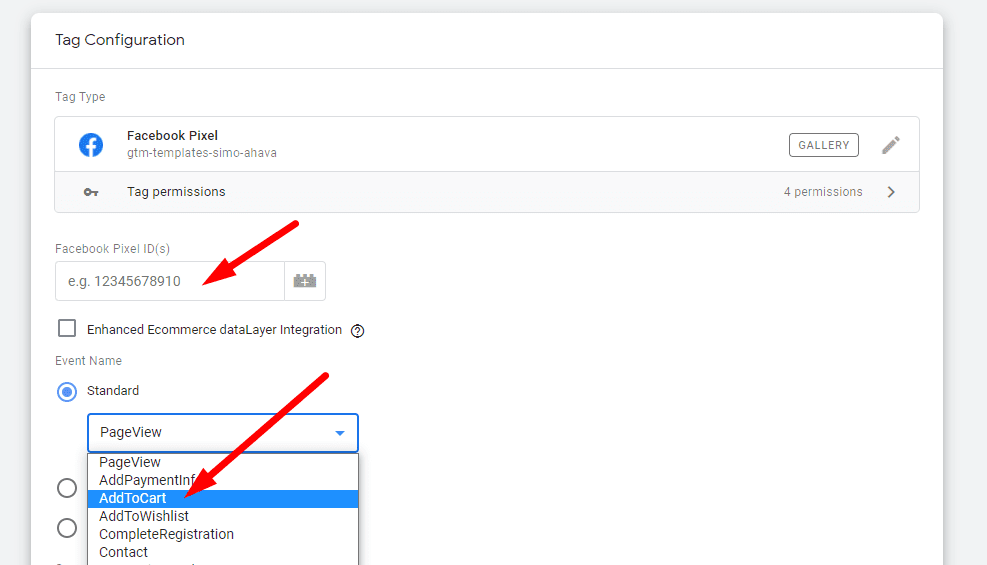 Then scroll down to Triggering, create a new trigger and choose Just Links as trigger type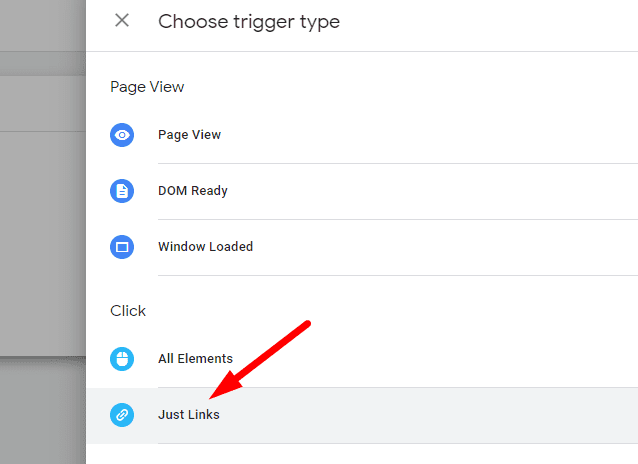 Then configure it to trigger the event on pages that contains ''life-insurance'' in our case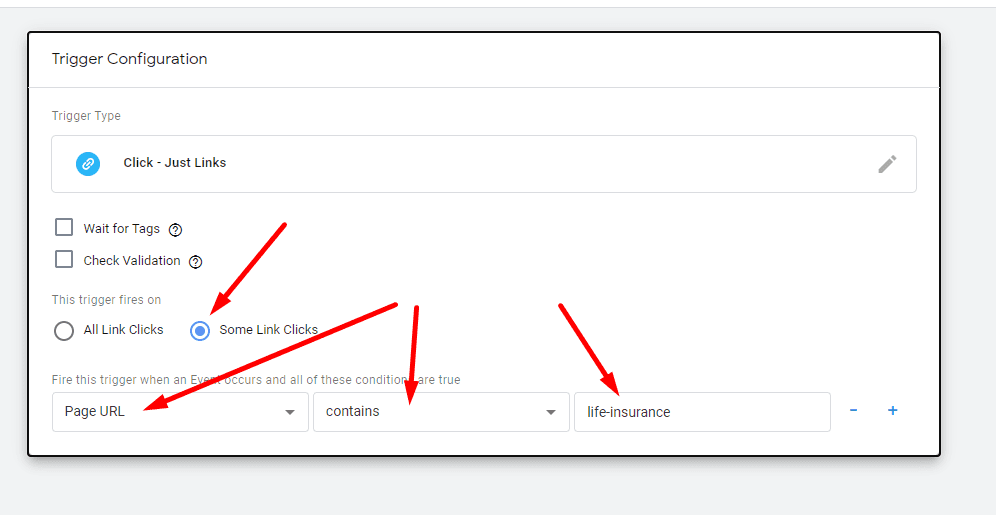 Click save and publish changes.
Note: When you aff the Add To Cart and PageView Pixel code to Google Tag Manager, it will not be sent to Facebook using the Conversion API, which means this will not work after the iOS update IF a user opts-out.
---
How to Import Custom Audiences, Generate Lookalikes and Launch Your Facebook Campaign
The most important thing in this step is getting the seed audience. We are getting them from CPA Networks / Advertisers.
Once you have them, open Ads Manager and navigate to your desired ad account (if you have multiple ones).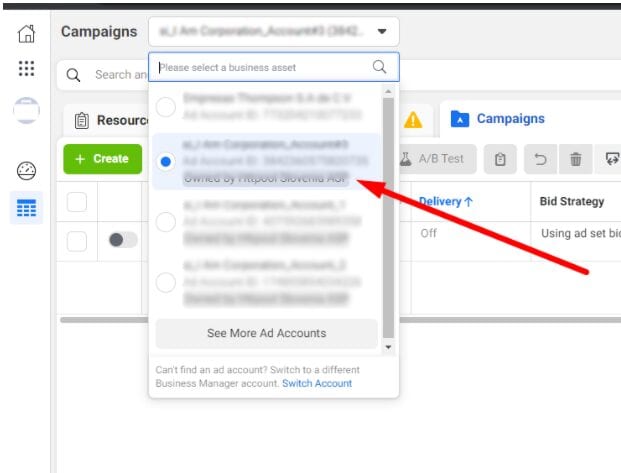 Then I'll navigate to the 9 dot grid button and select audiences. There I will create a new audience and, since I already have a file with audiences, I'll import them to the account!

Click on "Create Audience" and select "customer list". There a window will pop up where you have to add small adjustments.

In our case, I won't be touching anything on the first page, ill select no for the customer value column, as my customer list doesn't have one. I will also click on the checkbox on the bottom that I agree to the terms.
Then at the "Add customer list" tab, ill upload my CSV file and name my audience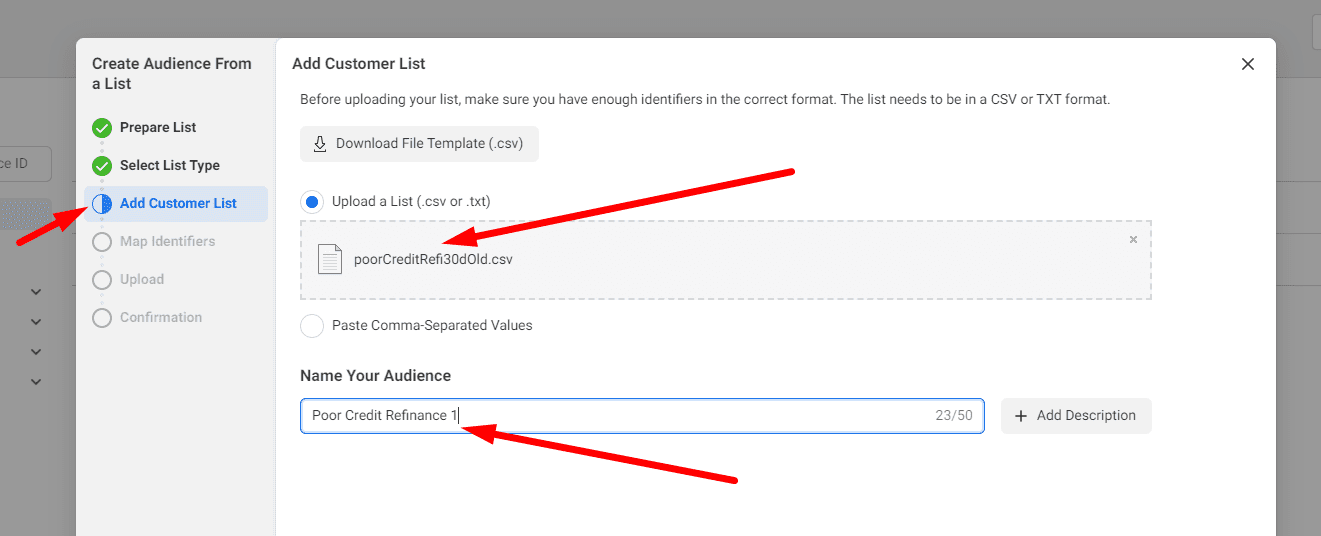 If any error would arise from the importing, it would be shown here. I'll click on import and create next.
On the confirmation page, I'll create another custom audience as I have 3 total. After that, you will have to press "agree to terms"

Now I'll create a lookalike audience.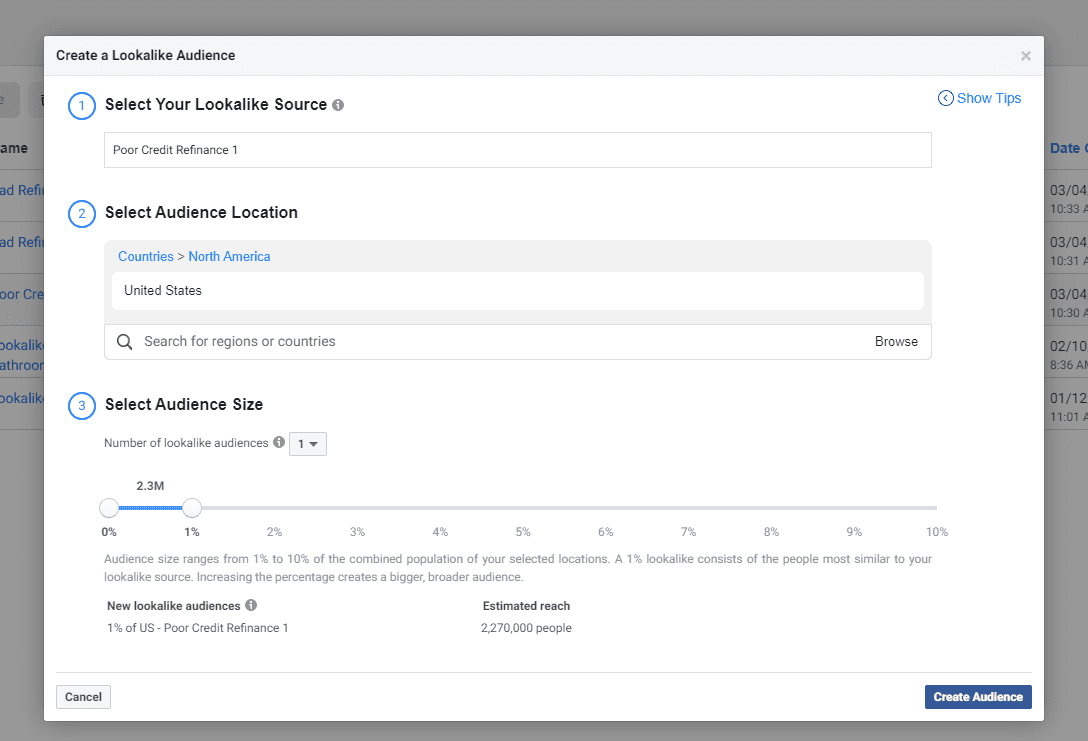 Now that we have our audiences, we can start our campaigns! Navigate to the ads manager and click on a new campaign!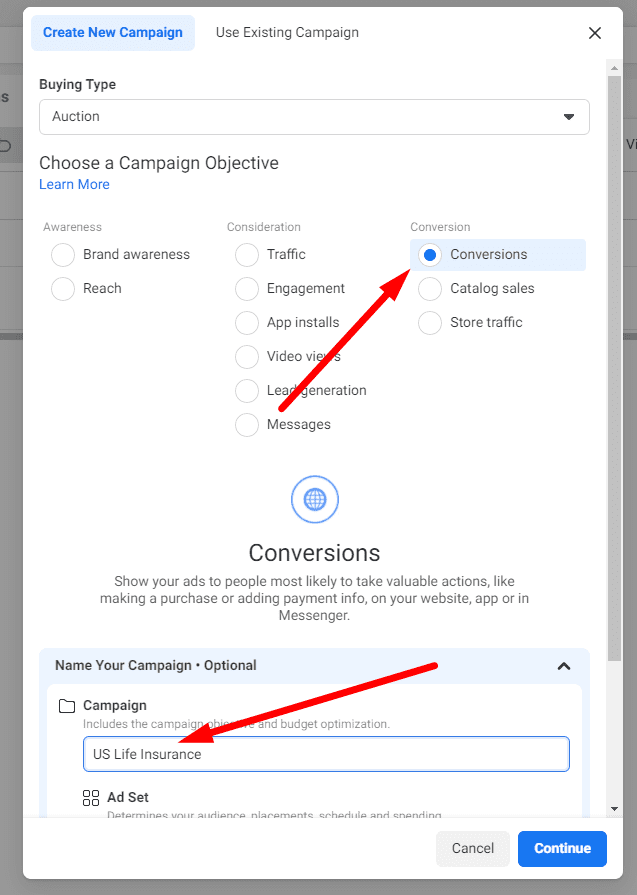 We need to make sure we set up our pixel and audience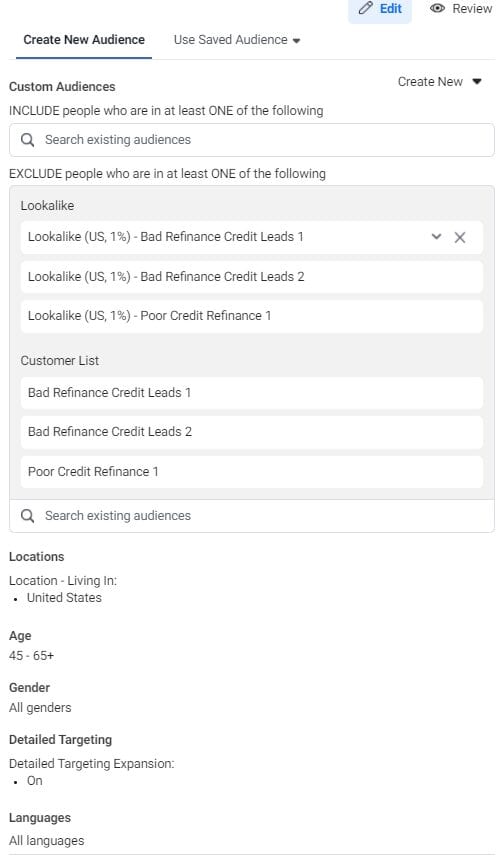 After that select your ad and add creatives into it.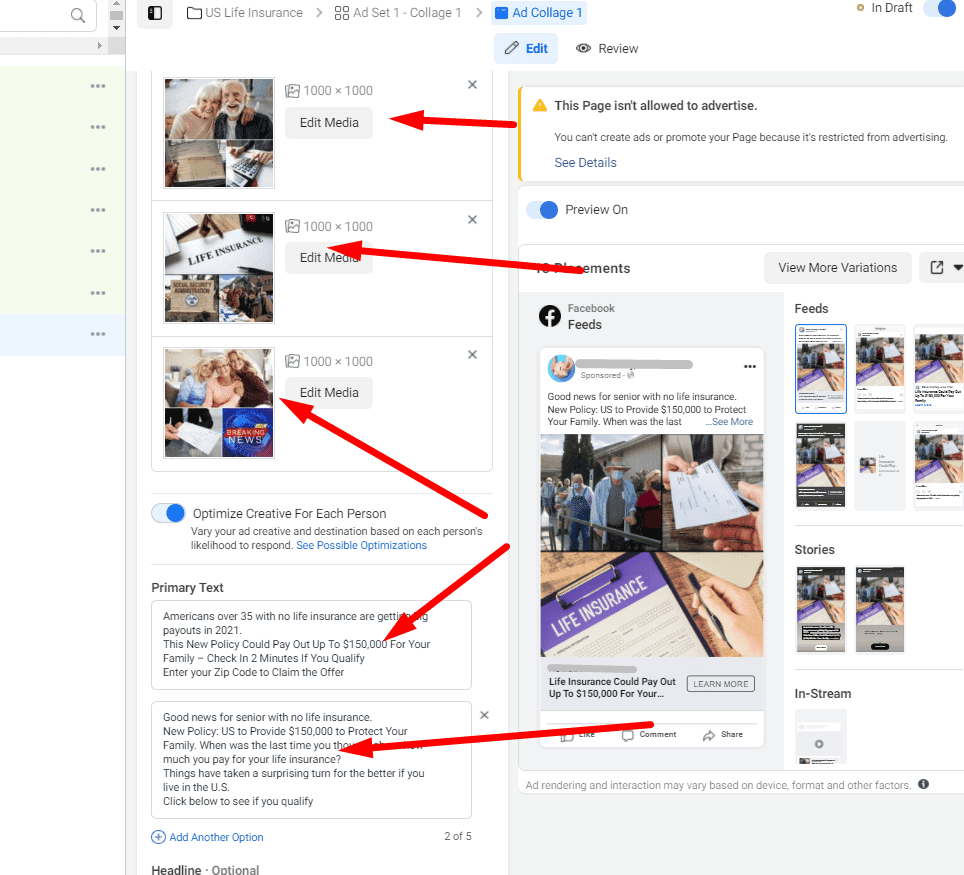 ---
How To Piggy Back Facebook (Purchase, Lead, AddToCart, PageView, etc) Events Through S2S With RedTrack (The solution to IOS14 update nightmare)
One of the ways when we compare RedTrack vs Volume that RedTrack.io simply takes the cake is solving the iOS14 disaster thanks to Apple.
In case you don't know, with iOS14 most of the Apple iPhone, Tablet, and Mac users won't be tracked. RedTrack helps solve this by allowing you to 'piggy back' the Facebook pixel through S2S, meaning that everything can be tracked and you will be able to see the granular data inside your RT Dashboard.
So this is how you set it up:
STEP 1
First you need to add your Offer Source and set up the S2S postback on the Offer Source (CPA Network) side. Basically you need to add your postback from Redtrack to your CPA network.
Go to Redtrack, click on Tools and select Conversion tracking.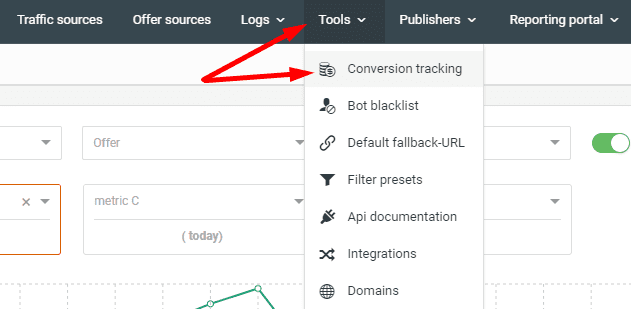 Then copy the S2S postback URL

Keep in mind: The default postback conversion in Redtrack is Purchase, so if you go for Lead you have to specify this as conversion type in Redtrack.
You can do this by simply adding &type=Lead to the Postback URL as well.
Then go to your CPA network's conversion tracking (or postback) section and paste it there.
*Make sure to replace the ''(replace_me)'' parts in the postback URL with the correct parameters from your CPA network!

In this example I use Clickdealer as my CPA network, and their correct parameter for clickid is #s2# and for sum (payout) is #price_usd#.
So my postback parameters will look like this: clickid=#s2#&sum=#price_usd#

STEP 2
Add Facebook as Traffic Source, integrate it via API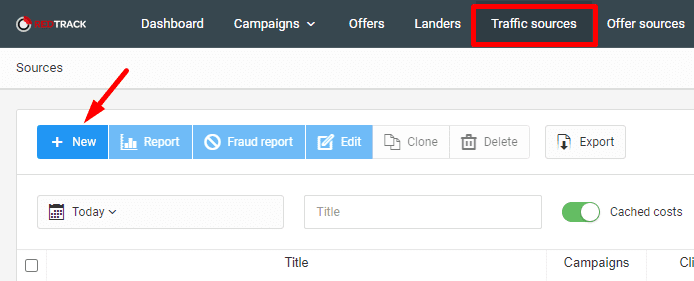 Scroll down until you see Facebook, and click on the green Add button

Next you need to connect your Facebook account via API. Click on the Connect Facebook button and follow the steps to verify your account.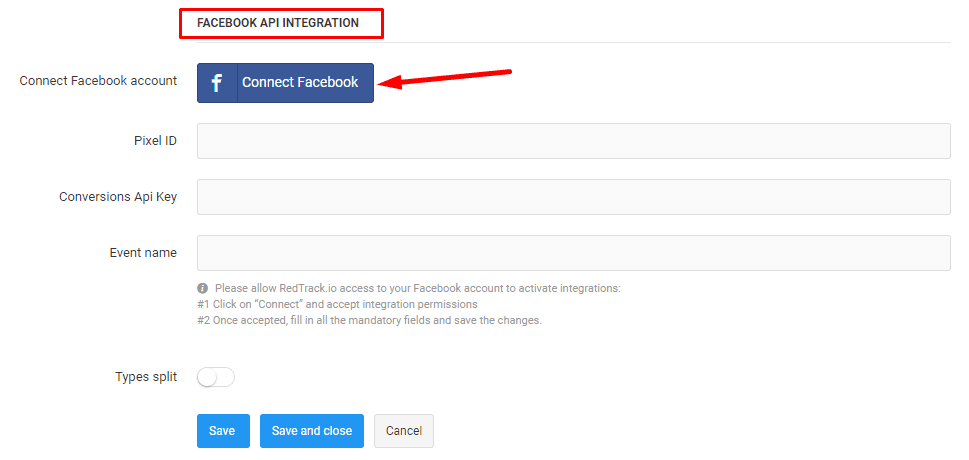 After you successfully connect your Facebook account you will be redirected to your RedTrack account, and then you need to add your Conversion API key and Facebook Pixel ID.
To generate the Conversion API key go to your Facebook account, go to Pixel settings, click on setting, scroll down until you see Conversion API, and click on Create access Token.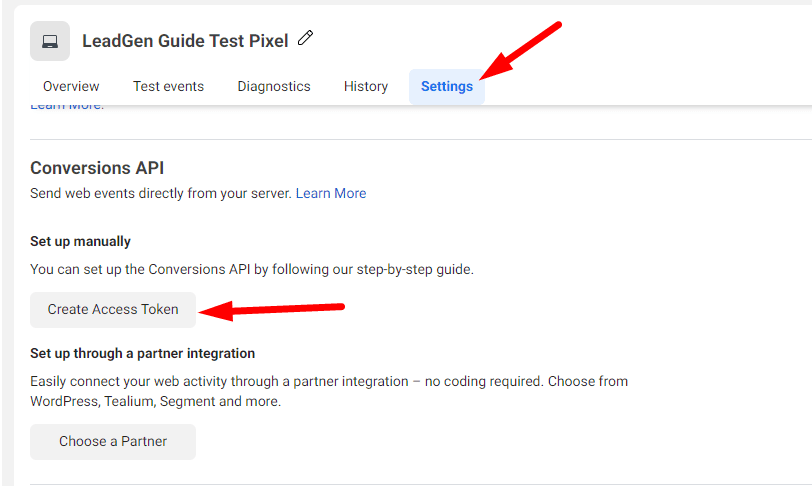 Once you generated your Token, copy to clipboard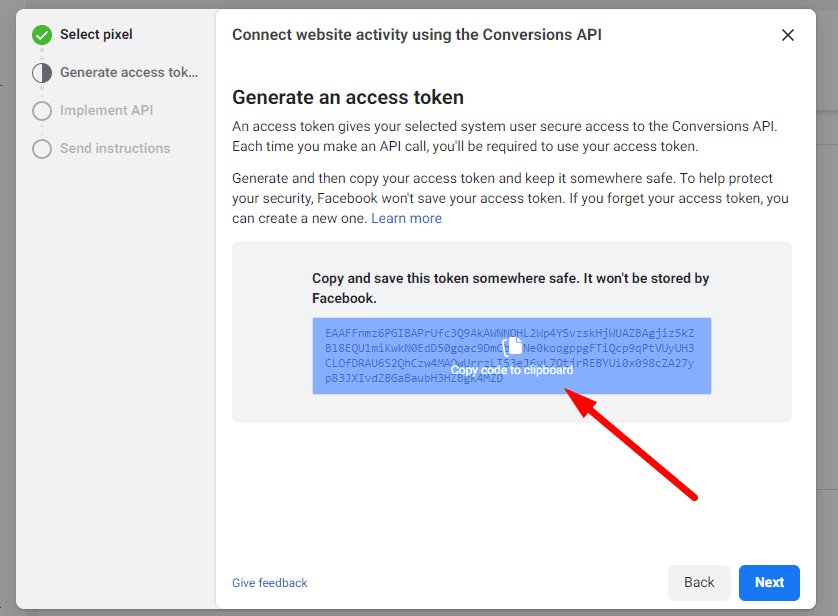 go back to RedTrack integration settings, paste your API key.

Then you need to add your Pixel ID as well, so go back to your Facebook pixel setting and copy your Pixel ID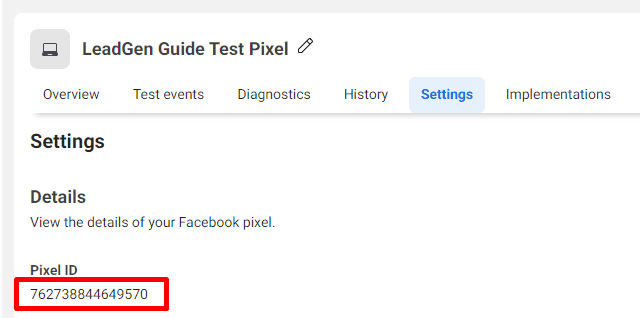 and add it to your RedTrack account

STEP 3
Add your Offer link to the Offers section with the correct clickid value.
If you followed the steps in the previous Adding Offers section and you already added the offer you want to promote, then you're good to go, just double check your offer link and ensure it has the correct clickid value, it's very important!

If you aren't sure what the correct value is, ask your CPA network rep, and they will help you.
STEP 4
Verify your Facebook Domain and add it to your Offer in RedTrack.
To verify your domain, go to your Business Manager Account and from the Brand Safety menu select Domains.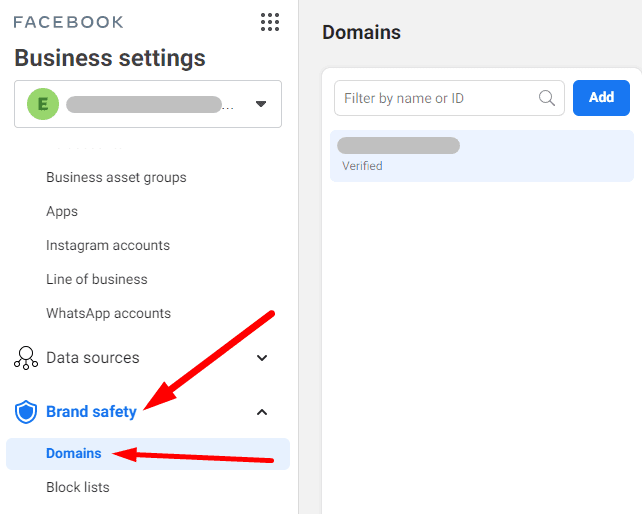 Click on Add, type in your Domain and click Add Domain.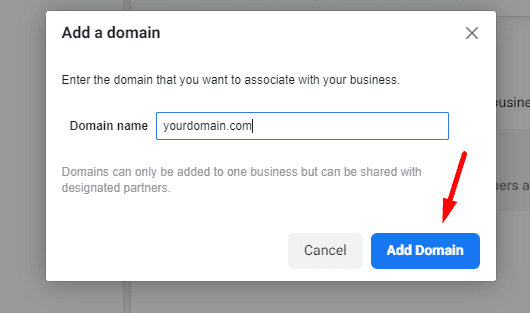 Then select your domain and click on DNS verification, copy your Unique TXT and go to your domain registrar.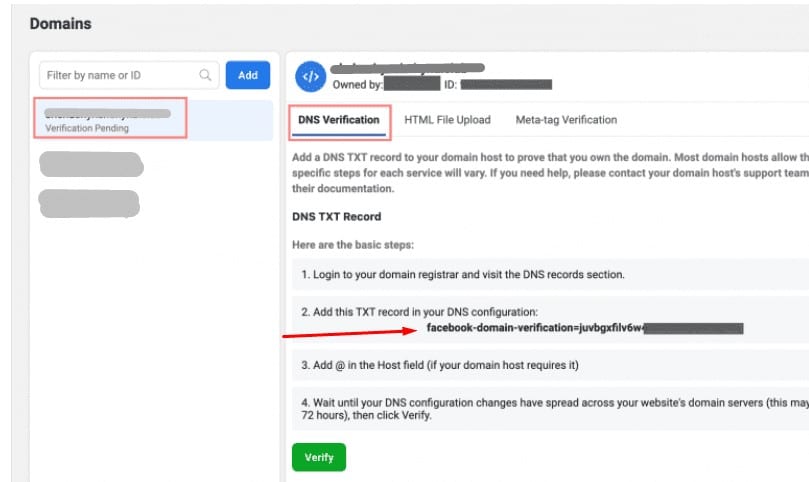 Open DNS settings at your domain registar and add a new DNS record with the following values:
Host: @
Points to: your unique TXT record from point 4
TTL: the lowest possible

Then go back to Facebook and click on the green Verify button. This process can take as long as 72 hours. When your domain is verified successfully, a green spot will appear next to the domain name.

Once you're done, you can add the domain inside your RedTrack offer settings.

STEP 5
Next you need to create your RedTrack campaign, if you haven't already follow the steps in the Tracking Campaign Setup section.
STEP 6
Add no-redirect script from the campaign to your Landing Page, and add your click URL on CTA button(s) on your landing page.
If you haven't done this already, follow the steps in the How To Configure Your Campaign and Landing Page to Use No Redirect Tracking section above.
STEP 7
Create a campaign on Facebook with low budget to generate 10-20 clicks with RedTrack Integration.
You need these clicks to be able to warm up your pixel, which is important because Facebook will not accept your event until it considers that it's a real event that can be used for optimization on Facebook's side.
Before you launch your campaign, you need to make sure everything is set up correctly, and you will need to warm up your account with some fake conversions.
STEP 8
Once you have created your Facebook campaign, you need to run it until you get some live clicks (10-20 is enough) and you need this to be able to generate fake conversions.
So once you got some clicks, go to RedTrack click on Logs then Clicks and you will see all the clicks and Click ID's you got.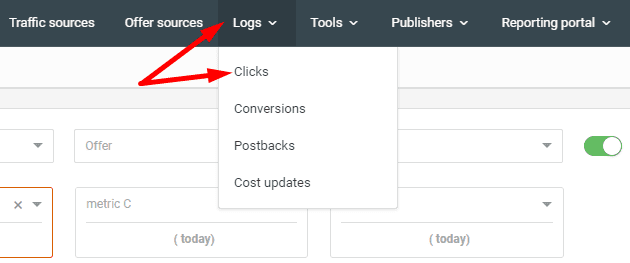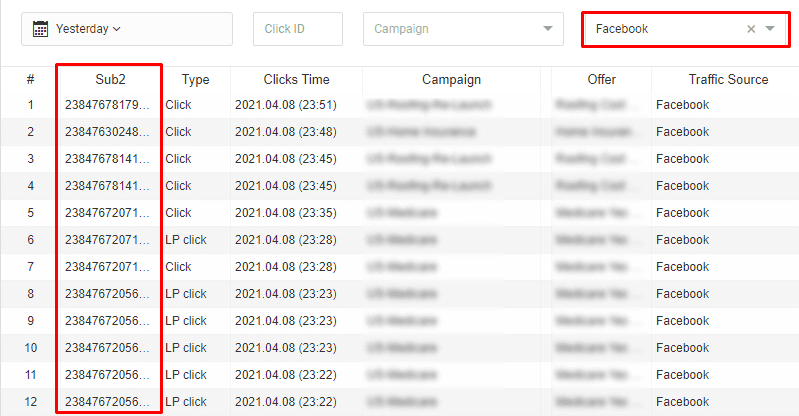 In my case, the click ids come through the Sub2 parameter, as you can see on the screenshot above.
Next copy the click id from the list and add it to your postback URL template. Go to tools, select conversion tracking and find S2S conversion tracking.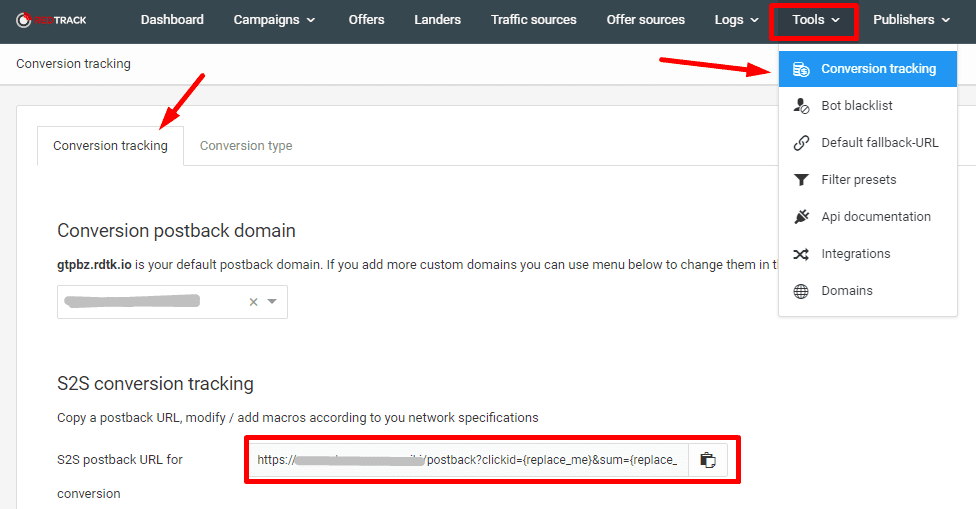 So copy the postback URL and add the click id to it. It will look something like this: https://secure.yourdomain.com/postback?clickid=23847648119220634
Paste that link to your browser and press enter. If you see the following message:

It means you successfully created a fake conversion. Repeat this step with different clickids from your clicks list within a day. About 10-20 conversions will be enough to warm up your pixel.
STEP 9
After sending your events (fake warm-up conversions), verify that Facebook has received them in the overview and breakdown views.
First go to your Business Manager, click on Data Sources and select Pixels.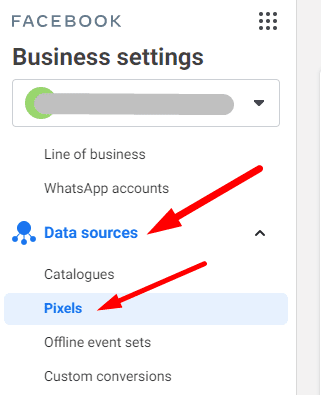 You can see your events here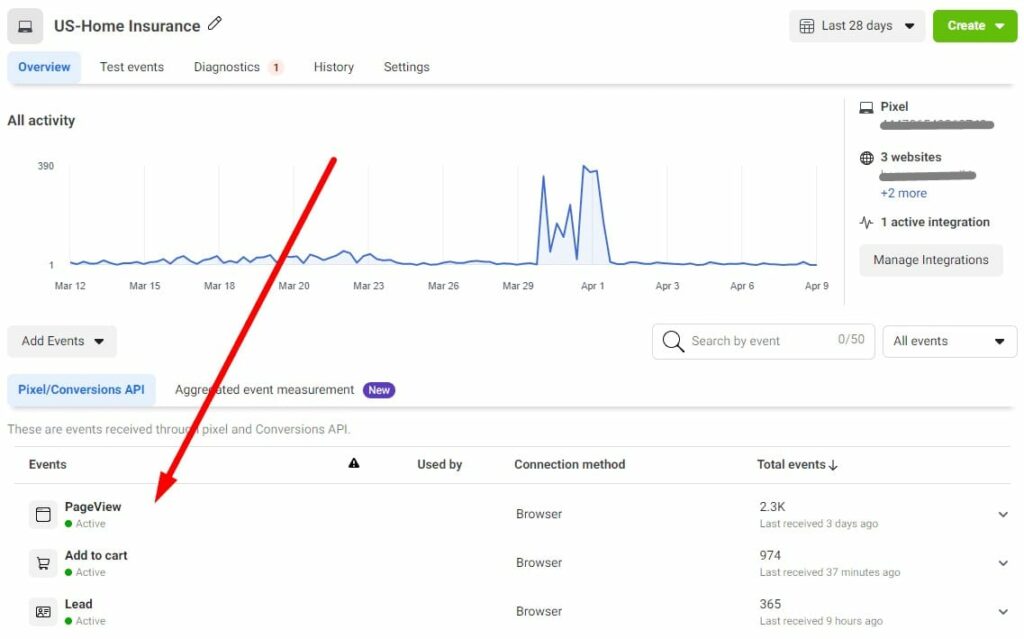 Then go to the Aggregated events manager to configure your events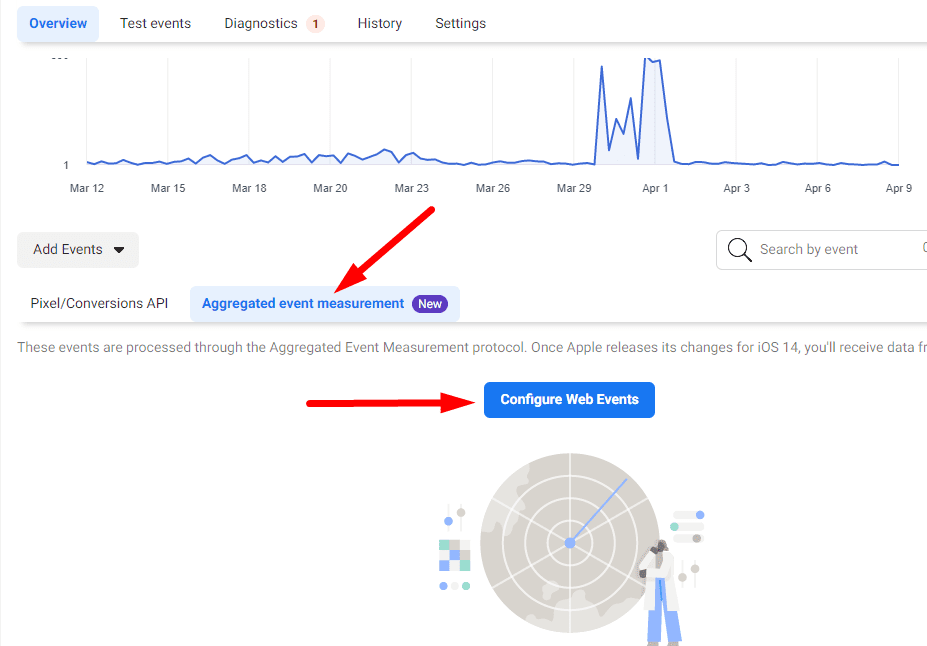 Choose the domain and start managing your events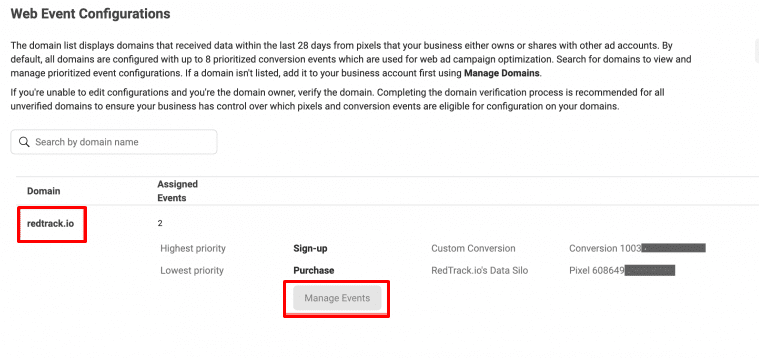 The higher the event is in the list here, the more important it is for Facebook optimization.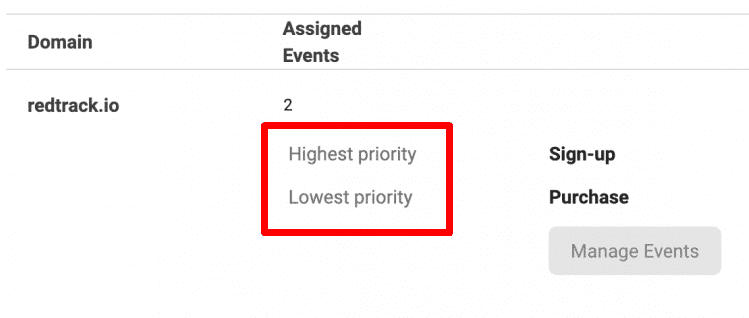 That's pretty much it, now you're ready start on Facebook and track IOS 14 with RedTrack.
At the time of this guide, BeMob, Thrive Tracker, ClickMagick, Voluum did not have the option to solve the IOS14 update problem with Facebook Ads, that's why we really like RedTrack.io.
---
Troubleshooting
What to do if you forget to put the S2S postback from CPA Network to send conversions info back to RedTrack?
In this case, you need to login to the CPA Network like Clickdealer in my case, go to Reports and click on Conversions report.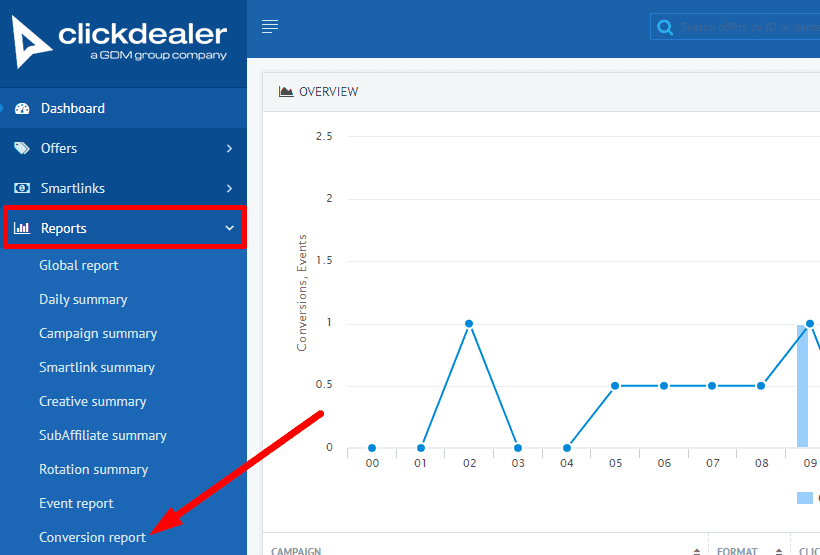 Then if you only missed 1-2 conversions, you can manually copy the ClickID (the click ID is located in S2 in my case)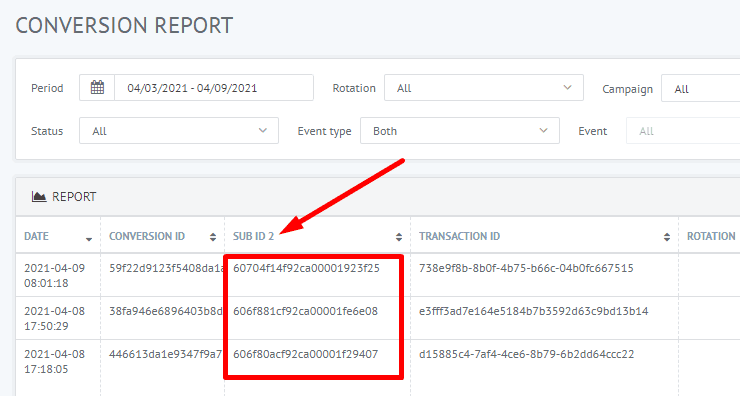 then go to RedTrack, click on Logs — Conversions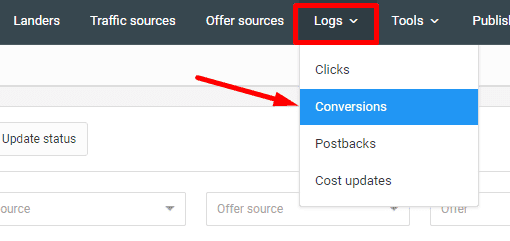 And you can add conversions manually by clicking on +Add Conversions.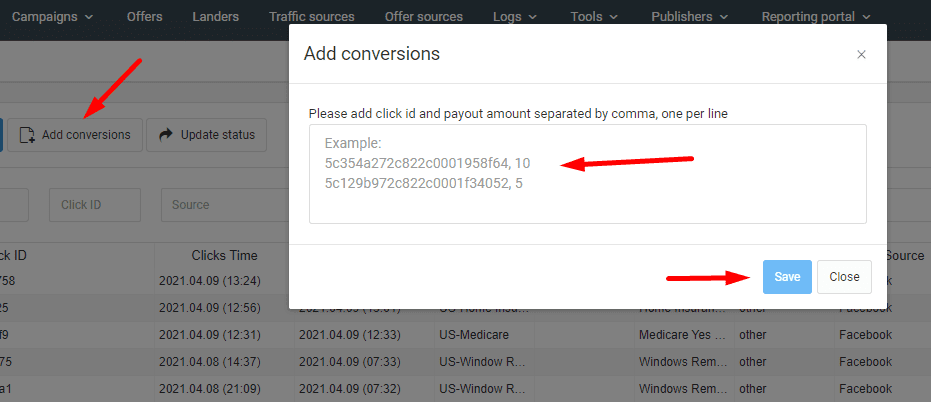 If you missed a bunch of conversions, for example if your campaign was live for days or weeks you can generate a custom conversion report in Clickdealer, and upload them in a CSV file format in RedTrack.
To do this go to conversion report in Clickdealer, then set the date range and select the offers you missed the conversions on, then click on the Export CSV button.

After that go back to RedTrack conversions, click on upload conversions, and select the CSV file you downloaded from Clickdealer, and that's it.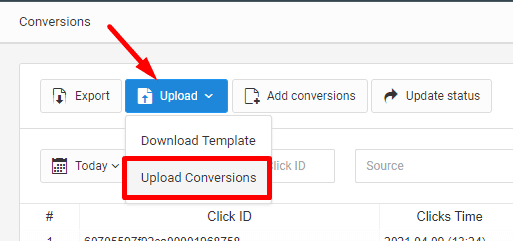 ---
Conclusion
To wrap things up, RedTrack is truly the best affiliate marketing tracker on the market these days. RedTrack stands out in many ways compared to its competitors, it offers more value than the others, it is more affordable and offers real-time access to ads tracking, impressions, clicks, conversions right across multiple channels and more than 30 data points.
But most importantly, right now (at the time of this guide) RedTrack is the only affiliate tracking software that has a solution to the IOS14 update problem with Facebook Ads.
RedTrack also offers a 14-Days Free Trial, so you can try all its features for free, and see for yourself why I think that it's BEST tracking software on the market.
PS: If you need 1 on 1 help, join iAmAffiliate forum and start a follow along. I'll be then happy to help 'hold your hand' to make sure you get this lead gen thing figured out. Remember, your success depends on YOU taking action, no one else.