"I decided not to reinvent the wheel; I just wanted to improve the existing platforms and excel at customer service"
Alexander Bachmann, admitad CEO & Founder
Built on extensive customer experience and passion for brands, the affiliate marketing space has matured into a significant channel for driving sales for advertisers of all sizes, and will continue to grow. The platforms providedby affiliate networks for advertisers and publishers are, in many cases, the juiceof sales growth, offering measurement and quality assurance for both.
Hence, the next question is – when was the last time you went shopping around for a new affiliate network? Everyone has heard of the ventures that havebeen here since the 90s, but what about the new wave of CPA networks?
If you are an affiliate/publisher looking for a network with global top-paying offers, customer-centered approach, and a continued focus on building a high-performing and service-driven team, then I highly recommend admitad.
Originally launched back in 2010, this global network of Cost-per-Action affiliate programs has expanded beyond its headquarters in Germany by launchingsix offices around the world, with plans to further global expansion. These ambitionsare fueled by the fact that the network has enjoyed six consecutive periods of year-over-year revenue growth by more than 100%.
Another thing worth paying attentionto is the story of success of admitad CEO & Founder Alexander Bachmann. When he was only 17, Alexander Bachmann dropped out of school to set out on his entrepreneurial journey.
With just $27 in his pocket, he was able to buy a domain name and a web hosting to kickstart his dream.
Prior to admitad, Bachmann contributed as a publisher atZanox&Affilinet. These platforms are considered to be the European affiliate marketing giants. Instead of going head-to-head with Zanox, Bachmann discovered an opportunity in the Russian market,namely, in Cost-per-Acquisition (CPA) affiliate marketing. Fortified by his experience as a top affiliate, Alexander decided not just to create his own affiliate network, but to build a company with all the features and qualities the current platforms were lacking.
"I decided not to reinvent the wheel; I just wanted to improve the existing platforms and excel at customer service," Alexandersays.
Today, Bachmann's admitad is valued at over $100 million, with an annual growth rate of over 100%.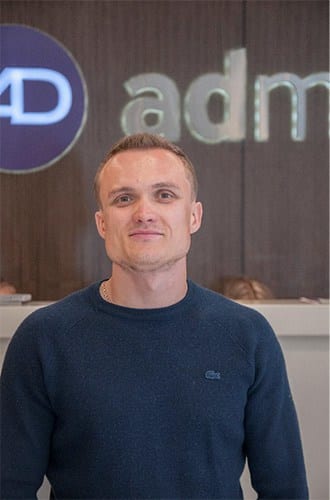 To note, admitad has maintained a highly centralized decision-making structure within the business, with Bachmann himself being the primary decision-maker.
This centralized model of decision-making enables admitad to move fast, make decisions without bureaucracy, and inevitably get the jump on its competitors when the opportunity arises.
As a global access point for clients facilitating productive partnerships between the advertisers and the publishers, admitad is set to provide the most adaptive and smart solutions for the immediate business boost, as well as help its customers launch and develop a successful business.
Promising Services by admitad:
Neither an initial cost of entry nor any extra pay to promote the offers to top affiliates is envisioned. Each admitad client is assigned an individual account manager; this allows to deal with all the queries (in your native language) and solve every issue faced by the clients in this field to optimize the campaign, including recruitment of additional partners based on the client's criteria and admitad monetization tools for publishers;
admitad is known for paying affiliates before they even get paid by the offer owner/advertiser. It's worth saying that the company's publishers can have access to funds withdrawal even with the advertiser's negative balance. Most of the affiliate networks follow a monthly payment schedule, whereas admitad has a weekly pattern. The company offers its clients a variety of payment methods so that everyone can find the rightfit at admitad via PayPal, e-payments, and Wire Transfer in all major currencies;
admitad has tied up for different product and service categories to provide the most matching advertisements for your site. The following are some of the categories, for which admitad has regular campaigns:

e-commerce – accessories, apparel, electronics, furniture and household products, sports, car goods, Chinese goods, and kids stuff;
mobile devices;
onlinegames;
services, including finance, food delivery, coupon services, travel, and many more.
Here is the full list of admitad categories.
The signing up process is straightforward; the necessary options are arranged in an easy to pick manner on the navigation bar; it won't intimidate you with tons of terms and features, arranged in a clumsy way. When you sign up for admitad, in addition to having access to the many great features of the program, you are also provided with support tickets on multiple languages. admitad'ssupport team will reply to your ticket in a split second,offering the necessary solution.
admitad provides Asian business to expand into Western markets and works as an entry point for entrepreneurs eager to go East. As recently reported by admitad, Chinese e-commerce has already earned one third of a billion dollars gained from deals through admitad affiliate program. For less than 9 months of the current year Chinese sales achieved the amount of $ 310 million – this includes a total revenue growth of over 70 Chinese e-shops and their offers promoted by admitad. Until the end of 2017 the revenues will hit the $500 mln. The y-o-y dynamics is on graph below: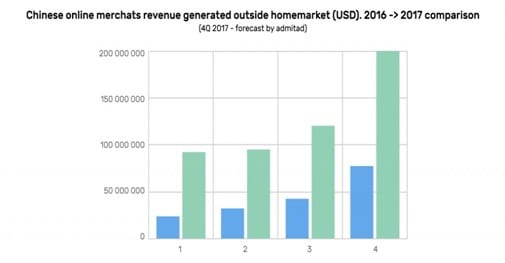 "One of the vectors that we have chosen for admitad's development is really ambitious. We want our company and the instruments we have created to become a hub, an access point where Chinese e-shops could attract buyers from all over the world. What is more, with the CPA payment model which is transparent, demonstrative, scalable, projected – there are a lot of advantages. On the other hand, we see that many European and American products are in demand in China. For this purpose, we have established an office in China in order to help non-Chinese global e-commerce to enter the Chinese market and find core solvent audience there. It is important to us to combine these courses: to help business to sell, and buyers to purchase desirable products.
Indeed, the world and business are becoming global and admitad, being a global company, does its best to cooperate in that effort."
Alexander Bachmann, admitad CEO
To sum it up…
admitad's global expansion strategy is aimed to provide fuel for a continued growth and innovation in the affiliate marketing space. The platform has become an indispensable tool both for advertisers and publishers. It gains not only transactions but also an invaluable brand recognition, regular payout system with pre-payment options, responsive customer care team, various niche support, fraud-proof analysis, and customer engagement, while efficiently delivering the type of content demanded by today's sophisticated online consumer.
It's high time to raise the bar and get the payouts you know you deserve. admitad is here to help you launch and develop a successful business!