In this guide I'm going to teach you how to prepare and launch profitable financial lead generation campaigns promoting Supreme Media offers in Tier 3 countries.
The reason why I chose Tier 3 this time is because the competition is much smaller compared to Tier 1 geos, and because small countries convert well too, sometimes even better if we target properly.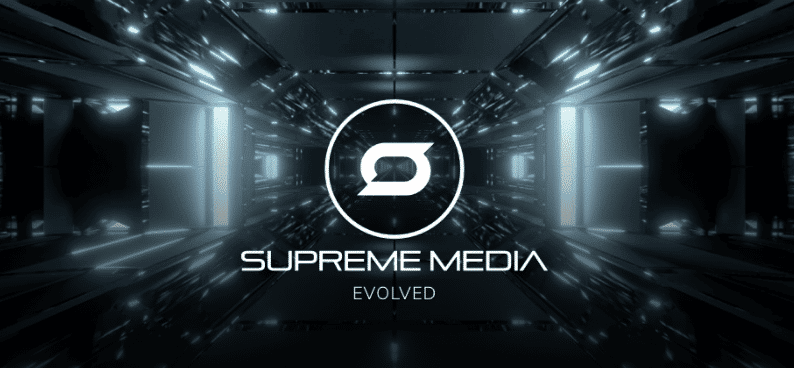 Supreme Media (ex Media500) is truly the best CPA network when it comes to financial lead generation offers.
At Supremedia, they really have exclusive offers – many created in house no other financial lead gen CPA network has.
So without any further ado let's get started!
Choosing Offers
You should start this with asking your affiliate manager at Supreme Media, what he suggests, what are the recent top performing Offers in tier 3 geos.
At the time of this guide my affiliate manager told me that the offer called Bitcoin System is doing very good in Kenya which is a tier 3 country, so I'm going to start with that.
Next I'm going to use Spy tools to find out which traffic sources, ads and landers are working the best in Kenya.
Spying to Find The Best Ads, Landers and Traffic Sources
The best way to find out what kinds of ads, landing pages and traffic source combinations are the best is by using Spy Tools.
The best spytool out there is Adplexity, so we are going to use that.
First fire up adplexity Native.
Once you log in you will see the most recent ads that are live on Native traffic sources.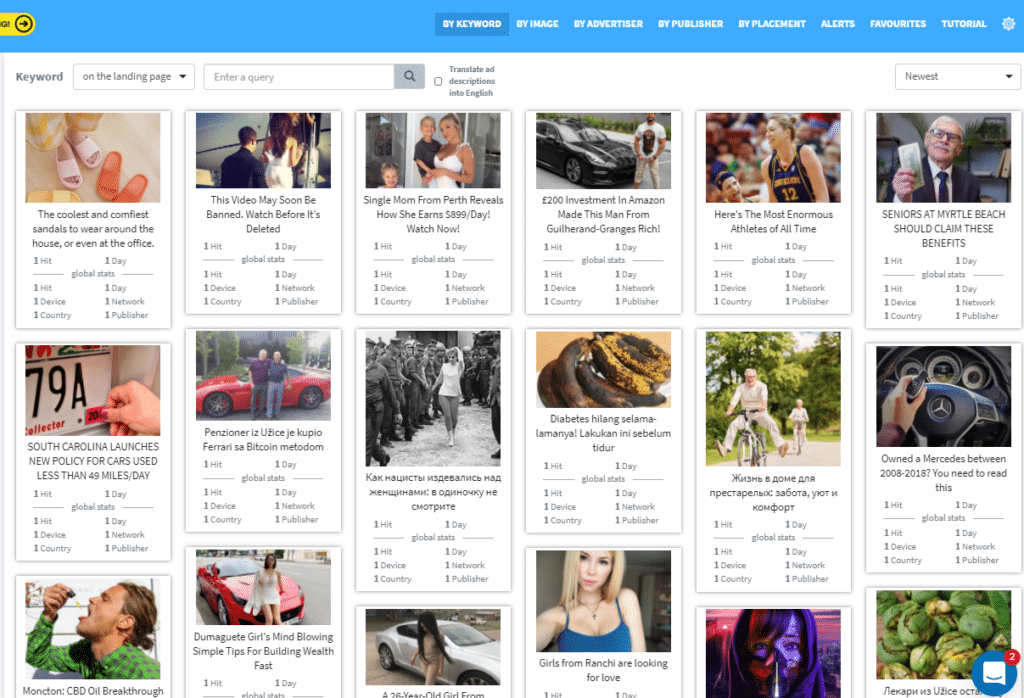 Next we need to filter and sort things because we only want to see the best performing crypro campaigns in Kenya.
First of all we want to see crypto campaigns only so let's search for the keyword crypto on landing pages.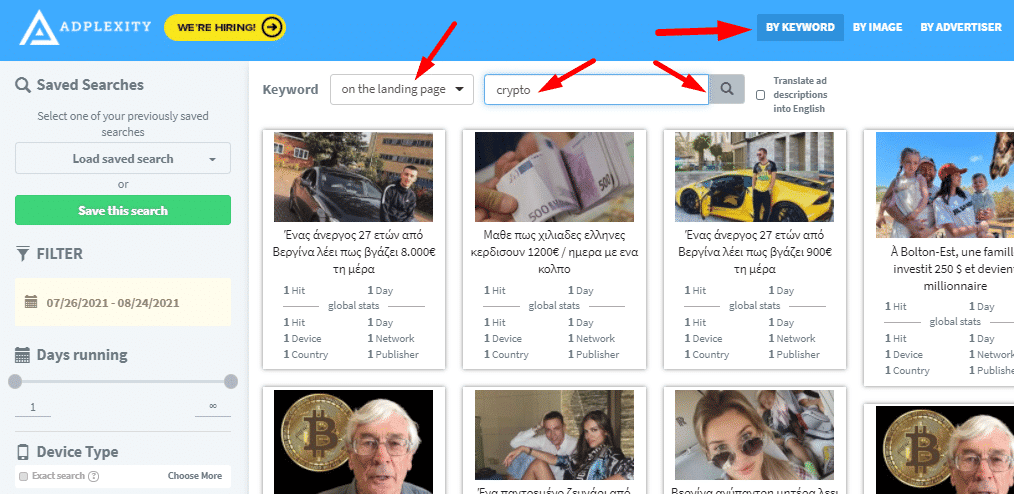 You can also use the keyword "250" since all these crypro offers require $250 investment to get started,
Next lets set the date filter to last 30 days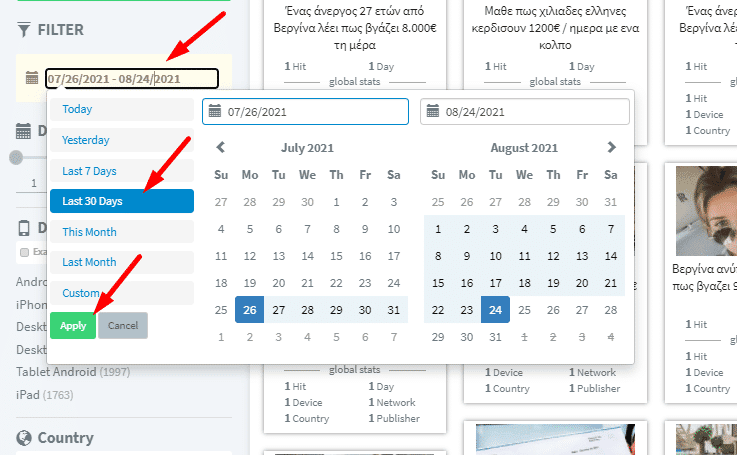 Then let's choose Kenya as our traget Geo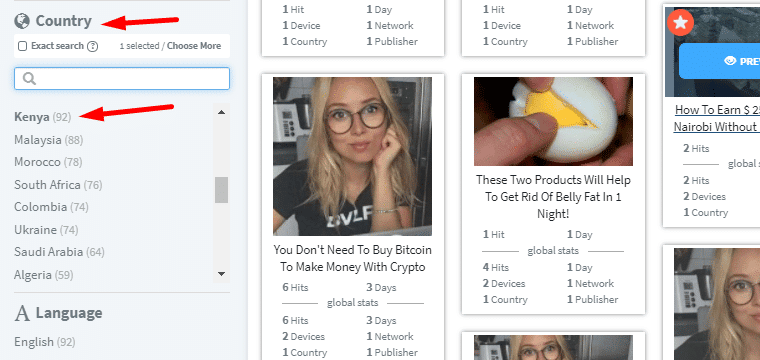 Then let's sort the results by received most traffic.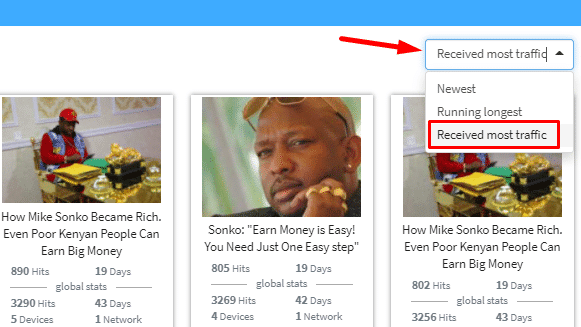 The strategy behind this is that ads that received most traffic means they spent a lot of money on them, so they were seen by adplexity spy tool many times. That means they are working, if they didn't work, no one would spend a lot of money on the campaigns.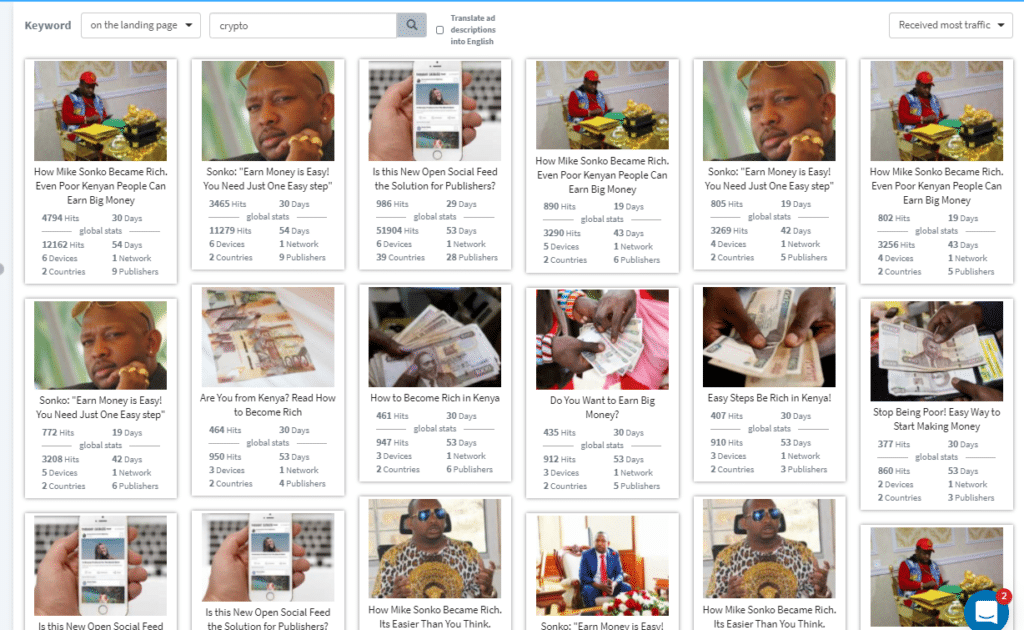 Now we can take a look at the left sidebar, traffic source section to see which are the most popular traffic sources for this offer/gepo combination.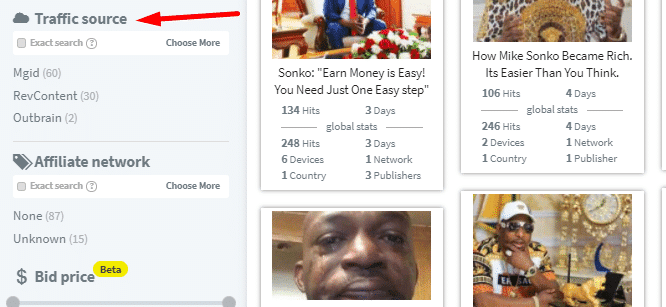 We can clearly see that MGID is the most popular and Revcontent is the second. Which means both of these traffic sources should work fine.
Then you can browse through all the top performing campaigns to see what kind of ads and landing pages are they running.
Here are some of the results I found.
ADS: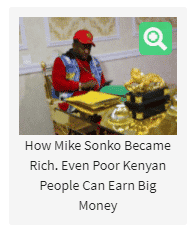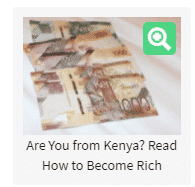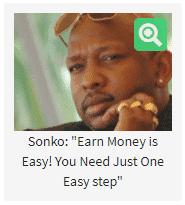 LANDING PAGES: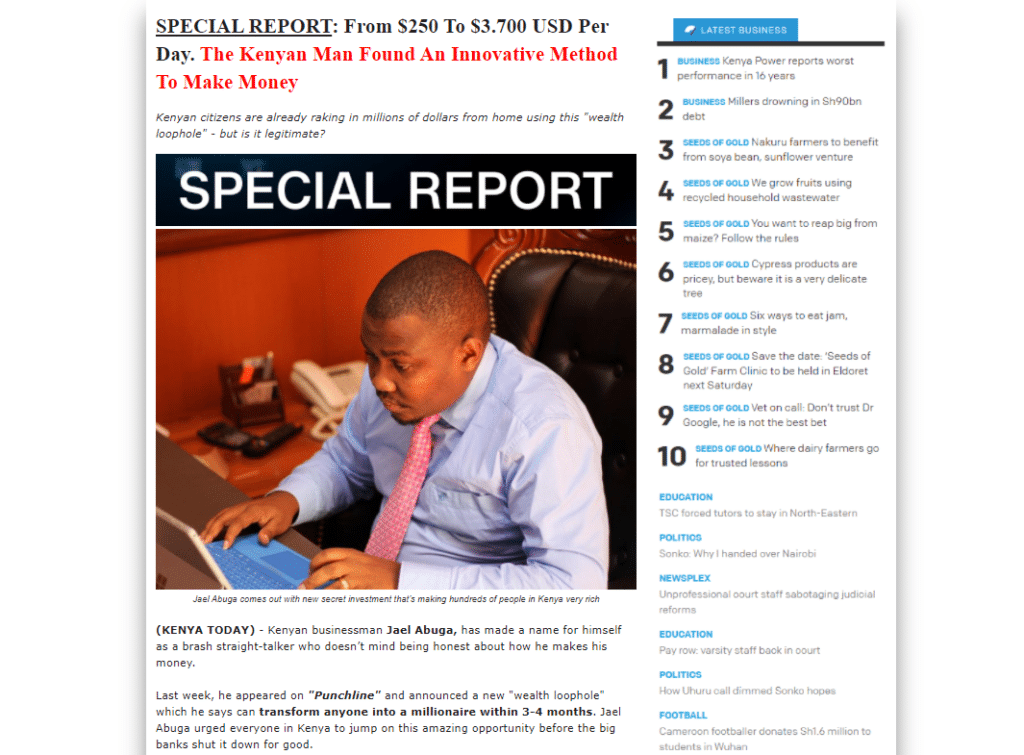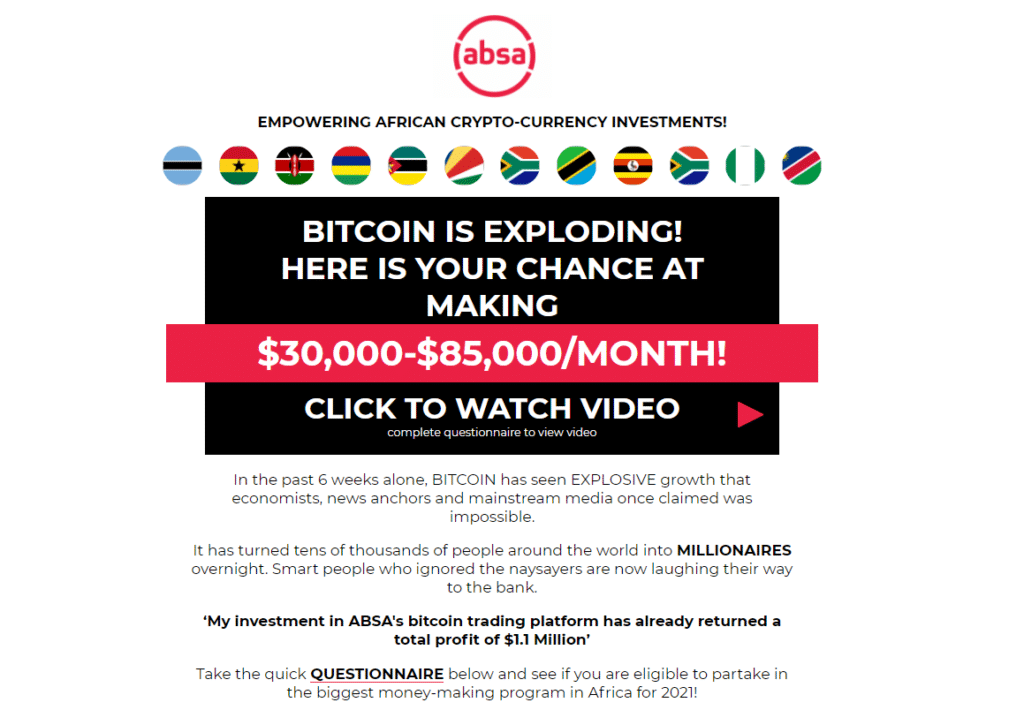 What I learned is that almost every top performing campaign is running the first landing page that you can see above.
So the best I can do is to rip that lander, clean the code from potential malicious scripts, and make my own twist of it. I'm going to re write the headline text and change the images as well.
Campaign Tracking
Once we have our landing page and ads ready the next step is the tracking setup.
Using a proper campaign tracking tool is extremely important to be able to optimise your campaigns based on the data you buy.
If you don't use a tracking software you are wasting your money, because when you are running campaigns your ads will be shown on hundreds of different websites and placements and if you don't use tracking, you will never know which ones are doing good and which ones are burning your money.
So I can't stress this enough, proper tracking setup is very important!
My favorite (and probably the best) campaign tracking software out there is Redtrack.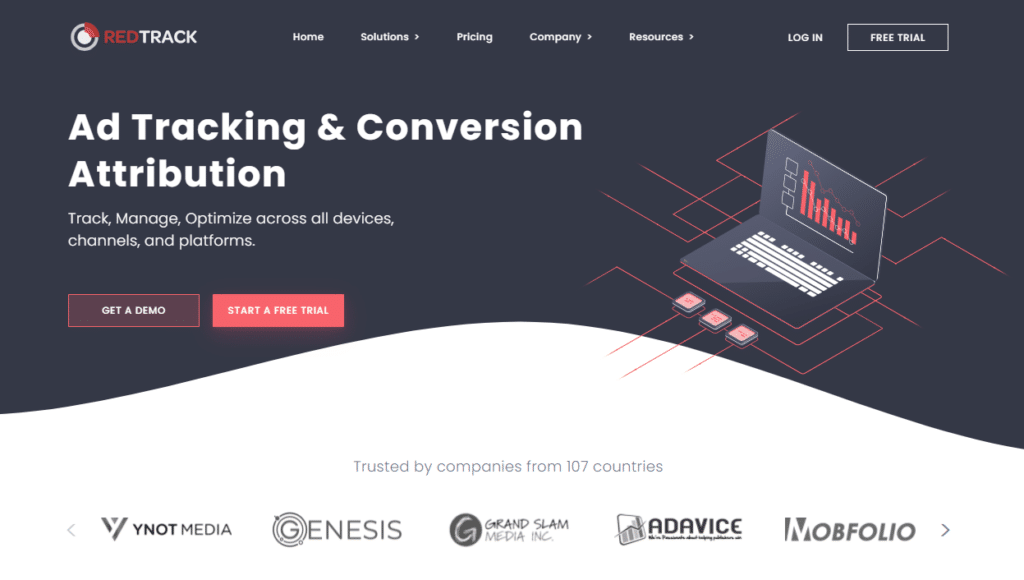 Redtrack offer you a 14 days free trial (no cc required) so you can try it without paying anything upfront.
If you need help with setting up Redtrack you can check this step by step tutorial on how to setup everything you need for proper tracking: https://iamattila.com/complete-guide-to-using-redtrack-the-1-alternative-to-voluum
Launching Your First Campaign
Once you set up tracking and prepared your ad texts and images the next step is to launch you campaign on the traffic source you choose.
For this example I'm going to show you how to setup your first campaign on MGID since it was the number one most popular traffic source for crypto offers in Kenya.
First log in to your Mgid advertiser account, and click on Add Campaign to get started.

Next you need to type in a name for your campaign, select the campaign Type, Category and Language.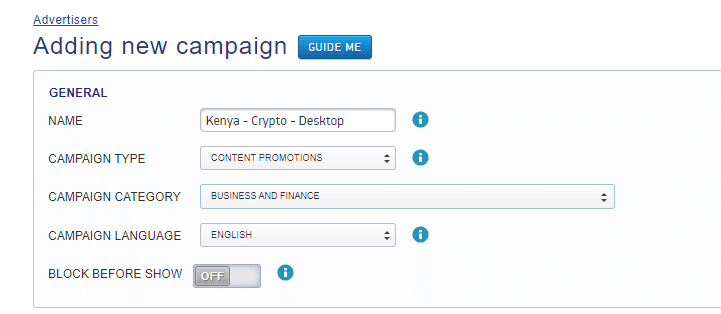 Next is targeting, For this campaign I'm going to target Kenya, and Desktop devices only. Then once it's launched I'm going to come back and create a new campaign targeting Mobile only.

It's important to separate device types because the bids are not the same for Desktop and Mobile and you don't want to end up overpaying for one or the other.
Next we can limit out campaign by daily and overall budgets. I'm going to start with $100 per day.

Next we need to setup tracking tags

And set up conversion the conversion sensor for redtrack. They already have a template so you can just search and select Redtrack.io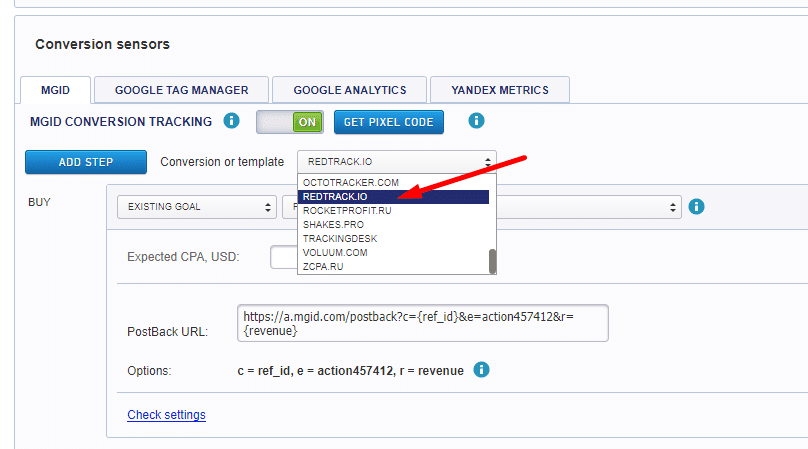 Lastly we need to upload our Ads.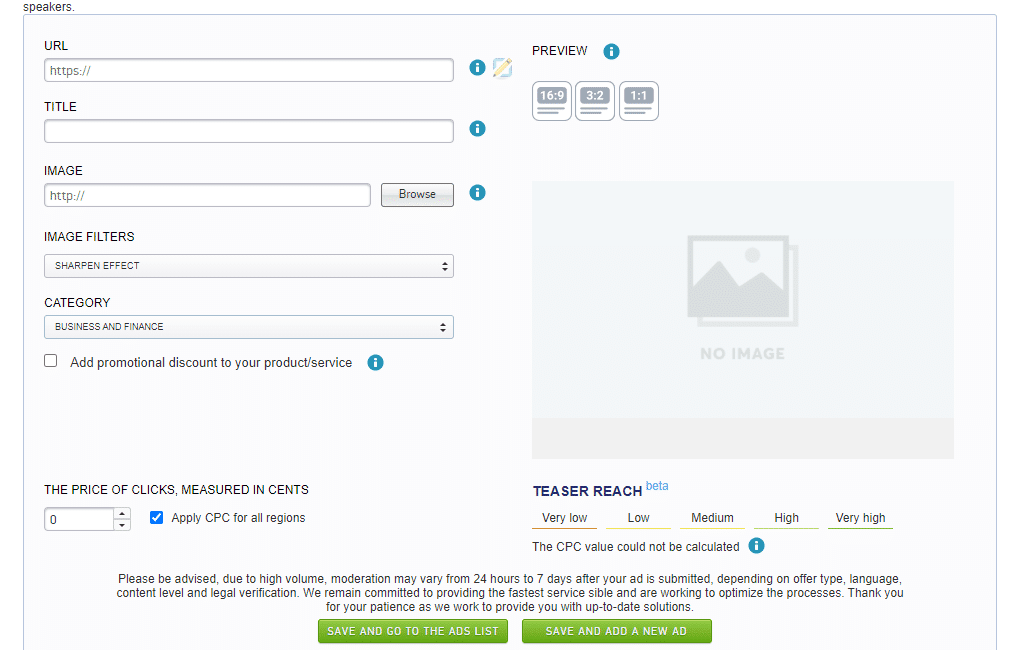 First go to Redtrack, select your tracking campaign and copy your campaign link and paste it in the URL section in Mgid, then copy your ad text into the Title box, select and upload you ad image and set a bid price measured in cents.
After that click on save and that's it, you need to wait for the approval team to approve your campaign.
Campaign Optimisation
When your campaign goes live on MGID, you need to collect some data first before you can begin the optimizing.
I like to wait 1-2 days to ensure I have enough data for adjusting placements and stuff.
After that I start analysing data on the placements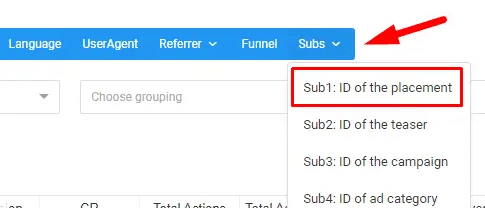 I sort the placements by Cost, and stop all placements that spend too much and got 0 leads. So I basically try to optimise for the best lead cost possible.
I do this every day until I see bad performing placements.
The next thing I optimise are the Landing Pages and Creatives. I started with 3 landing pages so I check the data and compare the stats.

I usually start with focusing on the conversion rate of the landing pages. If one of my LPs got significantly less leads then the others, I cut it.
If it doesn't show any significant sign yet, so I try to focus on the LP CTR%
Next I do the same thing with the Creatives.

Once I find a winning LP/AD combination I try to create more similar variants of them and test those as well. You can do this by just simply changing the head lines or sub headings on your LPs or changing the images here and there.
Small adjustments like these can make huge differences in the performance of the campaign.
Scaling
I usually start scaling with trying to adjust the bids, increasing the daily budget of the campaign. So I just increase the daily budget and a day later if it's still profitable I increase it more.
I do the same thing with the bids, I start with increasing the bids on the top placements and decrease it on the average performing ones.
For scaling even further I try different traffic sources as well. For example I can grab my winning ads and landing pages, and launch the same exact campaign on a different native traffic source, like RevContent for example which was the 2nb best traffic source based on out spy session.