After so many failures of trying to make my crypto campaigns work on Facebook, I finally found a way to make crypto offers work for me.

I was spying on Facebook and found a landing page that I wanted to rip, but for some reason, the code was messed up and I could not fix it, so I was thinking that maybe I can find the same lander with Adplexity Native as well and try to download it from there.

I fired up Adplexity to search for that LP and that was the moment when I realized that actually there are lots and lots of crypto campaigns running on Native traffic sources, especially MGID.

I was thinking maybe I should try native as well instead of trying so hard on Facebook with no success.

So I had an old MGID account loaded it with some $$$ and decided to give it a shot and see what happens.
Preparing things
First I asked my CPA network rep what are the best GEOs that received the most leads in the past 2 weeks and I chose the top 3 to start with.

Also asked him to give me the link for the top 2 crypto offers for each geo.

Oh btw the CPA network I'm talking about is Supremedia (ex.Media500) I was already running some of their offers on Facebook (but my accounts always got banned before I could make the campaigns profitable..)

So now I have the TOP 3 geos with the TOP2 offers for each.

After that I started spying, looking for the best angles, ads, and landers in those GEOs using my native spy tool Adplexity Native.

The strategy I use to find the top ads and landers is what I learn here in the forum from more experienced crypto guys.

So basically I log in to Adplexity Native, select the Country I want to target, date filter to last 30 days, sorted by received the most traffic and I search for the keyword ''250'' on the landing page.

This is because all of these crypto offers require a $250 starting investment and in each of these LPs there is something like ''$250 investment made him $17.425" or similar… but the keyword ''250'' is always there.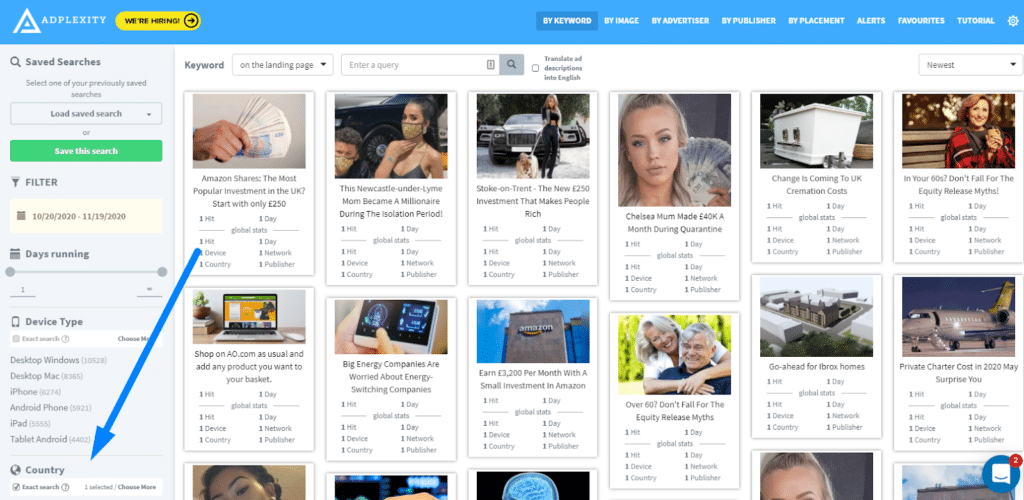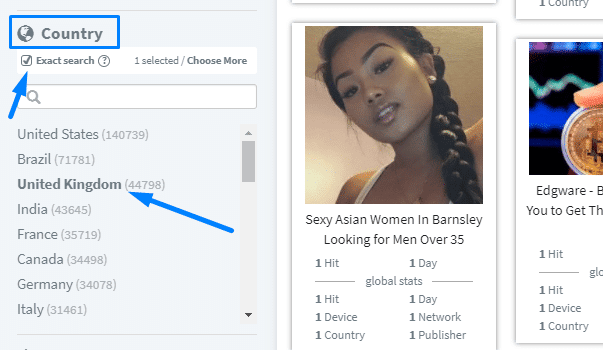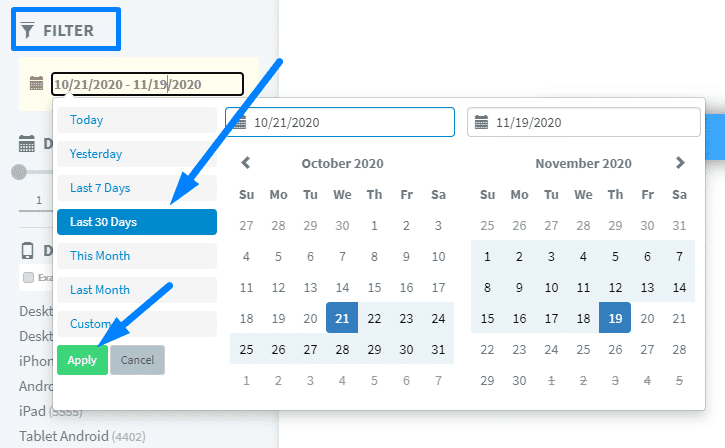 Then I check the first 3 ads that received the most amount of traffic, check the angles, ads and the landing page.
Right now these are the top 3 LPs I found
1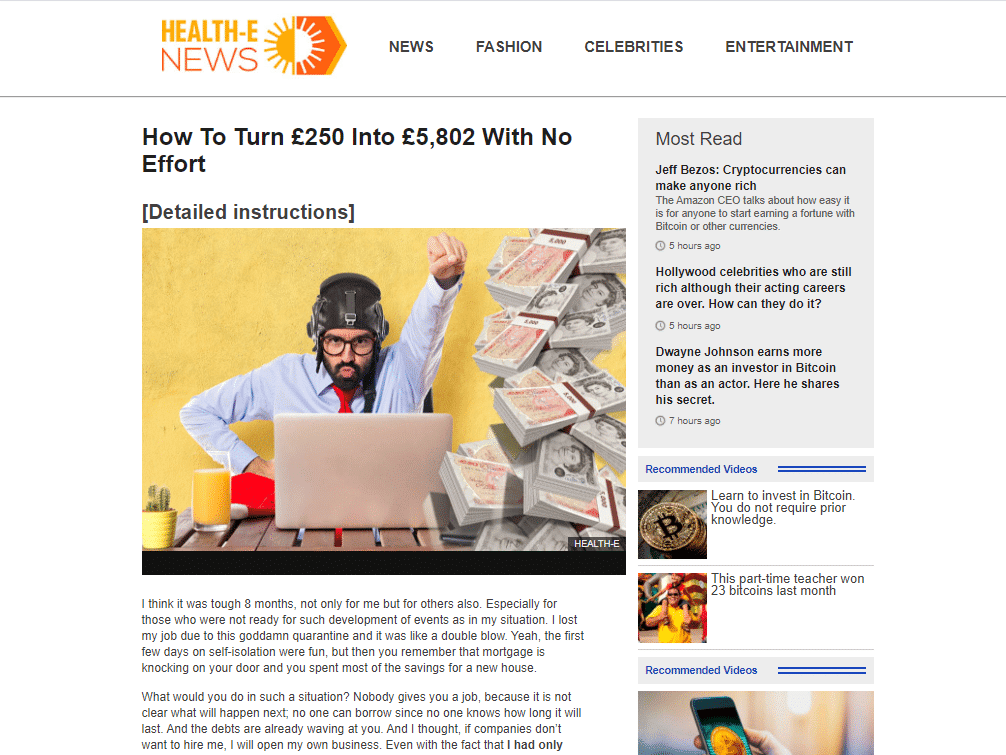 2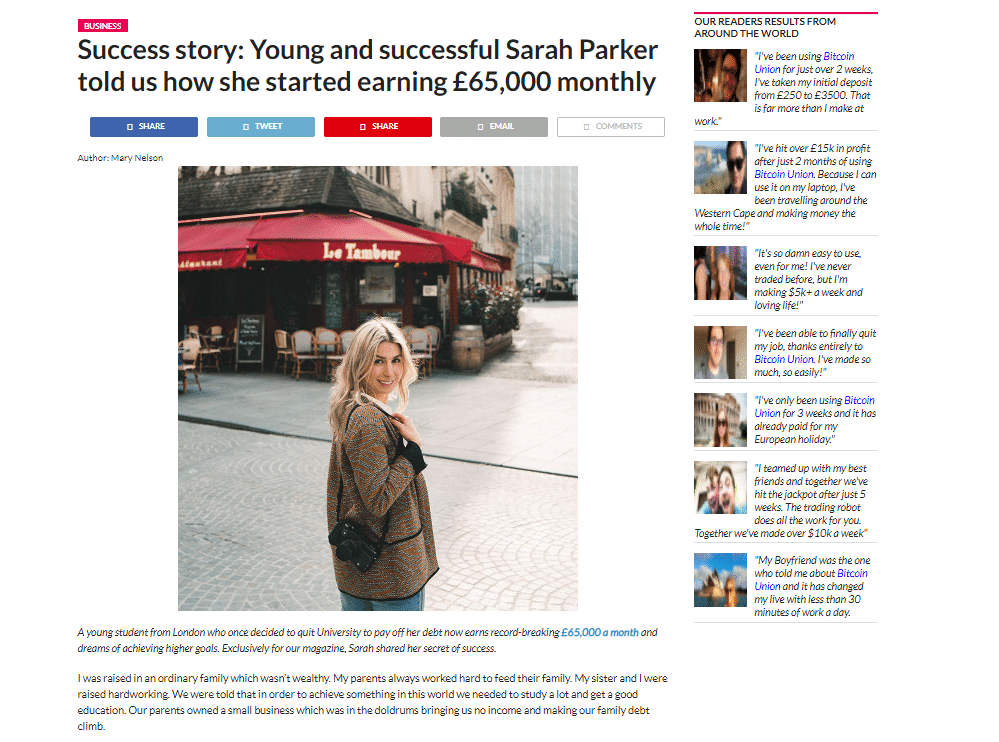 3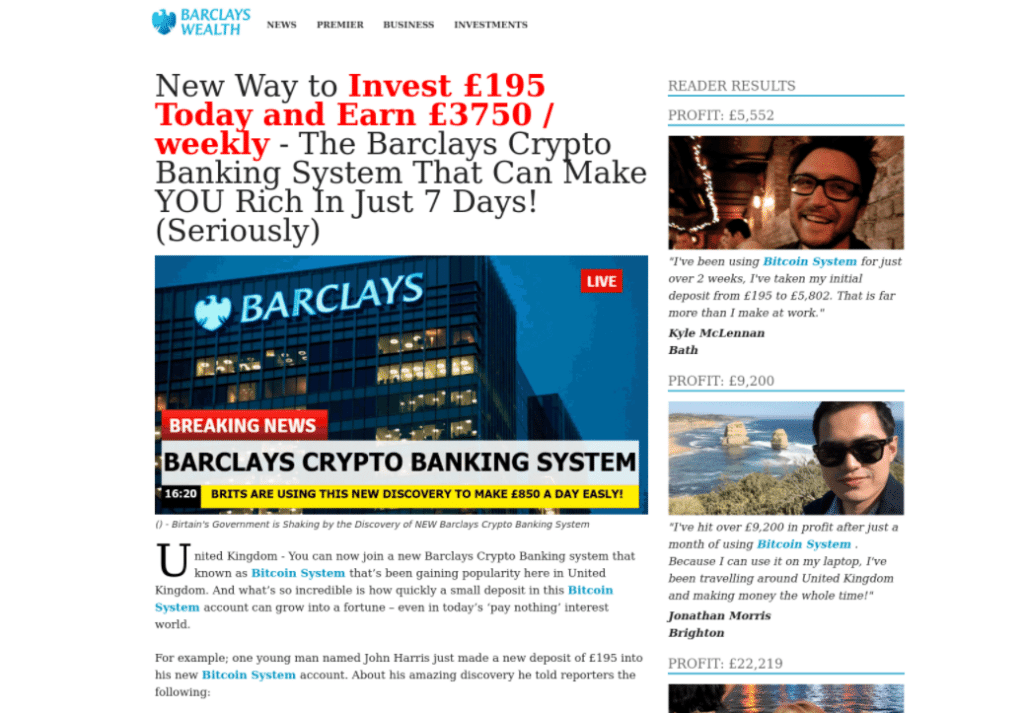 And the top 3 ADS:
1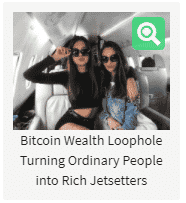 2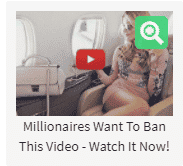 3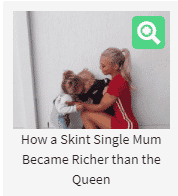 Then I repeat the same steps with the other 2 GEOs my rep gave me and download the top 3 landers based on received most traffic in each country.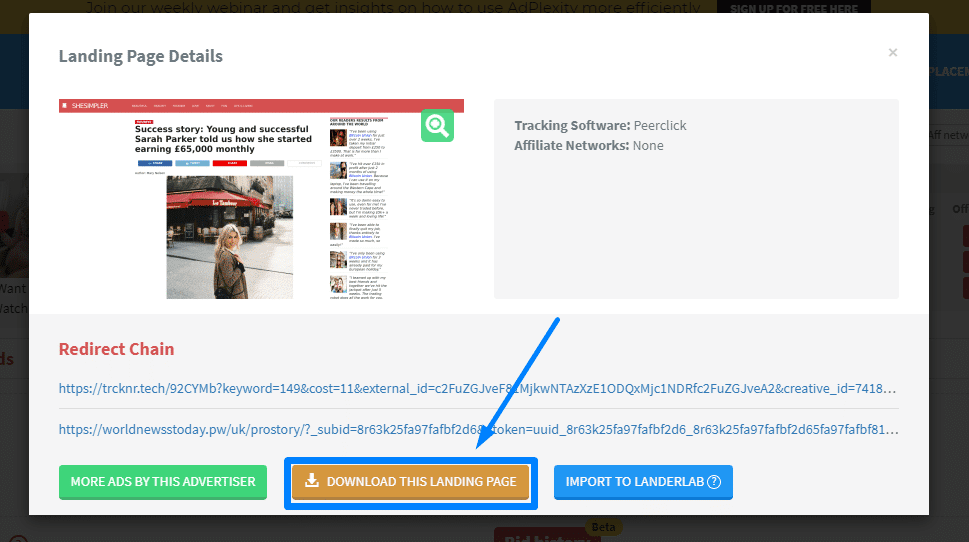 Then I create my own ads. The way I do it is I search for very similar images like the top 3 I see in adplexity, save the texts in a notepad and re-word them.

I don't recommend just ripping and running the same exact ads, it's better to change them a bit and make them your own.

When I have all the advertising material needed, I set up my tracking campaigns. I was using Bemob tracker before but I switched recently since all the crypto guys recommend Redtrack on the forum, so I wanted to give it a shot.

Since then I use Redtrack, it's much better and more complex so I highly recommend choosing a good tracker. Redtrack or Voluum, these two are great.

Remember I told you I have 3 geos and 2 offers, and I ripped 3 landers for each geo to be able to split test them to see which one is the best for me.
So my flow looks like this: 3LPs – 2 Offers / GEO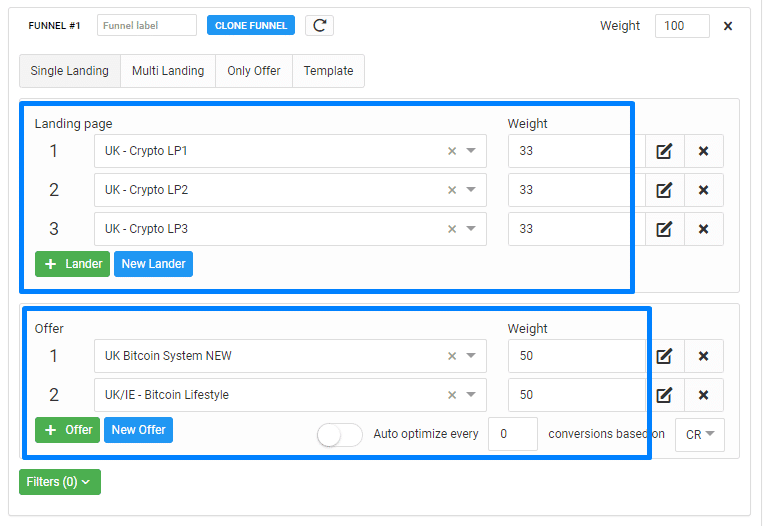 After my tracking campaigns are good to go, the next step is the campaign setup on MGID.
Campaign Setup on MGID
The campaign setup on MGID is pretty simple but let me show you how I do it real quick.

From your Dashboard click on 'Add Campaign'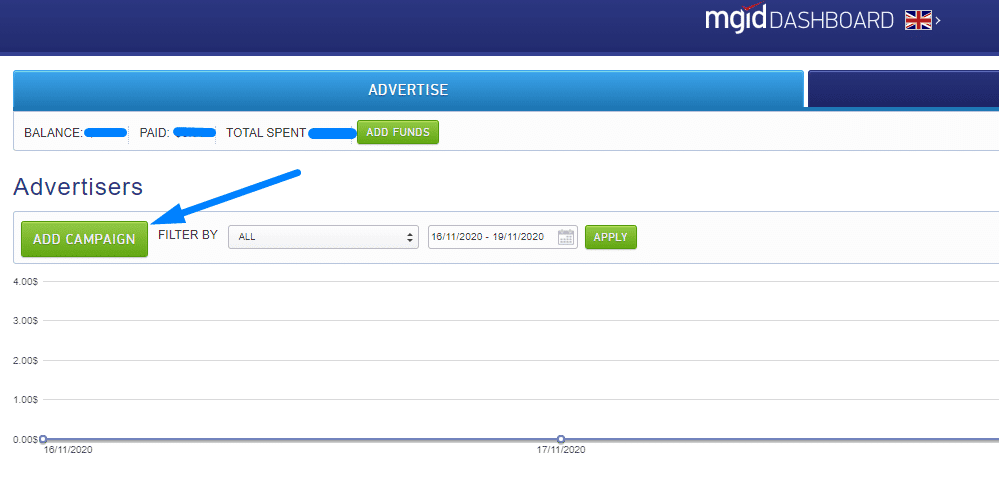 Next is naming your campaign and choosing the campaign type and category and language. For that I select 'Content promotion' and 'Business and Finance'

Then you need to select your target GEO (target only 1 geo per campaign, always) and device type.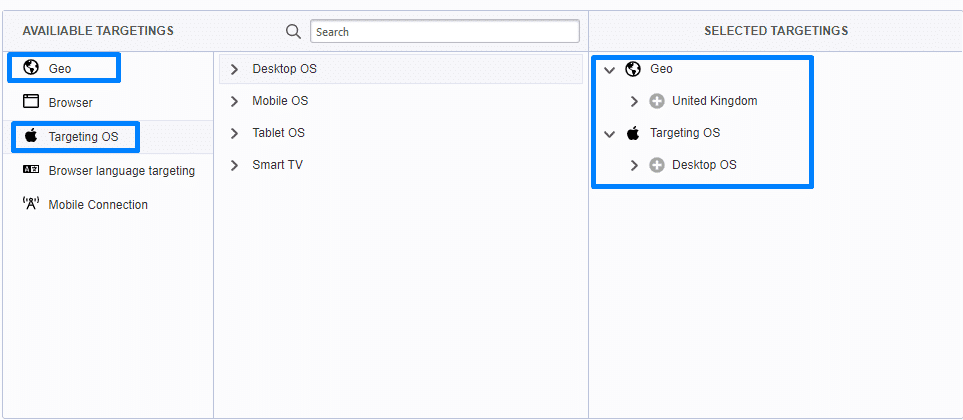 In this campaign I'm going to target Desktop only, then I will duplicate the campaign and change the device targeting to Mobile only.
Next is the budget settings

And then the conversion tracking setup. This might be different depending on your tracking setup.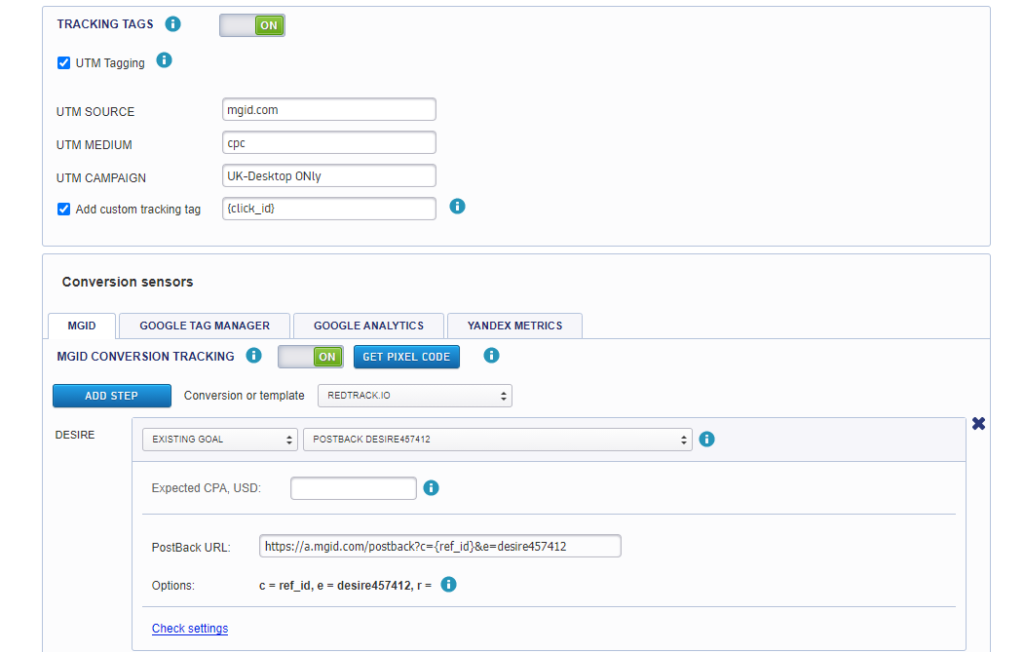 And finally you need to create your ads. Add your URL, texts and images to your campaign.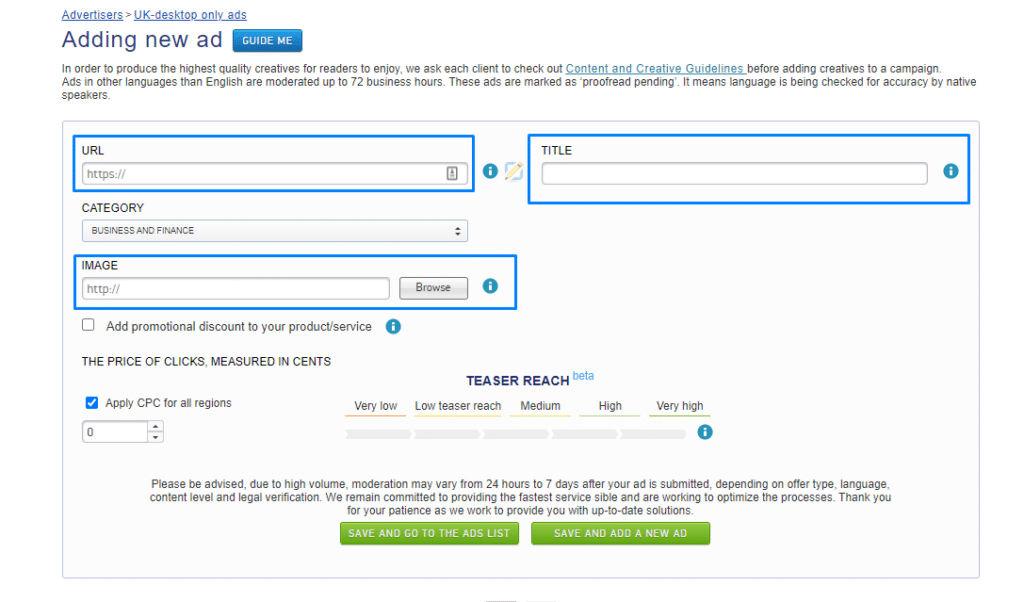 Then you can go back to your dashboard, select the campaign and click on the 'copy campaign' icon to duplicate it, and change it to mobile only campaign.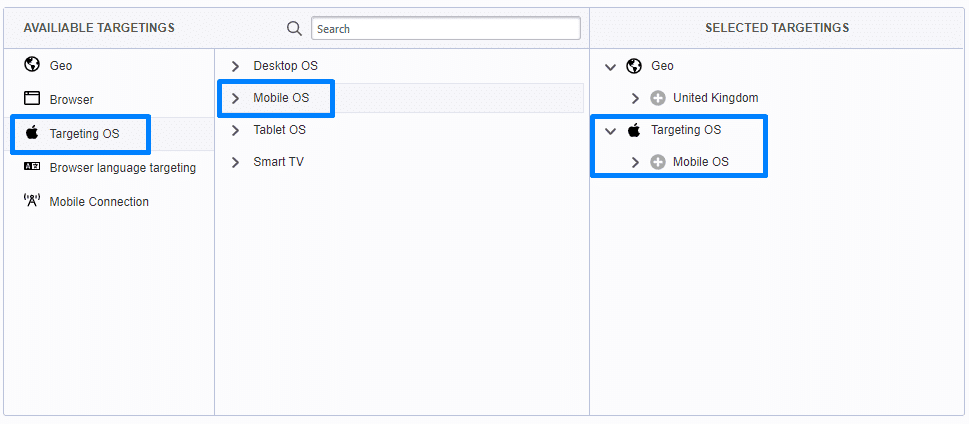 That's it, after that you just wait for the approval.
Gathering data and optimising campaigns
After your campaign was live for 24/48 hours you probably have enough data to start killing some placements/creatives/lps etc.

So check the reports in your tracking software and start working. I usually start with creatives and LPs.

I launched these campaigns with 3 creatives in each so I check the data and if there's any significant sign telling me that one is better than the other, I kill the weaker and let the stronger one run.

Same thing with LPs, the first thing I check is the number of leads. So the conversion rates basically.

If it doesn't show any significant sign yet, I try to focus on the LP CTR% (landing page click-through rate) and if one is significantly worse than the other I just stop it.
The other thing I compare is the performance of Mobile VS Desktop. This is something you can usually tell after 1-2 days of running.

In MY experience crypto campaigns on Native are doing much better on Desktop. I was testing it in 3 different GEOs and in all 3 Desktop was much much better, so I stopped all the Mobile only campaigns.

From here the key is to optimise and test regularly, so basically never stop trying to improve your campaign, that's the main strategy I follow.

For example, when you find a winning LP/AD combination you should create more variants of them and test those as well. You can do this by just simply changing the head lines or sub headings on your LPs or change the images here and there…

These small adjustments can actually make huge differences in your campaign's performance.
Scaling
It's also important to be vigilant and scale all the successful campaigns right away. You can start this by adjusting the bids, increasing the daily budget of your campaigns.

How I do it is I usually start with a $50 per day budget, then I bump it to $100/150 per day when I see profitable placements and combinations. Then if it still shows profits I go to $250/300 per day.

You can also scale your winning campaigns further by launching the same campaigns on other Native traffic sources, with the same settings and AD/LP combinations, for example for me these campaigns are performing very well on Revcontent as well, so when I have a profitable campaign on MGID I also launch it on Revcontent.
With this strategy I can easily bank $4000-5000 profit each month!