In this article, I'll show you how to create and run successful Supreme Media financial offers on Adskeeper Native.
Choosing a good and reliable CPA network with proven offers is very important and it's crucial for success. However finding such a network is not that easy these days, especially if you are looking for financial financial offers.
It doesn't matter how good you are in affiliate marketing / media buying, if the offer isn't good enough, you won't be able to make it profitable.
That's why I highly recommend working with Supreme Media when it comes to promoting financial lead generation offers.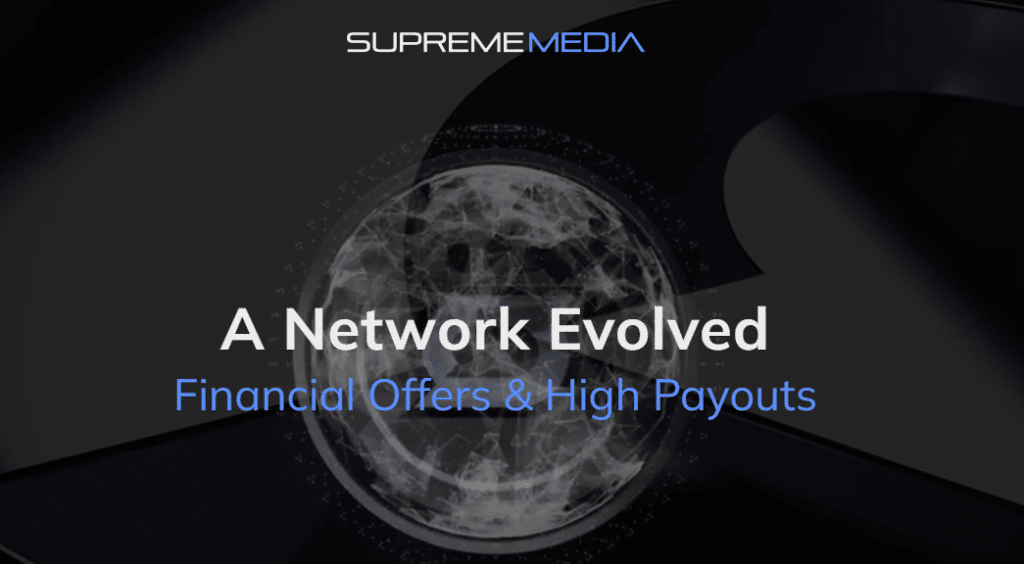 I met these guys years ago, and I can tell you that Supreme Media is not only a great network with the highest-converting and highest-paying offers, but their support team and affiliate managers are also outstanding. They are constantly available and willing to help.
So in this guide, I'm going to walk you through step by step, how we setup, launch and run successful financial offers with Supreme Media.
These campaigns are very hot on native traffic sources, so we are going to run our campaigns on Adskeeper Native.
Watch tutorial as video:
Spying On Competitors
Using spy tools like Adplexity Native is the best way to find out what other successful financial affiliates are doing. By using a spytool you can easily find out what angles, ads, and landing pages perform best.
This is when Adplexity Native comes handy. It is the best Spy tool for Native traffic, and it's super easy to use.
To get started simply search for the keyword ''bitcoin'' to find financial campaigns.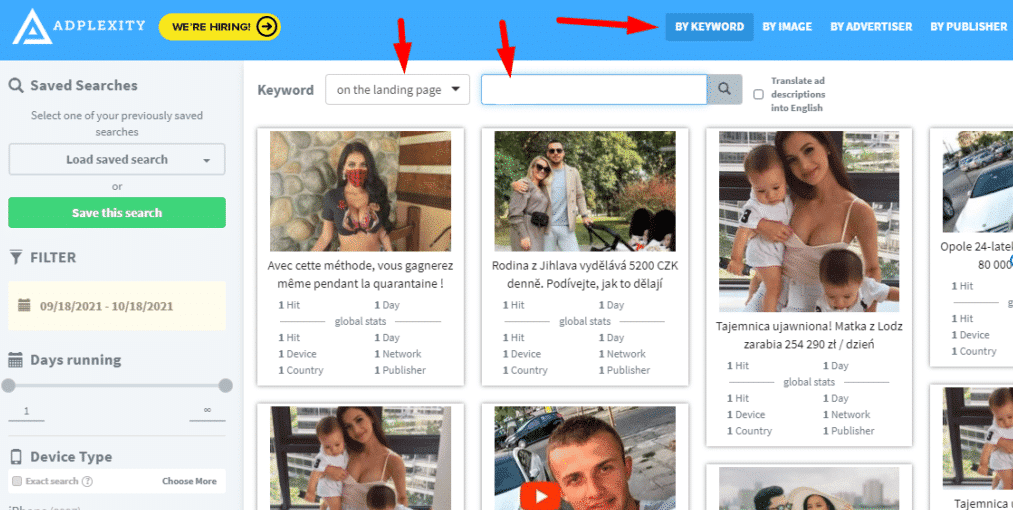 Okay now you will see the most recent financial campaigns which are live on native traffic sources. But this is not what you are looking for. What you need is the TOP performing financial campaigns. So first set the date filter to ''last7 days''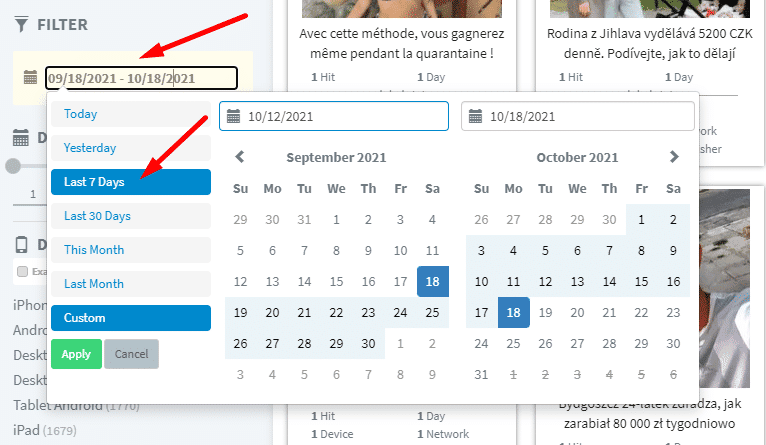 Then sort the ads by receiving the most traffic.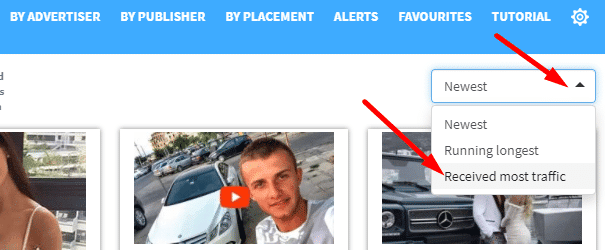 Next you can scroll down to the Country section in the left sidebar, to see which are the hottest geos right now.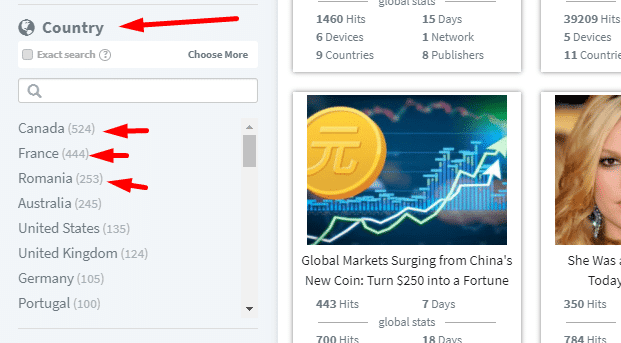 Then I can contact my Supreme Media affiliate manager, and ask him to give me the best offers for these geos.
Then you can click on one of the countries to only see campaigns from that specific geo, to determine what kind of ads and landers are working the best in that geo.
If I start with Canada, this is the best ad right now: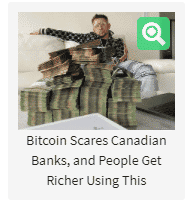 and this is the best performing landing page right now: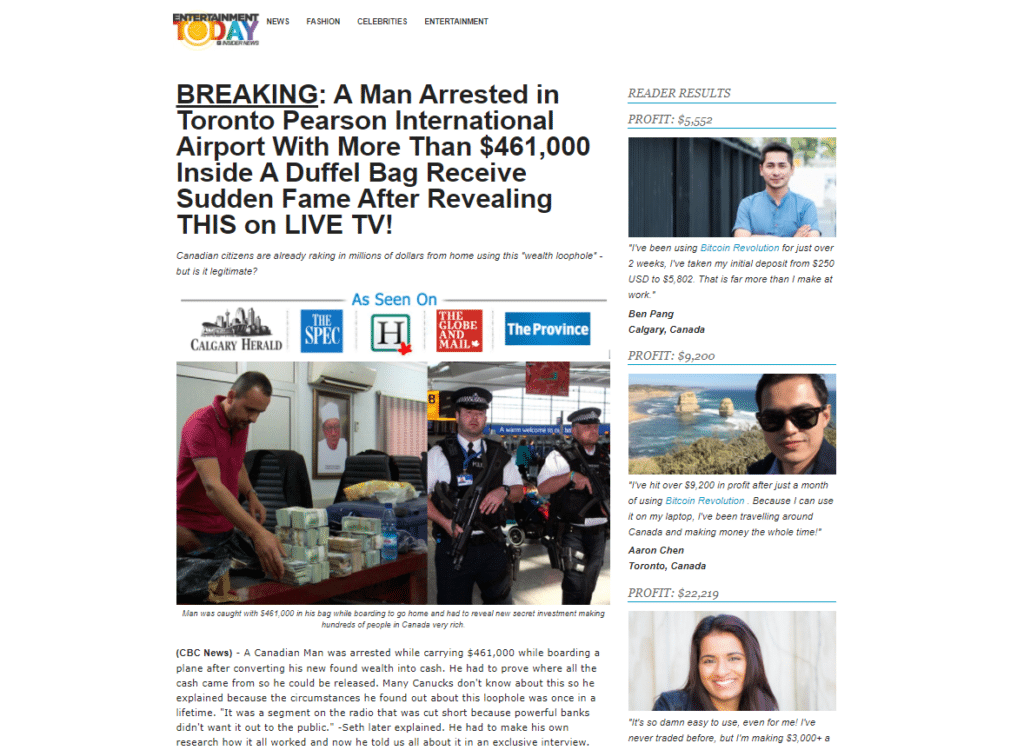 Next we need to repeat the same steps for each of the geos we want to run, and create unique, but very similar looking ads.
Once you have your landing pages ready and uploaded to your server, it's time to set up tracking with Redtrack.
Setting Up Redtrack for Campaign Tracking
To get started, first we need to add our landing pages into Redtrack. It's pretty simple, just go to landers and click on +New.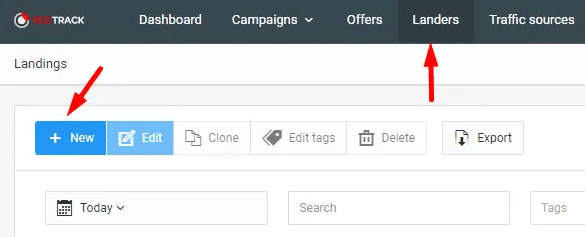 Then give your landing page a name and paste your landing page's URL into the URL field.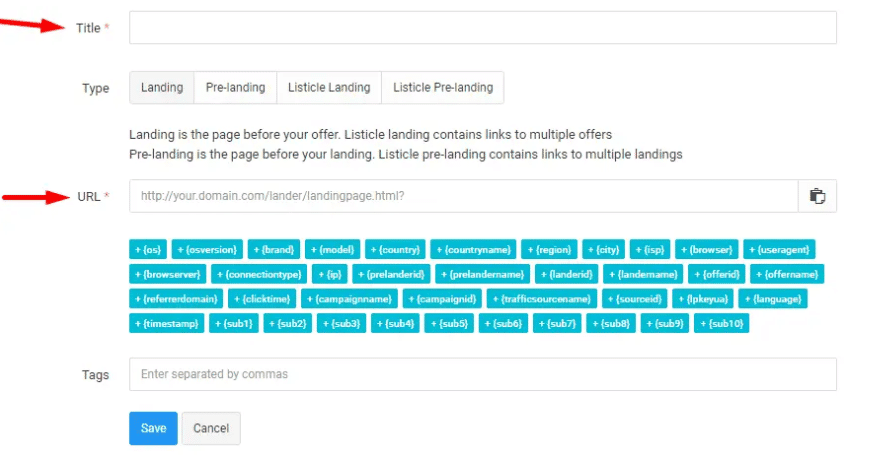 Then you need to add your Offer Source (Affiliate Network)
Select Offer sources, click add new, scroll down until you see Supreme Media and click on add.


The network's postback parameters, the CLICKID and SUM, will be automatically filled by Redtrack.

After that, we'll add the Offers. Go to offers and choose +New

Enter the offer name, choose the offer source, and then put your unique offer link into the URL field. Redtrack will add the proper clickid parameter to your offer link automatically.

Before we can establish a tracking campaign, we must first add a traffic source. The traffic source in our case is Adskeeper.
Click +new and scroll down to add Adskeeper as your traffic source.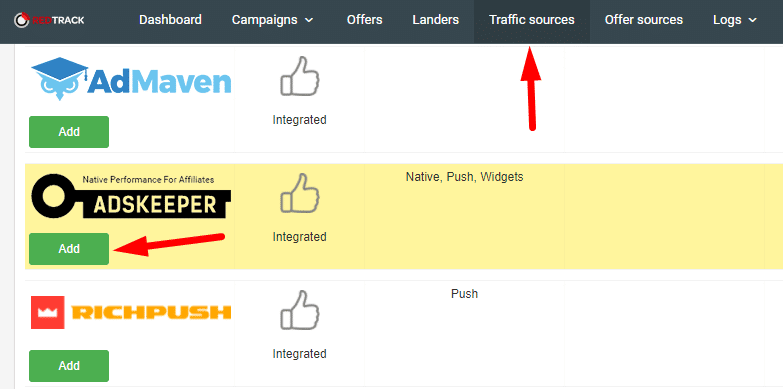 Now that we've got everything set up, we can start working on a tracking campaign. Select campaigns and +New

Then name your campaign and select Adskeeper as your traffic source.

After that you need to create your funnel. Select your landing page and your offer.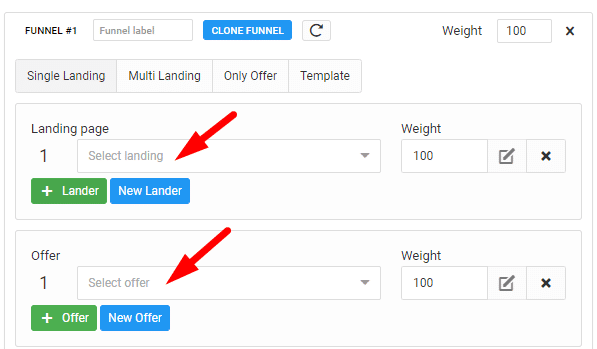 If you are using multiple landers for testing, you can add multiple landers by clicking on the +Lander button, and Redtrack will split test for you.
Once you set all this, the next step is to launch your campaign on Adskeeper.
Campaign Setup on Adskeeper
To get started go to your Adskeeper account and click on the Add Campaign button.

Then name your campaign, select your campaign type, category and language.

After that, set your targeting. For this campaign I'm going to target Canada, and Desktop devices only. It's important to create separate campaigns for each device type you want to target, so later I'll come back and create another campaign targeting mobile devices only.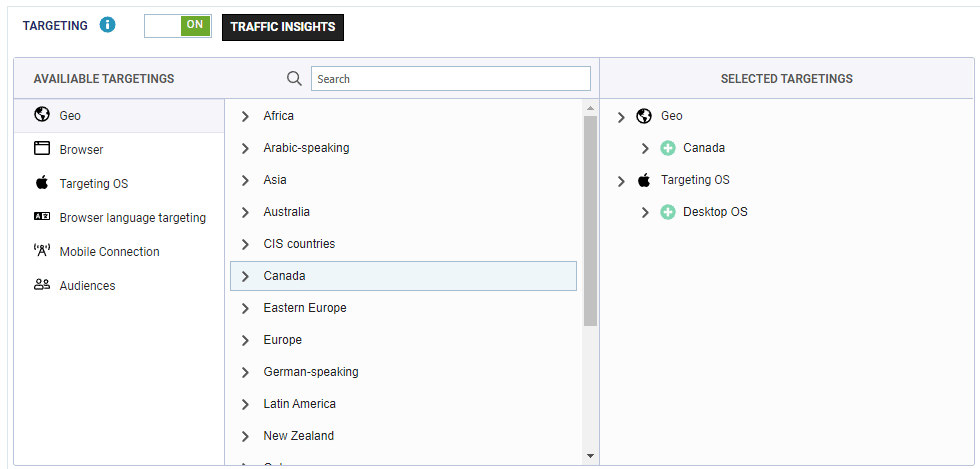 Next you need to set your daily and overall campaign budgets.

Then you need to set up tracking. You can use custom tracking tags like I did here: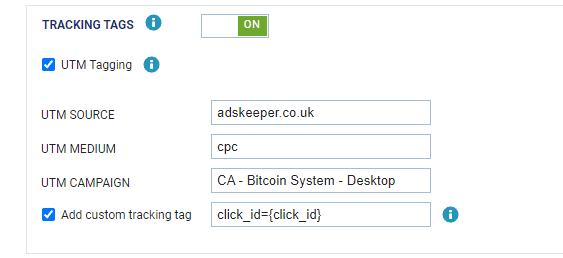 You should also set conversion sensors. Just select Redtrack from the built in templates, then copy your postback url and paste it into your redtrack campaign S2S Postback section.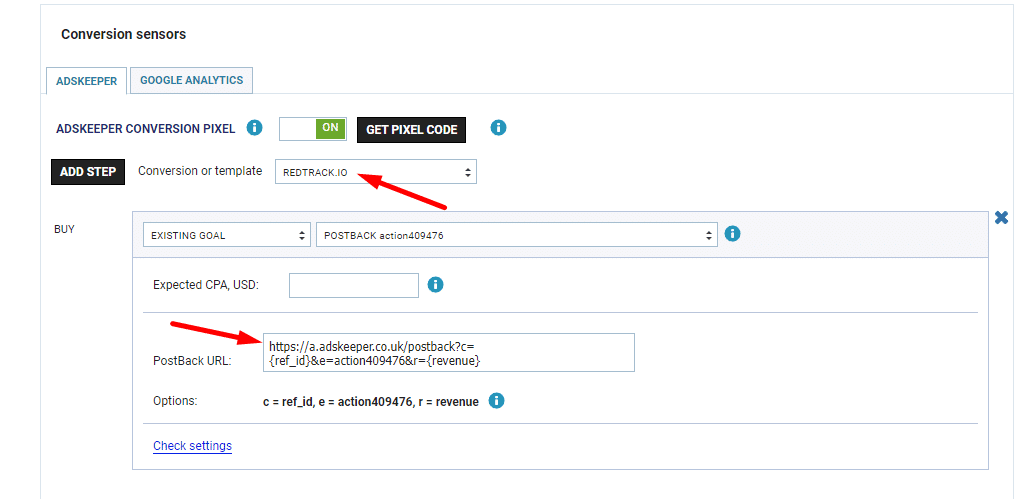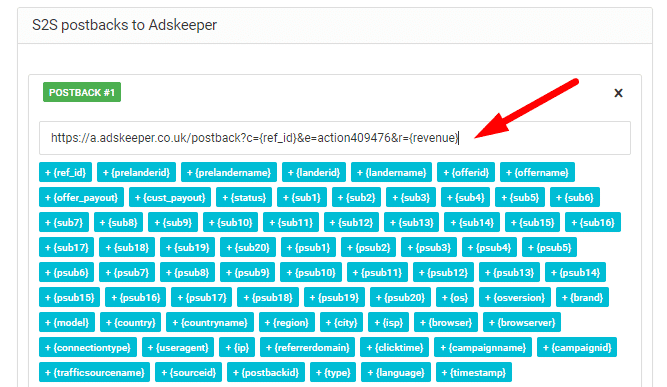 Once you have that you need to upload your ads. Copy your Redtrack campaign link and add it to Adskeeper as your final URL, then your ad text into the Title box, select your ad image, and set the price you are willing to pay for a click (measured in cents).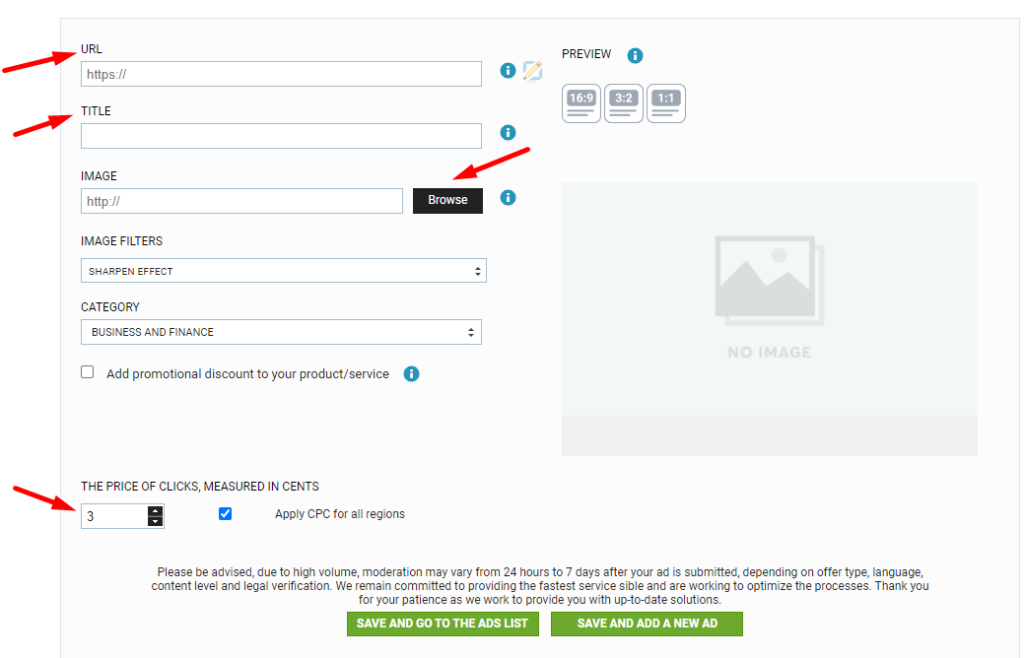 That's all, now all you have to do is wait for the campaign to be approved.
Campaign Optimization
Wait 24/48 hours after the campaigns have been approved to gather enough data to begin optimizing your campaigns.
To begin, go to Redtrack, choose your campaign, and then click Reports.

I always start optimising the placements/widgets first.

I sort the placements by Cost, and stop all placements that spend too much and got 0 leads. So I basically try to optimise for the best lead cost possible.
I repeat this step regularly until I cut all the bad placements that are not converting.
The Landing Pages and Creatives are the next things I optimize. I started with three landing pages to see which one will do the best.

First, I look at the landing page conversion rate. Generally, the amount of leads. I stop one of my LPs if it has noticeably less leads than the others.
I try to focus on the LP CTR % when it doesn't show any significant signs yet.
Then I do the same thing with my ad images.

Once I've found a winning LP/AD combo, I try to make other variations that are identical to it and test them as well. Simply modifying the head lines or sub titles on your LPs, or tweaking the pictures here and there is usually enough.
Scaling Profitable Campaigns
The easiest way to start scaling your winning campaign is by raising the daily budget, or bids on your very best placements. Increase your winning campaign's daily budget, and if it's still profitable, try to increase it even more.
Then you may experiment with bids, gradually lowering or raising them in order to get higher placements.
You can also grab your winning campaign, and launch it on other traffic sources as well, using the same ads and everything.
Once you've crafted a profitable campaign, you should generally test it on other native traffic sources as well to scale even further.
Conclusion
You can make a lot of money by running Financial Lead Generation offers. Typically, these offers pay more than $500 for a single FTD. Supreme Media provides the biggest payouts, with some offers paying over $1,000 per FTD.
So even if you spend a lot of money on testing, once you find your winning campaign you can earn back 10X of your spend, or probably even more!