Adcash was founded in 2007 and it is a real-time advertising trading platform. They offer targeted ad placements on over 15000 high performing websites. They provide advertisers with self-serving platform which has numerous tools for creating and managing your campaign.
Adcash Ad Formats:
1. DISPLAY BANNERS – banners with standard dimensions:
a. 120X600
b. 160X600
c. 250X250
d. 300X250
e. 336X280
f. 468X60
g. 728X90
2. SITE UNDER – pop-up in new window which will be shown as a full landing page, under your main browser. It will be displayed when main browser is closed or minimized.
3. FOOTER – position of ad in footer of the browser. It will remain visible while visitors scroll down the page.
Format: 728×90
File types: JPG, GIF, PNG
Max size: 100kB
4. SLIDE-IN – ad-unit which will slide into the page from the edge. It is available in two formats: 250×250 and 300×250. It can also be JPG, GIF and PNG file type, maximum size of 100kB.
5. INTERSTITIAL – it will be shown to the visitors in between web pages, format 800×600, file types JPG, GIF and PNG with maximum size of 100kB. Adjusted to Interstitial Mobile Ad, when shown on mobile.
6. BACKGROUND – it will adapt to the layout of your website and will be displayed behind it, on the left, right and top side of your website. Formats of this ad are: 2000×150 for Header position of web site, 340×770 for side positions of your websites.
7. IN-APP INTERSTITIAL – full-screen ad that can be displayed horizontally or vertically on a device.
8. IN-APP FOOTER – It will be positioned at the bottom of a screen and it can be used for any screen resolutions. Available in three formats: 320×50, 768×90 and 728×90. But it is also available in HD formats: 640×100, 1536×180 and 1456×180. Maximum size of this ad is 100kB.
9. IN-STREAM VIDEO – video message showed before, during or after the desired content.
STEP 1 – START A CAMPAIGN
When starting a campaign, first you need to click on the button Create Campaign and choose one of the options: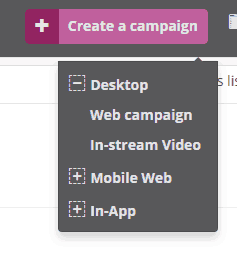 By clicking on + or – next to Desktop, Mobile Web and In-App, you will get more options.
1. Desktop:
1.1. Web campaign
1.2. In-stream Video
2. Mobile Web:
2.1. Mobile Web campaign
2.2. In-stream Video
3. In-App
3.1. In-App Campaign
3.2. In-Stream Video.
When you choose the desired format for your campaign you will start with Creating Campaign.
STEP 1.1 – CAMPAIGN CREATION
For purposes of this tutorial, we will choose Web campaign.
When starting our campaign creation, first thing is to enter the name of your campaign. Next step is to enter the URL to which all users will be redirected when they click on your ad.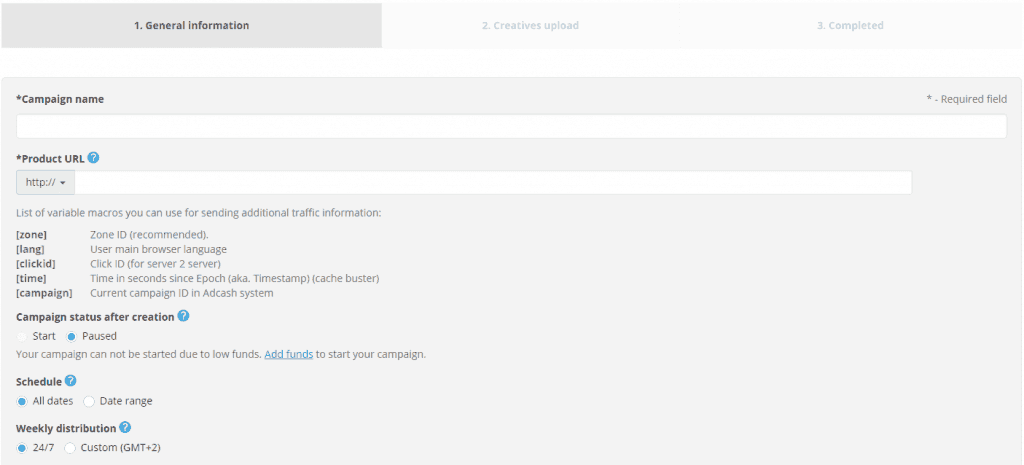 Campaign status after creation can be Start or Pause. If you choose option Start, your campaign will start as soon as it is approved. If you keep the campaign "paused", you will need to start it manually from your Campaign list, clicking Run button from actions menu.
Here you can enter other basic information such as Schedule for your campaign where you can use all dates or choose a date range: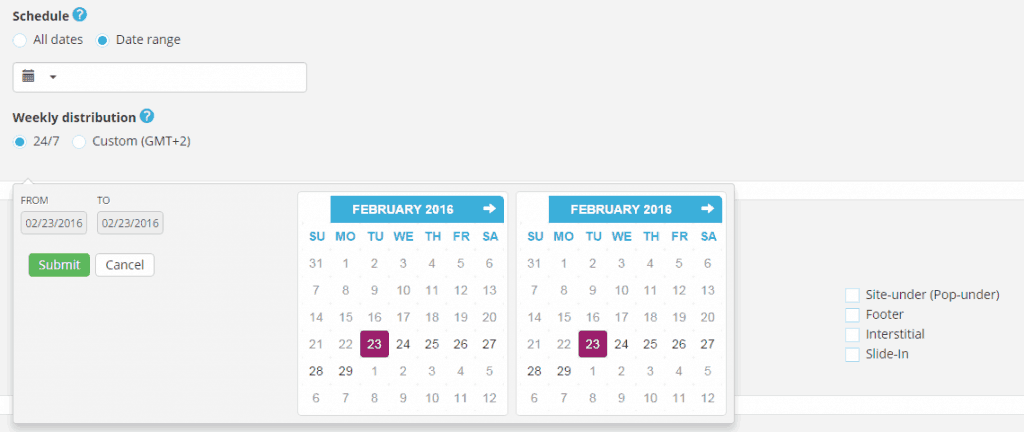 Format Selection
If you choose option Exclusive format, you will be able to select Site-under (Pop-under) ad format.
In case you choose Display banner, you will be able to choose from the list of available banner formats.
Targeting
When selecting targeting options, you can choose to Display on all website, Display only on website with selected category: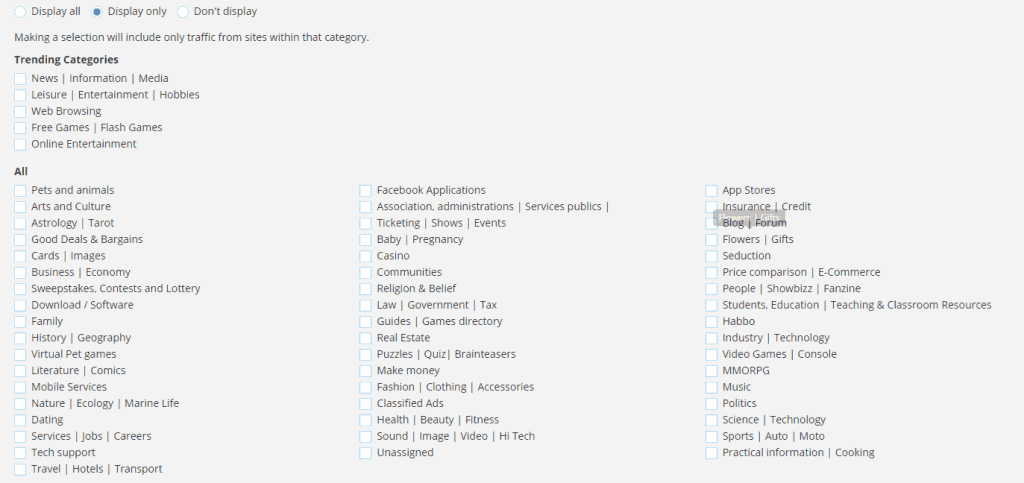 The opposite of this is Don't display, which will give you the option to select categories of websites on which your ad will not be displayed.
ADVANCED TARGETING
Options for advanced targeting are more detailed. Here you can choose to display or not to display on specific operating systems:

You can also choose on which browsers you want your ad to be displayed or not displayed:

Zone Blacklists and Whitelists
Zone Blacklists and Whitelists allows you to choose specific places where you want or don't want your campaign to be displayed.
Browser Language
You can choose different browser languages for users who use these specific languages.
Connection Type
You can choose to include or exclude users who use certain connection type and to include or exclude traffic from certain carriers.

Payout and Budget
You can choose between CPM price (Cost per 100 impressions) or CPC bid. In both cases the system will suggest you the best bid, based on your targeting selection. When you enter your bid, you will be asked to confirm it.

Format frequency capping (per IP)
The frequency of serving your ad to a single user. You can choose not to use capping at all, or specify your desired value. Default frequency capping is usually 1 time per 24 hours.
When you enter all the general information and click on Continue, you can proceed to the next step.
STEP 2 – CREATIVES UPLOAD

Here you will be asked to upload your creatives for your campaign. Creatives need to be the same dimension as you chose in previous step. Every file needs to be less than 100kB. Formats which are supported are PNG, GIF and JPG.
Remember, you need to upload file with exactly the same dimensions you chose in the first step, otherwise, file upload will not be completed.

Now you can Create Campaign by clicking on this button:

If all the information you entered was correct, after clicking on Create a Campaign, you will get this message:

Your campaign will be processed by Adcash validation system. Once it is approved, it will started running or you will need to manually start the campaign in case you didn't choose to automatically start the campaign after validation.