My spying 'system' – I just asked in some skype groups what are the most common angles they see for ED, and it quickly hit me this is what I always do when I am looking for angle ideas..
1) ask the community for ideas

One of the fastest way to get intel on what are the most common, most frequently seen ads that work for a certain vertical is to ask in skype mastermind groups, on STM, friends, FB groups, and other forums.

While NO ONE will reveal their angles; many will say OH this type works best, or that type.

This provides a general direction of thought for me.
2) check spy tools magicadz for FB, adplexity for native/mobile, wrw for display

Spytools are awesome, and depending on the traffic source, I rely on one of the many spy tools we use to quickly see which ads are hot and which landers are popular.

3) the long ass route — take offer link, plug it into spy tools one by one… plug into pro similarweb, check referring sites, check every site's top landing pages.. and work backwards…. super time consuming but highly effective…

Yesterday's WTAFF newsletter was VERY interesting. What caught my attention was Neil Patel saying Affiliate Marketing is dead?!
If you ask this question, mods on forums and proud people will scream "NO ITS MORE ALIVE THAN EVER BEFORE!!!"
I find this statement a bit of a mystery. Were these people not around in the affiliate marketing world 5-10 years ago? Or is their ego so high that they can't admit to themselves the fact that things evolved and matured; gone are the days of launching just about anything and printing money?
Things evolved in the policy department, approval teams both AI and manual are onto affliate style ads faster than ever before. These two things are the direct reason why 'affiliate marketing is dying'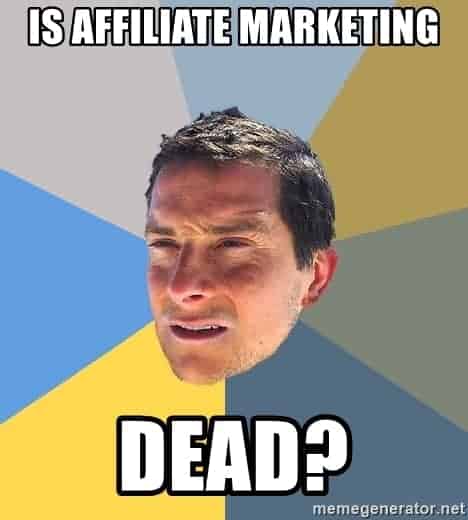 What old G's like Neil Patel, Ian Fernando, and many other veteran affiliates mean when they say aff marketing is dead, is that it's changed so much you can't just throw shit up and print fuck you money.
Rip N Run doesn't work as good as it used to, even tho this was the weapon of choice for the mememe affiliates that never share anything with anyone fearing that they'll make less.
The easy way of affiliate marketing is dying indeed; but affiliate marketing itself won't die because it can be very good if work is invested into more than simply turning $1 to $2 as fast, and with as little effort as possible.
ANGLES are going to be the way to dominate verticals; if you will have the creative force you will be a top aff.
Longer funnels, and user retention, having people return will be the trick to play with to increase profits. Sure, we will have to work HARDER for the crazy ROI's that were had in the past (when affiliate marketing was 'alive') but the industry itself is not going to die… its just maturing… Snapchatads anyone? 😀