This is a guest post by the good guys over at Adsbridge.
Would you like to move your business forward and increase your income in a matter of days? How about saving money spent on coders and designers?
If you have answered "yes" to the questions above, you will be glad to know that an immensely powerful tool exists which will help you out with your campaigns in ways previously unimaginable – AdsBridge.
This all-in-one tool lets you improve your campaigns and create new ones without ever dropping a sweat.
AdsBridge helps your traffic reach the target audience, and maximizes your ad dollar.
This unique and advanced tracking solution is currently in beta, but as of April the 1st 2015. it is becoming a paid tracking solution. Beta users who have helped with the development process and have active campaigns will be able to continue using AdsBridge for free and gain access to special addons via special lifetime discounts.
Some of special addons include:
Multi-user Access & Roles
Unique landing pages per request
Automatic campaign optimization
Full access to High-Converting Templates
Dedicated Affiliate Consultant
Folks working on AdsBridge have their own blog in which the users can easily find the latest information regarding newly released features, pricing updates etc. Be sure to check it out here: https://news.adsbridge.com/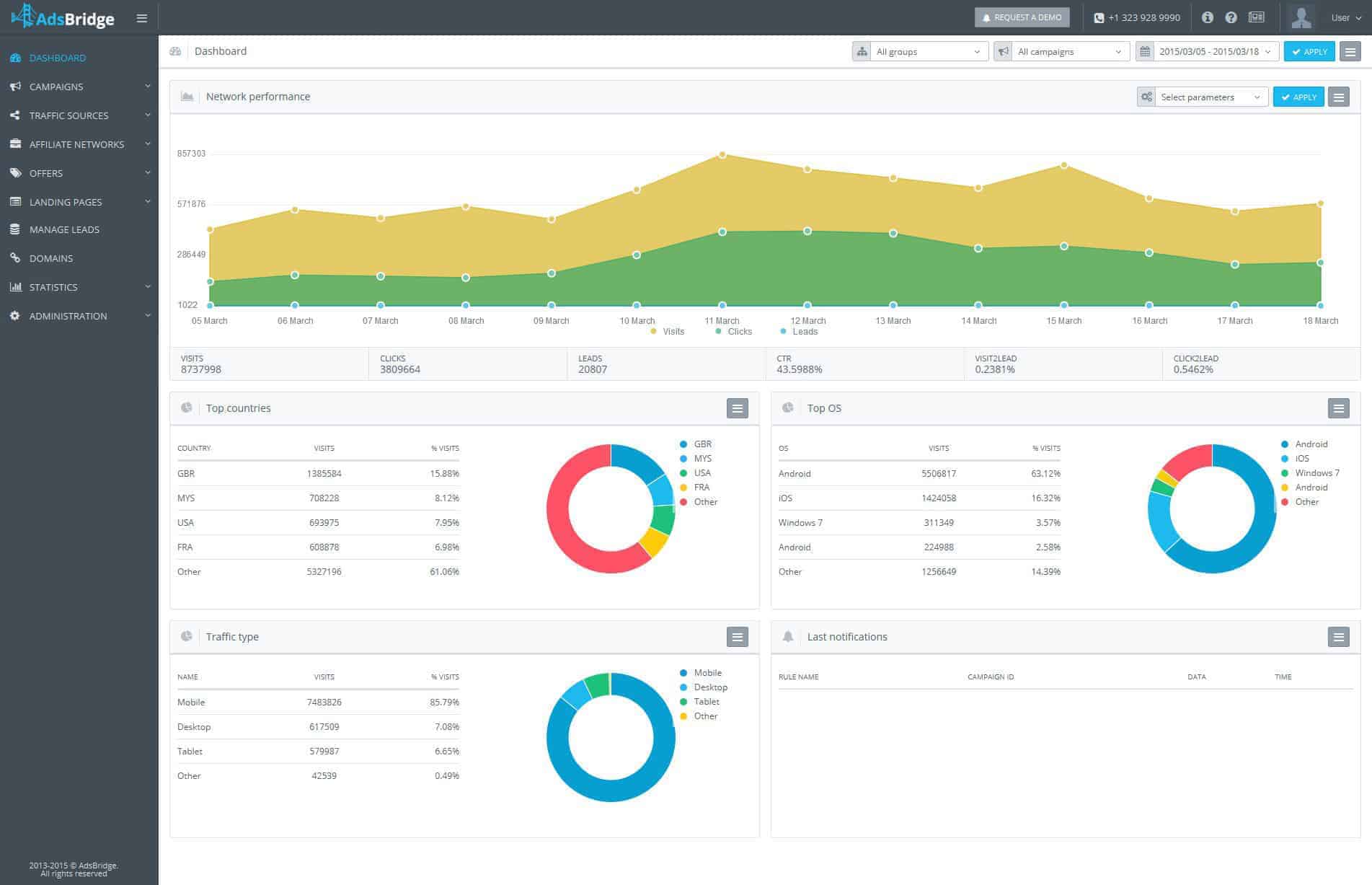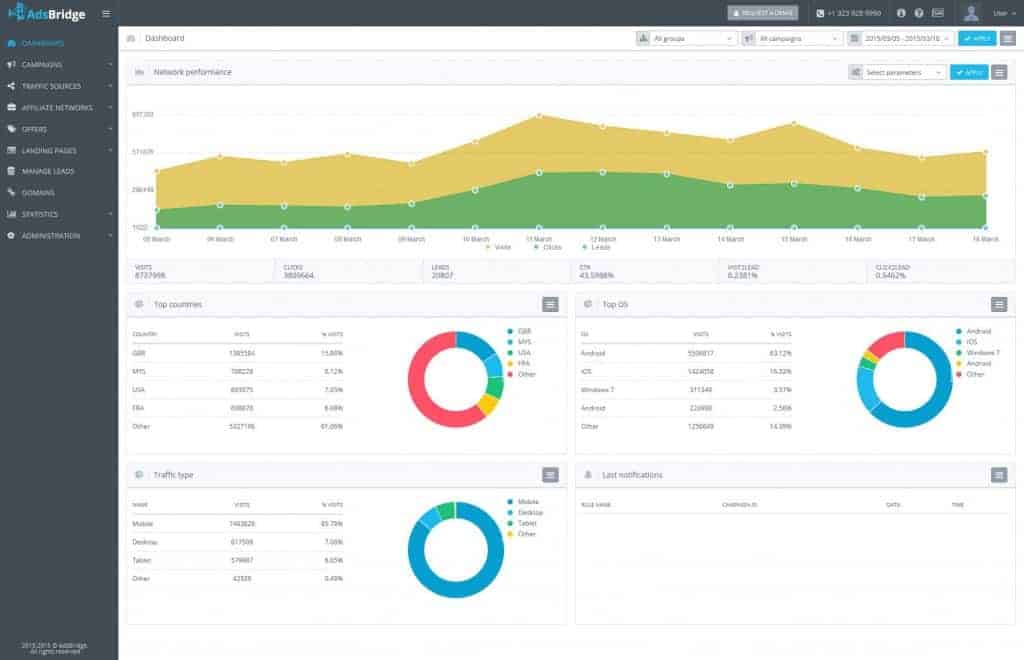 Simple & Efficient
It might seem overwhelming at first, but you need not worry. Creating new campaigns and managing old ones is surprisingly easy. It is not important whether you are an Affiliate Marketing guru or a newbie, AdsBridge has a great learning curve and is easy to get into.
As soon as you sign up for AdsBridge you can create your first landing page and track your results in real time. You will notice that tracking conversions real-time is a breeze and requires no effort. There is no room for guesswork – simply clone the winners and boost your performance leaving your competition limping behind you.
Managing your campaigns is an undemanding task. You can modify your settings in a matter of seconds and boost your conversions in ways previously unheard of.  The option to automatize your campaign optimization and configure automatic optimization rules, which leads to a boost in appropriate campaign KPIs, is coming soon! Be sure to check it out as soon as it is out!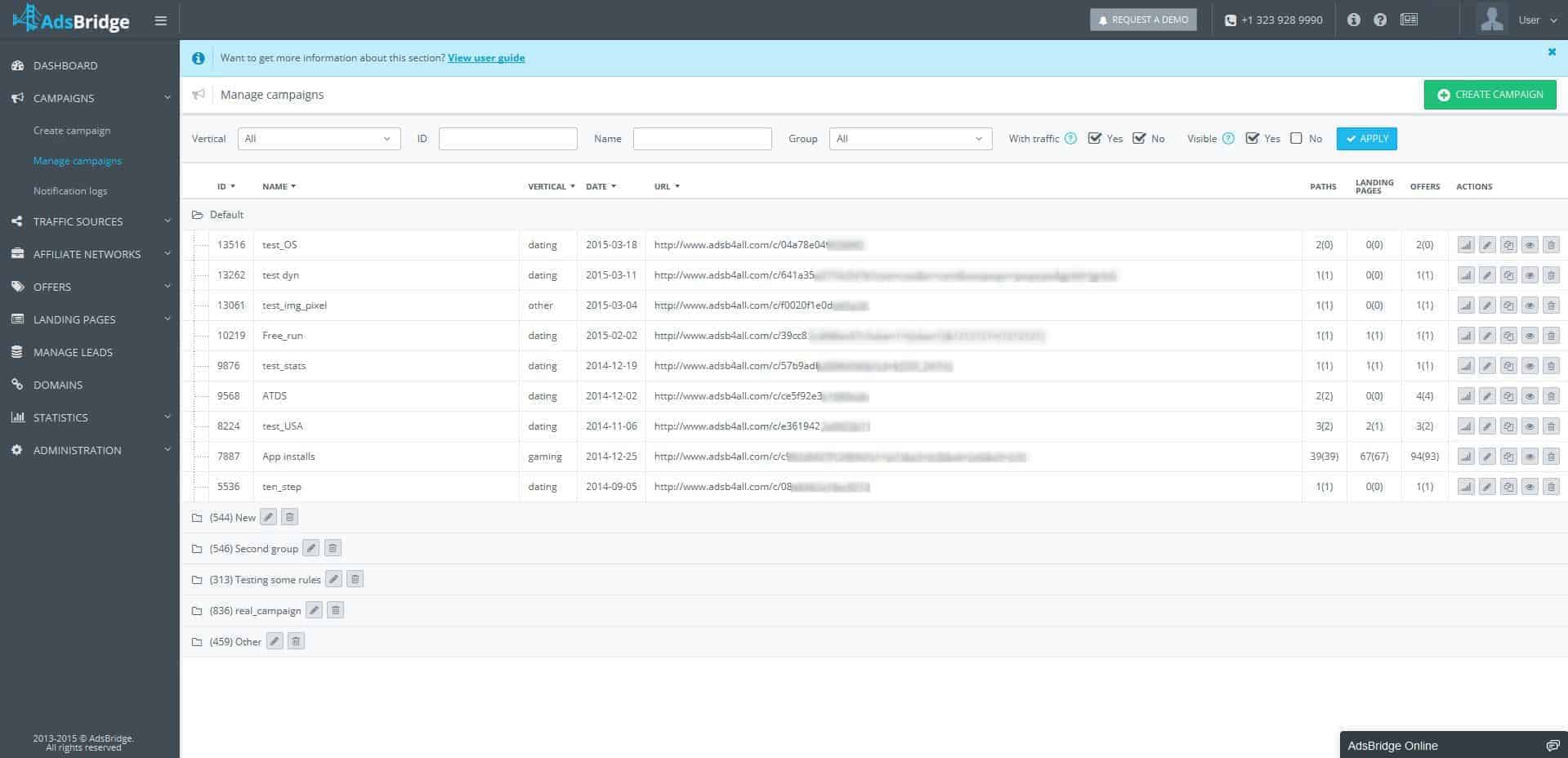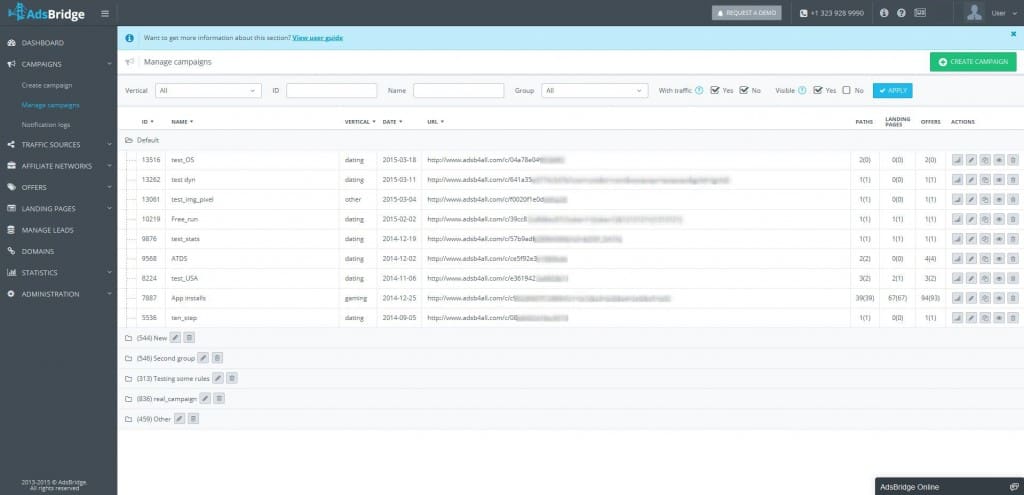 Campaign managing – Easy as A, B, C
There are times when an important event with some of your campaigns might occur – you can rest assured that an e-mail or an SMS will alert you if anything goes wrong.
AdsBridge tracking platform never leaves you of control, it does not matter where you are, you are always in control of your campaigns. You are encouraged to adjust the settings of notifications in any way you like. If something happens, and you want to know about it, be sure that AdsBridge will alert you.
If you are a fan of testing (you should be), you can easily do it by changing the targeting options to suit your needs. A/B testing tools give you tons of insight related to your campaigns and will help you find new opportunities for revenue growth.
Most of the time analyzing data can be a hassle, but not with AdsBridge!
AdsBridge has an advanced report feature which helps you dig those important gold nuggets – data. It is easy to create reports across a vast range of data points. You will be happy to know that all of the data reports are fully customizable to suit your needs.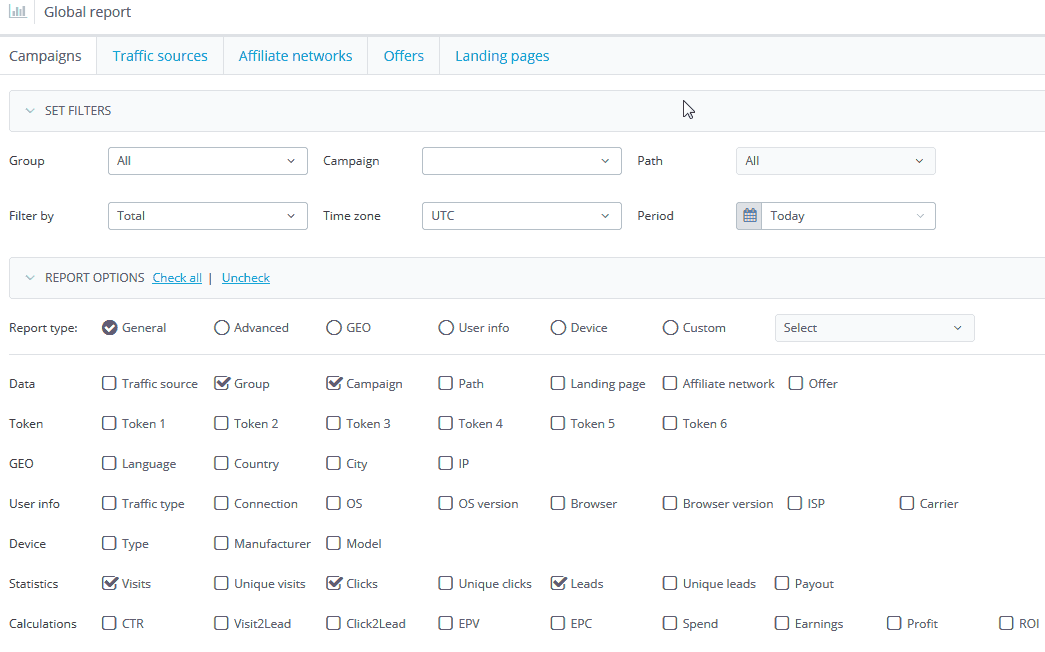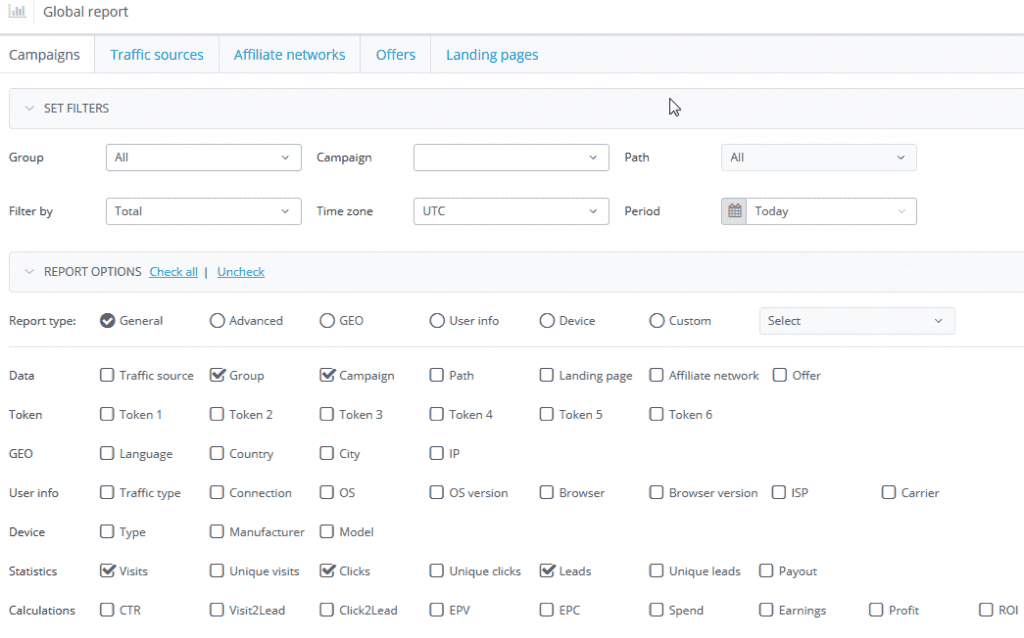 Create and view reports in a matter of seconds
It is obvious by now that creating and managing campaigns, with the help of AdsBridge, is a walk in the park, but what about landing pages?
It is a waste of time and money to search for coders and designers who, in the end, might not meet your expectations. AdsBridge cuts out the middle-man and gives you full control of how your landing pages look like. Building and customizing a landing page becomes easy with the help of AdsBridge landing page editor.
All of the templates are tested and optimized for maximum conversion and you may use the editor to customize HTML code, call to actions, images, color and a lot more. It is easy to see how much time the AdsBridge landing page editor saves.
It doesn't matter if you want a dating landing page or a traveling one, you might want one for coupons or gambling, what matters is that you will find it all on AdsBridge!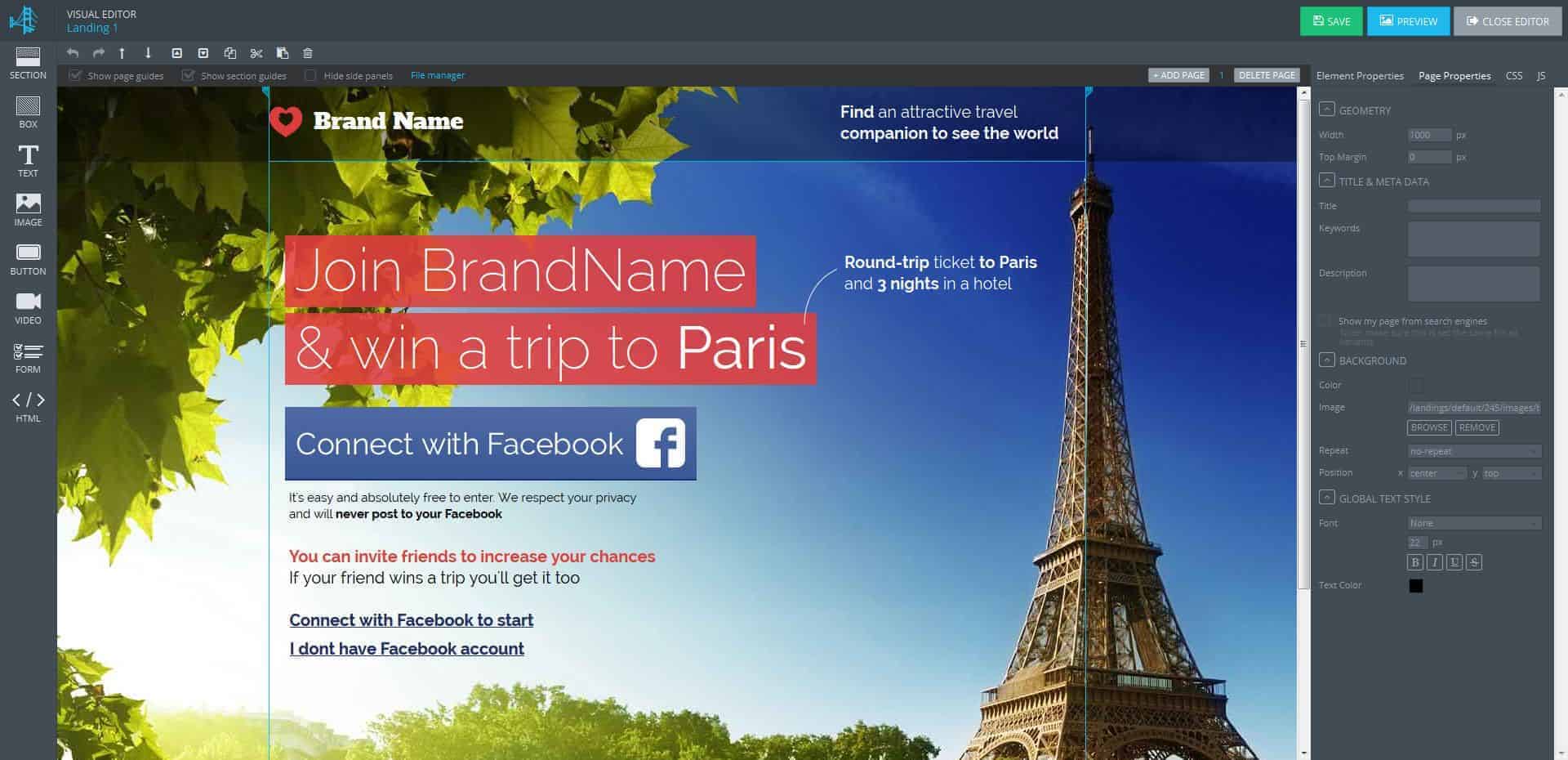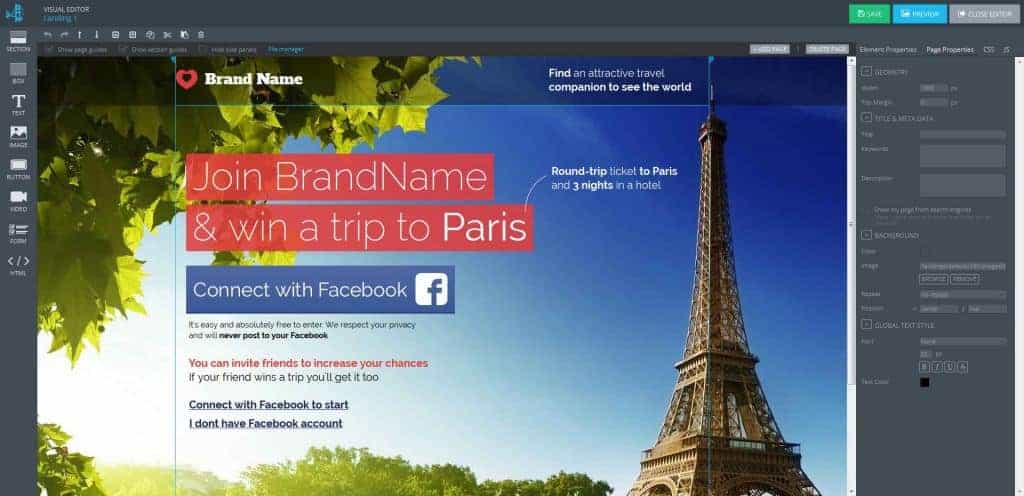 Just a few clicks and your landing page is finished
You have read about some of the AdsBridge features which make it stand out in the Affiliate Marketing world and you might still be wondering about what makes it so special. If all of these features weren't enough to convince you to switch to AdsBridge, you should read on and learn more about what makes AdsBridge so special.
What makes AdsBridge so Special?
Beta users who have active campaigns receive special discounts
Unlimited domains
Easy to use traffic-distribution system
Multiple users with custom roles
NO traffic volume limitations
Live support via Skype or on-site chat
Fast redirects
User-friendly
Useful affiliate tools
All of this, and more, can be yours as soon as you make the decision to switch over to AdsBridge. Time has come to make an important decision, to ask yourself whether you are a winner or someone who is forever left behind in the cruel Affiliate Marketing world. Now is the perfect time to move your business forward, to act and change the way you deal with campaigns. Do you want to earn more and leave the competition wondering "how does he/she do it"?
Hopefully, your answer is yes.
STOP thinking about what might have been and look forward to the future – AdsBridge is the best and the  easiest way to keep you ahead of everyone. This remarkable tracking platform is a great way to get started in the world of Affiliate Marketing, as well as a valuable tool for those who already have years of experience behind them. AdsBridge blog (https://news.adsbridge.com/ ) will always keep you informed on anything you might need to know, so be sure to give it a go!
Give AdsBridge a go and you will never look back, soon you will fall in love with Affiliate Marketing all over again!