Recently, myself together with other experts in the industry have participated in the creation of an incredible eBook from ALO (Affiliate Leaders Online & Offline) that covers the future of affiliate marketing. The eBook itself explains how the industry will change and what we as affiliates can do to best adapt to the changes approaching in 2022!
I am always searching for ways to improve and gain an advantage in the industry. This way of doing things proved incredibly successful for me. Constantly searching for new knowledge and trying to predict how the industry will go in the future got me where I am today.
What Does The ALO Ebook Cover?
This eBook from ALO covers all sorts of future trends and predicts how the industry will need to adapt to the changing landscape in 2022.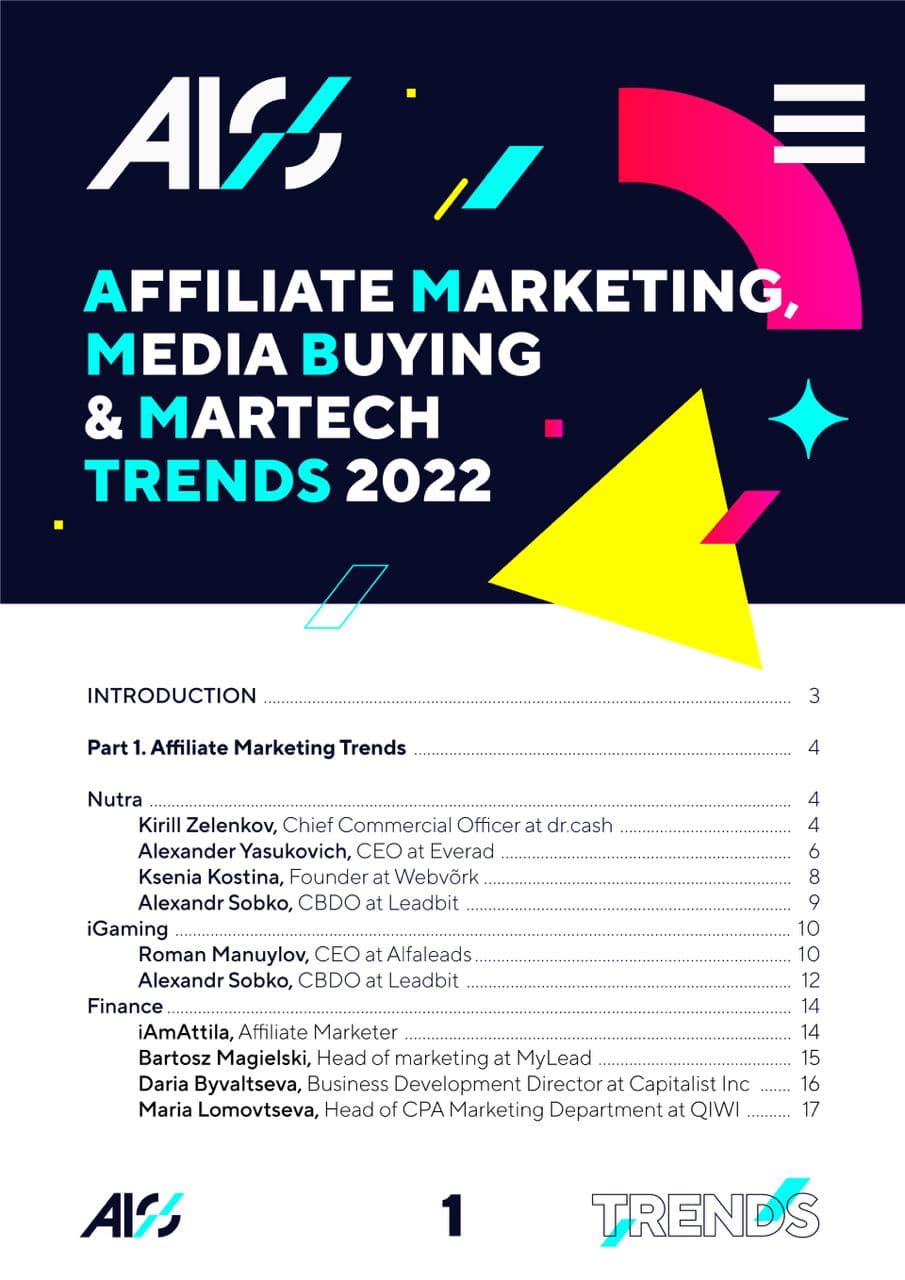 Broadly speaking you will find the following in the ebook:
Expert analysis on industry trends and marketing practices
The writers interviewed over 25 real pros from the industry, including me! All of us give our own insight into what will change, how we can adapt to the changes, and what that will mean for the industry.

Recommendations on what to do
The pros interviewed don't only give predictions on what will happen, they also give valuable insight into what you can do to stay on the top of your game. We will give readers clear, precise, and comprehensive recommendations that new affiliates should follow to ensure they stay competitive in 2022!

Insights into verticals that will become trending in 2022
Knowing which verticals will become huge in the near future can give you a significant boost in your marketing efforts. We predicted that verticals like Nutra, iGaming, Finance, Dating, Utilities, Software, and Info Products will become the norm in 2022. This is why all of us give valuable information on how to best utilize these niches and what to focus on.

Media Buying Trends
Media buying is a big part of affiliate marketing, and knowing how it might evolve in the next year can be incredibly valuable.

CPA Networks Insights
There are thousands of networks available to affiliates. Of course, some are better than others. Knowing exactly what sets each of them apart and what you should be looking for in a CPA network can be a real gamechanger for your marketing efforts.
MarTech's Future
Marketing technology is also about to change in multiple ways. Knowing what the biggest changes will be and how they will impact the industry as a whole is important for anyone that wants to stay competitive in the market.
The eBook Is For Everyone!
This eBook offers a lot of knowledge to people that want to read it. It offers some incredible insight about the industry and how it will change by over 25 real pros! You can even find my own two cents in the book, so you know it's legit!

The best part about this is that ALO (Affiliate Leaders Online & Offline) decided to let us learn about the topics it covers by making it available for completely FREE! This is incredible as you will get the knowledge that you wouldn't be able to any other way! 

Remember, this is exclusive content that is carefully curated and collected from around 30 industry professionals! You won't get anything close to this for free anywhere else! 
You can also read some of this books: The Psychology of Persuasion by Robert D. Cialdini, The Long Tail: Chris Anderson….