Since I've met quite a few people who have struggled with this, I thought I might share with you a couple of tips on how to choose the best niches for your business, as well as some examples of broad yet great niches that are excellent for beginners.
Remember: What's Perfect on Facebook Won't Necessarily Work on Google
A lot of you are probably already aware of this, but I just wanted to remind you that just because a product/niche works great on Facebook, doesn't mean it will be great on Google, too. Of course, if you have a product that sold really well on Facebook (in hundreds or thousands), it definitely makes sense to give it a try on Google.
In all other situations, it's best to start from scratch and to some niche/product research first — if you're planning to use Google Ads, that is.
What Should You Look for in Google Ads Niches/Products?
When searching for the right niche/products, there are three things that I'm always on the lookout for.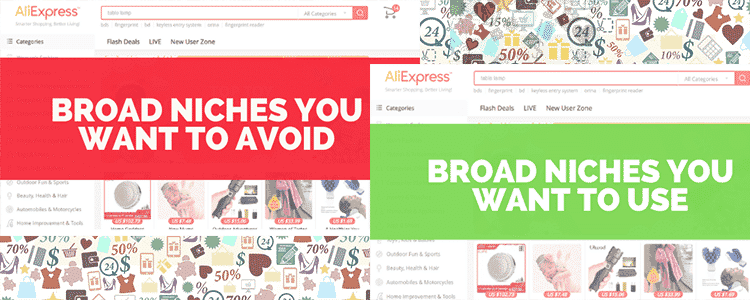 1. Functionality
When it comes to Google Ads, I always try to pick a product that solves a specific problem people have, because it's easier to convince someone to buy a product if it helps them in some way. On Facebook, things are a bit different — you show people a cool video of your product, hype it up, and hope that they like it enough to go to your store and buy your product.
On Google, however, this approach doesn't make a lot of sense, because people want to buy a product because they need it, not because they are too excited about it (like on FB). Plus, keep in mind that these people probably won't even search for your product directly, but rather a solution to their problem. This doesn't mean that sales aren't possible, just that you'll have to work harder to put your product in front of them as the best possible solution.
2. Higher Price
Shopping Ads have a profit margin of $0.30-0.40, which is why cheap products (below $20) are extremely hard to sell profitably on this network. What I'm trying to say is this: if you can't get below those 30 to 40 cents (this happens with the US and really common products), how are you going to sell a $20 product profitably?
In order to be able to sell a cheaper product, you'd either need a great conversion rate (5% or more, which is not easy for a dropshipper or a small business owner), a fantastic funnel with all these upsells that can help you maximize your average order value (again, not as easy as it might seem), or a high customer lifetime value that will enable you to sell products to the same people over and over again (which is not something many dropshippers do).
In short: cheap products are not suited for Google Shopping (and Google Ads, in general).
…