There is NOTHING more stressful than getting your ads disapproved after spending countless hours thinking about the perfect angle, writing the copy, and creating the most spectacular image in Photoshop or the coolest, most viral video ad in Adobe Premiere.

It sucks, and I know it, it's like this literally!!!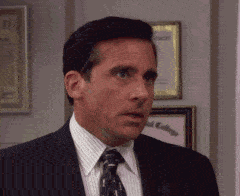 I FEEL your pain and Facebook doesn't make it easy. Rather than telling you WHAT part of your ad triggered their disapproval, they give you a canned disapproval message like this:
"Your ad wasn't approved because it doesn't follow our Advertising Policies, which apply to an ad's content, its audience and the destination it links to. We don't allow ads that use profanity, or refer to the viewer's attributes (ex: race, ethnicity, age, sexual orientation, name) or harass viewers.

How to fix: We recommend focusing on your product or service, rather than the audience, and/or remove the profanity from your ad and/or destination it links to.If you've read our policies and think that we made a mistake, you can request a second review by our team."
So WHAT CAN YOU DO TO FIX IT?
Something we like to refer to as the 'process of elimination'

Here's an ad that was disapproved with the above message: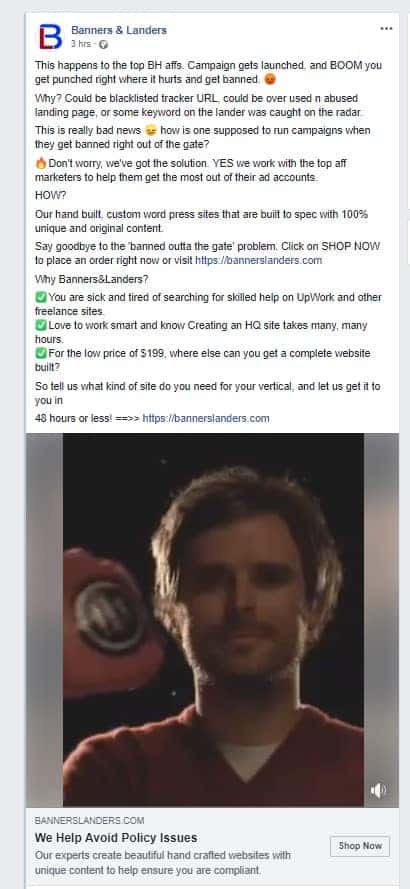 Rather than focusing and trying to guess what caused the disapproval. We are going to use a process of elimination.

Step #1 is to come up with a plan. Here's what we usually follow:

A) Remove all text on the ad, fill it with boring, product centric text aka dummy text. In this case, we just put Webdesign Service. Full Service Design. Click SHOP NOW To Learn More.

B) Change the links in the ad. Rather than pointing to our old homepage www.bannerslanders.com, we will find a high ranking site on Google for wordpress sites and try that link instead of ours.

C) We are going to change our thumbnail for our video ad.

D) We are going to change our video ad to static image ad.

Step #2 – Create duplicates of the disapproved ad, and edit them with the plan from above creating variants.

Step #3 – Send it for review by hitting the PUBLISH button then wait to see which one gets approved which one gets disapproved.

Once you isolated the problem this way, you can move down that 'road' and fix it. Eventually, being able to run your original ad with slight edit to pass the policy check.

Good luck!
PS: After testing variants based on the rules above, we had an ad approved where we reworded it so it doesn't mention YOU/YOURS, etc at ALL and that got approved. See the LIVE ad right here.
And if you Facebook page is scoring alert, check this post.