Most people still have a perception that LinkedIn is just your online biography. I can't stress enough just how wrong that opinion is. It's a social network, therefore it has to be interactive and intrusive. Also, a great promotional tool for everyone involved in digital marketing and sales.
From a marketing perspective, a similar strategy is required as for any social network.
Creating a strategy for communication, presence, and marketing.
Publishing content with a goal in mind.
Interaction with other LinkedIn users.
A search of relevant topics under hashtags.
LinkedIn has more than 650 million users. More than 70% of users are not from the US. It's a global business network.
So, Let's see how you can profit from the power of the Linkedin social network.
Build your reputation and authority
Recommendations
The best way to get them is to give them to other people. Most of them will gladly return the favor. Recommendations can do wonders for your reputation.
Give your opinion and answer questions in your area of expertise
Be active on posts of your industry colleagues. If you demonstrate good knowledge, people will take note. Your reputation and with it, your brand's reputation will grow.
Linkedin Groups
There are many groups where you can connect with people. Try to be active and build a reputation. This way you will meet important people in your industry, get information about new trends and develop deeper business connections. From time to time share your own content, just be careful how you promote it.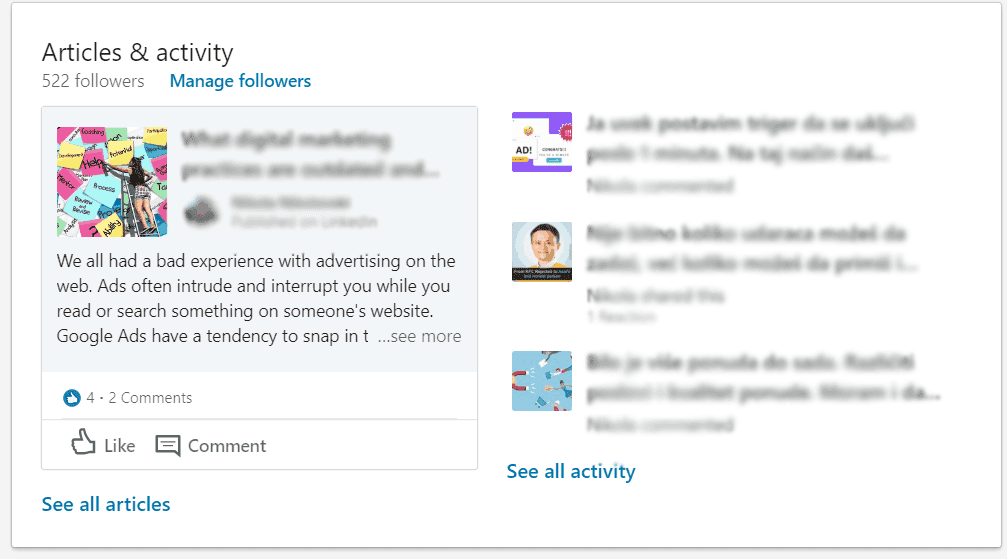 Promote your article or a blog
There are few options for promoting your content on Linkedin. Put a link towards your website or mention your business. Create a post and share it on your network. Write an article directly on Linkedin and promote it.
Research your competitors
Linkedin has a powerful search engine and you should definitely use it. For example, you can find great freelancers. By checking their background and knowledge you can get an idea of how good they are pretty fast.
Spying on competitors is even more useful. You can learn many useful pieces of information. How fast their employees change jobs? How good are people that work for them? If you are interested in partnership, learn everything you can about the manager you are going to contact. What do their clients think of their products or services?
Don't try to sell anything in the first message
Just because a person accepted your connection, does not mean you should immediately send your proposal and bombard them with CTA massages.
This type of communication is unacceptable in a live meeting, let alone with a person you don't know online. Like in real life, try to establish a good connection and learn more about that other person. Only then you can propose something business-related.
Self-promotion going wrong
I mentioned that you can establish yourself as an expert by commenting on other people's posts. Still, there are good manners that you should always present. Answer only if a poster is asking a question or would like to hear people's opinions.
One such annoying person, that you will surely encounter, is someone who constantly tries to spark a debate. The only reason for such a behavior is to ''break'' Linkedin's algorithms and increase the popularity of its own profile. That person tries to force the narrative that it's an expert who constantly comments on other people's posts or articles. Don't be that person!
Follow hashtags
Similar to Instagram, on Linkedin, you can follow people and hashtags. Follow hashtags for your industry or ones related to your product or service. That way you can learn what is new in the industry and give your opinion when necessary.
Be creative with your content
Share articles, videos, write posts, share other people's posts, visuals… There are many things that have an influence on how many people will see your content. Demographics, time zone, post tame, hashtags… all those things can have some influence.
Advertising on LinkedIn
Linkedin Ad manager is not nearly as sophisticated as Facebook's. Still, it can be a useful tool for many purposes.
First, step is to pick a goal for your ad. Those are the type of goals that are available: Brand awareness, Website visits, Engagement, Video views, Lead generation, Website conversions, Job applicants.
There are 8 types of ads that you can create: Sponsored Content, Text Ads, Sponsored InMail, Video Ads, Display Ads, Direct Sponsored Content, Dynamic Ads, Lead Generation Forms.
There are some ads specific to LinkedIn:
Sponsored Content Ads – It allows you to promote your business page content. Content will appear on LinkedIn feed as regular looking content. You can choose CPC or CPM type of conversion.
LinkedIn Text Ads – It is similar to Google search ads but on Linkedin, they will be displayed as a set of 3 ads. They will only be shown on desktop devices and again you have PPC or CPM options.
LinkedIn Sponsored InMail Ads – Advantage over regular massage is that you can send it to anyone outside your network. Because they are sponsored massages you can send only one per month. The limit is there because LinkedIn wants to ensure that there is no spam on the network. Another advantage is that your massage will be received only when a person is online, to ensure that your message is the first one that they will read.
All other ad types are familiar to anyone that used online ads before, so I won't go into detail.

More LinkedInTips:
Export data from your network contacts
Go to My network/Connections select See all then Manage synced and imported contacts. That is it, just click Export contacts.
If you want to search for people that hold two positions at once, put AND between the terms. Marketing AND Economy
To search for one or the other position, just put OR in between. Marketing OR Management
You can also put a term NOT if you want to exclude something from a search. Speaker NOT Consulting
You will learn how strong and influential your Linkedin profile is.
A good trick to get more followers is to change the Connect button into Follow.
Import your post to your website
Click on the upper right of your post and choose embed this post option. Now you will get an HTML code that you can copy to your website.
In your profile settings, you can choose to hide viewers of this profile also viewed option. This is because when people view your content, on the right side of the page a recommended content will appear. Usually, your competitors with similar content will be displayed there. You don't want to send your viewers to your competitor's content.
Go test on those tricks yourself, and see how helpful LinkedIn can be for your business!