Hello, fellow affiliates! Through the course of the past few weeks I've told you about Push.House, an excellent push notification advertising network and Partners.House, their own affiliate program that you can use to make money from push subscriptions. They have one more exciting project that ties all the above together… a CPA Network with exclusive offers. If you want to earn money from your sites, or make money from running CPA campaigns, I recommend working with this company!
CPA.House is a unique affiliate network with real exclusive offers that convert and high payouts to max out your EPCs.
After 2 years of running their own traffic, the people behind CPA.House created an affiliate network with offers optimized for push, pops, and redirect traffic. The landers are all split tested and optimized to convert best. Payouts are high, and this can be seen in the EPCs when you test and run traffic.
CPA.House is an affiliate network that is easy to work with. They have tons of offers, custom made landing pages and they make it easy for new affiliates to get started, unlike other CPA Networks their minimum payout threshold is only $50!
How to start working with CPA.House?
Arriving on the main page we can see the same minimalist design being used here too. The site is fully translated into English so you shouldn't face any troubles with it. Complete a simple form to register for being able to fully use this affiliate network.
After signing up, you should be directed to the main page, here what it looks like:
Your main page is going to consist of basic statistics on the leads and income you had today and yesterday, news thread, new offers thread and a side main menu.
Let's take a closer look at the menu cause all the things we need we are going to access from this menu:
Dashboard: Clicking here will direct you back to the main page
Account: Here you can change the basic settings of your account like your nickname, password or payment options.
News: Everything new that is coming to the platform, you will find it here
Notifications: Whenever you get an approved lead or an answered ticket, you can find the corresponding notification for it here.
Our Telegram: If you want to dive right into conversation with more than a thousand active affiliates, make sure to join the Telegram channel.
Top Offers: The system detects best performing offers and constantly updates them here for you to know what trends today.
Statistics: All your statistics you can find here. It is a kind of internal tracker that you can use in case you don't use a tracking solution.
Flows: Here you can find all your created flows
Smart TDS: This feature allows you to distribute traffic evenly to several flows using only one link which comes very useful if you have two offers within the same vertical in the same GEO. You can use it to drive traffic through only one creative or ad into several offers to see which perform better.
Leads: The log of your leads, accepted or not, will be listed here.
Offers: To see all the offers and filter them by verticals, GEOs, etc. click here.
Sources: In order to be able to use CPA.House you have to declare the traffic sources you are going to use, this can be done here. Also you can find the list of all traffic sources you used here.
Postback logs: After setting up your postback, all it's logs are listed here
Referrals: CPA.House offers a 3% referral system, all your referrals and their income will be shown here.
Payouts: Go here if you want to withdraw money from your balance or see your payment history
API: You can find your API key here
Tickets: Have a question? Create a ticket and moderators will answer you as soon as possible.
FAQ: Read this section to find answers to the most common questions before creating a ticket.
Rules: Here you can read the rules of the platform.
---
Step 1: Creating a Traffic Source
First of all, in order to work with CPA.House, you need to add a traffic source, meaning you need to specify what advertising network or other type of site you will be using to drive traffic to your affiliate links. To do that, go to "Sources"
Then click on "Add new source" like in the screenshot above. You should be directed to a new page where you will have to give your traffic source a name, provide a description for your source and specify a URL address of your traffic source.
Here is an example of creating a source:
After finishing press ADD and wait until moderators approve your traffic source.
Step 2: Select an offer
After your traffic source is approved you can start looking for an offer. CPA.House has more than 500 active offers specially designed for push notification advertising format but that is also highly convertible with other advertising formats. Look around to find the offer that works for you.
You can go either to "Top offers" and see what offers perform better than others at the moment or go to "Offers" and see all the offers that are available. For purposes of this review we will go to "Offers".
In "Offers" click on Filters to open a drop down menu with all the filters.
You can filter the offers by
Goals
Status
Category
Traffic sources
Countries
Payout currency
While searching, pay attention to the CR and the Approval Rate, under each offer. The system records all the clicks made on the offer so it detects and calculates the CR and AR automatically. Newer offers can have no data under these parameters, don't let it scare you, it means that the offer was not used enough.
When you choose the offer that you like, click on Request Access and fill in the needed information in order to get the offer.
You should see this page, the only thing you have to do is select your traffic source, which should be accepted and fill in your estimated number of leads per day. Then hit the Send button to be redirected to the Create Flow page. There, give your flow a name, select the traffic source and press ADD.
Now, in order to get your link, you should select your landing page. You can select as many as they have for each offer and the traffic will be distributed to all the landing pages evenly.
One of the best qualities of CPA.House is their landing pages that are different from other Affiliate Networks. The landing pages are professionally made to be highly convertible and increase the CTR. Using landing pages from CPA.House you make sure that your traffic is going to convert.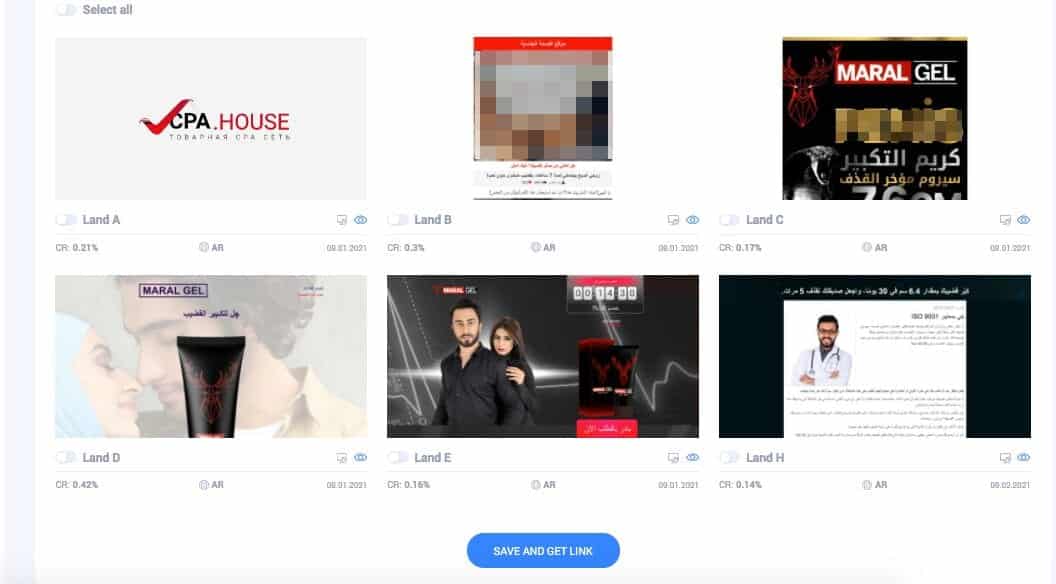 In the example above you can see six landing pages and their CR, my advice would be to select Land B and D and see what converts better then with time get rid of the one that converts less than the other. After selecting the landings click save and get link.
Here you can be asked to set up your Postback if you want to use one. You can learn how to do this from your manager or from your traffic source.
Step 3: Editing the link
To start driving traffic to your link, first you need to edit it and set up all the macros you need. To do so go to Flows to see all the flows you created. There, click on the icon under Link to open the Edit Link page.
Here you will see four fields for your macros named SubID 1-4. You can put the macros from your tracker or advertising network manually or can select premade templates from the Advertising network drop-down menu. Let's see what happens if we select one of the templates.
As you can see, the system puts all the relevant macros for your advertising network automatically.
And just like that, within a couple of minutes you can start driving traffic to your link easily so add this affiliate network to your collection of rich sources of profitable networks!
Step 4: Withdrawing funds
One of the best features for a lot of the affiliates is the minimum withdrawal amount, right? No one wants to try out a new affiliate networks that pays once you hit $500, what if you never make this money. CPA.House allows you to withdraw whenever you hit your first $50. This is a great feature if you are trying a new affiliate network to see if it works for you. More than that, if you use their advertising network Push.House, you can see that the work flow have been made especially easy as you can withdraw not only to your e-wallet but also to Push.House directly. Just go to Payouts and order a payment. This will open a page where you can specify where you want to withdraw your money to. You can choose whatever payment method you like or just directly to your Push.House account so you don't stop your campaign.
Pros:
Intuitive design and easy work flow.
A range of more than 500 active offers within various verticals can satisfy even the pickiest affiliates.
Payouts and commissions are higher than other advertising networks.
They make their own landing pages to make sure you get better results.
Minimum withdrawal amount is $50.
A lot of ways to withdraw your money.
Cons:
Some of the texts are still in russian.
They can ban you if you fraud without the ability to withdraw your funds.