Affiliate marketing is about always staying on top of your game. If you want to make it you always need to research what the newest tech in the industry is. The whole industry is rapidly changing all the time, and new services are popping up each day.
One of these services is Dynu In Media. While not a completely new service, it is new to most western audiences. This impressive CPA network is one of, if not the biggest CPA networks in Vietnam and Southern Asia. Dynu has decided to do a big push for the worldwide market as well, and this is where my review comes in.
I haven't had much experience with the platform before this. I heard that it existed and that it's big, but I never paid too much attention to it. Recently a couple of my good buddies started using this CPA network and they soon started telling me about it. They had a lot of positive things to say which piqued my interest. I decided to research the network a bit for myself, and there are a lot of interesting things I found out during my research. So let's see what I found out about Dynu in Media.
Who is Dynu In Media?
Dynu in Media Network was established in 2019 in Vietnam. Since their beginning, they have grown into one of the biggest CPA networks on the market. They have been working with Tier 1 GEOs since they have started, and few Asian GEOs as well.
Dynu in Media promotes and distributes CPA, CPC, CPL, CPS, CPV and CPI campaigns globally. They are focused on providing advertisers and publishers with a fast and efficient platform where everyone can work together for the best results. Their expert team is always scanning for the best offers and they are all ready to help with any campaign issues that advertisers might have. Their support team is always available to help affiliates with anything.
All of this effort by the Dynu team led to some incredible achievements and stats by the team. So far they managed to:
Generating over 300K leads monthly
Bringing over 300 influential advertisers to the platform
Attracting over 500 HQ publishers to the platform
Direct CPA, CPL, CPS campaigns
Competitive high payouts for offers
Sweepstakes (SOI/DOC/CC, trial/PIN submission), Finance, E-commerce, Market Research, Health & Beauty, Education and so on.
GEOs US, UK, CA, AU, NZ, most of EU, some Asian countries
Payment methods include PayPal, Payoneer, Wire Transfer, etc
What is their mission for 2021!
The team behind Dynu in Media is always working on improving its service and platform. This is why they created a plan on what they want to improve on and what features they want to include in their platform.
Dynu in Media wants to become one of the most valuable networks in the business. They want to deliver real value to their users and become a household name in the industry. Their team consists of seasoned professionals that have worked for years in the marketing industry. And they are always searching for new team members that can improve their business. Dynu has specialists for affiliate managers, technical support, moderators, and other
The team also has enthusiastic goals to become one of the top CPA networks worldwide with over 500 clients and 20,000 publishers.
To achieve all of this they are trying to build long-lasting relationships with clients, partners, and publishers. Their dream is to grow multiple times in the next few years. And I can truly see the potential in them.
What their dashboard looks like
When logging into your account, you should see something like this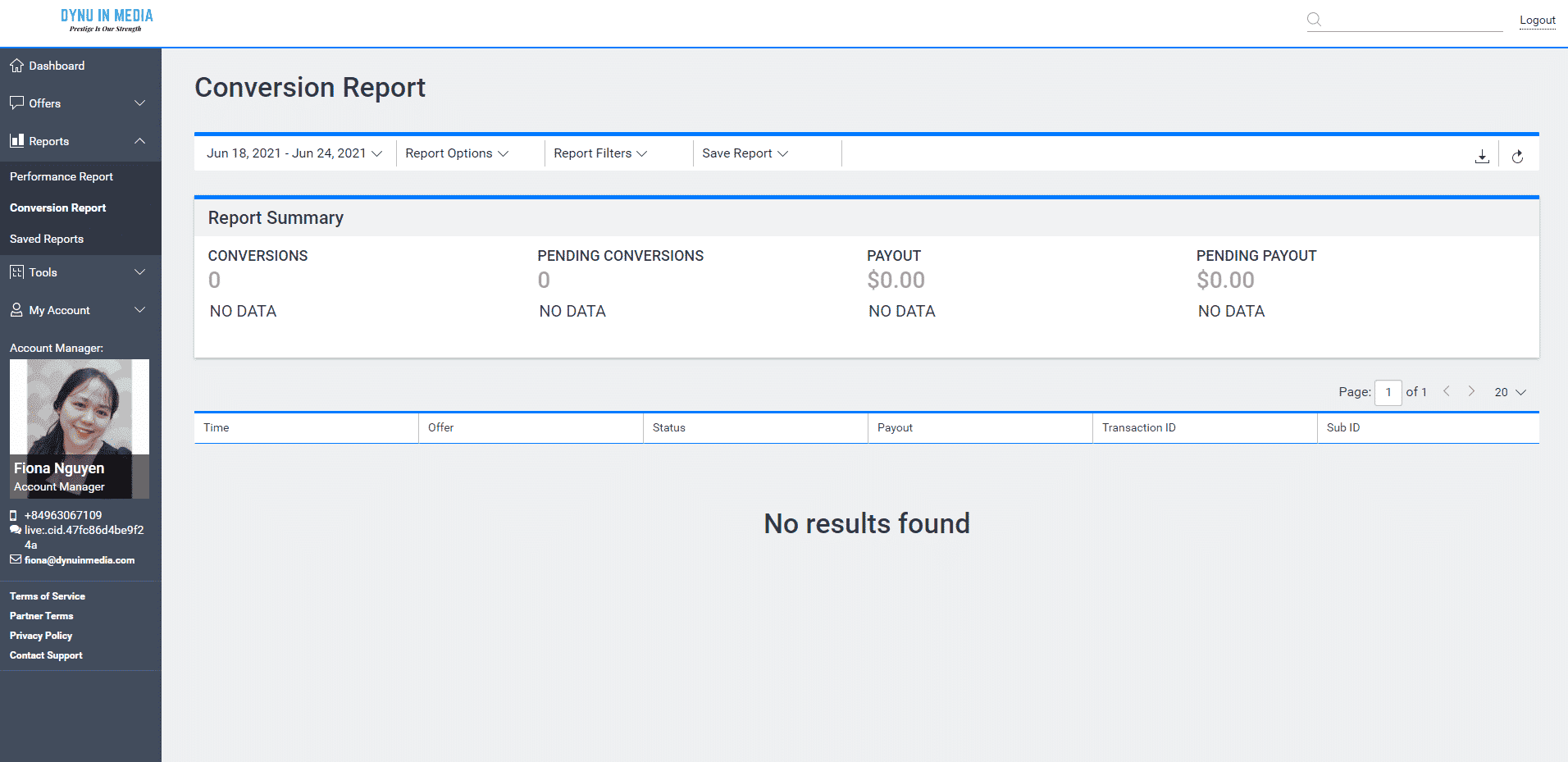 (this was my dashboard before running anything)
You will see some of the most important data right on the dashboard. On the sidebar, you will have a few options. You can check out the offers, you can see the reports, the available tools, and check out your account. You will also see your exact account manager who you can contact at any time during the day.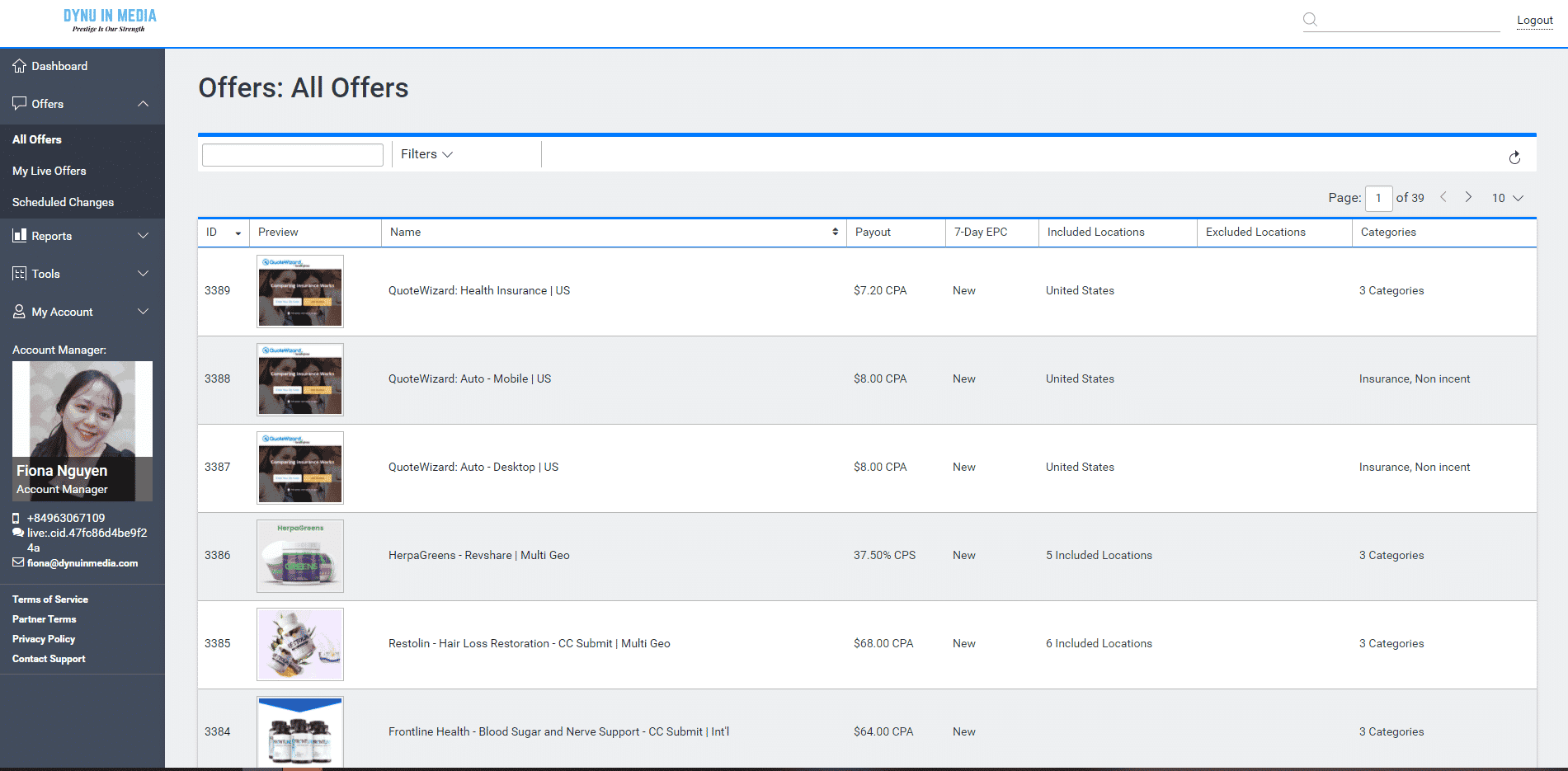 If you enter the offer page you will be greeted by hundreds of offers right away.
You can see useful information like previewing the landing pages, checking out the name of the offer, checking the payout, GEOs, and categories. This is all information that every affiliate can use in their campaigns. You can sort all of these results and add filters to separate the exact offers you want to run.
The reports tab includes detailed information about your performance, conversion, and your saved reports. These reports are detailed and you will have access to information about a variety of data that is important to better optimize your campaigns.
Final words on Dynu in Media
Dynu is an incredible CPA network that more people should know about. I used it for a few weeks and I found great success with it. A lot of super affiliates I know are taking an interest in the network as well. And I am pretty sure that you will hear more about the network online very soon.
The platform itself has a lot of potential that the expert team behind it is tapping into to the best of their ability. With their current success in Asia, their plans, and the team's enthusiasm, I can only see this platform growing bigger in the coming months. Who knows, maybe they can even become the best network out there!
If you are after one of the most dynamic and professional CPA networks, you should give Dynu in Media a try. Their professional and dedicated team is ready to help you grow your campaigns and create success together with them. Joining this network will make you join a family of professionals that are there to help each other. So don't waste your time and join Dynu in Media, and see what they have to offer