The days of rigorous research of competitors via complicated methods are pretty much over. In this article, inc.com shows you how confusing and hard competition research used to be. Now, the market in 2020 offers more options making it easy to learn what your competitors are doing to make money in the affiliate marketing space.
One of the most important tools an affiliate marketer or media buyer can have is a spy tool. And one of the best spy tools around is AdPlexity.
But what is AdPlexity.com? It is a platform made around 2008 that is focused on researching your competition, finding out the most you can about them and their products, and being better than them in the end.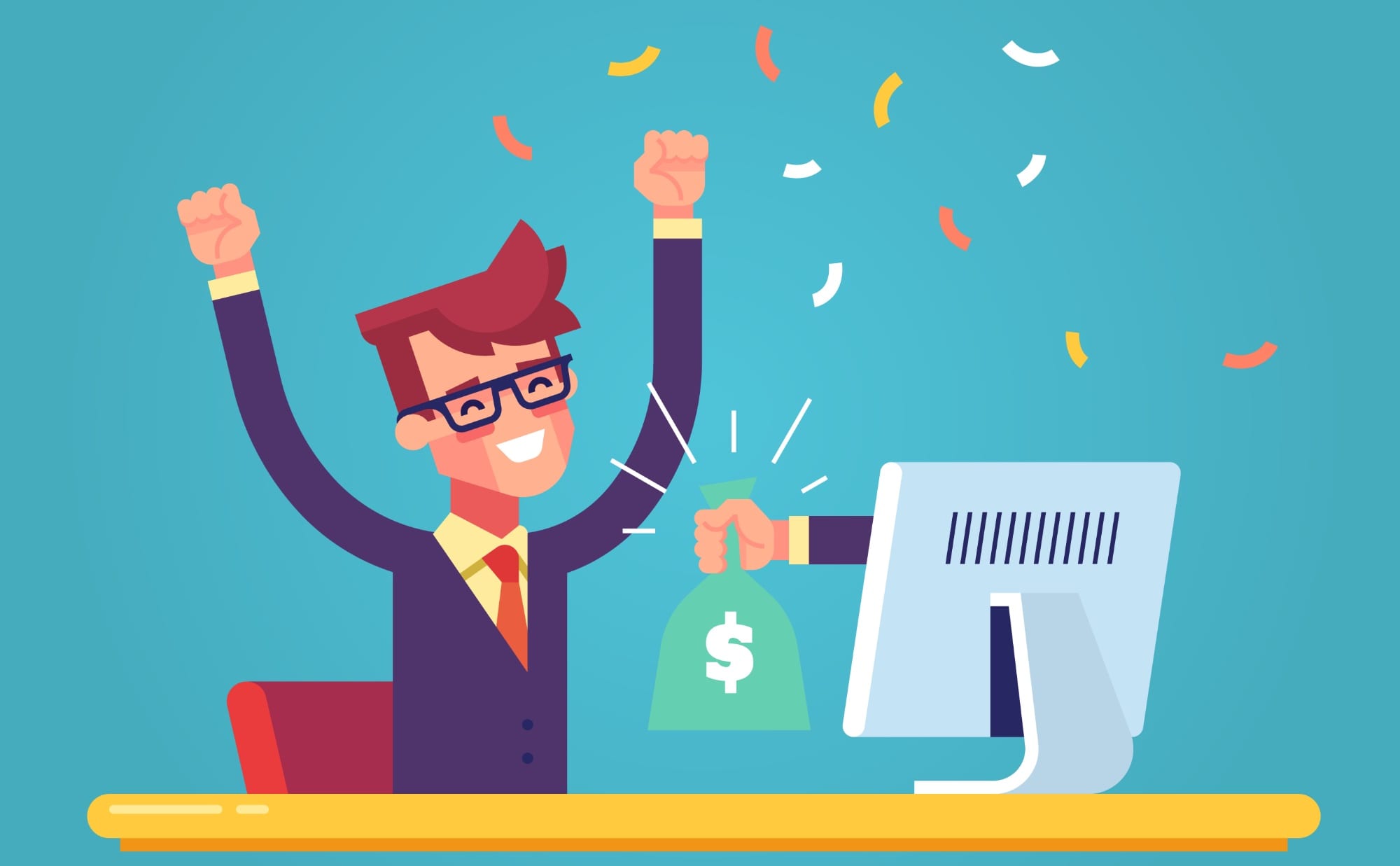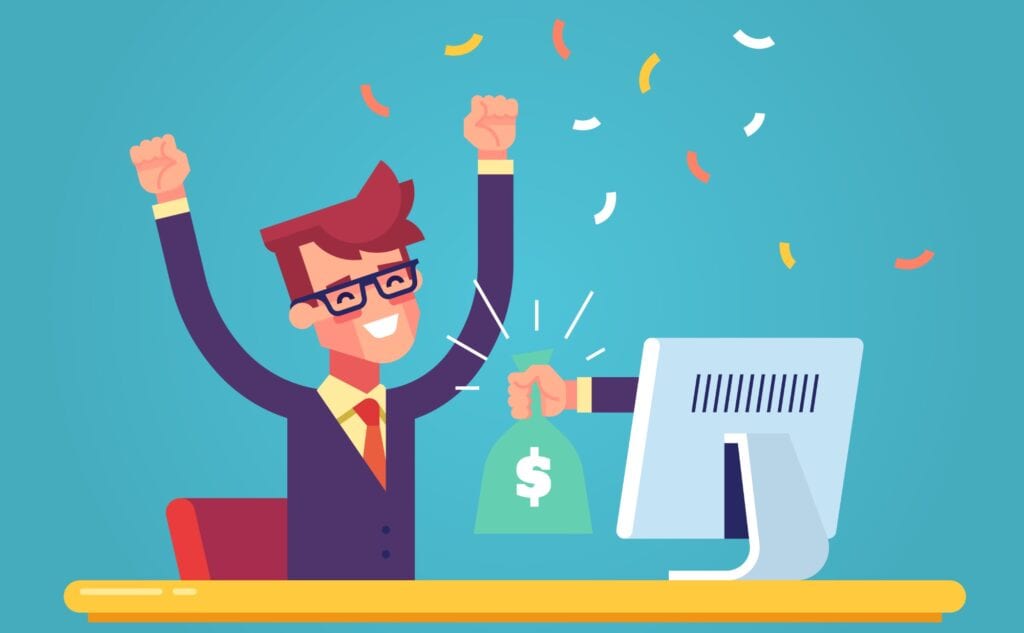 Researching the competition and their high-performing ads can be based on keywords, products, advertisers, publishers, or placement.
Let's take a look at these methods.
With this, you can choose specific keywords you want to target and find ads, landing pages, and more. You can type anything from specific products to categories and you will find something that can help you gain knowledge and an edge.
If you have specific products or advertisers you want to search for, AdPlexity is the perfect platform for that! You can search for specific affiliates or advertisers and see how well they are doing or look for a specific product and analyze how well it is selling currently. This is a very useful feature and I don't think you can be a top-tier affiliate without it!
If you are interested in what ads specific websites host you can look for that. Not only can you check out the specific ads they are hosting, but you can also check out how well they are performing and compare them with all kinds of metrics to see what is best.
If you want to know about how well specific positions on specific websites work, you can with this search criteria! Banners, pop-ups, redirects, mobile web ads, in-app ads, and many more are at your fingertip!
But AdPlexity isn't limited to just that, it has a plethora of features for you to explore.
Let's start from the beginning
The Overview
AdPlexity is an all-in-one solution to competitive intelligence spying. It isn't a single tool either, it is a collection of many.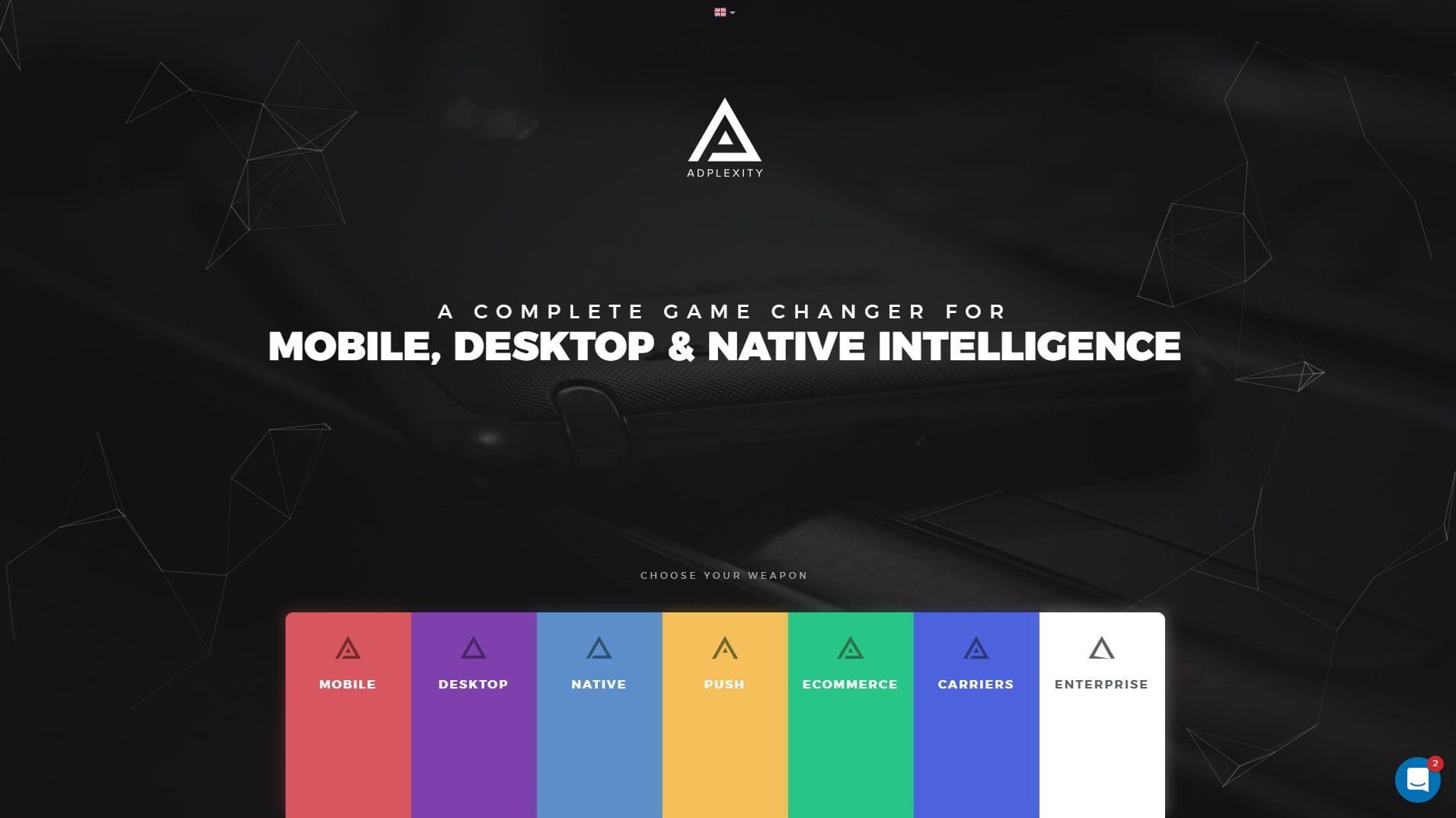 Upon joining the site you will be greeted by this vast selection of services
Mobile
Desktop
Native
Push
eCommerce
Carriers
Enterprise
These modules are dedicated to specific ads. Mobile as an example is dedicated to mobile ads exclusively etc. These modules have variations inside them, like specific search-filters, Ad types, location tracking, etc.
And all of this is followed by an incredibly user-friendly interface. You will be able to use all of the features and use them well because you will actually be able to know how to use them.
The UI features a variety of filters by keyword, country, date, tracker, carrier, advertiser, affiliate network, image, ad size, and many more. And the best thing about it is that it features real-time updates. So you will always have the latest info on your competition. You also have stats like traffic sources, trends, publishers, etc to fill in your data.
There are sections like Mobile, Desktop, Native, and Adult for all of your needs. And the eCommerce section is used by some of the most successful stores and products. AdPlexity Carriers allow browsing mobile campaigns in foreign GEOs and use 3G/4G/LTE proxies from over 80 mobile carriers around the world.
The Dashboard
Upon entering one of the sections (this is the native section), you will be greeted by this UI. The dashboard itself is divided into three main parts:
The search menu on the top
Filters on the left side
Campaign filters on the right side
Super simple and intuitive
The top menu is the place where you can find search modes by all kinds of methods (keywords, advertisers, publishers, etc.). Just type in your query and find what you are looking for. The searches are also divided into conditions: landing page URLs, LP redirect chain, LP outgoing URLs, and all of the above.
You can also sort your search results by 3 criteria: newest, longest-running, and received the most traffic.
After all of this, there are the filters, arguably the most important feature. There are a bunch of filters you can apply.
Dates Range
Days running
Ad Type
Device Type
Country
Language
Connection
Traffic Source
Affiliate Network
Tracking Tool
Upon clicking on a selected ad this is where you will be taken. On the top is the most important information about the ad itself, and on the side, you can see the landing pages and visit them or download them.
You can find a bunch of useful stats and data including graphs, charts, and numbers. All of this will contribute to your knowledge base.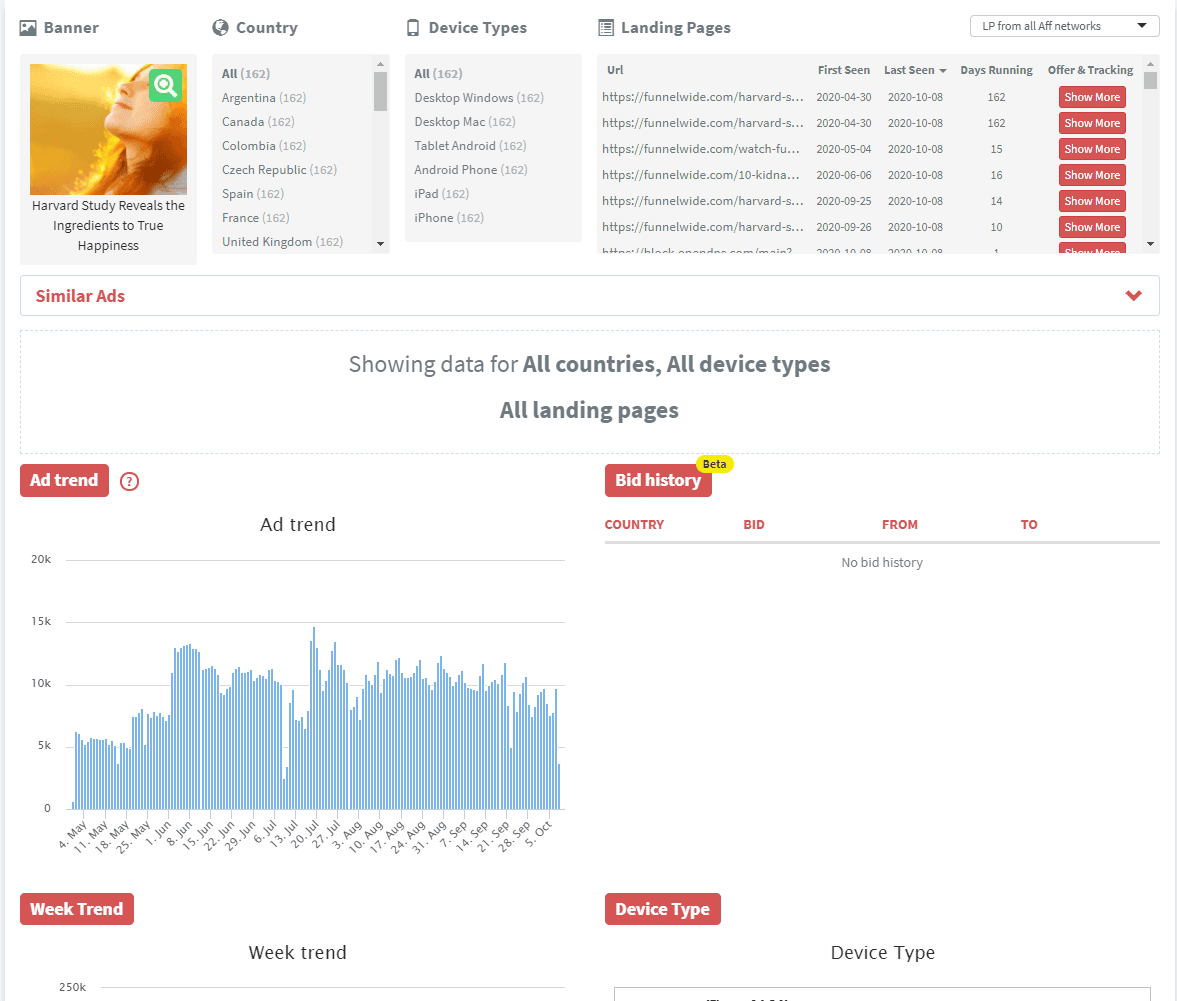 Knowing all of these details and having access to them will provide you with extreme possibilities for knowing how well certain ads and campaigns are and how they are running.
Landing Pages
Here you can see the URLs, dates, days running, and more. Upon clicking on the show more tab you will be redirected to the complete chain redirects and outgoing URLs, so it gets easy to uncover cloaked/hidden LPs. You also get the option to search by an advertiser.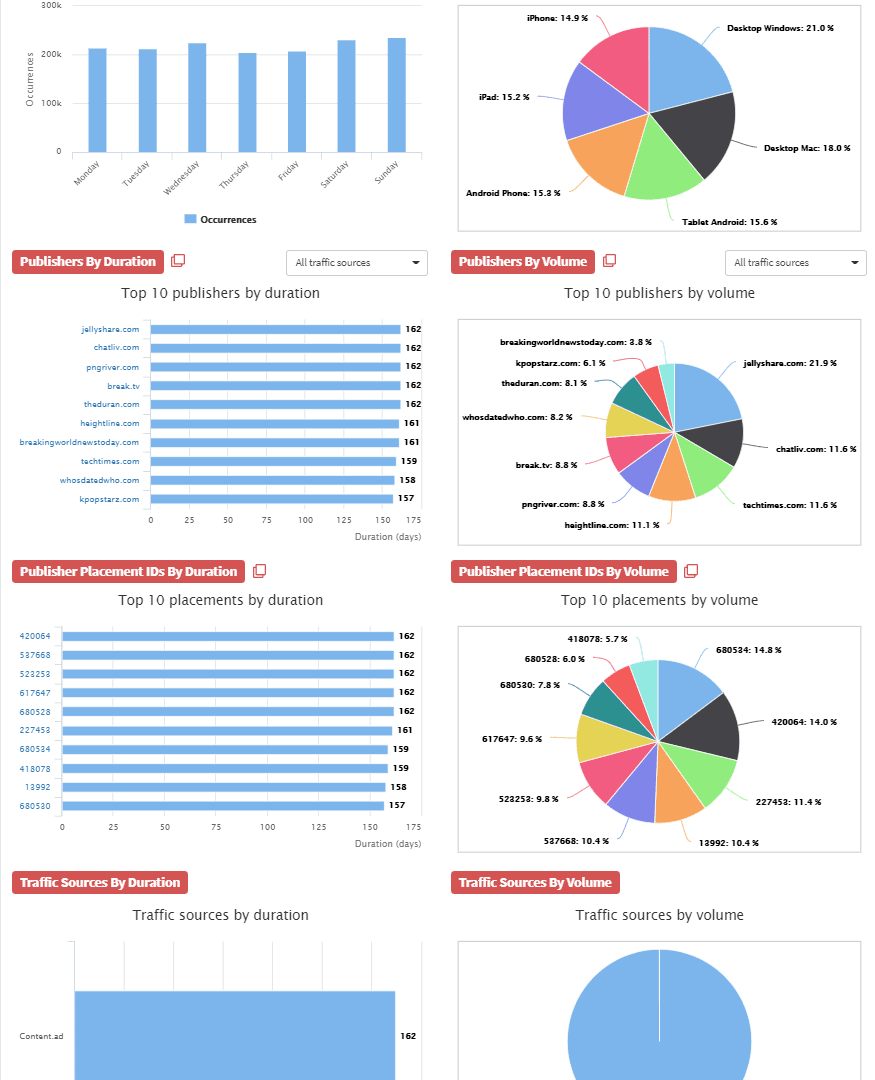 Ad-insights are the most important feature of this tool. You can check all of the specific data that AdPlexity can acquire a specific ad. Some of them include:
Trends (Week Trend) – Here you can see how long the ad has been running and how much interaction it had during the week.
Device (Device Type) – Here you can see what devices are being used to access the ad and how they are used percentage-wise. With this, you can easily figure out what to advertise to and what kind of numbers to expect from each platform.
Top 10 (Publishers By Duration) Here you can see the top 10 publishers and the number of days that the ad has been running on for them.
Top 10 By Volume (Publishers By Volume) – Here you can see how much volume each of them had.
Top 10 Placements ( Publisher Placements IDs By Volume) A graph chart that shows which traffic sources brought in how much traffic to a particular ad.
But this is not where the information ends. You can also check out the Bid-history. With this info, you can outbid your competition by a fraction of the price without having to guess how much they are bidding in the first place. This sadly isn't available for every ad, but the AdPlexity team is working on increasing the number each day.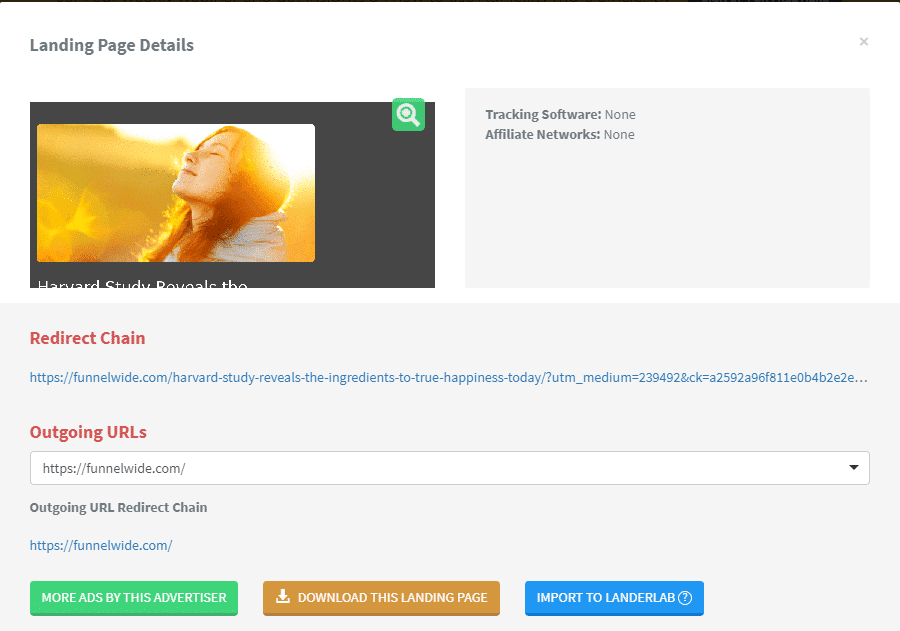 So in basic terms, you can use the Mobile, Push, Native, Desktop, and other modules to search for specific data on all kinds of ads and improve your campaigns by a lot. All of these mostly have specific features that are important for those sections but most of them are interconnected and if you know how to use one, you will be able to use all of them!
Plans & Pricing
So, with AdPlexity you will gain access to
70 countries
5 devices (it is available for all major platforms)
120 Carriers
Banner ads
100+ affiliate networks
Pop-ups and redirects
Landing Page downloads
Ultra-fast search
Filters and much much more
So what does all of this cost, well it depends. The pricing structure is separated by what service you want to use. Some services like "Carriers" and "Push" start at $149 per month and services like "Native" cost $249 per month. You can also get a discount of 17% on your annual purchase (pay for 10 months, get 12). There are no extra hidden costs and you will get more than your money's worth with one of these subscriptions!
Pros And Cons
Pros:
Perfect for beginners and pros
Great Spying capabilities
Great for banners / prelanders / landing pages etc.
Analyze and search for trends
Unrivaled search capabilities
Easy to download competing landing pages and ads
One of the biggest databases
Easy to use UI
Great filters
Bid-prices available
Real-time data
Cons:
Publisher data is limited to the "Top 10"
No trial version for newcomers
Conclusion
While there are more affordable spy tools out there, the simplicity of the UI and available features is well worth the asking price. If you are a beginner or an expert affiliate, this might just be the perfect spy tool for you.