The Stack That Money or STM premium forum has been around for almost ten years. In those ten years, they have managed to become the authoritative forum on affiliate marketing. They provide educational content, host conferences, and local networking events for their members and they are continuing to improve and expand their offerings to affiliate marketers.
In this review, I will cover the main sections of the forum like:
Beginner Zone
General Section
Traffic Sources
Technical & Creative Skills
And some Extra ones
In explaining them I hope you will get an understanding of just how valuable the STM Forums have been in my experience and how they can help you!
I personally have been a member of the Stack That Money forum for over 6 years! In that time I have learned valuable information and grown my business from humble beginnings to a valuable company and made millions doing it!
The six years I have been on the STM Forums have proven very valuable and I don't think I would be where I am without them. And I am not the only one that found success thanks to the knowledge provided there! The community features famous affiliates like Charles Ngo, David Atias, Taiwo Balogun, Matuloo, Manu Cinca, John Crestani, Ian Fernando, Zack Franklin, Oded Gendler, Eric Gyepes, Mitesh Muley, Kulwant Nagi, Andrew Payne, Servando Silva, FbQueen, and many more!
Having the possibility to learn to know people like these and create valuable connections helped my businesses a lot! As an example, thanks to STM I met my first JV Partner, awesome Nutra affiliates, and a bunch of other experts in the field and made multiple millions in profits thanks to them!
Connections are the most important part of any business. With the right ones, you will learn what you need to do, what difficulties lie ahead, how not to fail and you can even find partners to bear the load with you. The STM Forums are the perfect place for just that! No matter if you are a total beginner or a seasoned veteran, you will find valuable information on them. Information that can not be bought or learned from books but information that is spread by actual experiences from all kinds of people.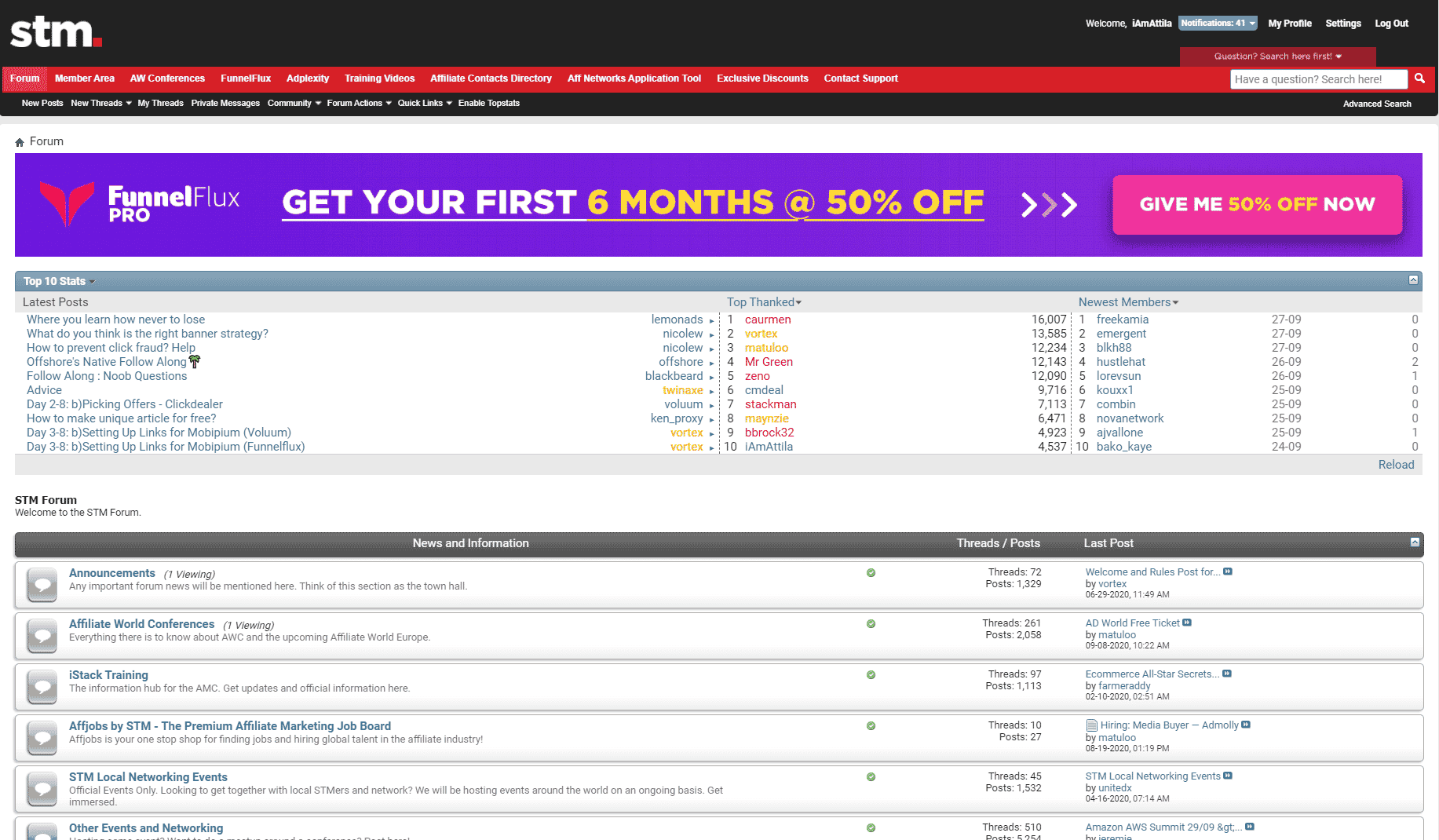 The STM Forum contains 11 main sections with a bunch of subsections.
These sections will provide you with the latest news, announcements and happenings, intro zones, general discussions, help sections, and many more.
The content provided in these sections is insane as it has tens of thousands of posts on it. So where to start with all that info?
Let's start from the beginning.
Why is this the best place to start as a newcomer to the world of affiliate marketing?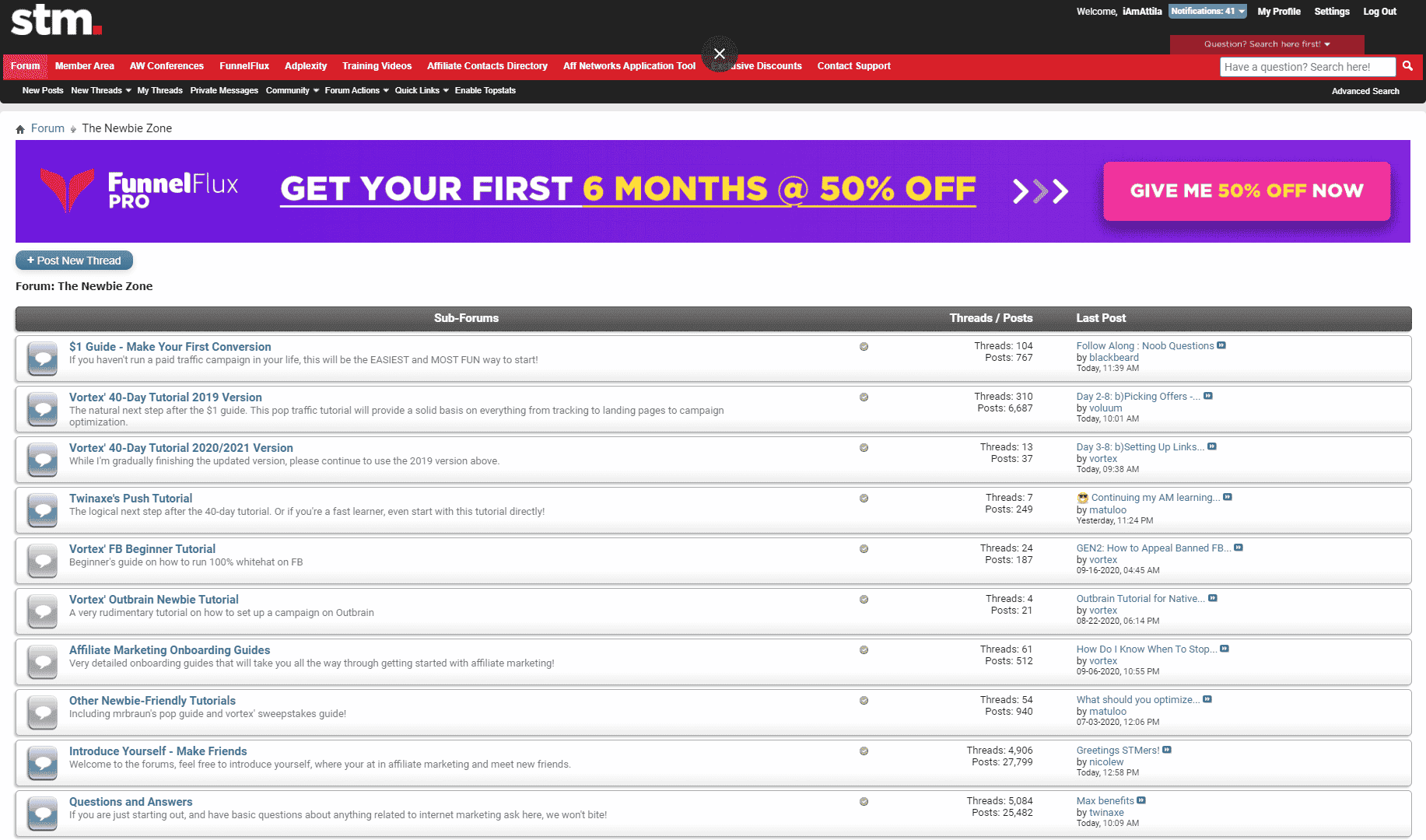 The STM Forum is very friendly to beginners, all of the members were beginners at some time! An intro area is a place where you can introduce yourself and meet new people. Who knows, maybe your future partner might just be there waiting for you!
But that's not all, there are a bunch of guides and step by step tutorials for all kinds of topics. One of the best ones that I always recommend to beginners is the Vortex (Amy's) 40-day tutorial. A step, by step – detailed tutorial on how to get started when you have ZERO experience and get on to making money in affiliate marketing.
Guides like this can teach you things in minutes or days, knowledge that requires others years to get. Even some veteran members drop by to the newbie zone and share their experiences and give answers to questions and give tips.
Most of the guides will explain everything in a beginner-friendly way with pictures and videos on showing you how to do all the things correctly from A to Z!
Even if you are an expert, you may find something interesting in the beginner zone inside STM forum.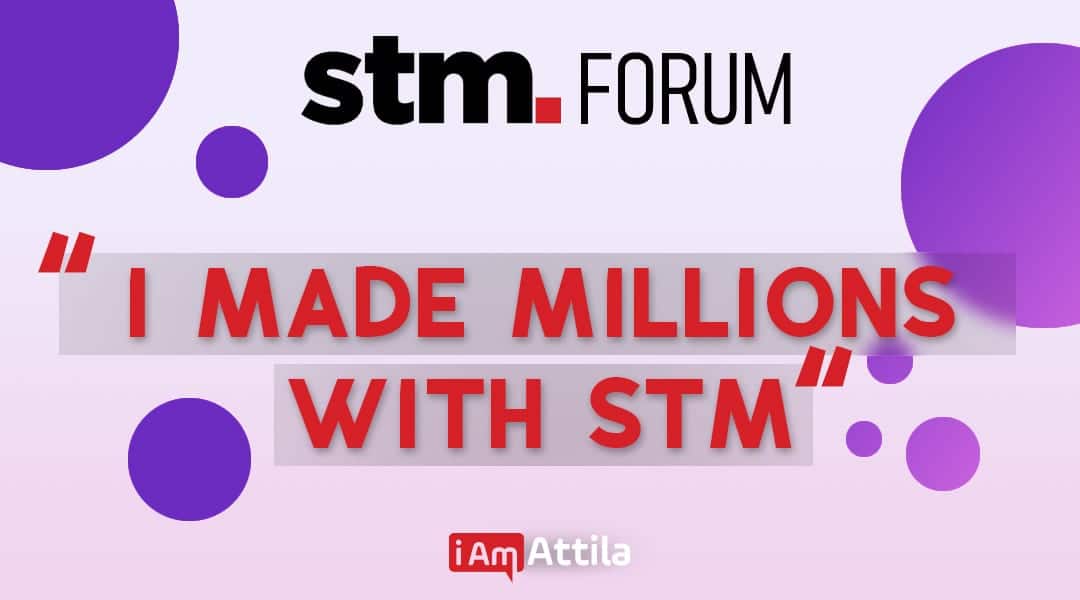 The Perfect Place For Advanced Users
General Section
With over 50 thousand posts as of writing this, the General section inside STM Forum is the biggest one on the site. Here you can interact with Affiliate experts and find out what made them successful in the market.

A massive amount of guides, tips, and advanced tricks can be found in this section. I personally learned a lot about cloakers, trackers, and spying tools. This information gave me a great competitive edge when I was starting out, and there still is a lot I can learn from the guys posting.
It's not all about Affiliates! You can even find a lot of information about cryptocurrency, offers, products, advertisers, and networks under the well-organized sub-sections.
Sections like Mastermind will enable you to join skype, telegram, and other groups with experts where you can talk about strategies involving FB Ads, Google Ads, Native Pops, and Push. Not only will you find out a lot about all of this, but you will also establish connections with people that might be helpful in the future!
Deepen Your Knowledge
Traffic Sources inside STM Forum
With this section, you will be able to find out a lot of information about traffic sources.
Information about SEO, Media Buying, Native, eCommerce, POP, PPV, Push Traffic, and things like Facebook, Google, and similar will be only a click away.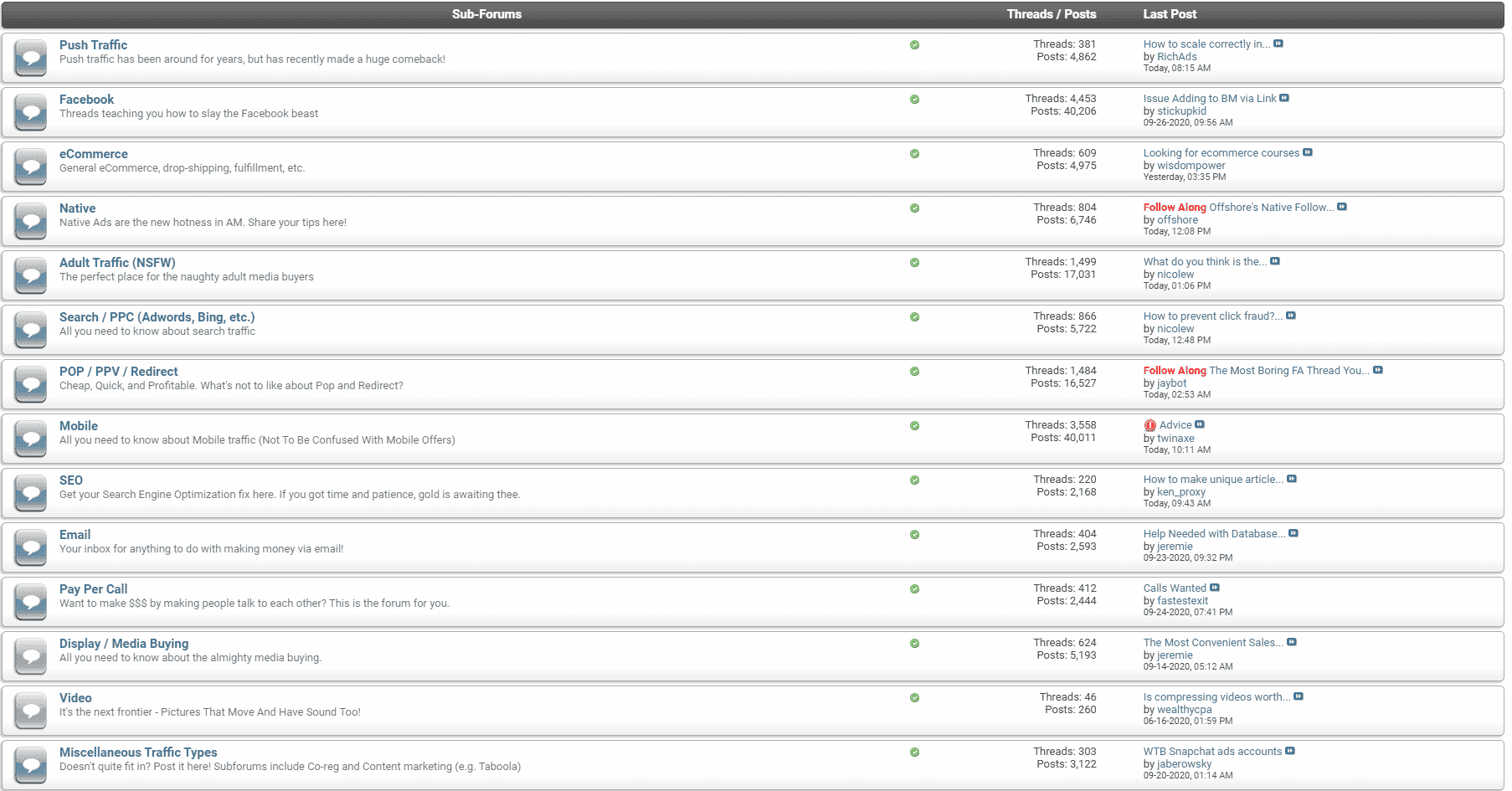 The people I met here are awesome! I even met a guy who makes over a million dollars yearly by sending emails! How crazy is that! And the best part about it is, he is sharing how he got to where it is. Nowhere can you find such information on the internet except inside STM Forum.
Technical & Creative Skills
If you are a creative individual like me, this is the place where you can flourish!
Here you can find things like
Tracking Campaigns
Programming, Servers & Scripts
Design – Imagery, Banners & Landers
Copywriting, Conversion & Psychology
The Tracking Campaigns section has an insane amount of knowledge about everything regarding offers, traffic sources, setting up everything properly for a successful campaign!
This is the place where I found out about my personal favorite tracker RedTrack!
The programming, servers & scripts section will help you understand and code your own way to success. In no time you will start writing and using killer scripts that will boost your profits multiple times!
Not only can you learn to code all of the things you need, but you will also get other people's scripts and codes you can use on your own projects!
Design will help you understand how to create great visual ads that will attract a lot of customers!
If you want someone else to do it for you, try Banners & Landers, they will offer you a great price for all of your design needs!
Copywriting, Conversion & Psychology will help you understand what makes people click, and how to use that to your advantage. What angles to use, how to properly write, and how to spy what others are doing. Learn everything about tools like MagicAdz and AdPlexity and increase your conversion and click-through rates!
That's not everything though, STM Forum has way more to offer!
Extras
This is the section where people talk about anything that doesn't fit into the regular sections.
Sub-sections like:
Off-Topic
Managing work, Life & Money
Travel
Outsourcing and Employment
Fitness & Health
Archived Threads
Inside these sections, you can learn a lot of things.
STM Members are mostly successful people who have a lot of knowledge to share. Inside these sections, you can learn how to manage your business, find the right employees, where and how to travel, how to improve your health and keep in good condition, advice on how to talk to CPA network reps, how to network, and much more!
That's cool and all, but what if you want to find people from your own country or those who speak your language?
Localized Discussions
STM Forum is Multicultural and multiethnic, so you will find posts by affiliates in languages like French, Dutch, German, Italian, Spanish, Russian, and many many more!
No matter if you are from Europe or the middle east, on STM forum you will find people from your area that will be able to help you prosper. In the end, we are all a big affiliate family!

Old But Still EPIC
Knowledge can be very valuable even if the methods are a bit outdated. In this section, you can find some of the best threads ever written for affiliate marketers which sadly have some outdated practices. Most of the things are just not possible to do in the same way anymore because of policy changes, but this doesn't mean that the knowledge is useless. Use the old knowledge and incorporate modern ideas into it, and maybe you will have a completely new strategy that nobody has thought of yet!
Inside of here, you will find posts from the creators of STM Forum, Lorenzo Green (Mr. Green), Jordan (StackMan), and Besimir. There are even posts by sadly passed away super affiliates and mods like Caurmen, whose knowledge and legacy will live on forever on the forums.
Help & Support
This is the section you will hopefully spend the least time on. Here you can ask about invoices, fix account-related issues, STM forum problems, etc.
STM Forum Pricing
This is the section most of you have been waiting for and I have to say that the STM Forum still has one of the most competitive prices out there!
At just $99 a month, you can have all of this knowledge that made me and many other actual millions!
If you are a beginner, you might think that $99 is too much for such a service, but I can tell you that I would pay even $999 and I think it would still be an epic deal!
>> Click here to join Stack That Money Forums<<
Let's go through the value proposition. STM has hundreds of guides on various topics. Only one of these guides can cost more than $500! That's 5 months of STM membership. And you will learn a lot more on the forums.
Take me for example.
I am an expert on affiliate marketing and I offer to teach people who are interested in 1 on 1 session on skype. I usually charge $2000 an hour because less than that is just not worth my time. This is the kind of money affiliate marketers expect if they become pro.
On the forums you will have access to over a dozen full-time moderators that are tasked will helping you and "holding your hand" through the whole process.
No matter if you are a top tier affiliate, an absolute beginner, or someone who already has some experience, the STM Forums, and their members and mods will be able to help you turn your dream into reality.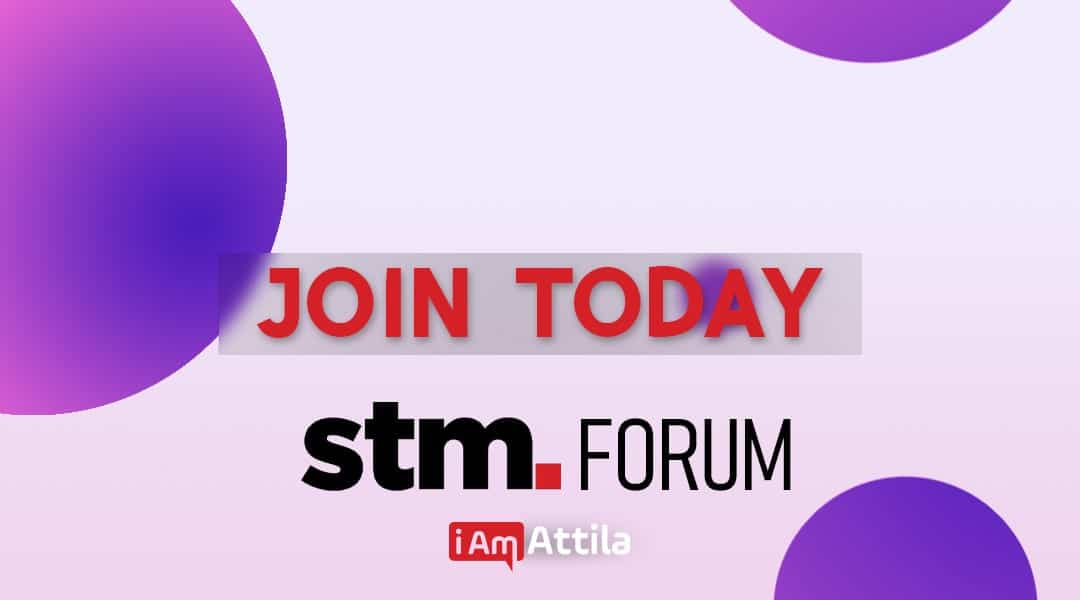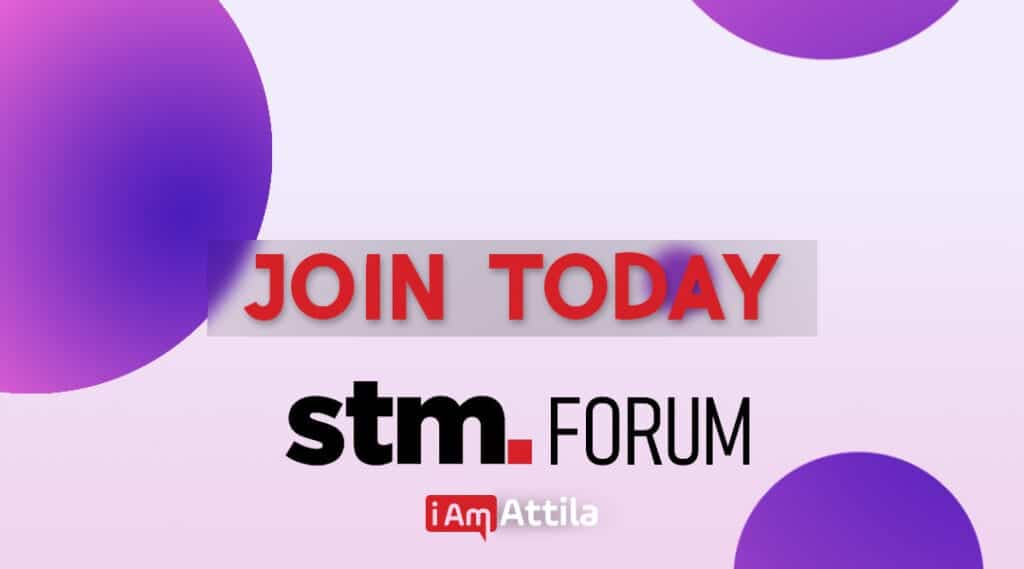 This may sound harsh, but if you can't afford $99 per month, you should reconsider being an affiliate marketing. AM requires a small starting budget and making it without it while not impossible, is extremely hard.
If you can spend the (objectively) small fee of $99 per month, I guarantee you will make a lot more in no time!
Join affiliate marketers who just started, people who have been doing it for a while, and super-affiliates like Charles Ngo, John Crestani, Eric Gyepes, and me (iAmAttila) on the flourishing STM community forum!
>> Click here to join Stack That Money Forums<<
Conclusion
Access to this forum is invaluable. Gaining all of that potential knowledge for only $99 is awesome. From my personal experience, I have been a member since January 2014 and it helped me meet great people and learn valuable lessons. There is no way i'd be where I am now without it.
Pros
Unmatched amount of accessible knowledge
Network with people just like you
Member-only discounts to conferences, saas tools, services, and more
Meet the top affiliates in the world and learn what made them successful
All the info you need to go from beginner to expert in a few months
Affordable compared to anything else on the market
Insane value for only $99 per month
Cons
Not for people who can't afford it. Save up some money and then check the forum out, it will multiply your investment!
Not for people who are looking for a push-button way of making money
My first experience with "Stack That Money" was when I learned from a member that you can run app installs on Google uncloaked, which enabled me to run a lot of tests and angles until I found the winning one (this was when I ran CPI installs). I also was able to go direct to the Clean Master offer owners which I met through STM and get a higher payout through a network.
On STM I met JumbleBerry and C2M with who I promoted offers for Nutra. With them, we managed to get the right contacts at the network and make the whole process easier since I knew them over STM.
Today, I mostly do PUSH, and I got recommended doing it by MR PAYNE, a legendary moderator on STM. The guy is one of the biggest experts on PUSH and it seems like he has been doing it from the second it was available.
He made his own traffic source, giving him free traffic, and his tips helped me with a head start before others even heard about it! STM once again gave me a head start just because I was a member of it. Without early knowledge, I would have to battle for the remaining market share with low profits and hard sales. This way I made serious buck before anyone else!
If you want to learn all the secrets of the trade, make connections with important people, and grow your business to a multi-million one, the STM Forum is the place for you! Become one of us and see why all the top affiliates are a member of the forum!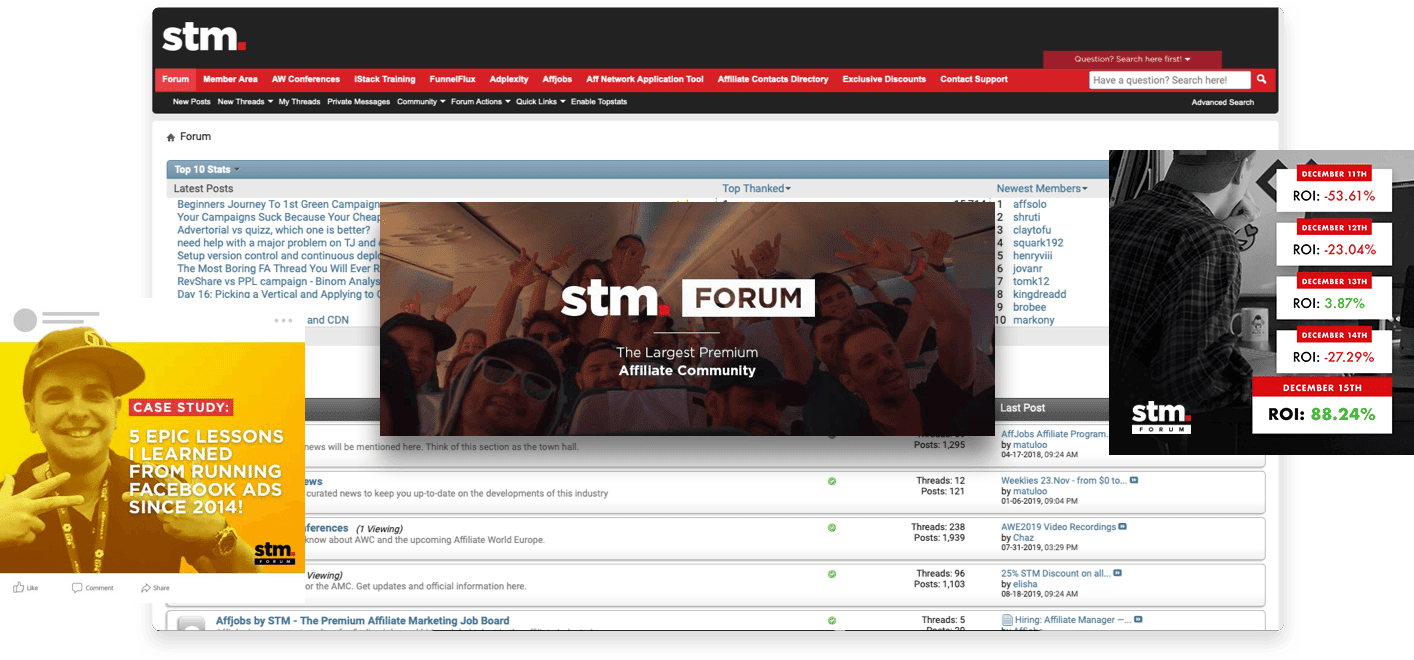 Here are some of the best Affiliate forums: affLIFT, Warrior, AffiliateFix…