In this guide I'm going to show you how to find landing pages with the new Adplexity Push.

• With Adplexity Push you can uncover successful mobile and desktop push campaigns running in over 82 Countries.
• Access real time data from most popular push-networks (PropellerAds, LeoCash, MGID, Datspush, Evadav, AdsTerra & more)
• Find Affiliate ads from 100 CPA networks with a single click.
• Every landing page with page dependencies (images, css, javascript, ..) can be downloaded in a .zip straight off our user interface – no more ripping needed!
• ULTRA fast search (by keyword, advertiser, publisher, affiliate network) & much more

And the best thing is that now it's available to sign up for COMPLETELY FREE! Until the Adplexity Push is in Beta, so don't miss the opportunity.

After you have signed up, the interface looks like this: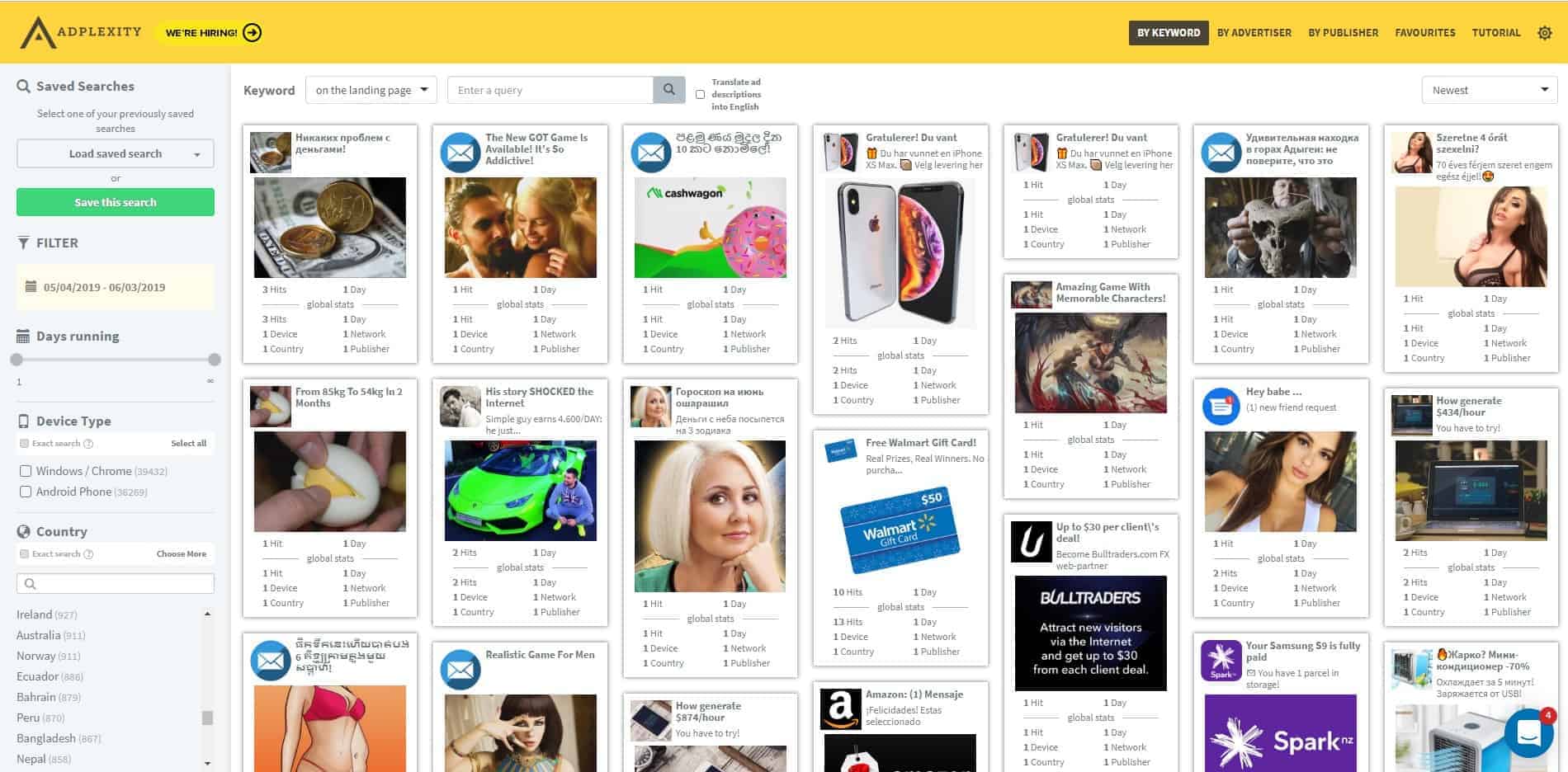 You can see a ton of ads straight away, and there are some powerful filters we are going to use in the left side and above, to make sure we get the best results possible.

So the first thing I recommend is to choose ''newest'' in the top right corner: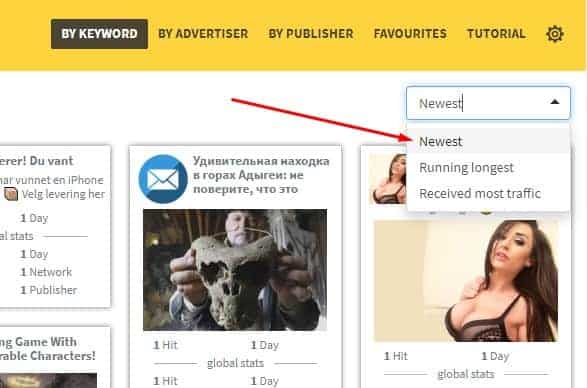 We have 3 options here: Newest, Running longest and Received most traffic. We are going to select Newest to make sure we see the most recent trending ads.
Then we go for ''Filter'' on the left sidebar where we are going to select the date range for the last 30 days.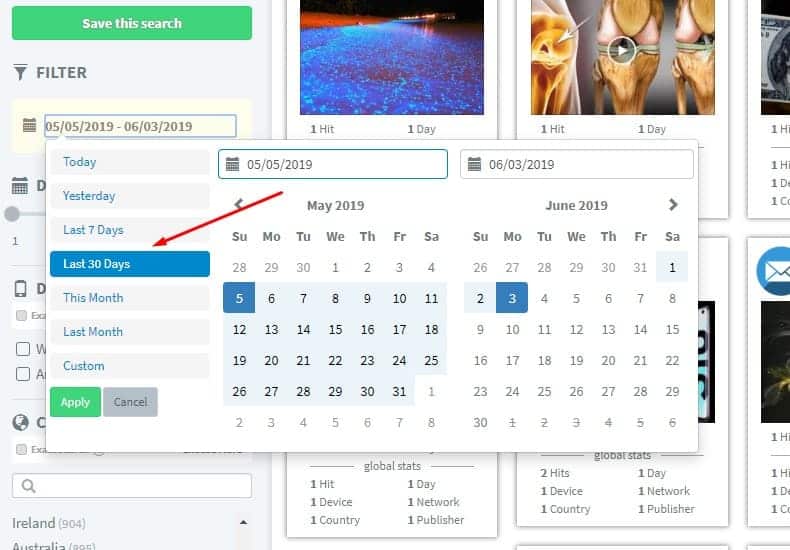 Right above the date range filter we can select the amount of days running which is for how long the ads have been running. For that we are going to set 10 days.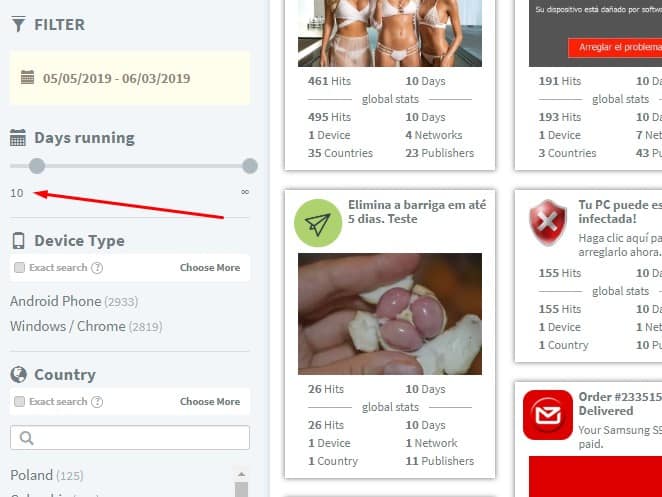 So now we are only gonna see ads that's been running in the last 30 days for at least 10 days.
We chose 10 days because if they keep running an ad for a minimum of 10 days, it probably means hat the ad is profitable.
Another thing I would recommend is to scroll down to the Tracking Tool" section and select all the tracking tools.
Because if you do that Adplexity will only show you ads that have tracking information between the creative the landing page and the offer. These are different tracking solutions affiliates are using so if you select these options it's more likely that the results are going to be affiliate offers.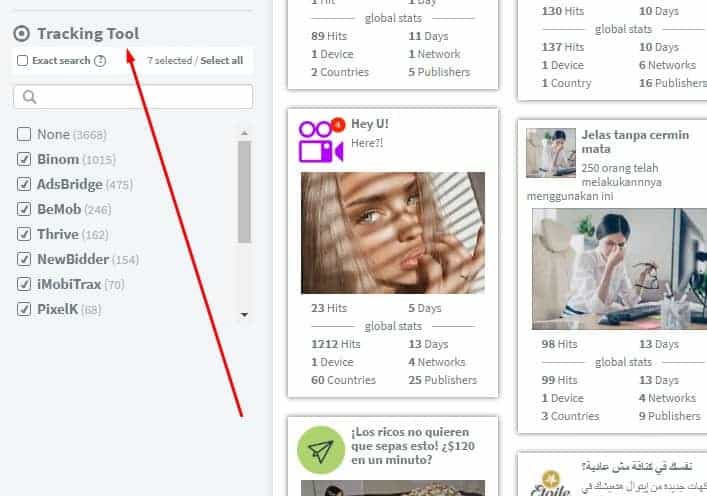 After you set up these things, what we're looking for are high hits.
For now let's take a look at this example: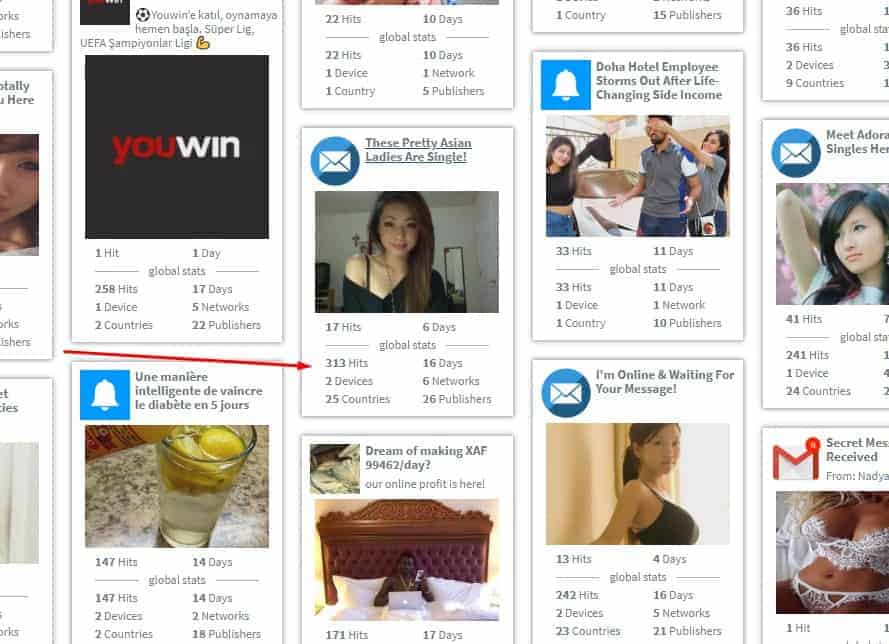 This is a dating offer and what we want to look here is the geo, where it's been running the most, the device types and how long it's been running: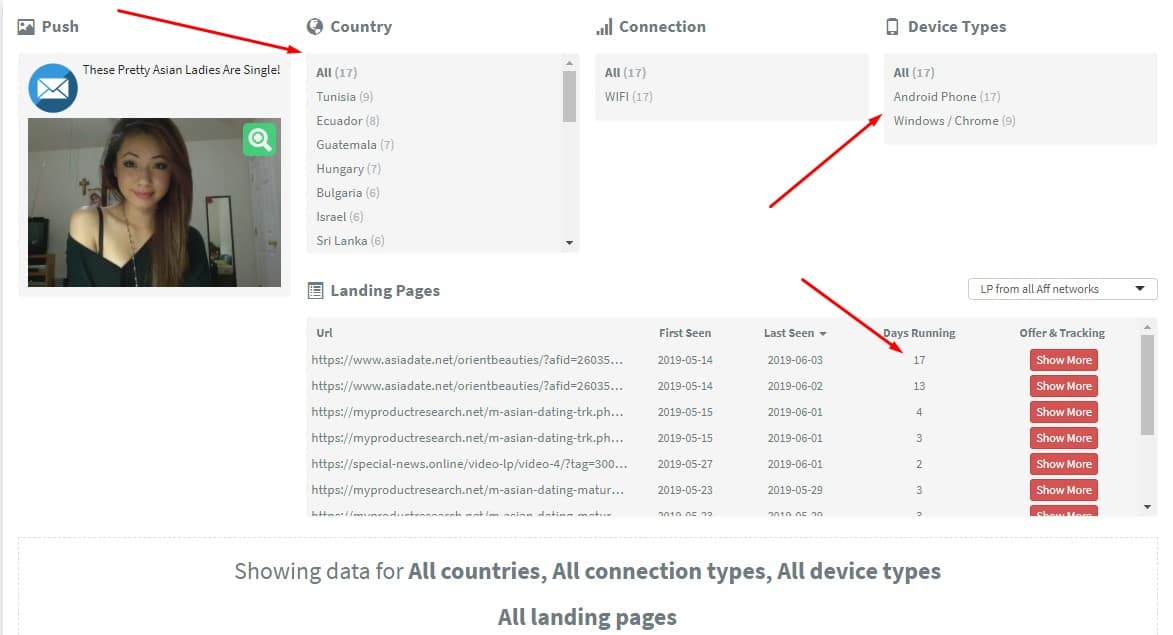 We also can see some stats here like the Ad trend, Week trend and the device type: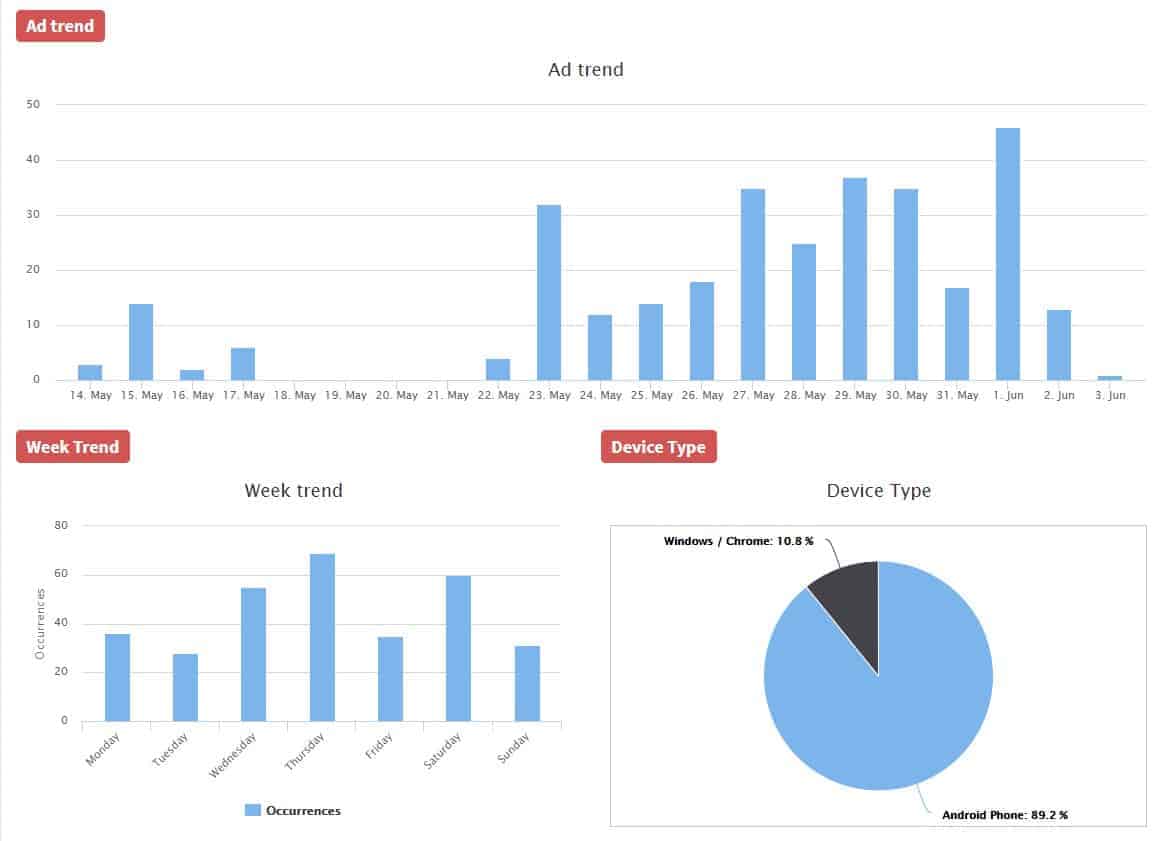 We can also see the Top 10 publishers by duration or volume and the Traffic source by duration and volume: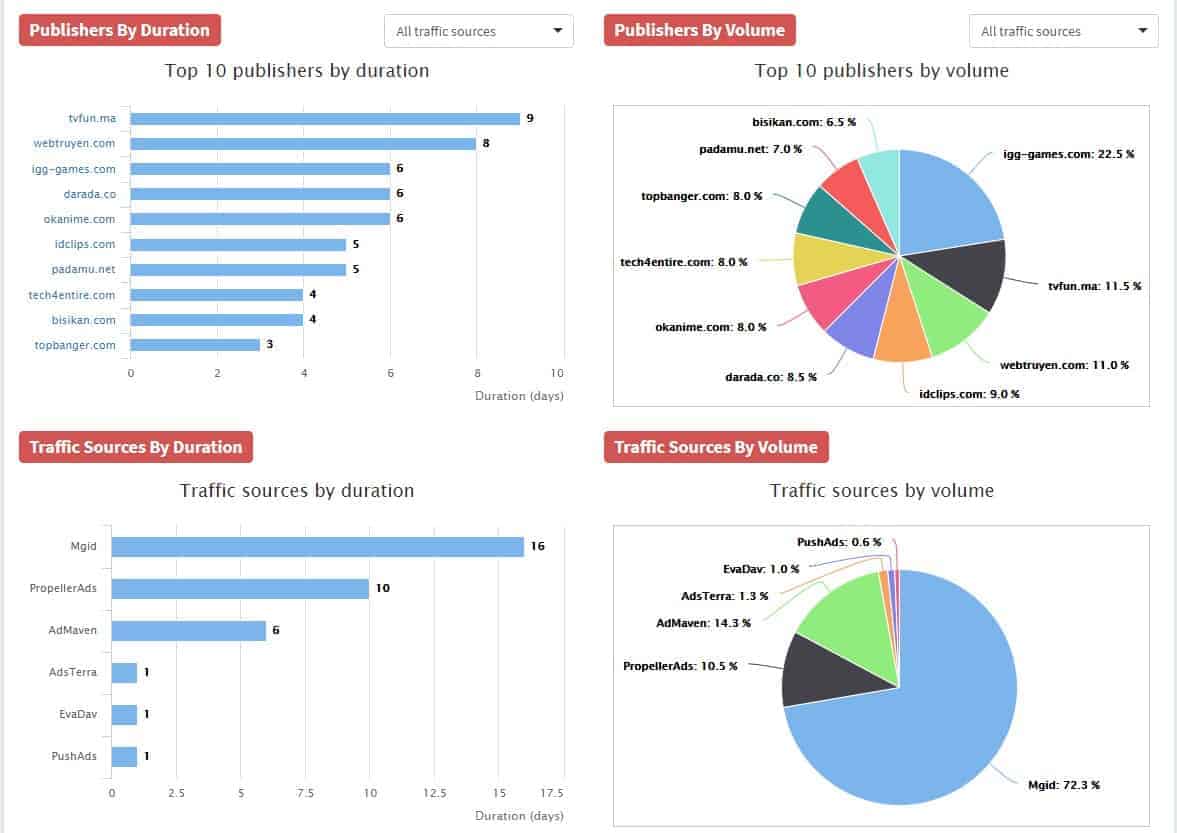 But most importantly we want to check out the landing page, and we can do it by clicking on the "Show more" button in the landing pages section: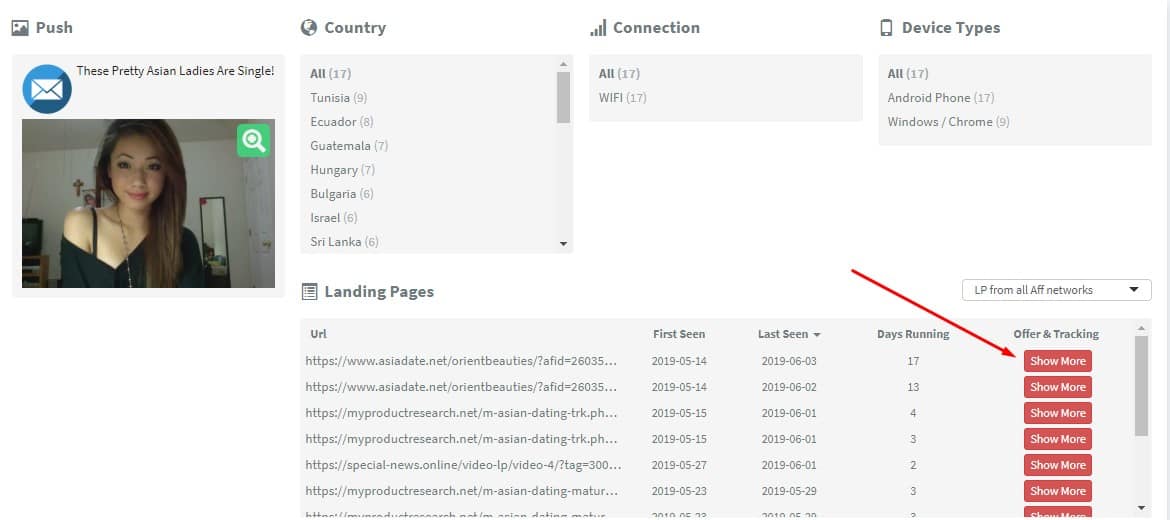 Here we can see the landing page details. If we click on the image, we can see the landing page: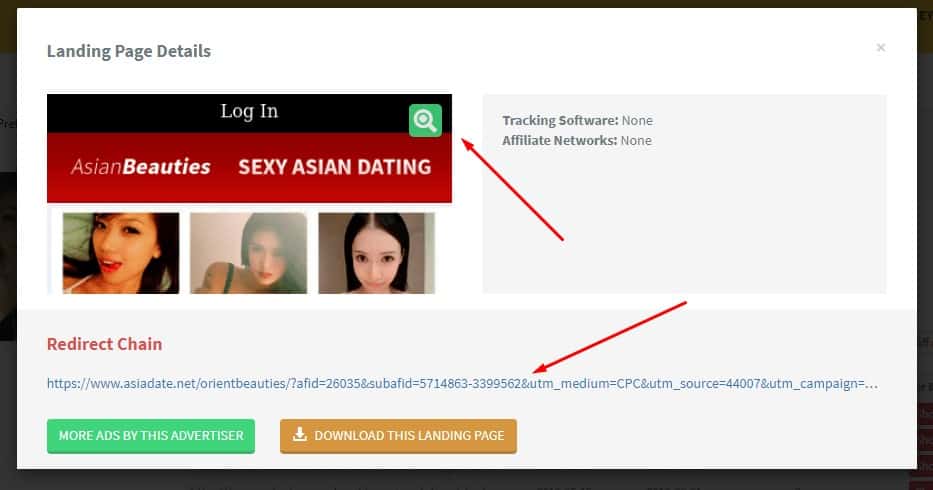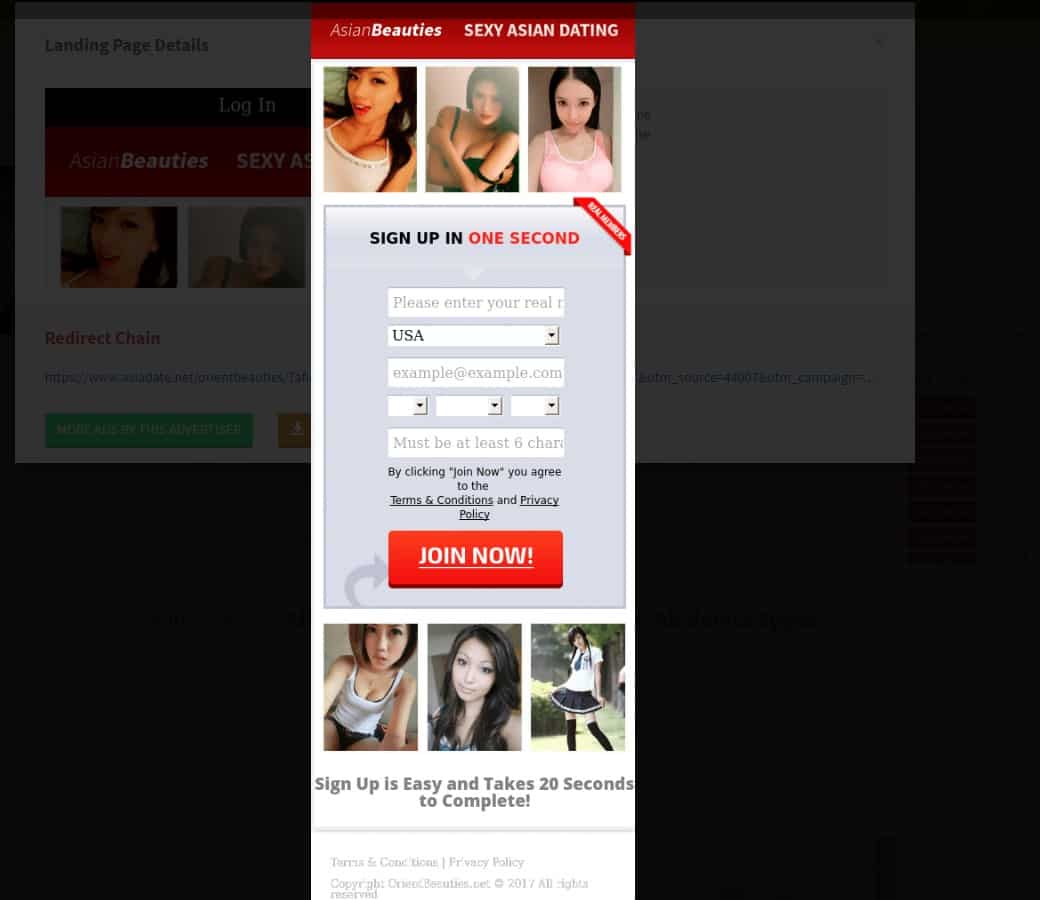 And by clicking on the link at the bottom will take us to the offer: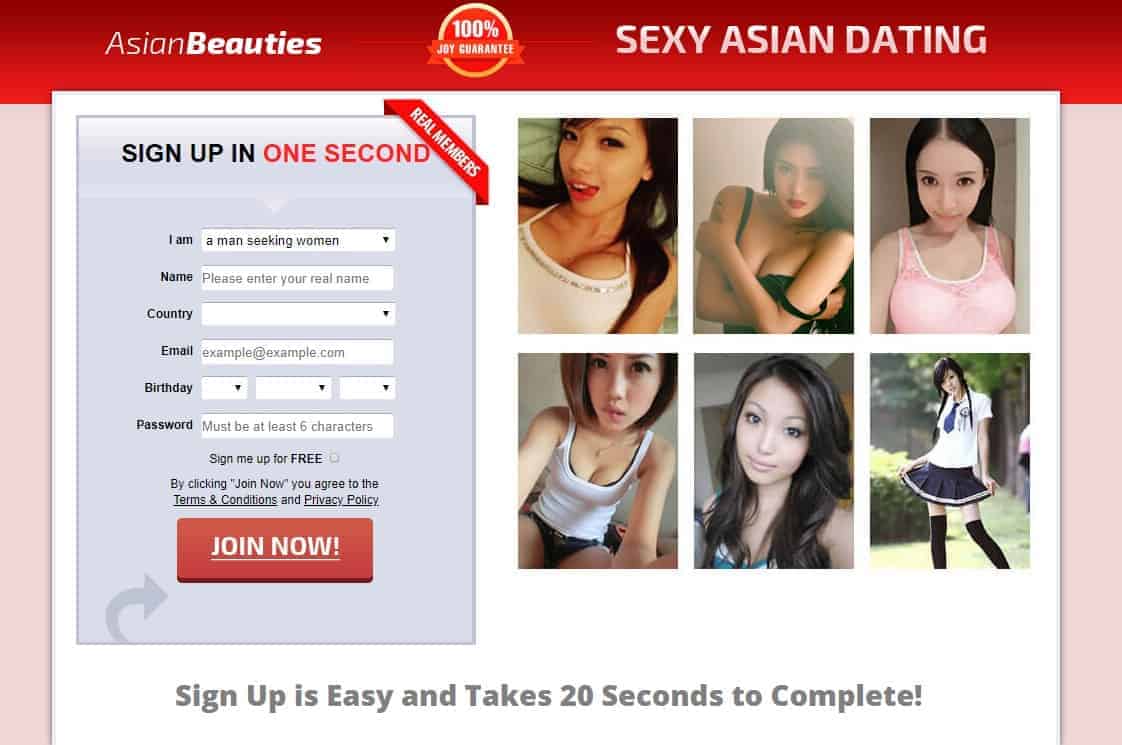 If you want this landing page for yourself you can just simply download it by clicking on the "Download this landing page" button: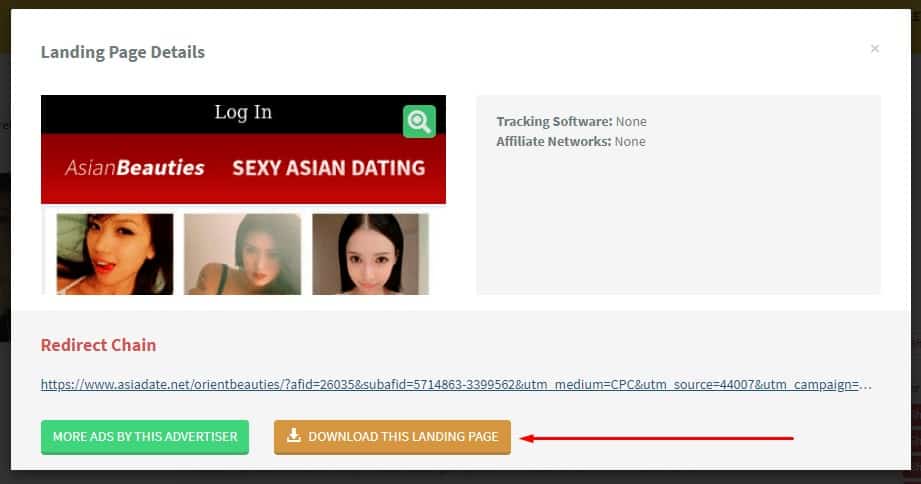 Then you can edit the landing page in Notepad or some kind of HTML editor to put your own link in there and things like that.
If you are downloading and copying landing pages, I have a tip for you to bear in mind!
Some landing pages have backdoors in there, which means that they will steal the traffic so if you copy the landing page a percentage of your traffic will be going through to that particular affiliate's offer rather than yours. So I would strongly recommend checking that JavaScript and HTML carefully.
You can also spy on other ads that the advertiser is running simply by clicking on the "More ads by this advertiser" button: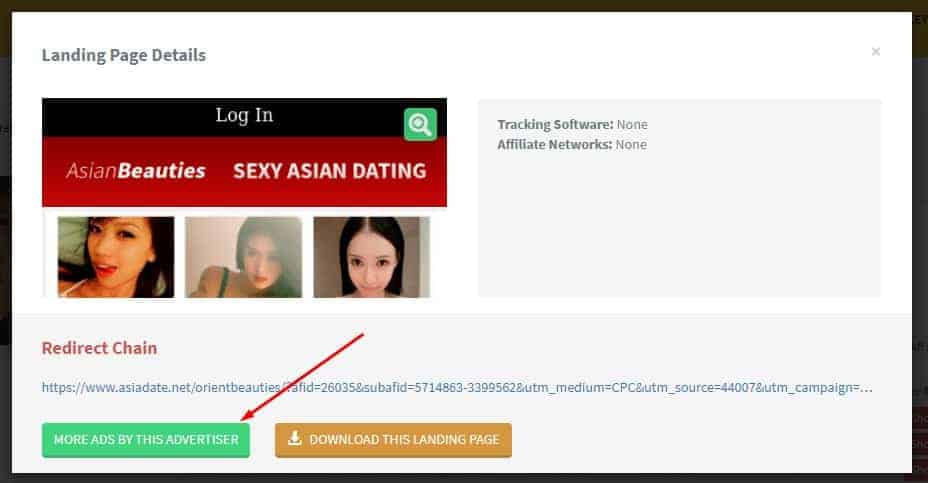 Here you can see all the creatives that this advertiser uses: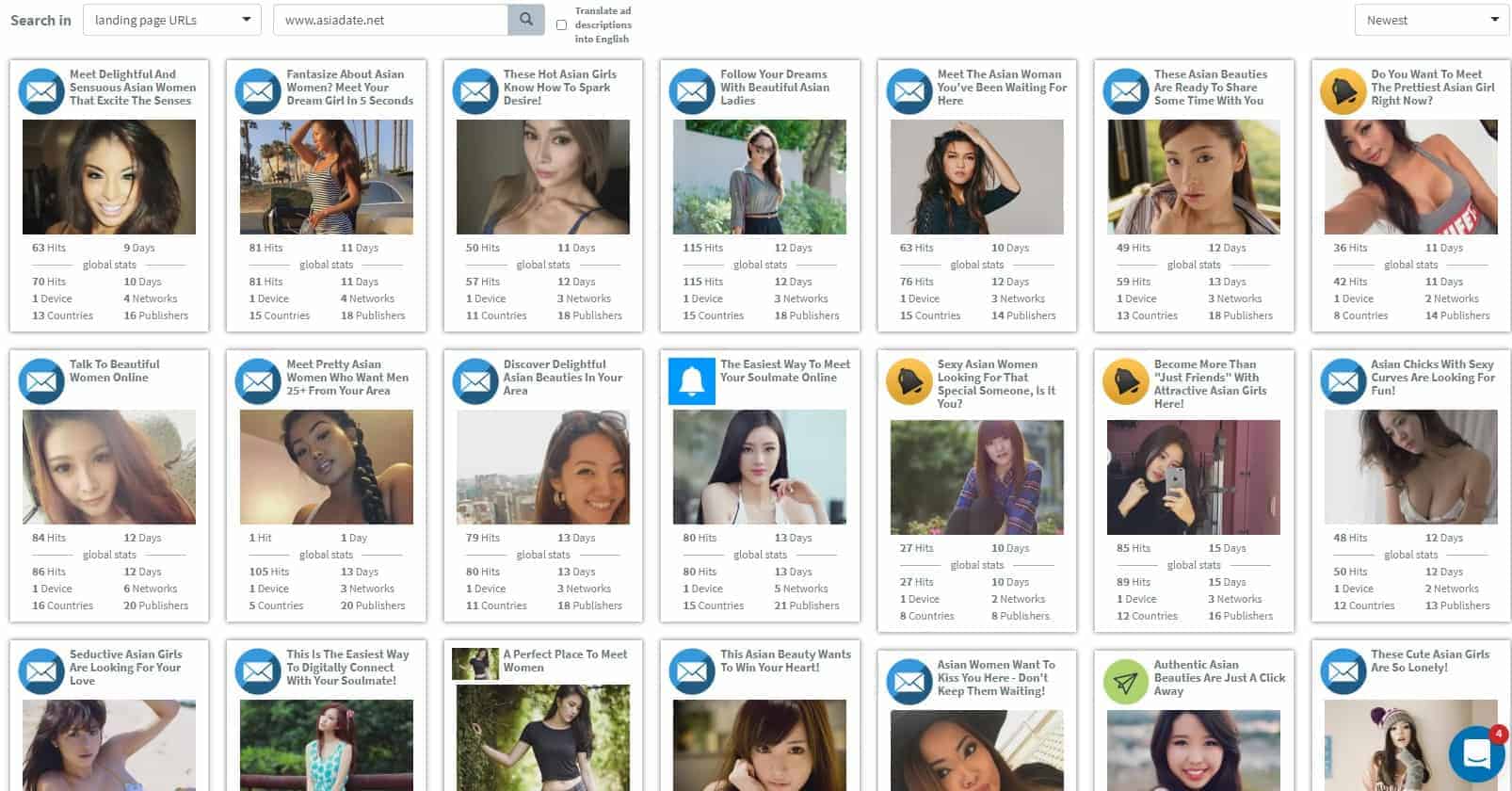 You can do the same thing here with the filters like the last 30 days date range and the 10 Days running etc.
As you can see this advertiser runs dating offers mostly. You can go through and see his landing pages and maybe do some split tests and try different offers in there.
You can also search ads by keywords. Let's try to put some weight loss keywords in there like "fat" for example and let's see what we got.
For this, we're going to select "in AD info" instead of "Landing page" because we want to search keywords in the headline of the creatives: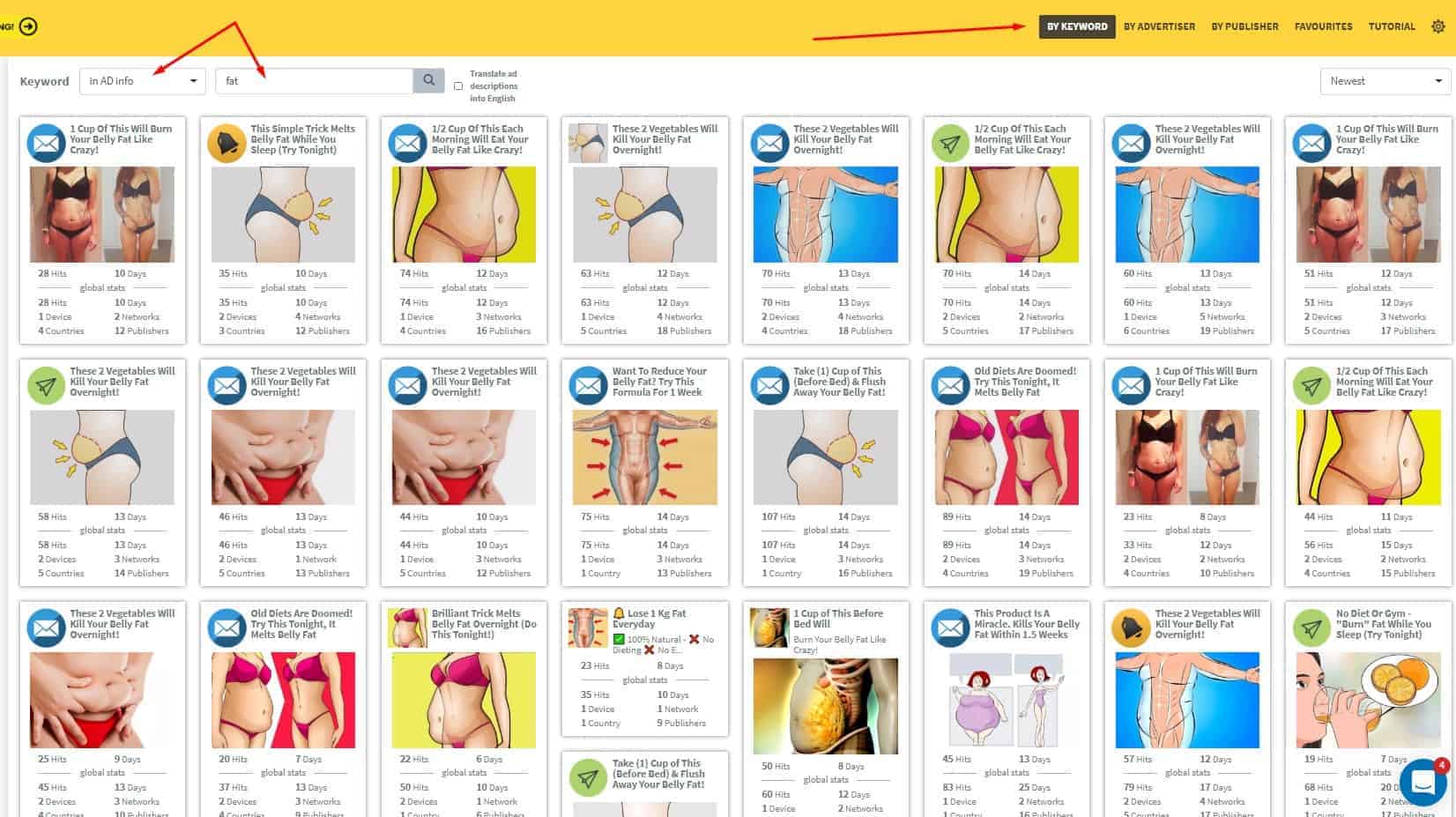 As you can see there is a ton of weight loss ads you can spy on, check their landing pages and creatives to get some ideas, or download some really good ones and test them.
Another powerful tool you can use in Adplexity is the Advertiser filter.
With this tool you can spy on your competitors. If you know their domains, you can simply enter it there or if you know their affiliate codes you can put that in as well, and then in the drop down menu at the search box you can search in their redirect chain or in their outgoing landing page, so you should definitely check that out: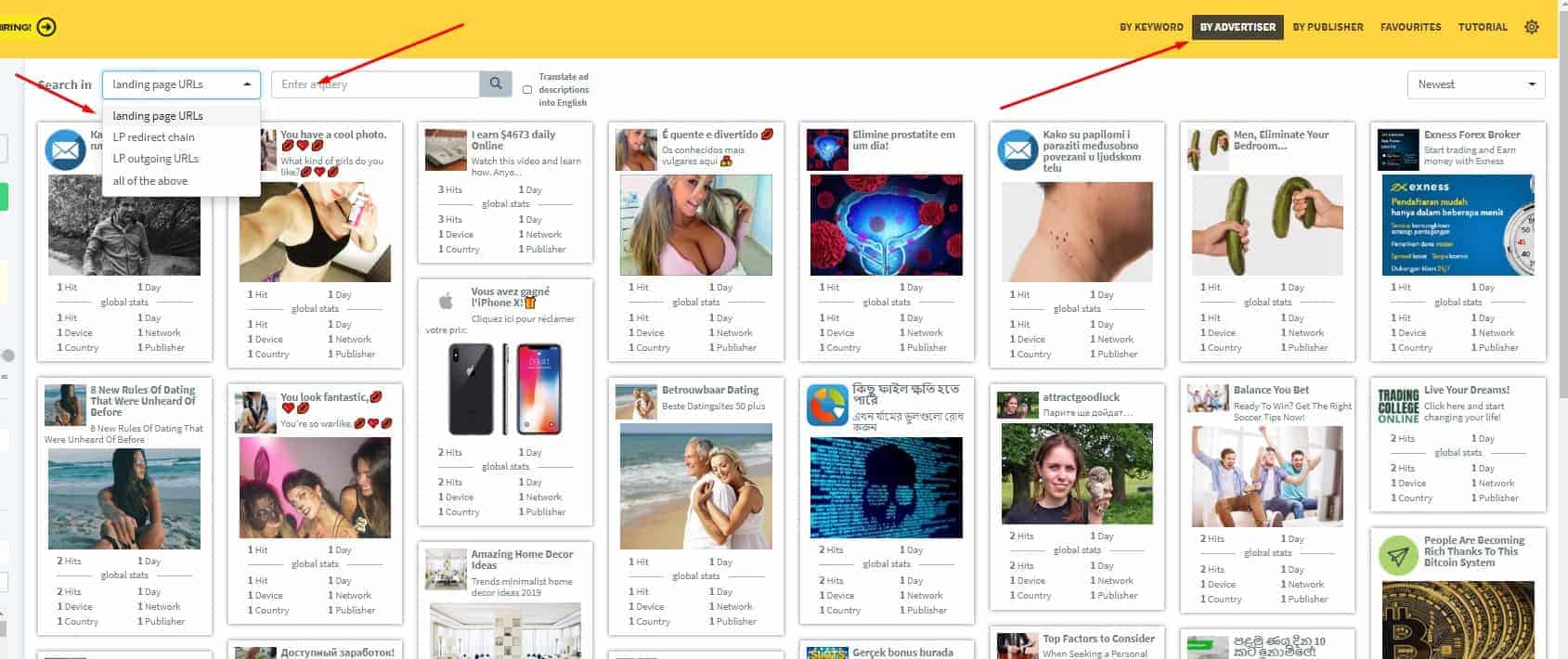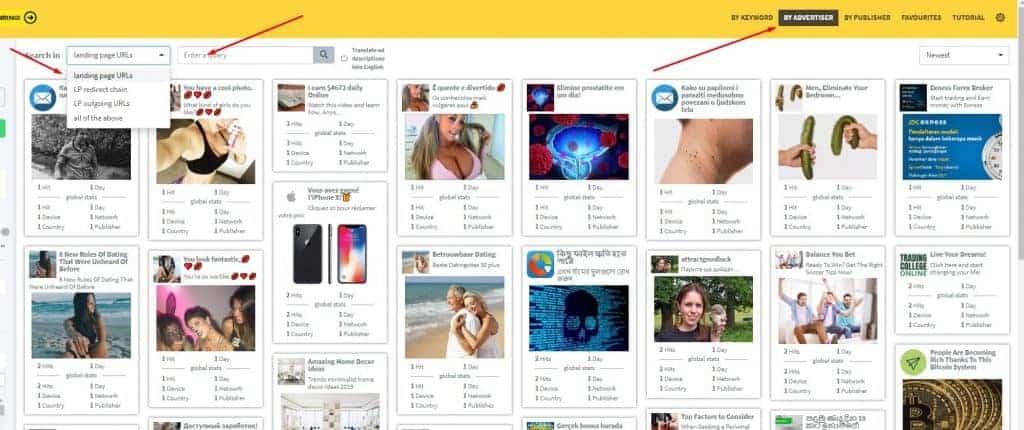 So guys that's pretty much it, the Adplexity Push. is really awesome, you can get a ton of data and inspiration with it, and don't forget that it is completely free to join, so take advantage of this especially while it's free!