FREE Shopify Spying 101 & Competition Analysis Guide by iAmAttila
If you are into Shopify and Drop Shipping then you will love this guide. I am going to show you step by step how to uncover the winning products and all the ads used to promote it on Facebook.

I don't recommend you Rip n Run the ads; as Facebook Algo knows very well who is the owner of the ad and won't give you high quality traffic if you rip someone elses ads, thus you are doomed to fail.

Instead, use the ads for winning products to come up with your own variations and create similar ads.
To get started, you will need an account on the #1 facebook ad spy tool named MagicAdz.

You can get an account by visiting their website at www.magicadz.co

Want a FREE 14 day trial and to save $50 every month? Use the coupon: iamattila50 on the checkout screen!

NOTE: In order to get accepted to magic adz, you need to apply the same way you would at any CPA Network. They only accept real internet marketers to keep out fraud. So don't be shocked if they ask for some information like your skypeID to have a chat with you!
Got your account and logged in? Great

The next step is to look for the left menu bar. We want to select to search for landing pages. We want to identify shopify only ads.

To do this, what you want to do is click the down arrow, and set the search paramter to look inside Landing Pages.

We have to use footprints associated with shopify.

Here are a few, you can enter these one by one to get different results:

shopify.com
cdn.shopify.com
powered by shopify


Here are the results (NOTE: Not all of them are products, some people are actually running ads to blog posts made inside their shopify stores,some are clickbait) – They are sorted by most shared:


Here are 3 ads I picked that are shopify stores.

The first one is hair care product. It is targeting women who love to look beautiful and especially enjoy having awesome hair. They use this model under different names from what I discovered to test what name and influencer profiles work best for them. It's an awesome, awesome store as they are white labeling stuff in China with their own brand and making at least 300% ROAS. See how the total number of likes is LESS than the actual number on the ad today? That means since MagicAdz saw it, the ad received much more engagement! That's a great thing it means people are talking about this, and most likely buying it since the ad is still going strong.
Here is another add, this time of a dent remover tool people are selling online. This probably makes them a lot of money else they would not still be running the ad. When the ad was first seen it had just 6000 comments, and today it has 42k!! 4400 comments and has been shared over 17,000 times!
Home Care and Kitchen stuff has done real well on Facebook forever. Here's an ad that had 5k likes, 2000 comments, and 10,000 shares when MagicAdz saw it! You can see that the angles they used, and their video ads, and also the lander they used and shopify page wording!

TIP: If you are into shopify you def heard the finding shopify stores using the IP address trick. If not I pasted it below… anyway that method reveals a lot of mega brands in the top 1000. They aren't likely the ones affiliate like yourself are running, or new people starting out with shopify.

It's way, way easier and faster to spy using the method I shared above than to open each site one by one on the list from the ip trick; then make a list of the fan pages from the ad review screen inside magic ads.

Here's how easy it is, let's take the Lange products. I went to their fan page, on the left selected Info & Ads, then selected the country I want to see all their ads in. I quickly learned that they have like 6 live ads right now!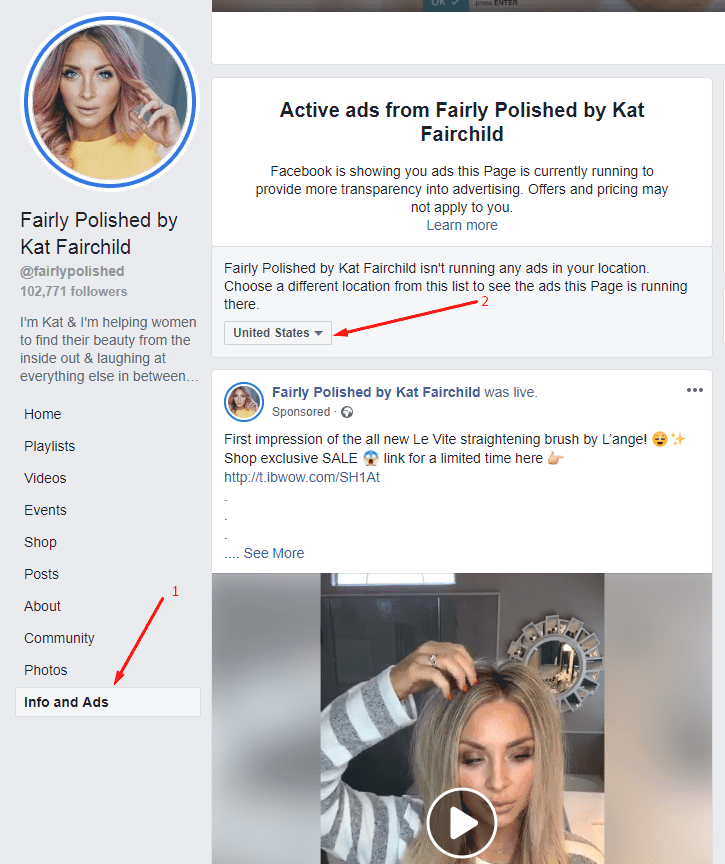 How many times have you asked a friend that does well on drop shipping with Shopify to show you one of their products so you 'get it' ? Only to receive their reply "SORRY MAN, I DON'T SHARE MY PRODUCTS" (this isn't a 'friend' in my books) but not to worry.

With the power of MagicAdz spy tool you can uncover profitable ads (maybe even find theirs) and use it as inspiration to create your own ads, and also your own product offerings.

Claim Your Free 14 Day Trial to MagicAdz and Save $50 Each Month with Coupon Code: iamattila50  
BONUS: FINDING SHOPIFY STORES USING IP TRICK
1) Go to myip.ms
2) Paste this IP address: 23.227.38.32 and click "Whois Lookup".
3) Click "Other Sites on IP"
4) Now you have thousands of Shopify stores to research
5) If you want to check the most popular stores, click "View All Records", "World Site Popular Rating"
6) If you want to see the most popular products for each store, just type shopifystore.com/collections/all?sort_by=best-selling
If you found this guide useful, please share it with friends!