Want to know how other affiliates are making money? What ads / landing pages they're using? What offers they're promoting? Get All The Answers In Our Adplexity Guide!
Spying is an absolute necessity in 2023 and beyond. In fact, failing to spy on your competition could easily result in you blowing thousands of dollars and all your hard work going to waste. You could lose your hard-earned money promoting an offer on the wrong traffic source that will NEVER convert, no matter how great the offer, angle, or landing page is.
Oftentimes, you need to eliminate the guesswork and maximize your chances of success. It is especially essential now, in the aftermath of the Covid-19 pandemic, which has changed the course of many people's lives irrevocably. Millions of people have lost their jobs and have turned to remote work opportunities. On the bright side, many are exploring the idea of becoming internet marketers themselves.
If you want to stay ahead of the game and make serious money in the affiliate marketing industry, you need to be very well-informed! Spy tools make this possible for you to succeed in this field for an affordable price. Even though some might be surprised at the pricing, thinking $250 may be too much to pay for a spy tool, but that's not true. You shouldn't look at it as an expense, but rather an investment that will help you save 1000s of dollars in the long run! By purchasing this handy tool, you won't lose it all by making reckless decisions and taking uncalculated risks.
This guide is intended as the go-to tutorial for newbies and advanced affiliates alike. It's the ultimate WIKI you can give to new hires and new media buyers to get them up to speed. Moreover, it's the 101 on how to spy and find new methods, based on which you can come up with your own angles and creative ideas.
The entire guide is centered around one of my favorite spy tools for Push, Display, Mobile, Native, and Ecom. AdPlexity Push has a very quick and easy-to-use search UI, the option to download every single lander, discover campaign details, publisher info, and mobile and desktop push campaign ads in real time and with 100% accuracy.
For desktop display campaigns, you should use AdPlexity Desktop, which gives you the opportunity to spy, rip, and analyze campaigns from dozens of GEOs, languages, device types, etc. It allows you to use advanced filters to find exactly what you're looking for and avoid wasting precious time. You can observe what networks other affiliates utilize, as well.
AdPlexity mobile enables you to do an advanced search for the purpose of collecting the niche data you require in order to make a killing with mobile ads. You can rip whatever you like, whether it's a lander or an ad. It also helps you uncover the most successful campaigns in more than 75 GEOs and the related data.
For native camps, there's AdPlexity Native. This tool comes in handy for discovering what affiliates using the 9 most popular traffic sources are up to, in real time. Every feature mentioned above is available, too, only here they're made suitable for native.
If you're interested in spying on ecommerce stores, you'll require the services of AdPlexity Ecomm. It'll provide you with all the latest data on more than 100,000 of your competitors (and over 100 million products). Searching for the information you need is an easy and swift process. What's more, it enables you to check out the best scoring stores and products, according to store strength and product strength ratings.
AdPlexity is a spy tool created by an impressive group of guys, who also created the #1 biggest paid affiliate marketing forum on this planet – STM Forum. Join Here if you are not a member already!
This guide features both advanced and simple spying techniques in no particular order. They'll be presented quite randomly since I'm just brainstorming based on my own knowledge. Hopefully, I won't omit anything that needs mentioning. In case I do forget to shed light on something you'd like me to explain, please leave a comment and I'll add it to this WIKI. Before you get started, you'll need AdPlexity! Luckily, they've given my readers 30% off, which will save you hundreds of dollars each month if you choose to buy the AdPlexity Suite. Click here to get your account setup >>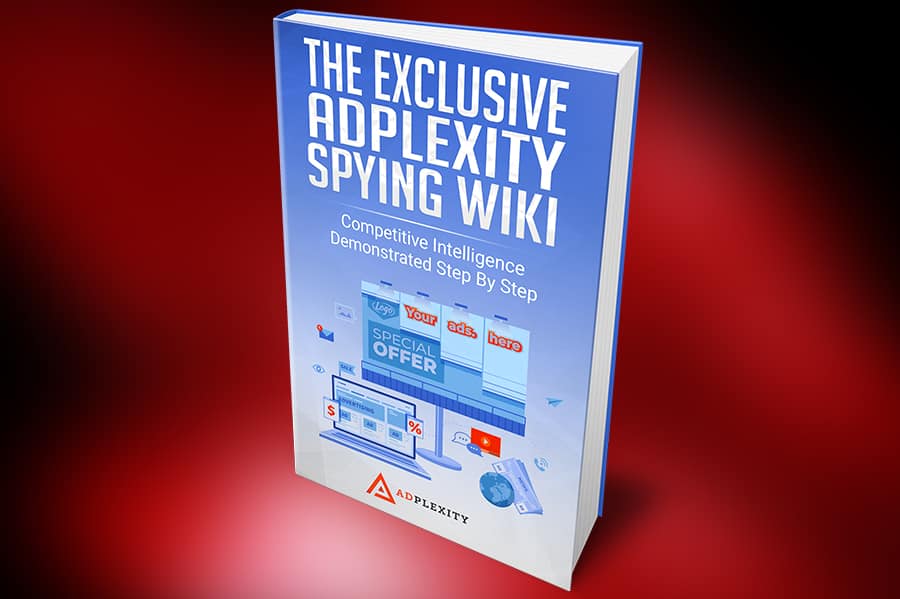 How To Find Everything a Specific Affiliate Is Running on NATIVE Using their affid Footprint?
If you want to track down all the ads and learn about which placements the ads of a specific affiliate take up, this is how it's done.

Step 1. Find an affiliate worthy of spying. You do this by logging into native.adplexity.com and select 'Last 7 Days' on the left toolbar. Then, select the traffic source (RevContent in my case) from the aforementioned toolbar, and in the top right corner sort by 'Received the most traffic'. Now look for an ad in your chosen vertical. For instance, in my vertical, it's LEAD GEN.
Naturally, I searched for ads that are related to Lead Gen and found this ad: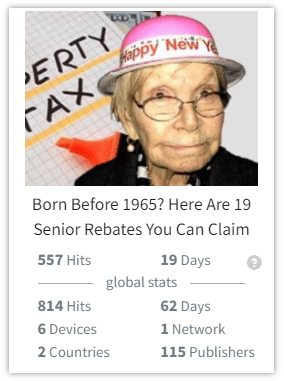 Step 2. Click on the campaign link, prelander, and find an affiliate ID in the URL bar on the offer page as follows: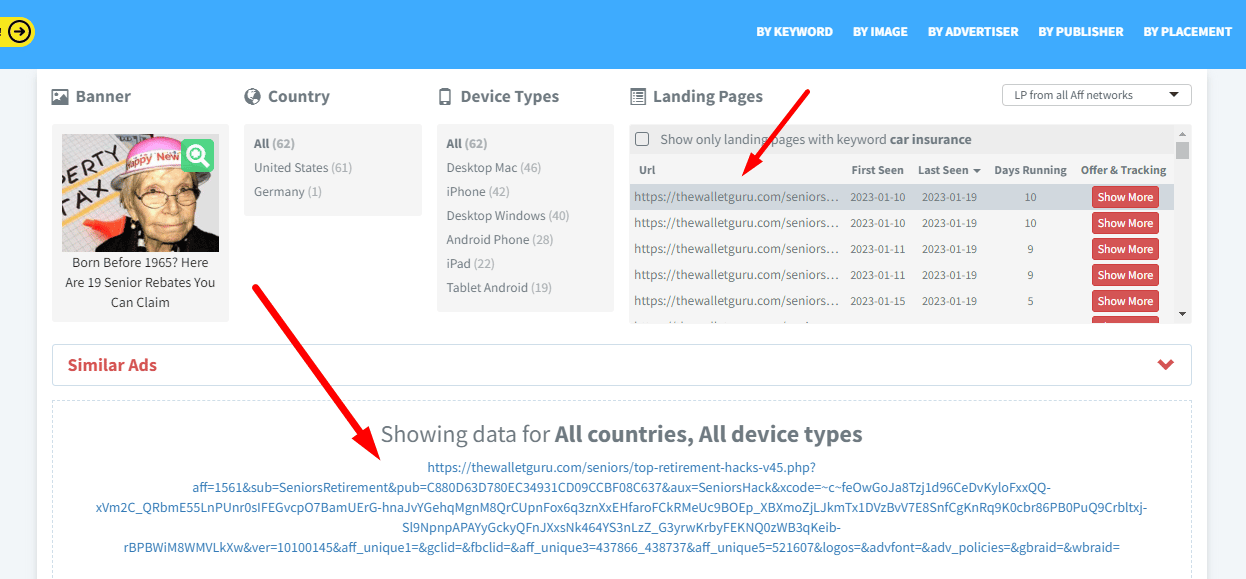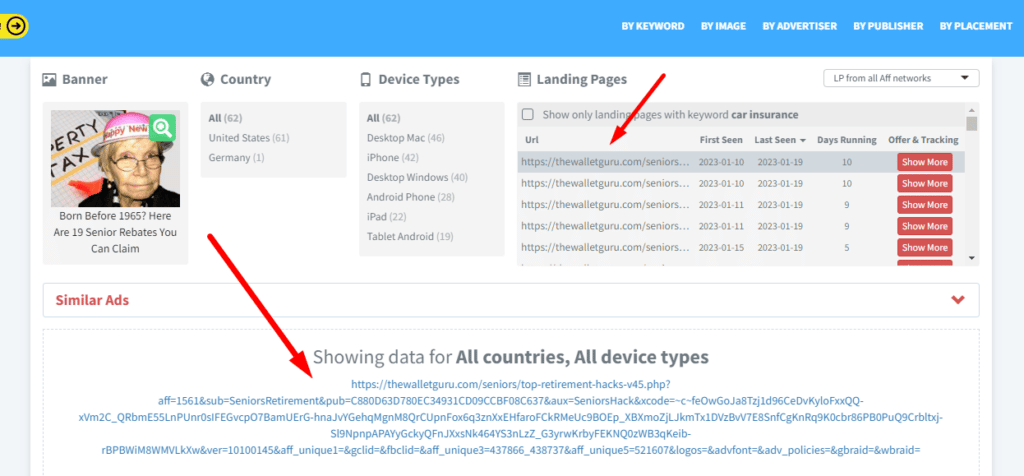 Clicking on the link inside AdPlexity took me to this prelander. I clicked the CTA button, and was redirected to the offer.

Now that you have the AFF ID, let's go back to AdPlexity. In the top menu bar, select 'BY ADVERTISER' and in the 'Search in' dropdown menu select "all of the above". After this, type 'aff=1561' in the 'Enter a query' box, and hit the search button.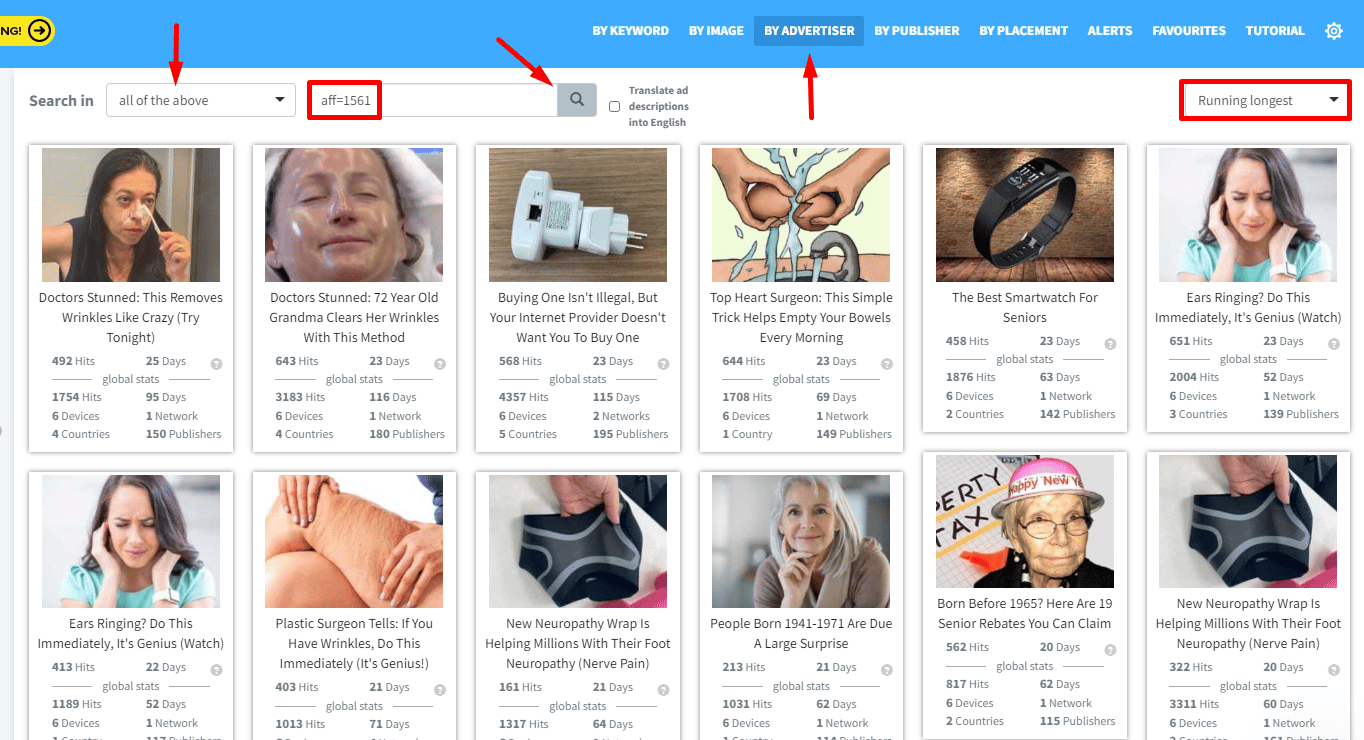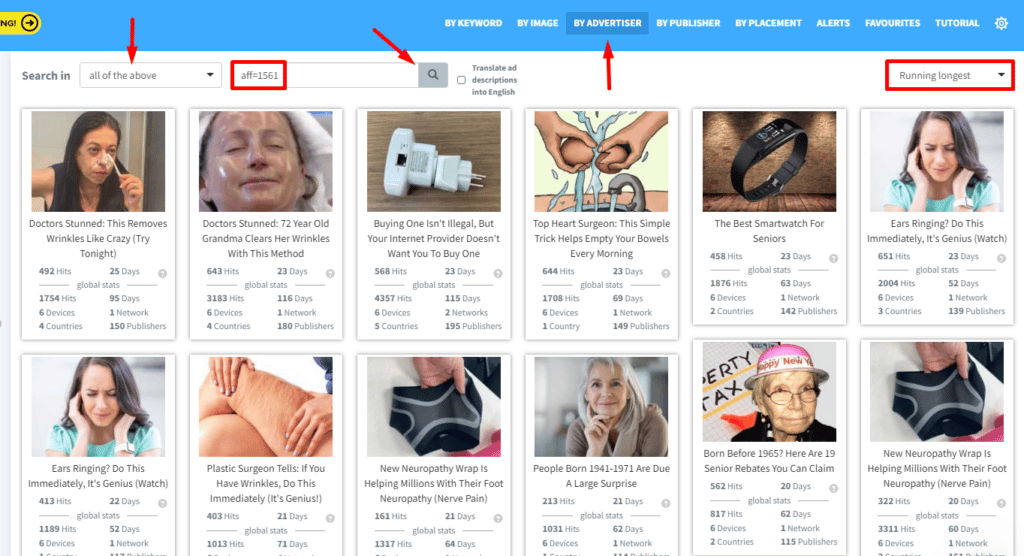 And there you have it! Now you can see all the ads that this affiliate utilized, as well as which ones performed best and ran the longest. Ripping and running doesn't generate easy money anymore in 2023 and beyond. Instead, to make the most out of spying tools, find inspiration in the ads you discover, come up with original ideas, and create your own ads that are similar enough based on the best performers!
How to Find Out Which Verticals/Offers/Niches Are The Most Popular on a Specific Traffic Source
Deciding which road, or rather traffic source, you will take, can be a make-it-or-break-it process. Take me for example. I spent $35,000 testing over 30 traffic sources that were UNPROVEN only to lose $33,000 to find just 1 that showed some promise. That's how COSTLY it is to test unproven traffic sources! Indeed, it's not for the faint hearted.
About 98% of affiliate marketers prefer to pick a traffic source, and then run offers proven to convert on those sources. But how do you find out what works best on a traffic source? Which vertical can kill it and which one should you avoid? You SPY, because 9 out of 10 traffic sources (unless it's ZeroPark) will NOT tell you which offers to run or which are doing well.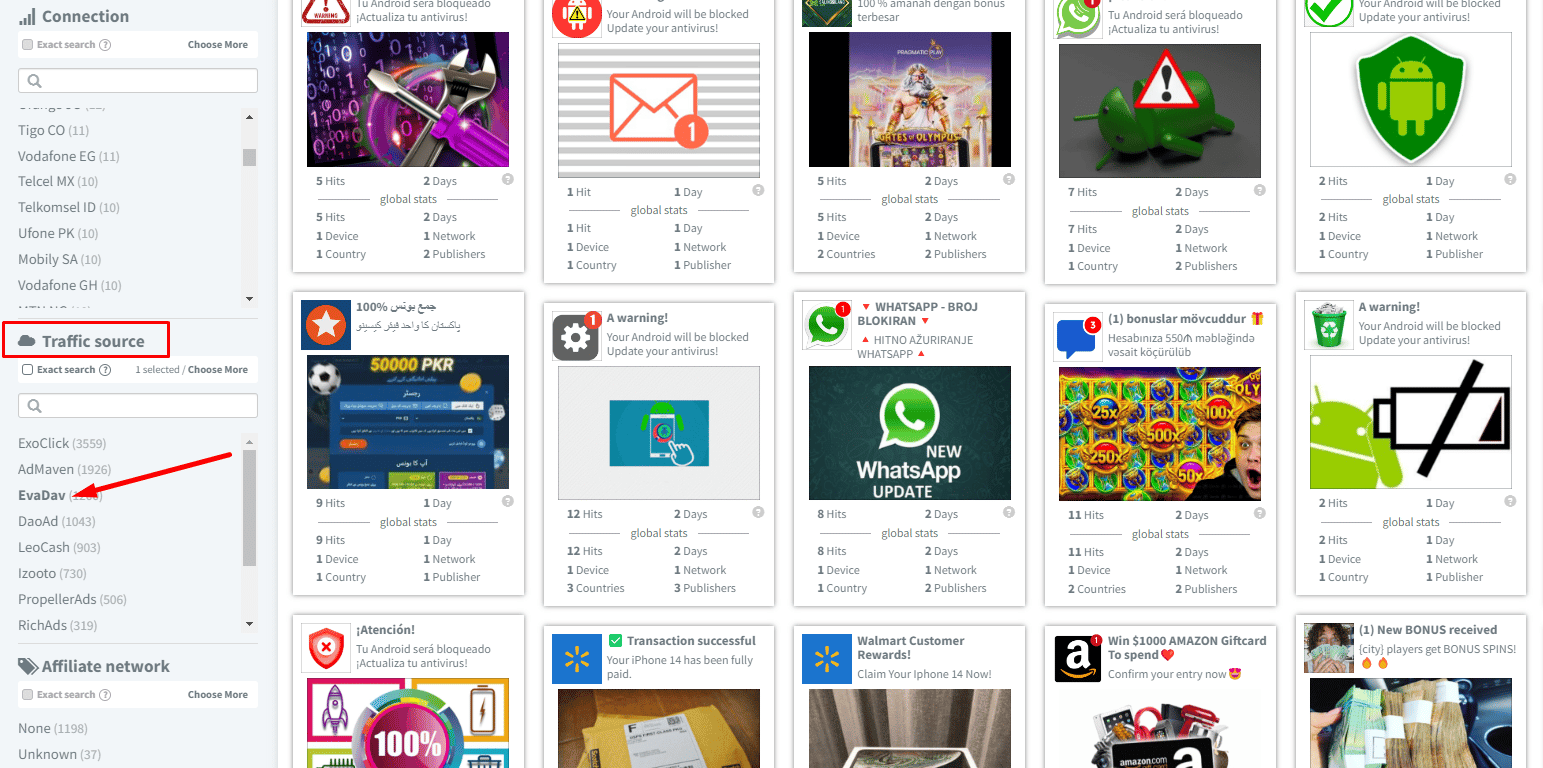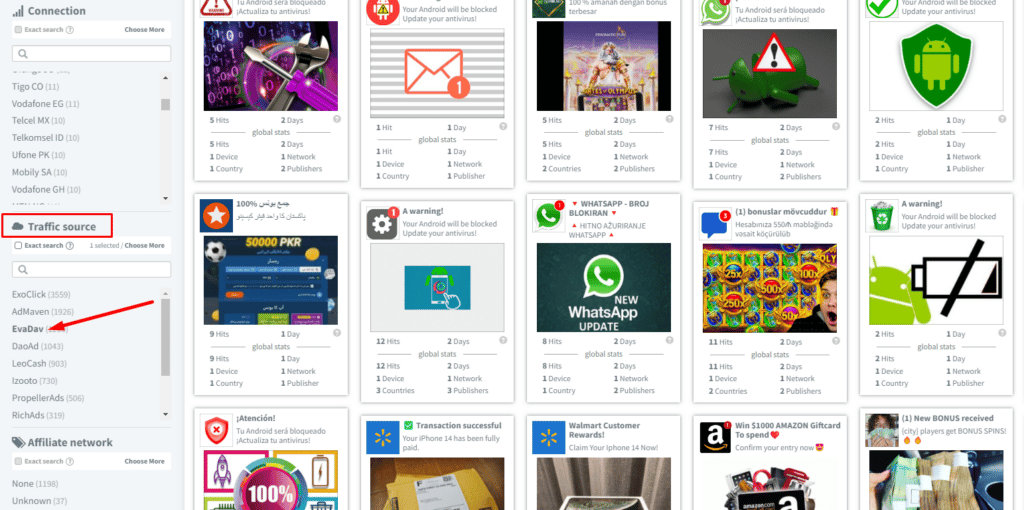 This is where AdPlexity comes in; and this is how you use it to find out which verticals/CPA Offers/Niches work best on a specific traffic source.
1. Login to AdPlexity Push for this one (although the process is the same for every traffic type spy tool they offer).
2. In the left side bar, select the date range "Last 30 days.
3. Scroll down the bar until you see Traffic Source and select the one you want to run your ads on.
4. After I selected EvaDav and waited a few seconds for the ads to load, I sorting them by 'Received the most traffic'.
5. Next, I started observing the screen and discovered this neat trick. TIP: Hit the 'Translate ad descriptions into English' to make it easier to understand what the ads are promoting.
6. I saw antivirus ads, betting sites, Amazon gift cards, and much more.
And that's all there is to it! We've learned that antivirus ads are a great fit for EvaDav. You can rinse and repeat this process for other traffic sources and then take notes on all the important things you uncovered. Finally, pick your niche and start testing!
How to Find which traffic sources Work best for my offer – 3 Examples
Example #1 – You have the final offer URL
Inside AdPlexity Native (or any other spy tool), click on 'BY ADVERTISER' in the top menu bar. Next, below the top menu bar in the 'Search in' dropdown menu, click on 'all of the above'.
The offer I'm going to be looking up is https://visifreenow.com/.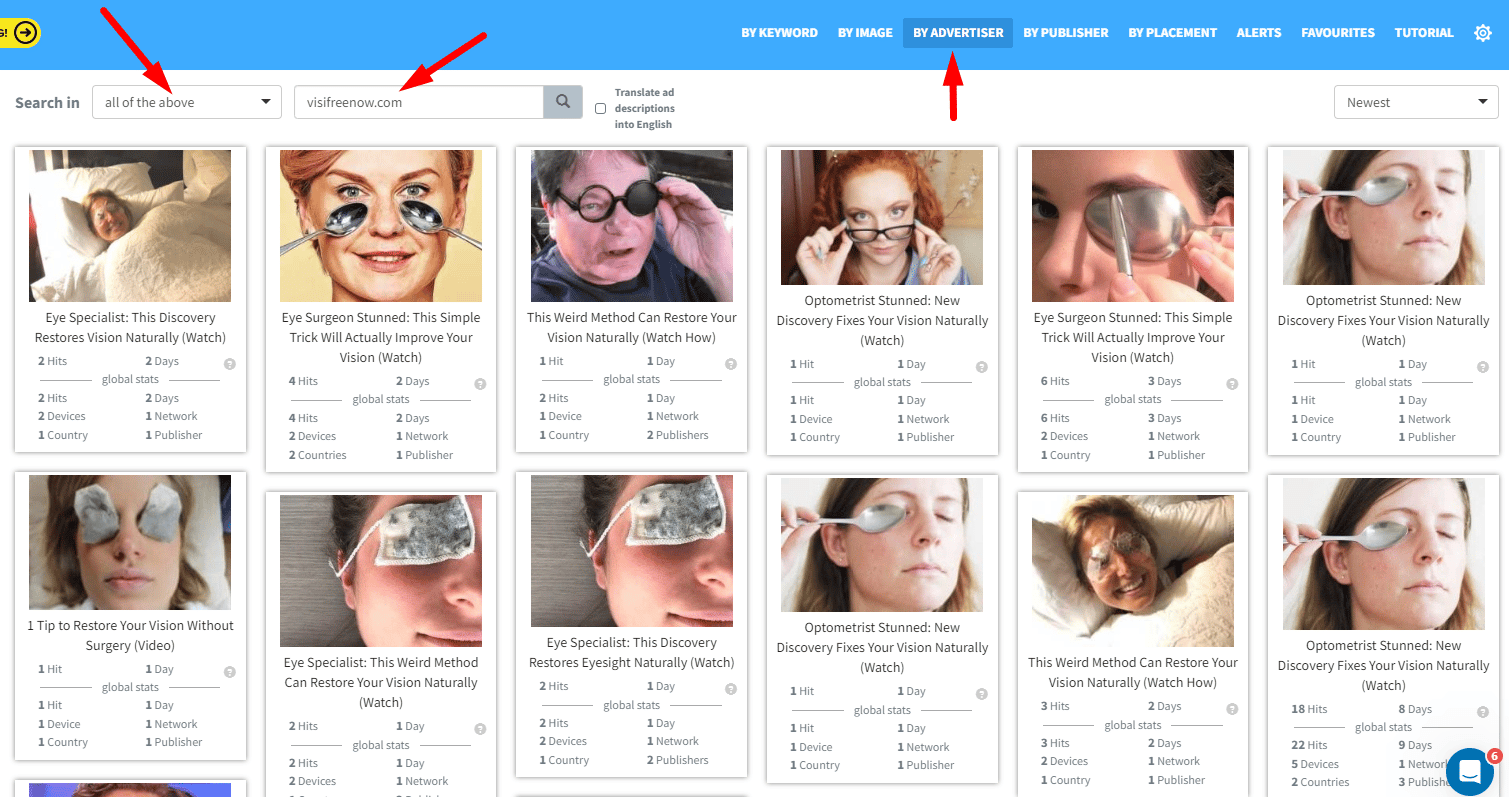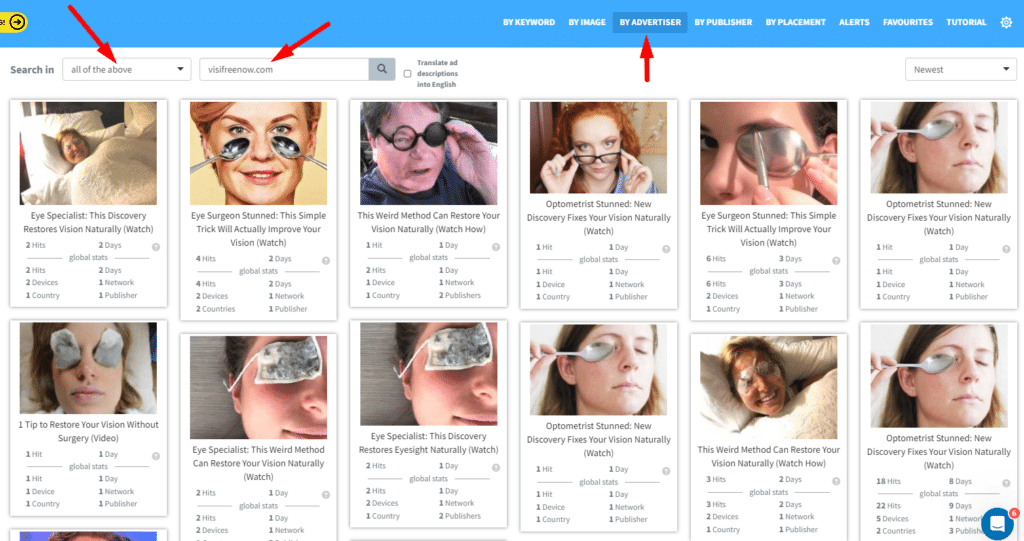 Now here's where the magic happens. Based on the last 30 days data, this VISION offer ran on RevContent (148). Since it was seen so many times on RevContent it'd make sense to start testing VISION offers on that traffic source. Maybe not this one, and definitely not with the same stolen angles, but your own variations and angles. Instead, use your own variations and angles for the best results!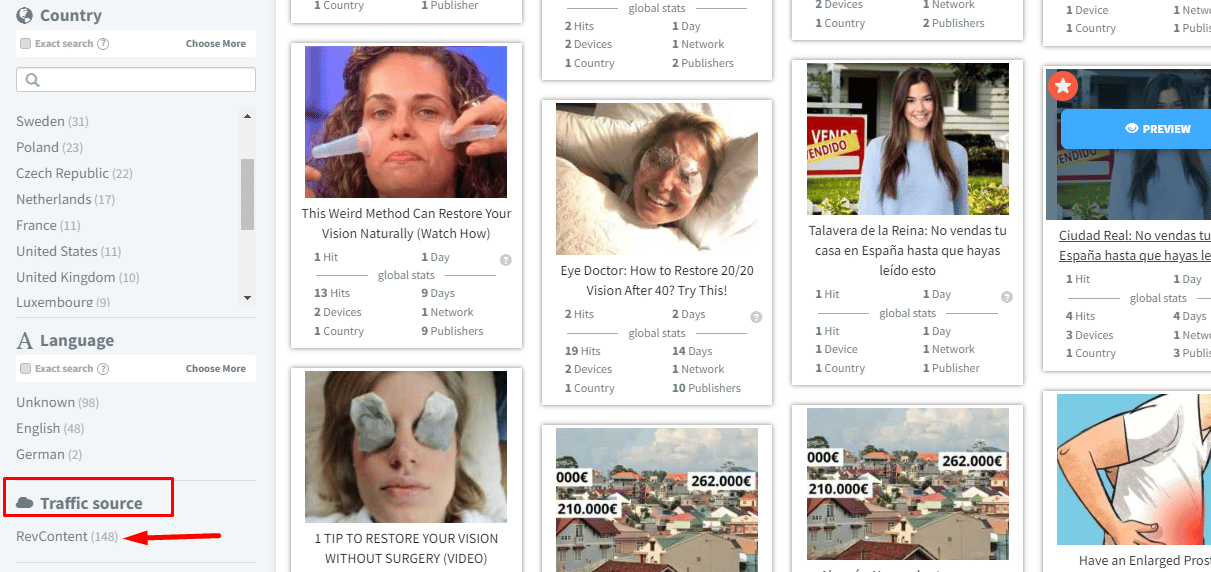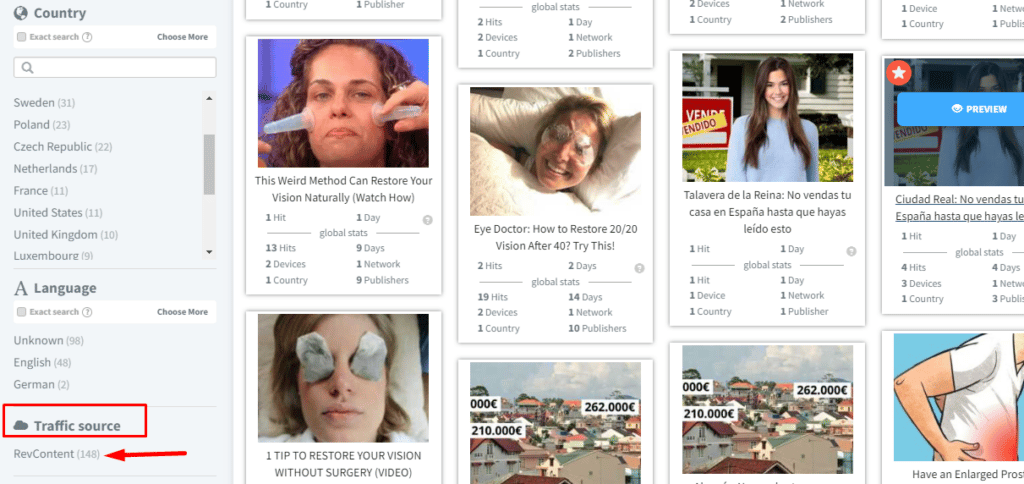 Example #2 – You Have the Offer Name
Imagine that you have the offer name, but not the offer domain. This might happen especially if the AM is sleeping and you don't want to lose precious time waiting 6-8 hours until they wake up. After all, you want to get a head start on competitive intelligence.
In our case, we're going to be looking for this offer: Keto Pro Ex.
We open up our trusty Adplexity spy tool and click on 'BY KEYWORD' in the top menu bar. By default, the search box should be set to 'on the landing page'. All we need to do is paste the name of our offer in "Keto Pro Ex" into the "Enter a query" box and hit that neat magnifying glass button to begin our hunt!
BAM! Just like that, we get 100s of ads for the offer and a wealth of key information we get to observe and learn from.
This Keto Offer seems to be most most popular on iPhones and Desktop Windows. We find out that MGID & Content.ad is the best place to run this offer. Moreover, it's performed well in UK, CZ, USA, FR, and DE. Oasis has this offer and so does Viking Clicks – if you want to get on with Oasis, tell Darren I said 'hi' and he'll help get you approved in no time!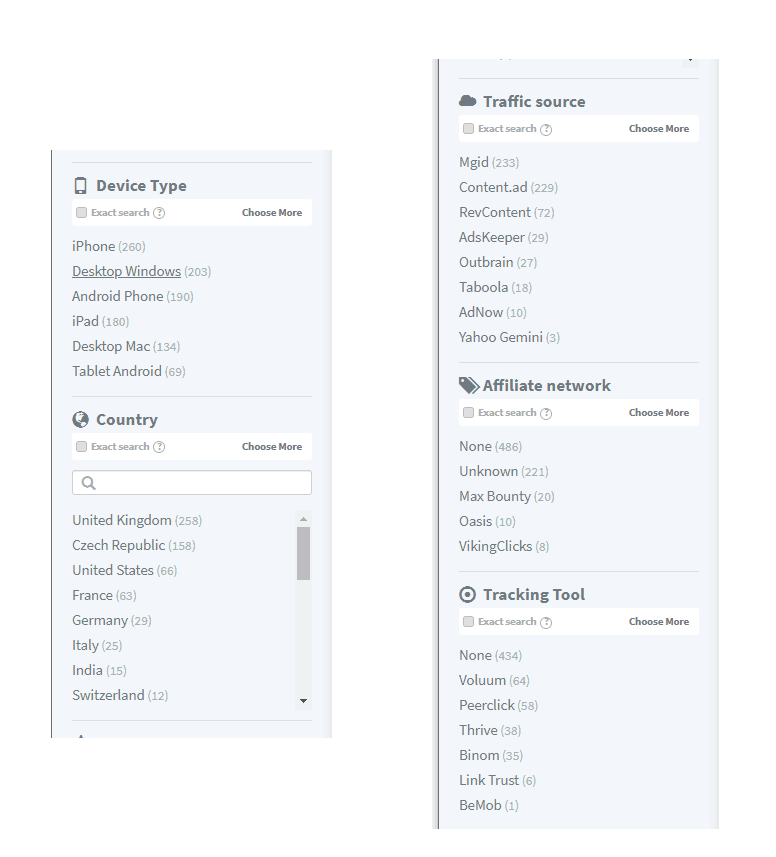 Example #3 – Using a Broad Keyword (Not my favorite, but it gets the job done)


Example #3 – Using a Broad Keyword (It's not my favorite, but it does the job)

Let's say we want to promote Financial Lead gen from MaxWeb. You're surely familiar with those fantastic crypto offers. However, we have NO IDEA what traffic source to run it on. So, what should we do? Well, let's begin by launching our nifty spy tool AdPlexity and type in some BROAD keywords. Here are some ideas: crypto, investment, etc.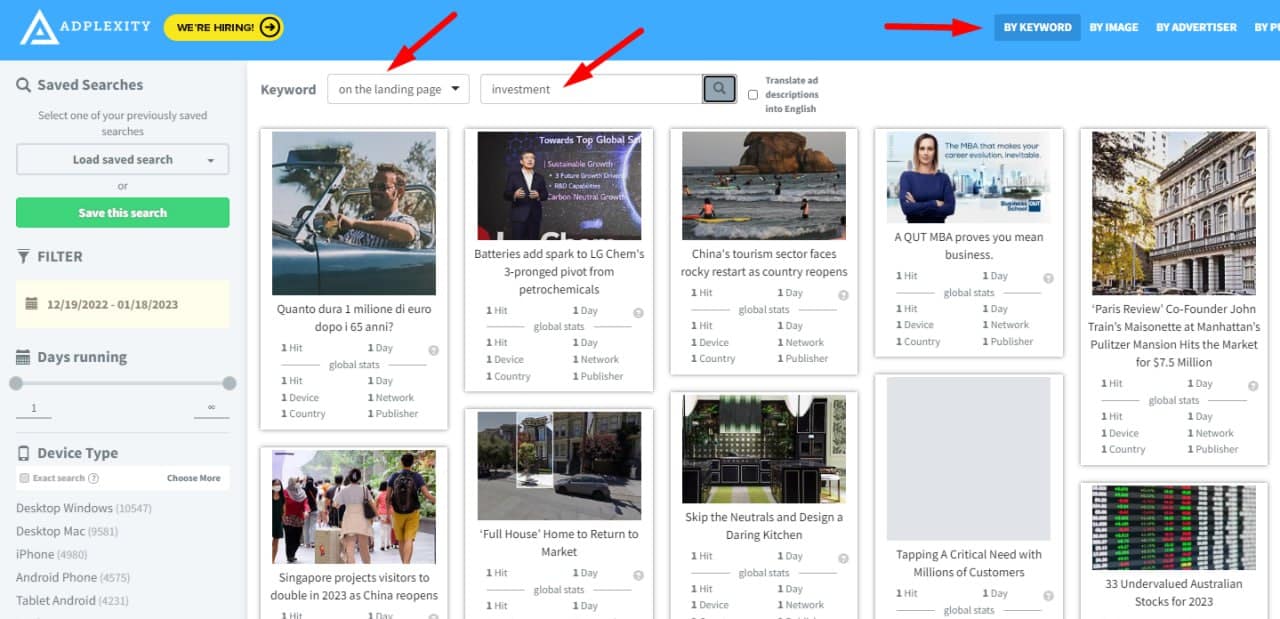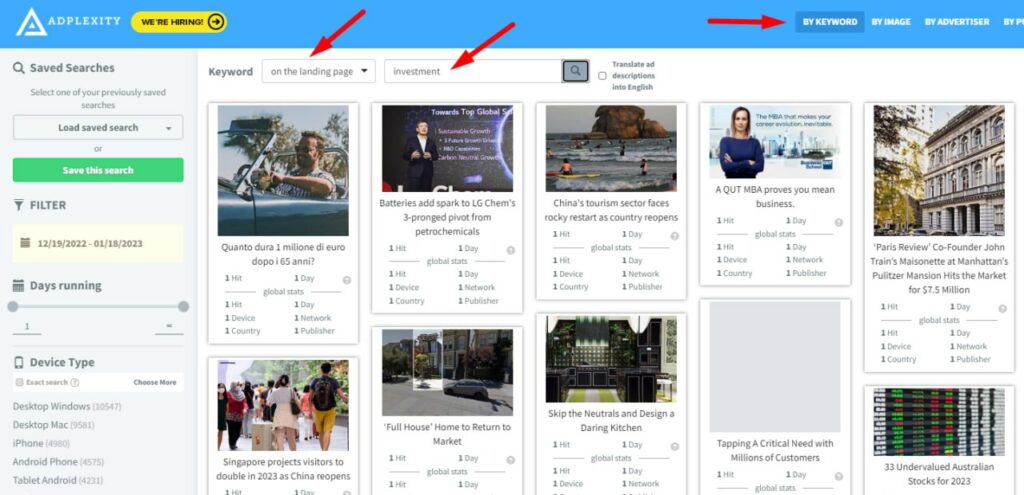 This is what I got from just ONE keyword, but what I really want to know is WHICH TRAFFIC SOURCE to test my ads on. Again, I look at the left side bar and observe what instances occurred the most times.
As you can see in the screenshot below, Desktop is a clear winner here, followed by the iPhone.
Outbrain and RevContent take the crown in relation to where this type of vertical is being promoted.
IN, US, UK, SA, and MY are the top 5 most popular GEOs for this type of offers.
If you want to try your luck with promoting financial lead gen, be sure to visit MaxWeb here. They're great people who always pay their affiliates!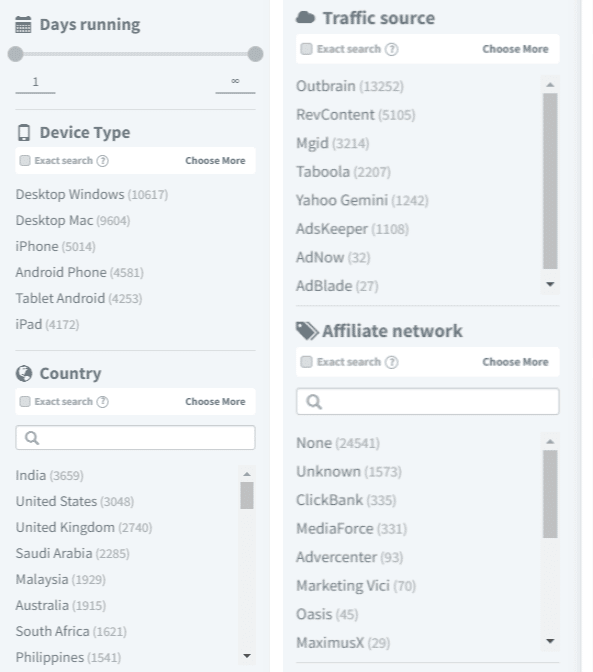 How Do You find landing pages for an offer that work? What kind of landing pages Should You use to promote a CPA offer?
If you're in the dark about what type of landing page you should use for a vertical/niche, this is one of the best areas where a spy tool like AdPlexity can prove valuable.
In this example, we're going to find PUSH dating landing pages. We want to run on ZeroPark, a PUSH traffic source. To do that, first we need to spy and see what kind of landers people are running in the GEO where, according to our CPA network rep, they have a high-converting dating offer.
1. We login to our AdPlexity Push account.
2. We set the date for 'Last 7 days', and sort it by 'Received the most traffic' (using the left side bar and the top menu bar).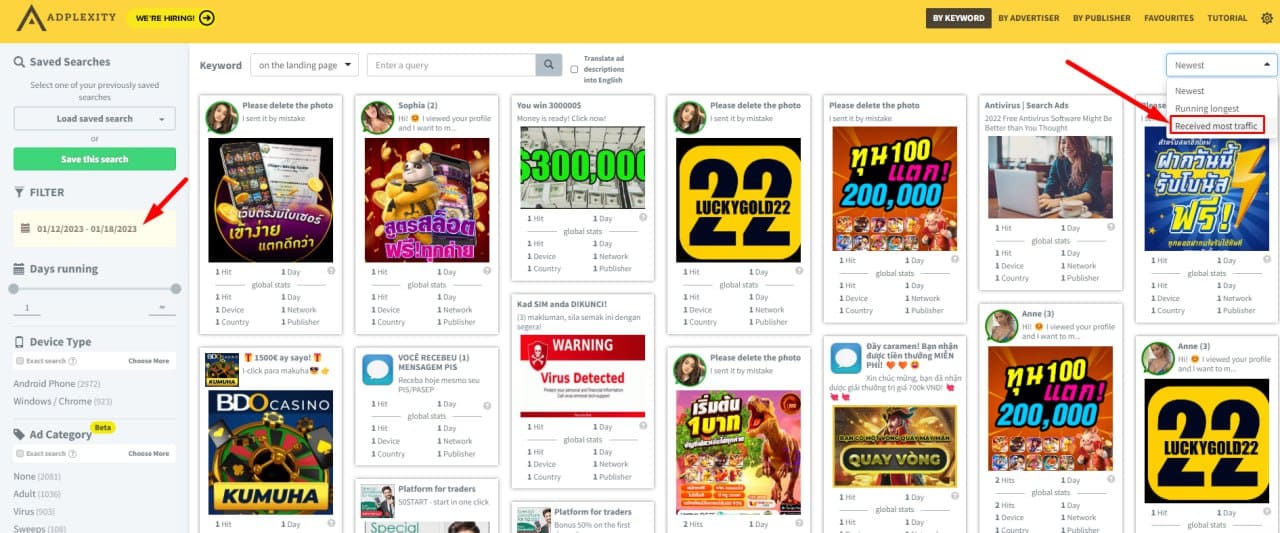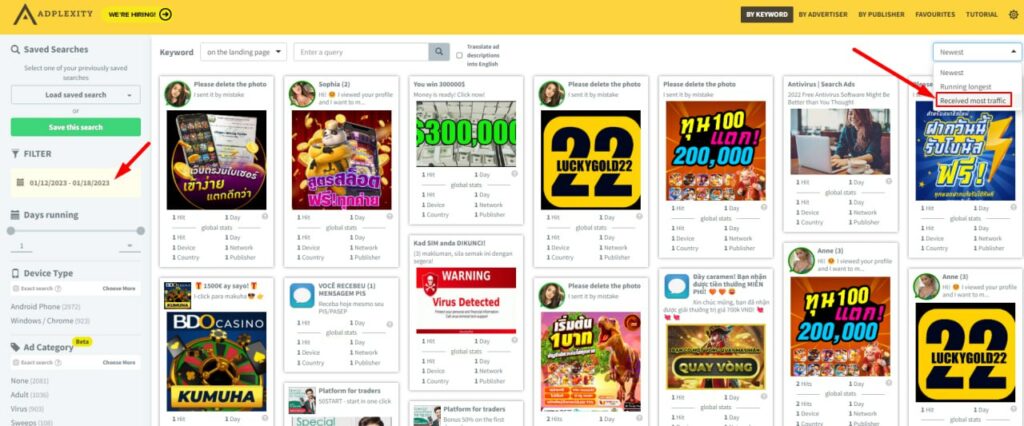 Next up, in the left side bar we need to select our GEO (Portugal) and then scroll through the ads, opening only the actual DATING ads, like so: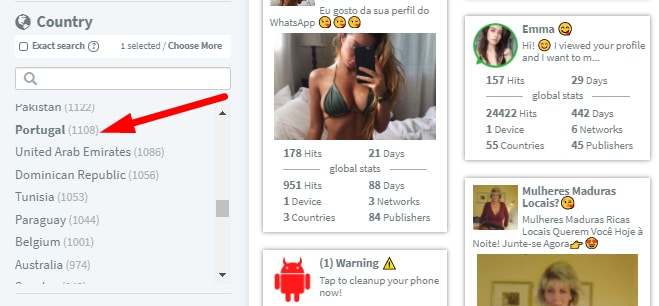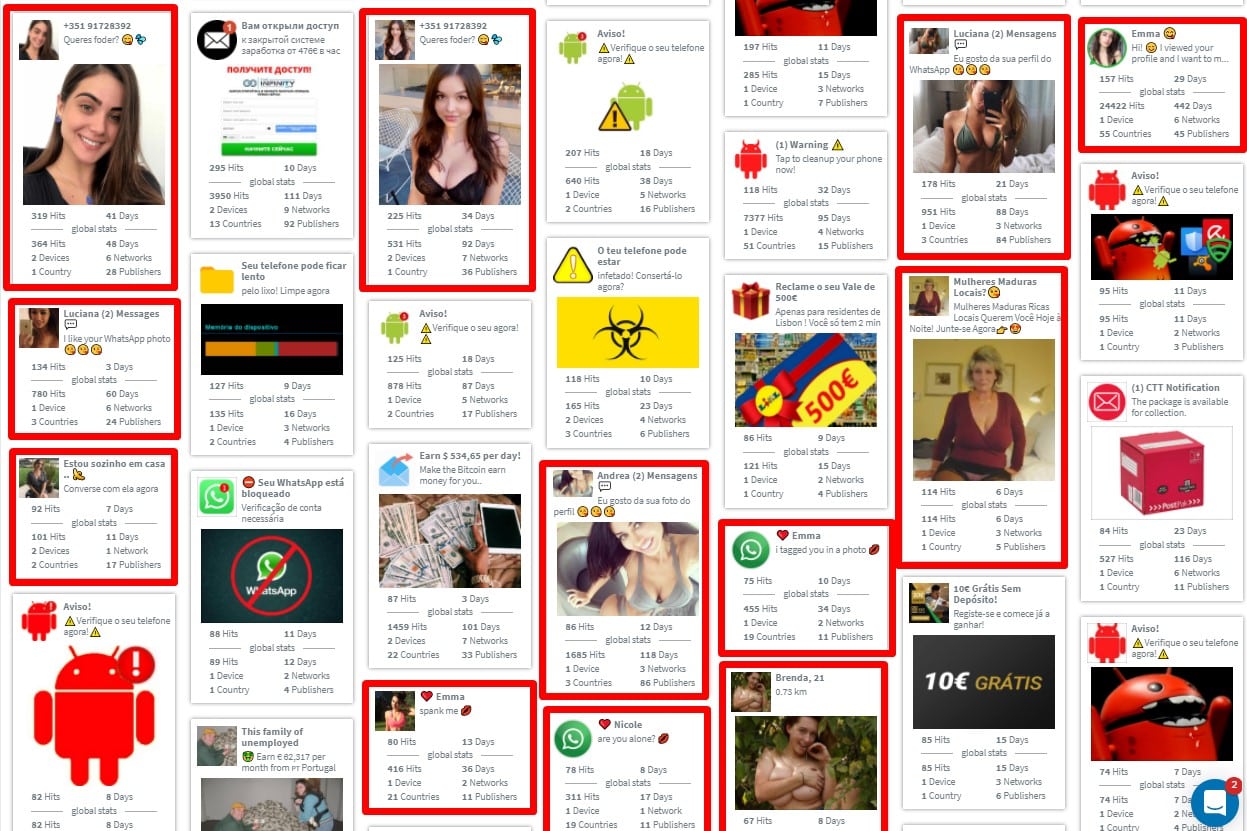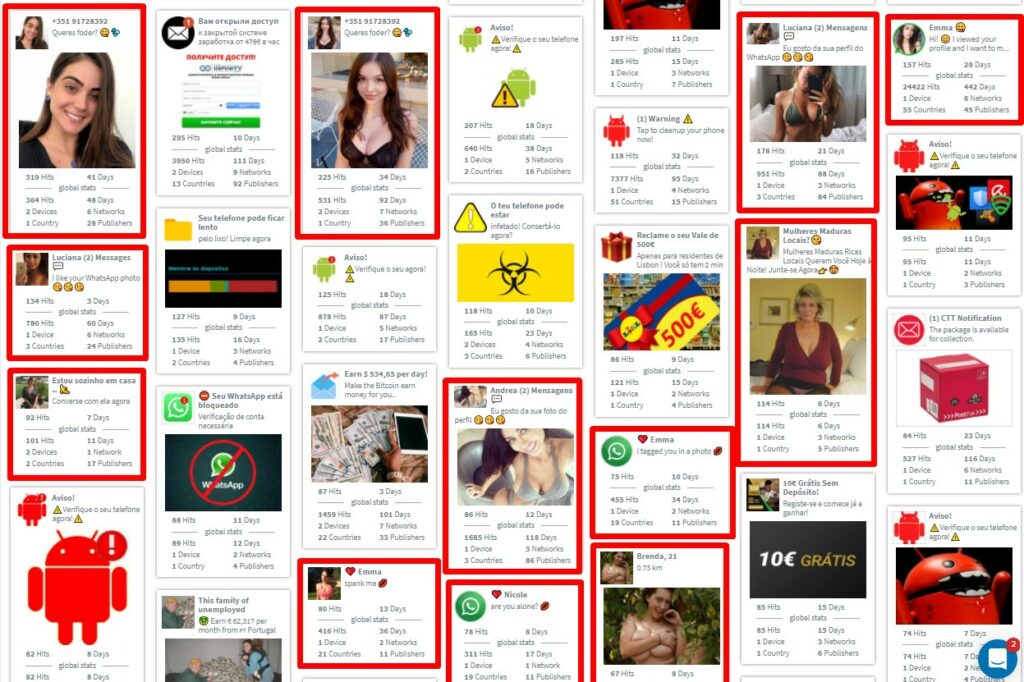 Which ads are making the most money for an affiliate? Spying using their RedTrack/Voluum click links and find out!
We're using AdPlexity Push in this case since I want to know which campaigns/ads are getting the most traffic (and, thus, generating the most money) for an affiliate that's always first on the results page when I sort by 'Received most traffic'.

1. The URL I am spying on is the Red Track Click Link placed on the prelander in their campaign, in this case 'https://revttmobile.com/click.php'.

2. Inside AdPlexity PUSH, I click on 'BY ADVERTISER' in the top menu bar, in the left side bar select the date range (e.g. January 1, 2023 – today). Then I paste their click link (revttmobile.com/click.php) with the 'https' part removed.

3. Next, I sort the results by 'Received the most traffic' to see which one was their best performing ad/campaign.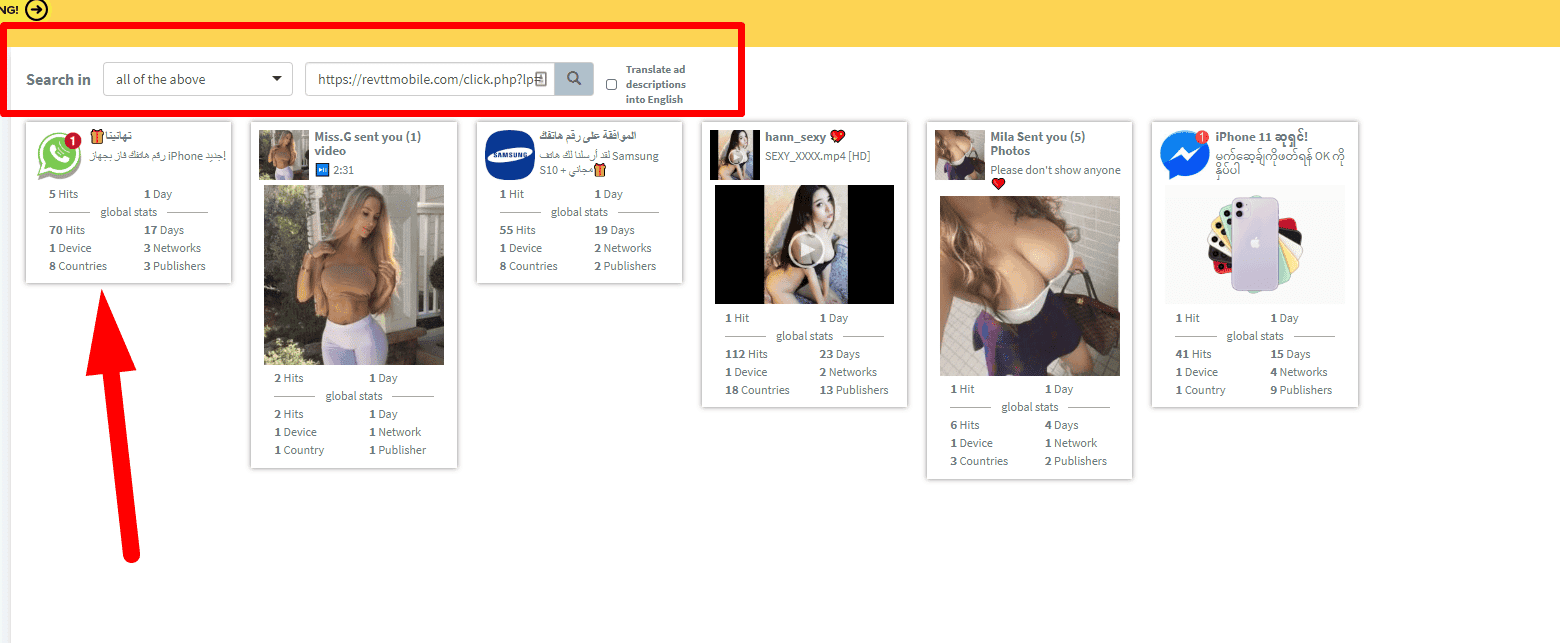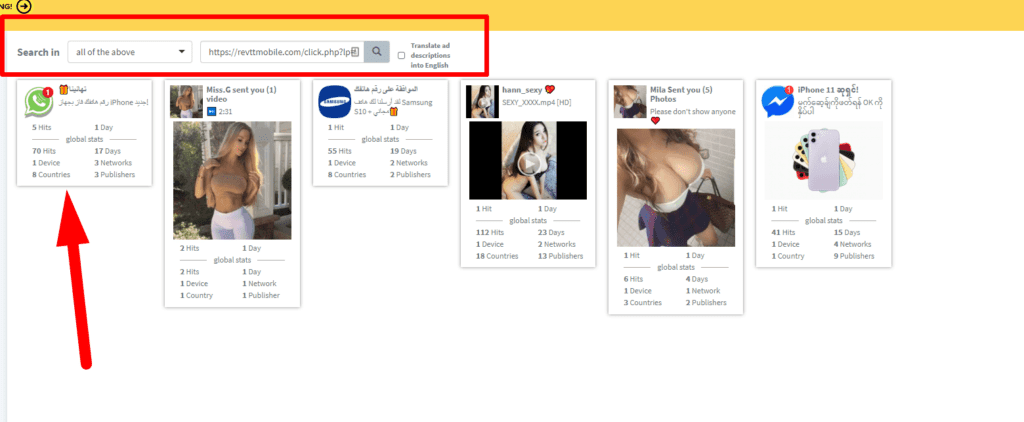 Which affiliate offers are being run on a specific publisher in PUSH?
Let's say you ran some traffic and now you've got a list of impressive placements, but you need more information. What are others running on these placements? What if you're missing something that they're not, so they end up being more successful than you?

Questions, questions… How do we get answers? Well, AdPlexity's 'Search by publisher' function, of course. This is how it's done:

1. Take a publisher name from your traffic source. We've selected '4shared.com'.
2. Inside AdPlexity Push, click on 'BY PUBLISHER' in the top menu bar and paste the publisher name in the 'What ads run on' box. In our case, we pasted '4shared.com'. The ads should come up right away.
And that's it! Now you can get placement specific ideas on what works there, and try and see how you can make money from verticals proven on that placement.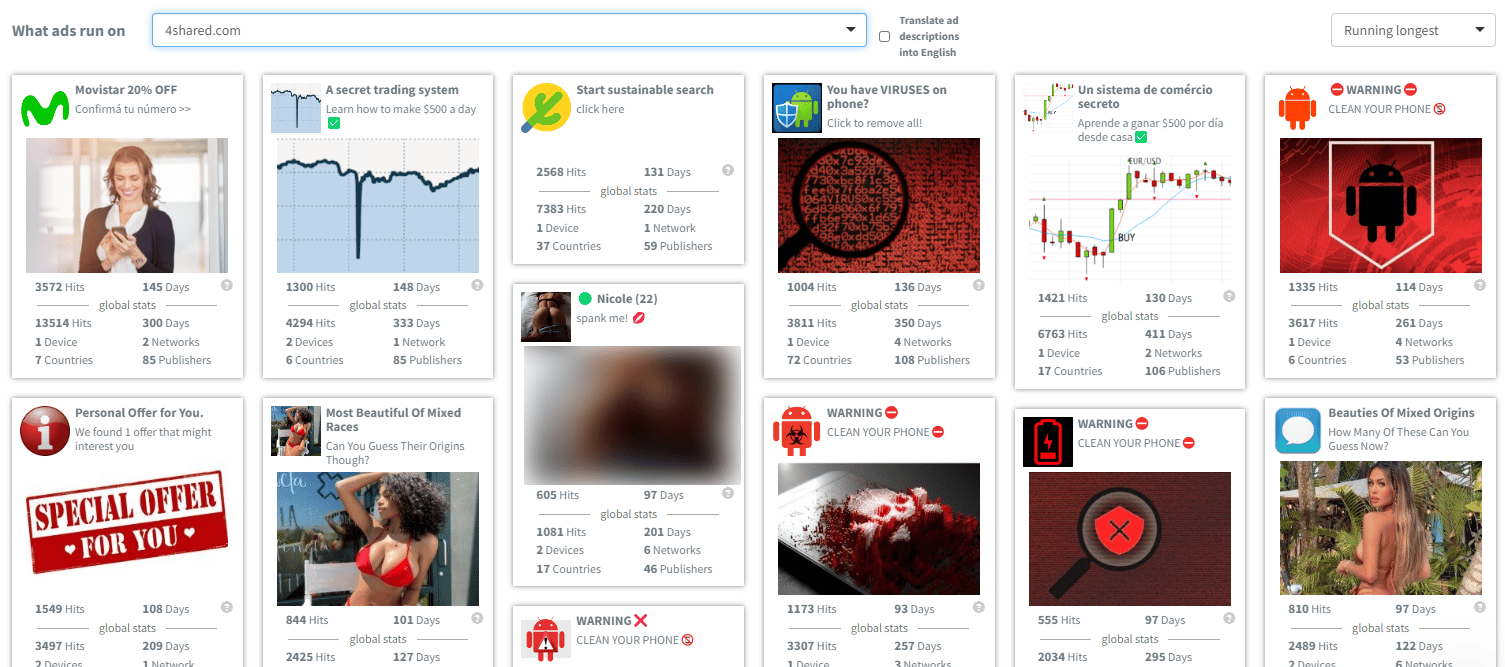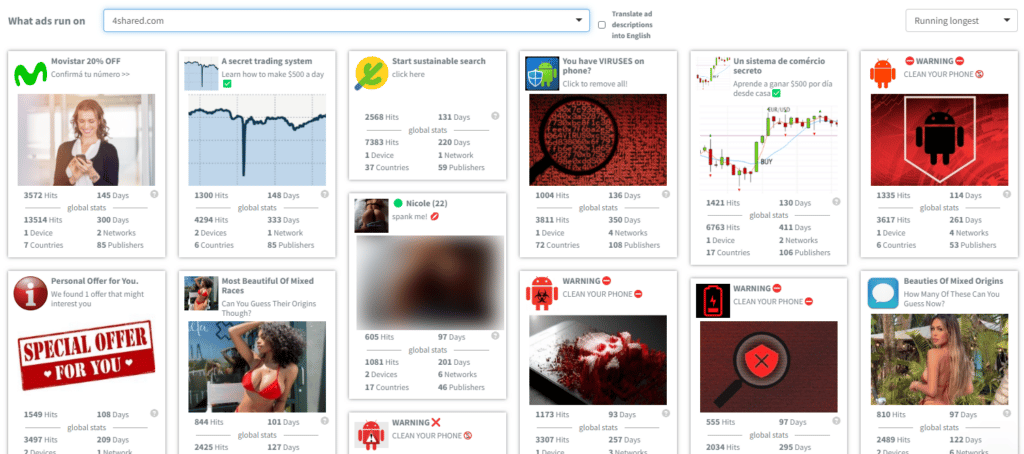 How Do I Find What Ads Are Being Promoted on a Specific Website URL or Placement/Zone in Native?
This is quite similar to looking things up on PUSH. What's different here is that you can check by website URL (aka Publisher) or by Zone/Source/Site/Widget ID, as numerous native traffic sources hide the actual website URLs.

Let's say we want to check what's running on the mirror.co.uk website, because we know they have native ads on them.

Login to your AdPlexity Native account, select 'BY PUBLISHER' in the top menu bar, paste the domain name (in our case it's mirror.co.uk) and wait for the ads to pop up. After the the results come up, sort by 'Received the most traffic'.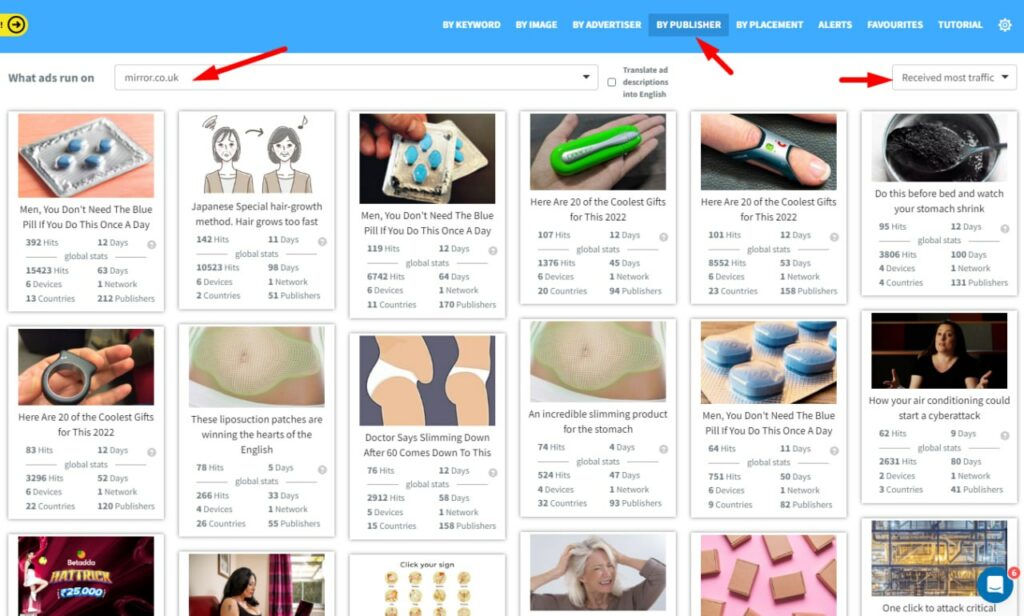 Here's another example. Let's say we ran traffic and we see potential coming from a placement ID 680530. We want to find out what other affiliates are promoting on this site – maybe we can get some ideas on how to improve our own campaigns on there?
Again, we're going back to our trusty AdPlexity Native. In the top menu bar, we select 'BY PLACEMENT' and enter the widget/placement ID in the search box (in this example, we enter 680530) and sort by 'Received the most traffic'.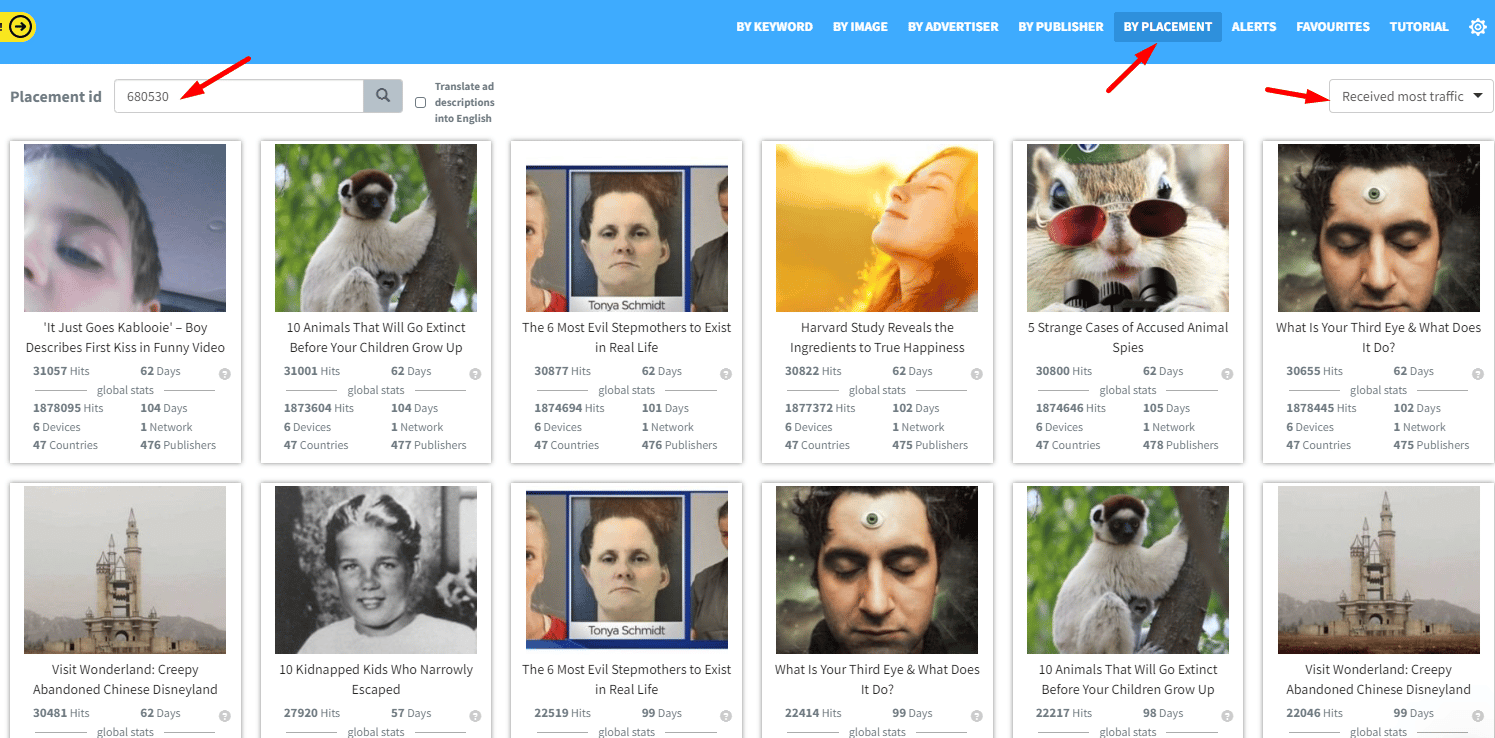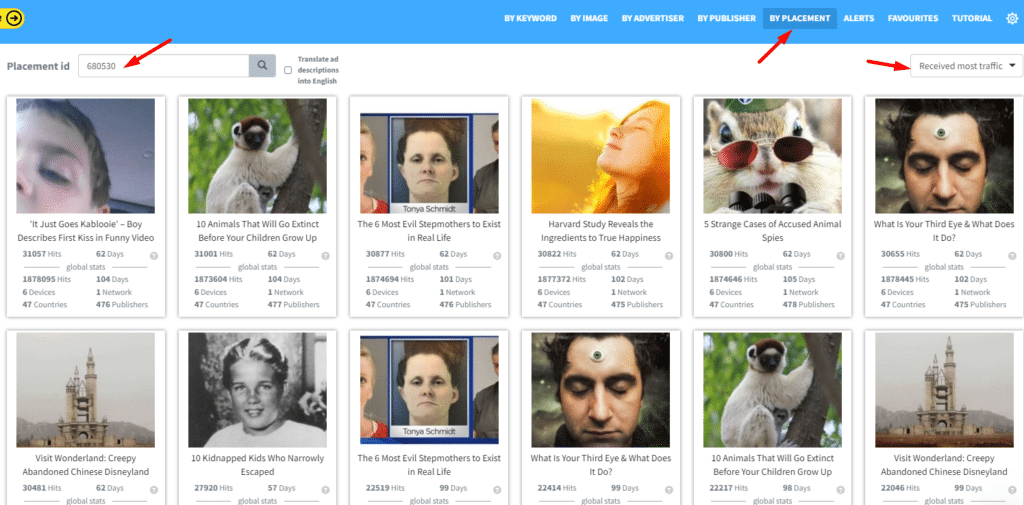 How You Can Find The Ads & Landing Pages That Are Making Money For The Top Offers You See on Revenue or EPC Reports from Your CPA Network
For this example, we are going to take a look at two of the best performing offers from AdsEmpire.
Since the offers from AdsEmpire are essentially adult dating offers, I recommend using Adplexity Push or Adplexity Adult because most of the dating offers are either on push or adult traffic sources.
To get started, we need to first switch from searching by keyword to searching by advertiser in the top menu bar.

Afterward, in the "Search in" dropdown menu select 'all of the above' and type in the offer name as a query.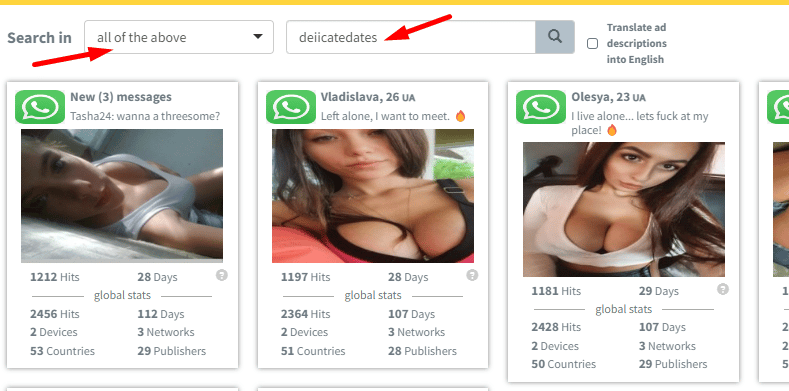 After that, Adplexity will display ads that are promoting the offer you're interested in.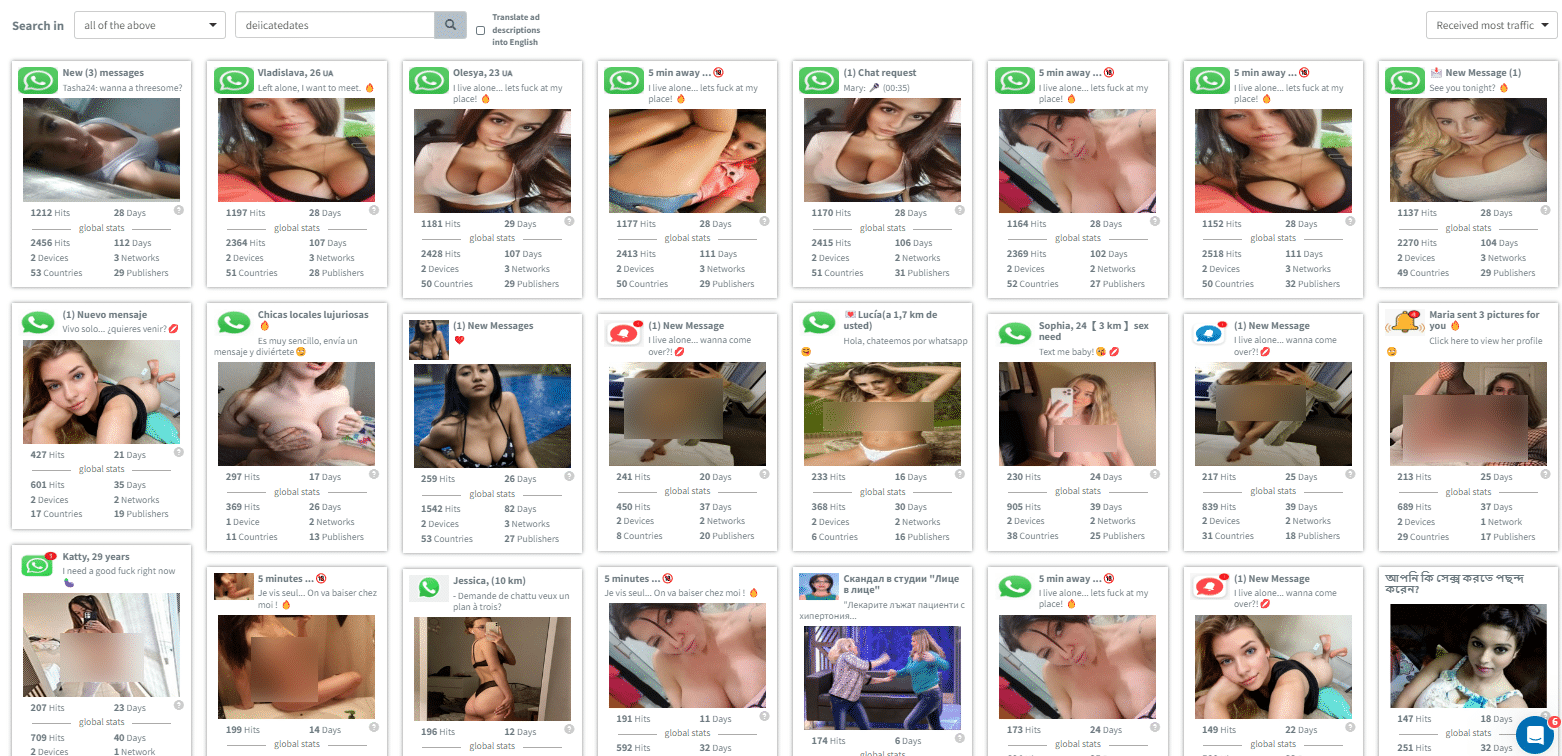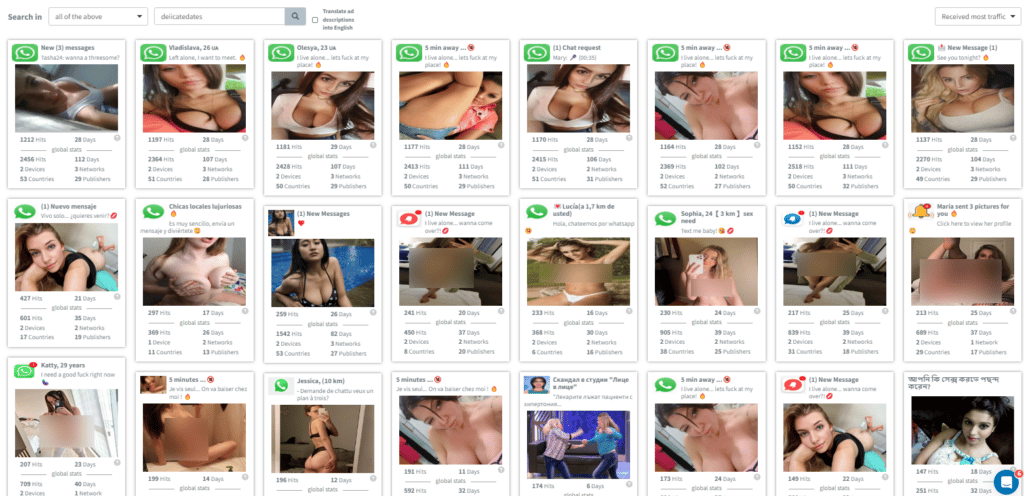 Now what we want to know is which ones are the top performers. So, let's set the date range to 'Last 30 Days'.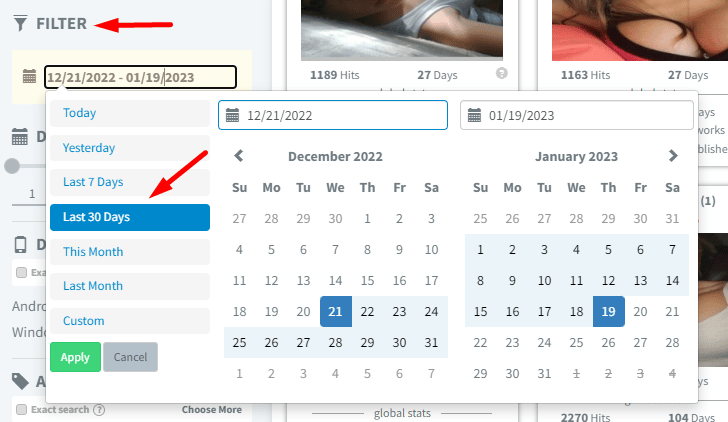 Next, sort the ads by 'Received most traffic'.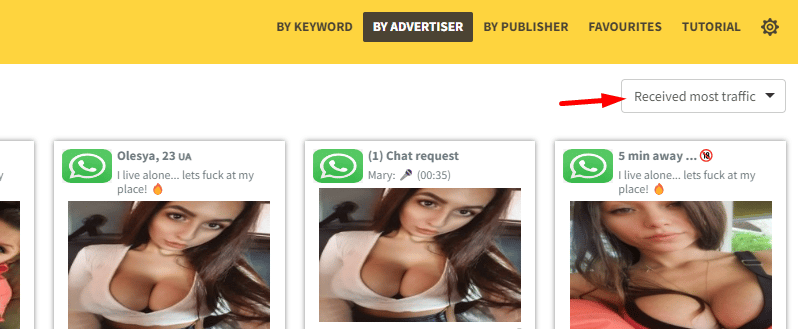 By doing this, Adplexity will sort the ads by which ads or campaigns are doing the most volume for them, or in other words, earning them the most money.
Once you've completed all of these steps, click through the first 5-10 ads that are doing the most volume to see what kinds of ad images, texts, and landers they're using.
Here are some of the top performers right now:
ADS: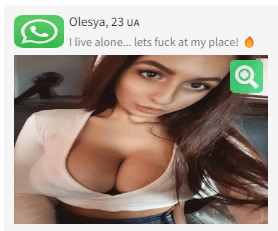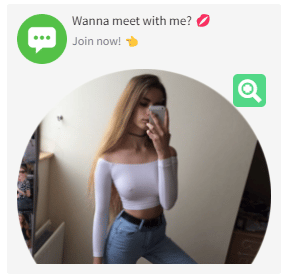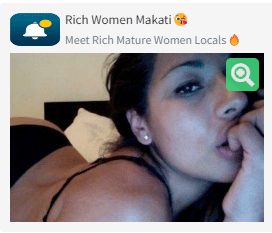 LANDING PAGES: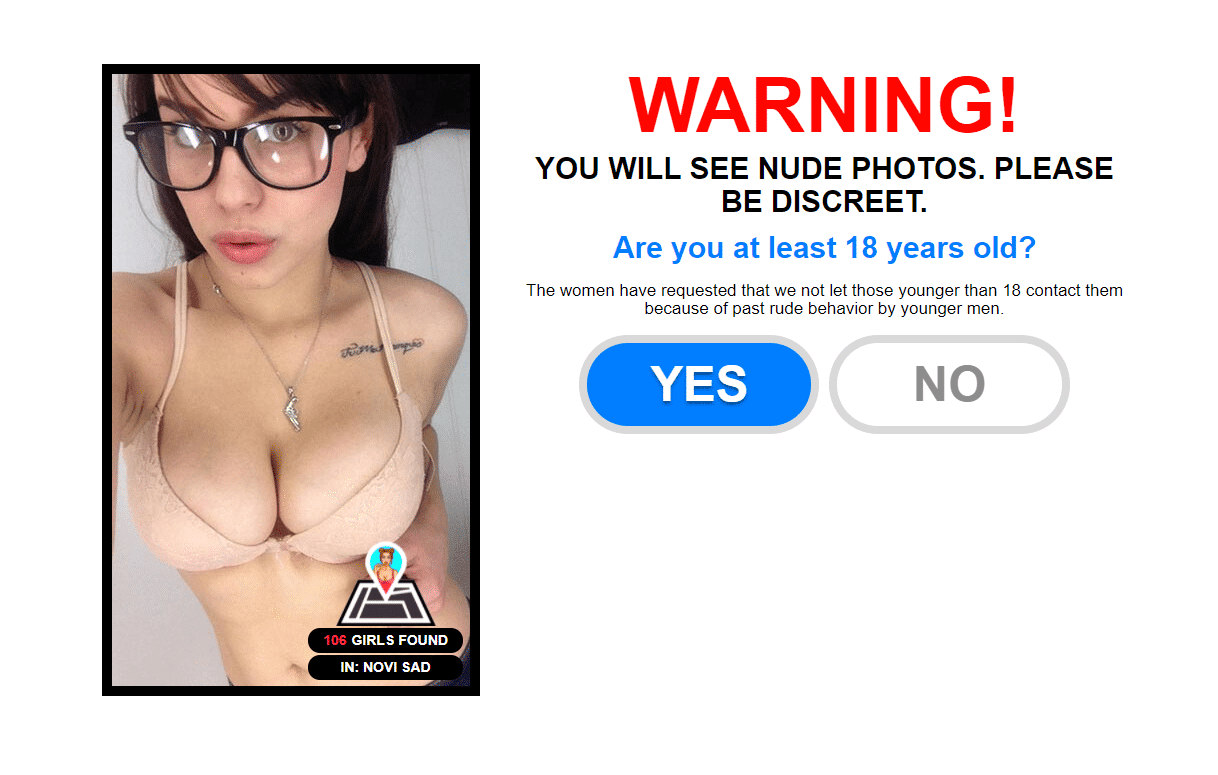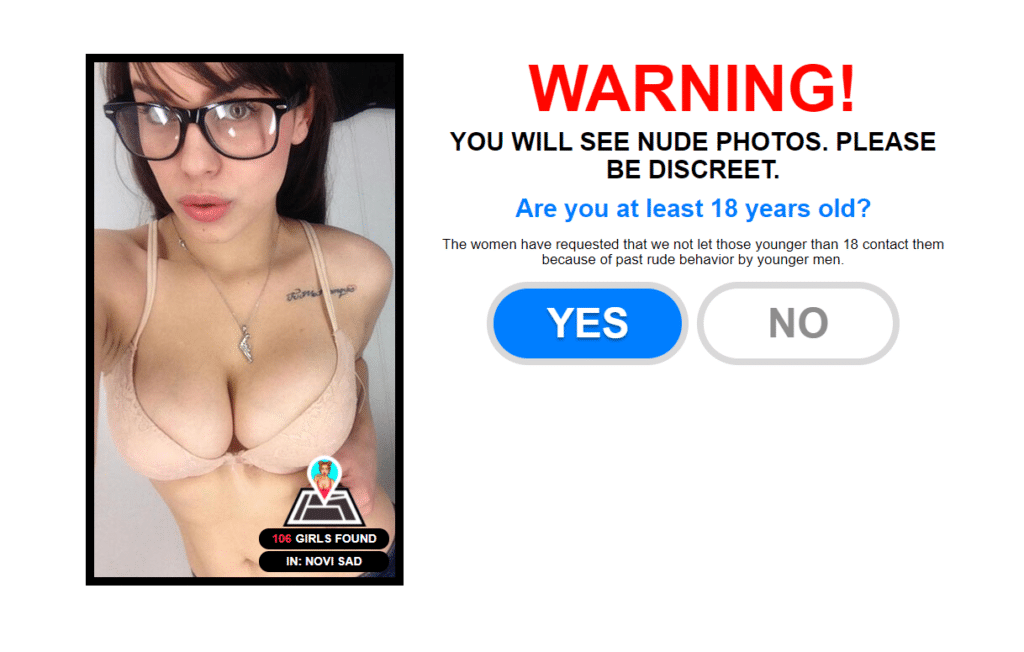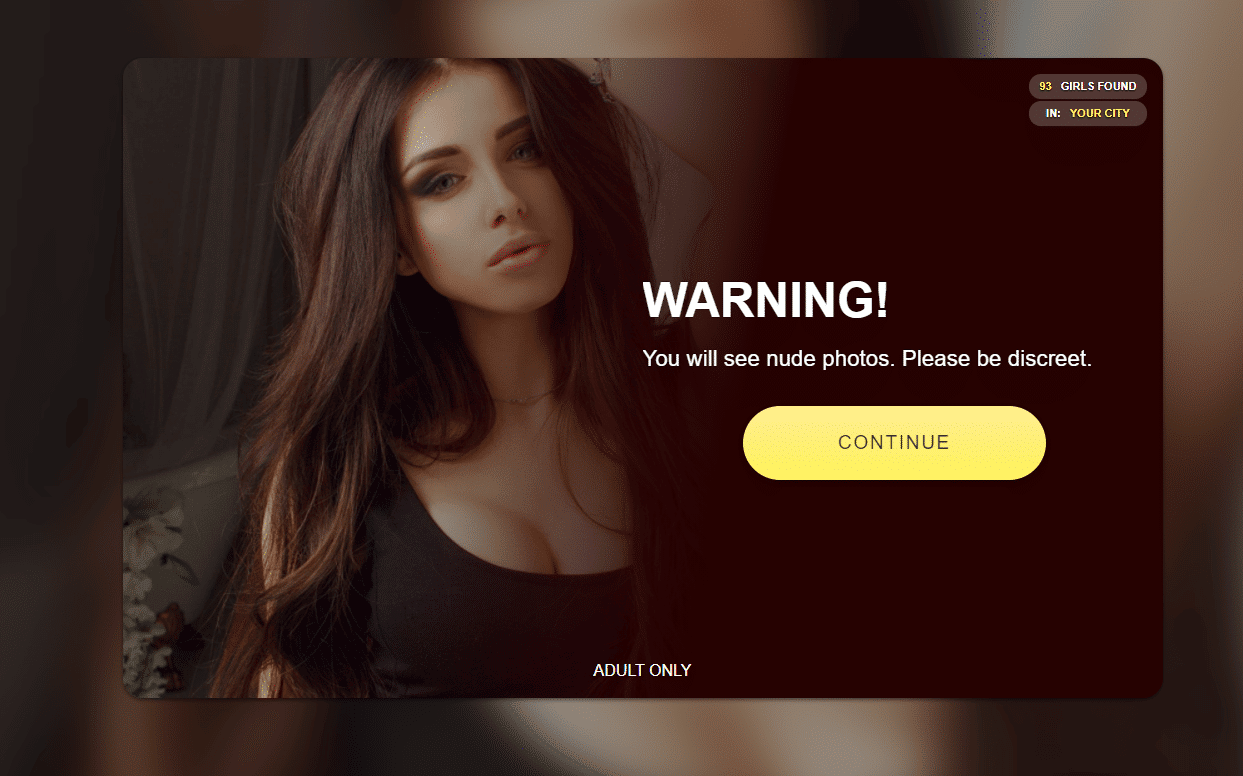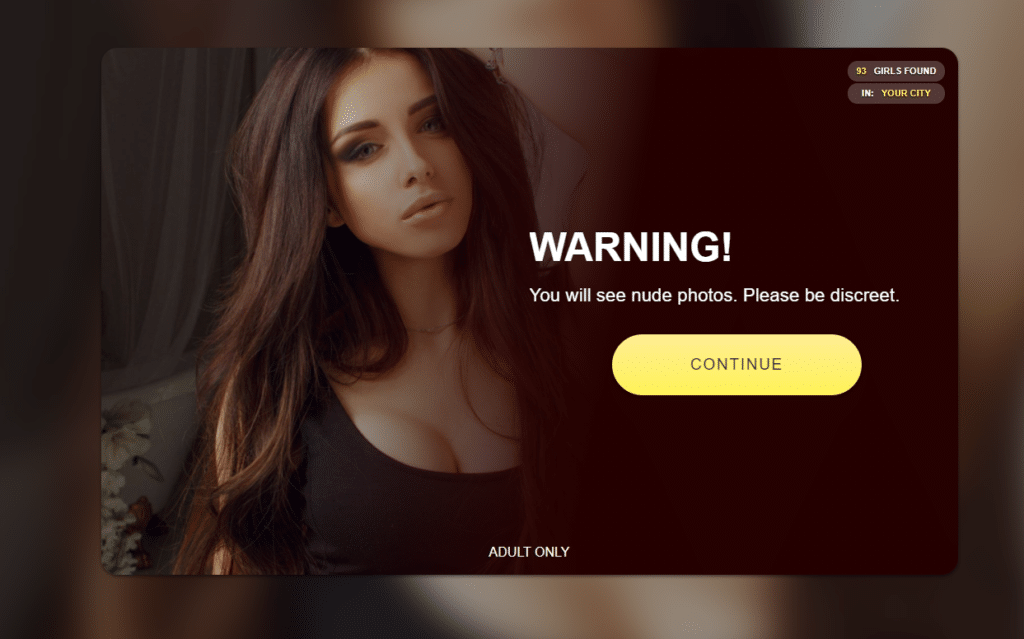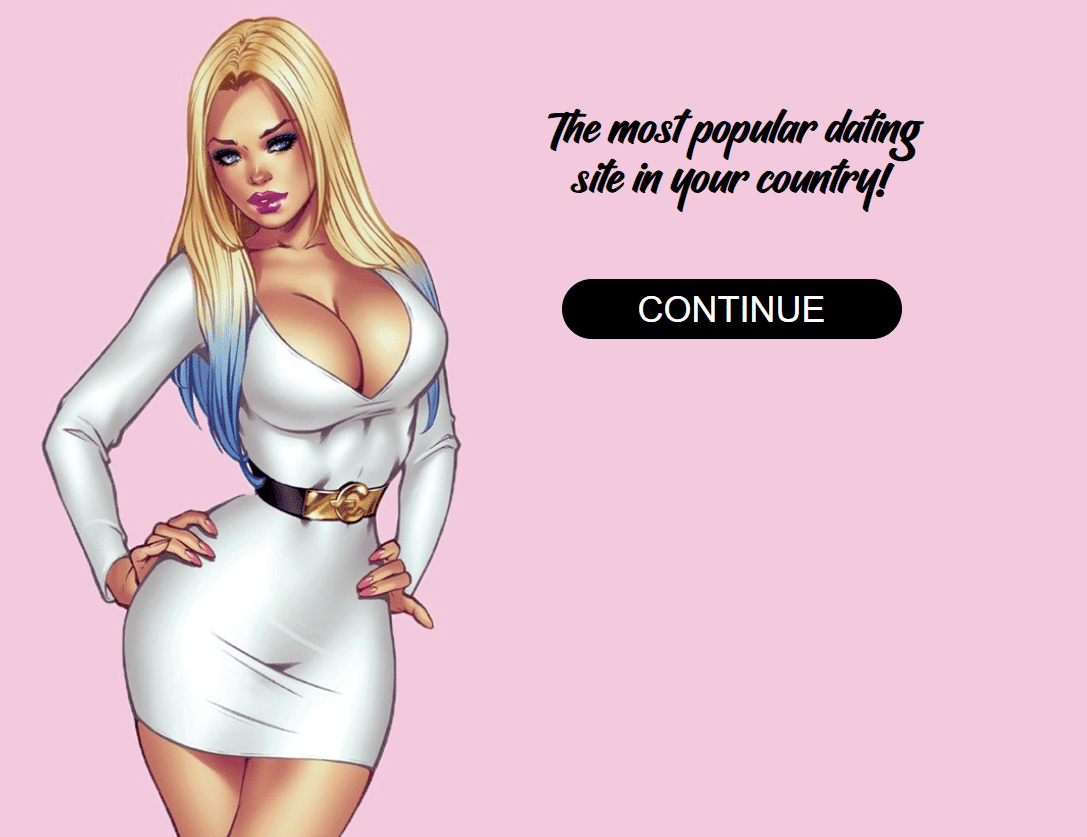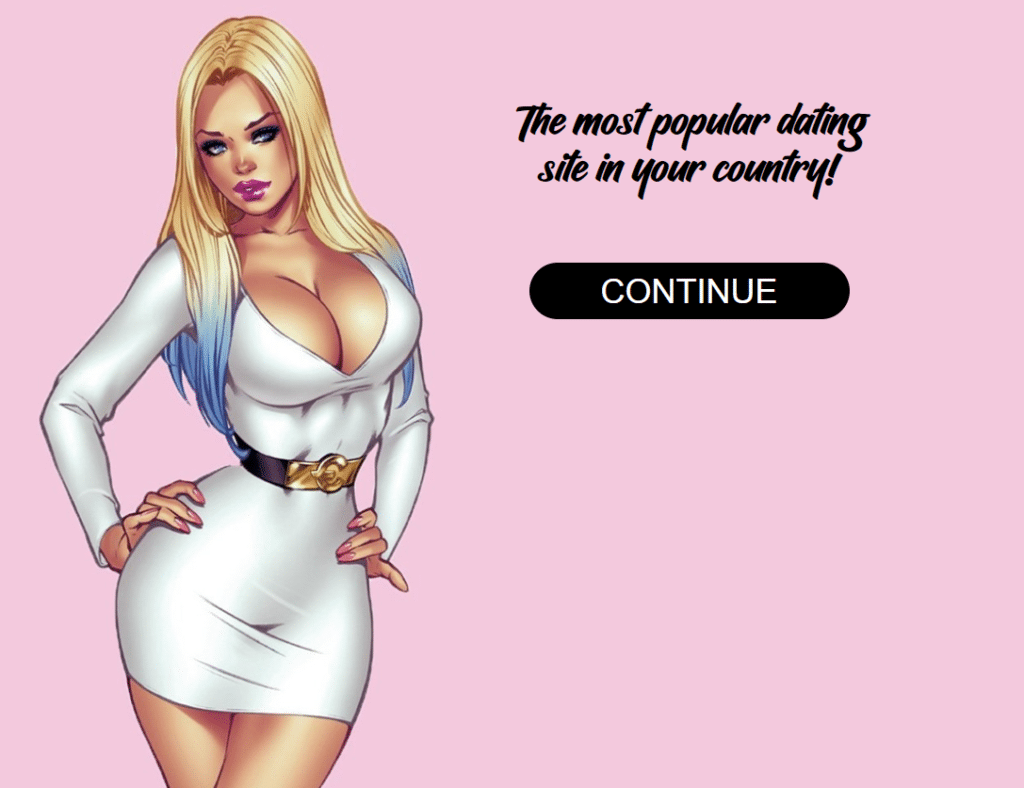 OFFER: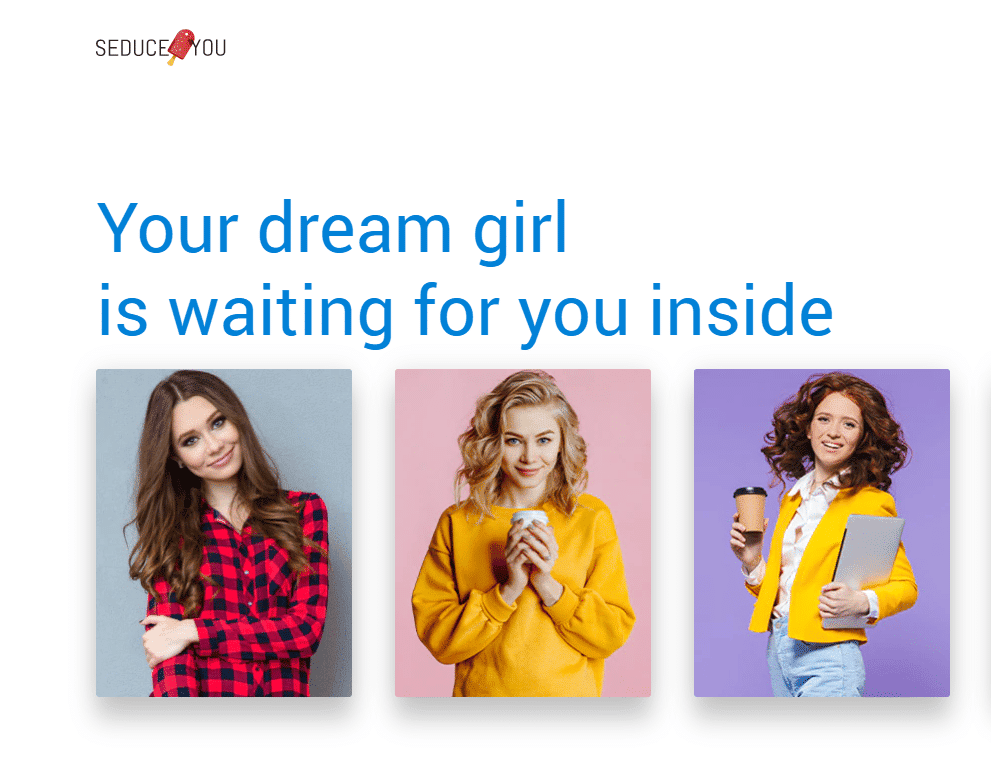 This example was for Seduceyou, which is their #1 top performing offer for English speaking GEOs right now.
Now, let's see a few more examples this time for a German offer.
We'll need to repeat all of the steps above, the only difference is that now we're going to search for one of the German Offer names.
Here are some of the best ads and landing pages for the German offer right now:
ADS: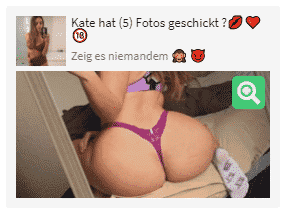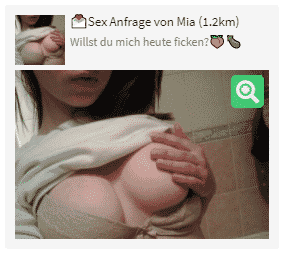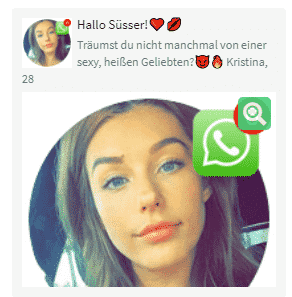 LANDING PAGES: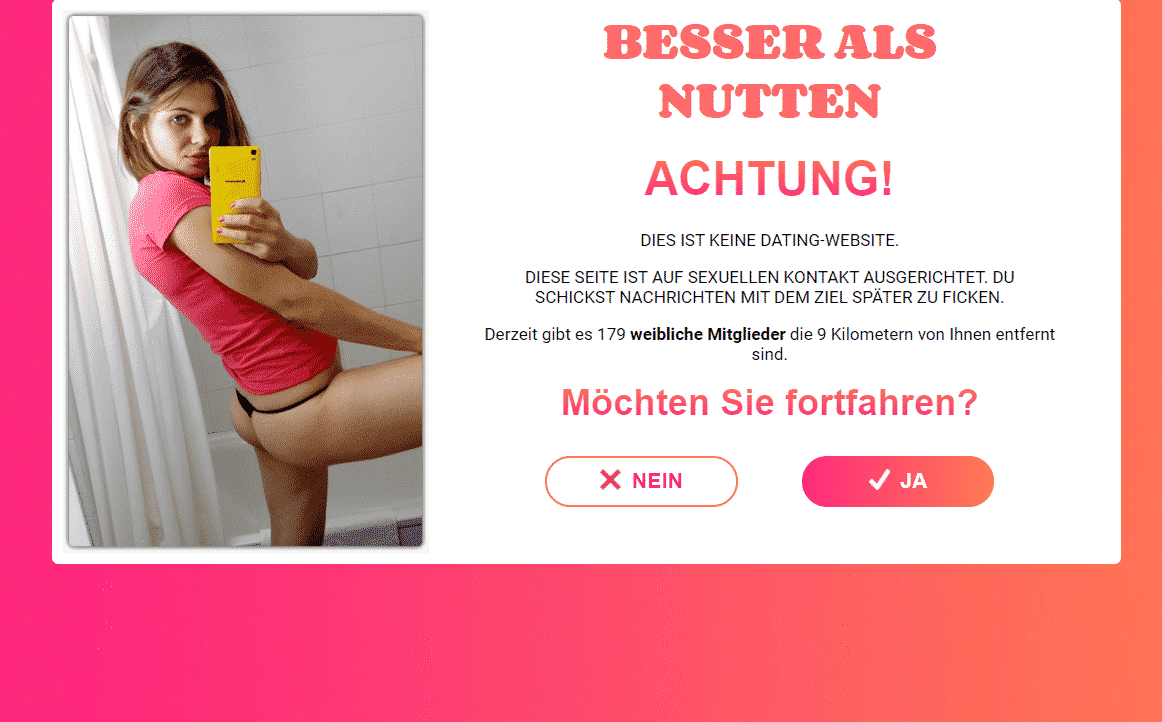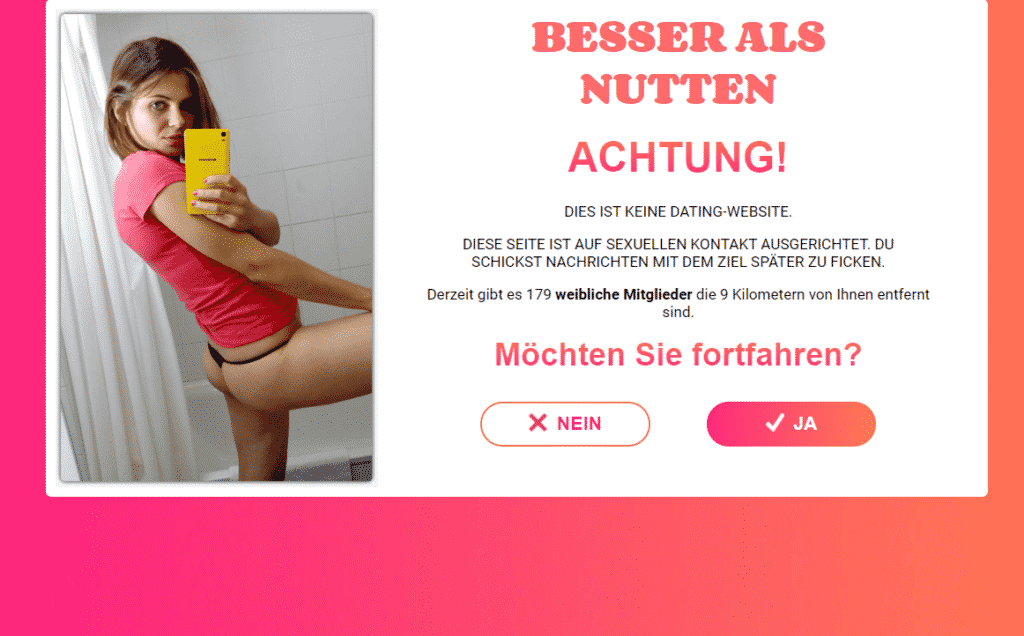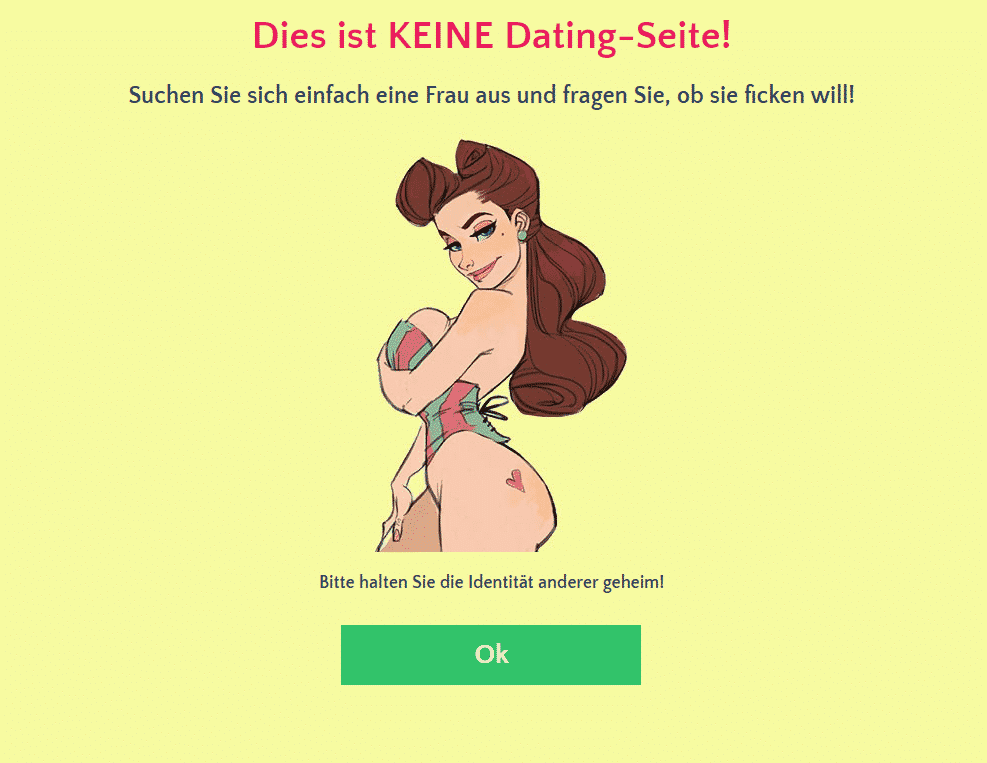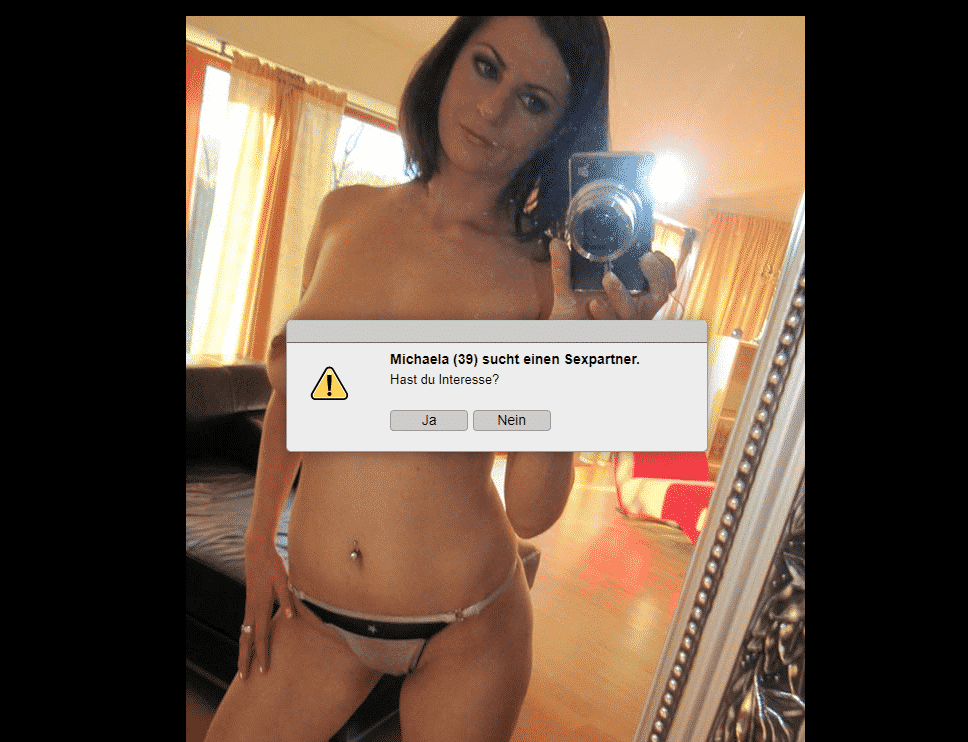 OFFER: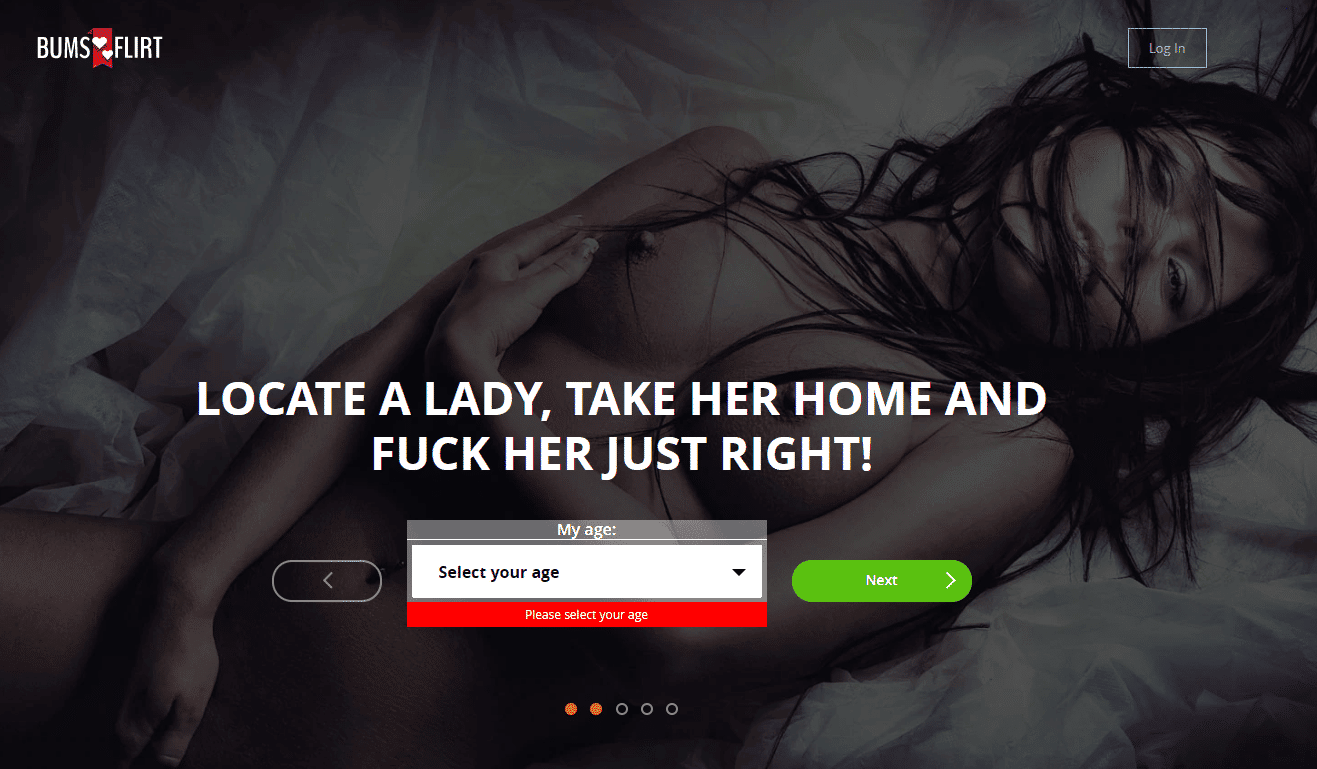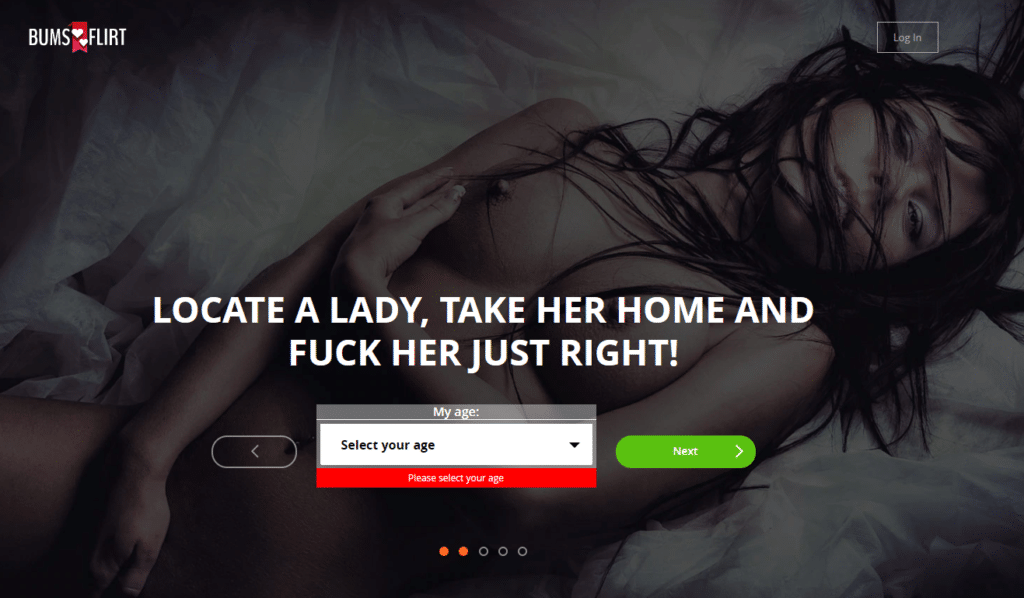 all in all, this is how you can find the top performing Ads and Landing Pages, for any offer on Push traffic sources.
If you want to spy on Adult traffic sources only, I recommend using Adplexity Adult.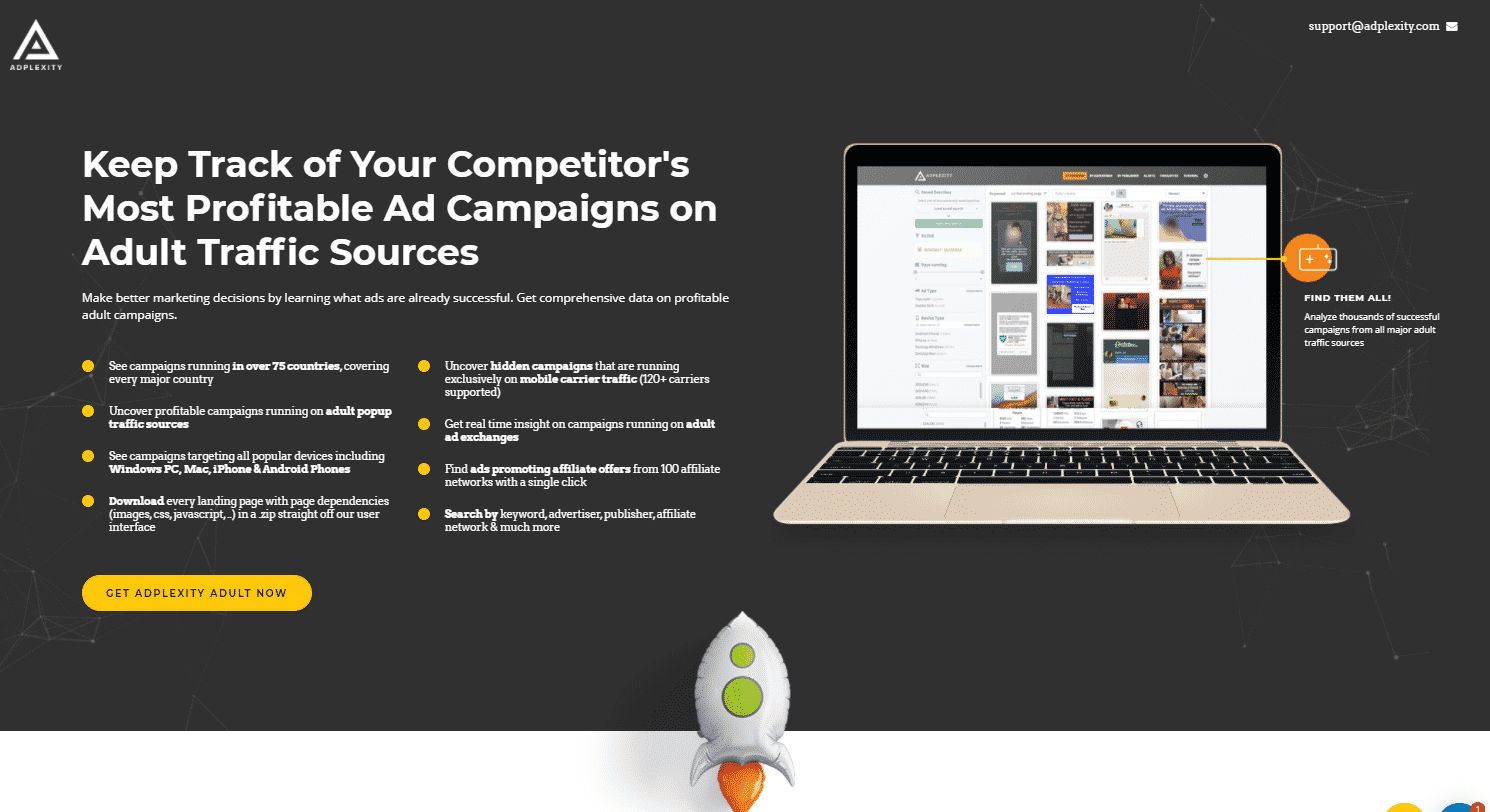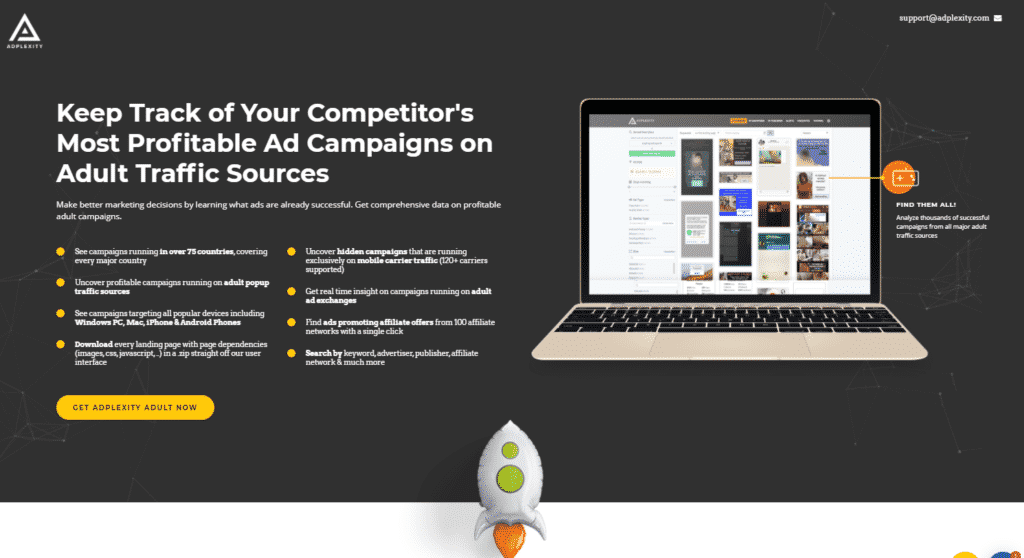 Adplexity Adult works just like any other Adplexity tool, so all you require is the offer name or the offer domain you want to spy on. Then, just follow the same steps we introduced above with Adplexity Push.
I sincerely hope that you've found this detailed overview of how to use the AdPlexity spy tool useful. As mentioned before, spying is crucial in affiliate marketing success. You can save a lot of time and money knowing what works and where. There are other nifty spy tools out there, like MagicAdz for Facebook. However, AdPlexity.com does a fantastic job on Native, Push, Ecom and Display. They also offer carrier spying by providing VPNs that you can utilize to manually spy and observe what kind of ads show up when you access different placements/websites through carrier IPs. A lot of affiliate offers only target carrier specific, as that's the only way they can convert.
I highly encourage you to check out the STM forum if you're new to the affiliate marketing scene. Alternatively, you can join iAmAffiliate premium if you have the basics down and are instead looking for methods that are working best right now. On iAmAffiliate, I can personally help you with spying using AdPlexity, MagicAdz, Adspy or Anstrex. If you have any questions, please leave them in the comments below. Thank you for reading!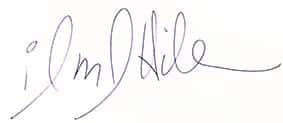 iAmAttila

PS: If you're in need of landing pages, creatives, or complete websites, be sure to check out www.bannerslanders.com

PPS: For translations, I recommend Transey – it's 50% cheaper than OneHourTranslation.

PPPS: If you're a Facebook affiliate, be sure to check out my guide on how to scale winners you've found with Adplexity on FB right here.