If you run any kind of e-commerce ads, whether it's your own store or CPA offers, and you don't use redirect traffic, you are missing out!
Domain Redirect traffic and ecommerce are a perfect match, since both satisfy people's needs, and they get exactly what they want from them.
The main goal of any e-commerce business is to meet customer's demand and motivate visitors to proceed through the sales process, and domain redirect traffic helps advertisers to achieve the same goal.
There is also no better time than the holiday shopping season, which is just around the corner, to take your e-commerce business to the next level with redirect ads.
So if you are serious about making more money with e-commerce, make sure to read this till the end, because I'm going to show you how you can take the advantege of combining e-commerce with domain redirect ads.
Let's get started!
What is Domain Redirect Traffic?
The domain redirect traffic is also known as zero click traffic, and it works by sending traffic from old, outdated or misspelled URLs to offers that advertisers promote, based on the keywords that visitors are searching for.
People often misspell domain names while searching online for things. When the keywords they're searching for match the parked domain URL or the keywords that advertisers are targeting, they will be redirected to the advertiser's offer or landing page.
When a visitor gets redirected, the redirect happens immediately, so the user doesn't even notice they visited a parked domain, which means you will get warm leads.
That's why e-commerce is one of the best verticals for redirect traffic. Just think about it for a second, users that are actively searching for desired products, will be redirected to very similar, or exactly the same products that they are looking for, thanks to keyword targeting.
As a result of that you will reach highly engaged and buying oriented visitors who are ready to make a purchase.
So where can you run these domain redirect campaigns?
When it comes to domain redirects, Zeropark is the best traffic source you can work with.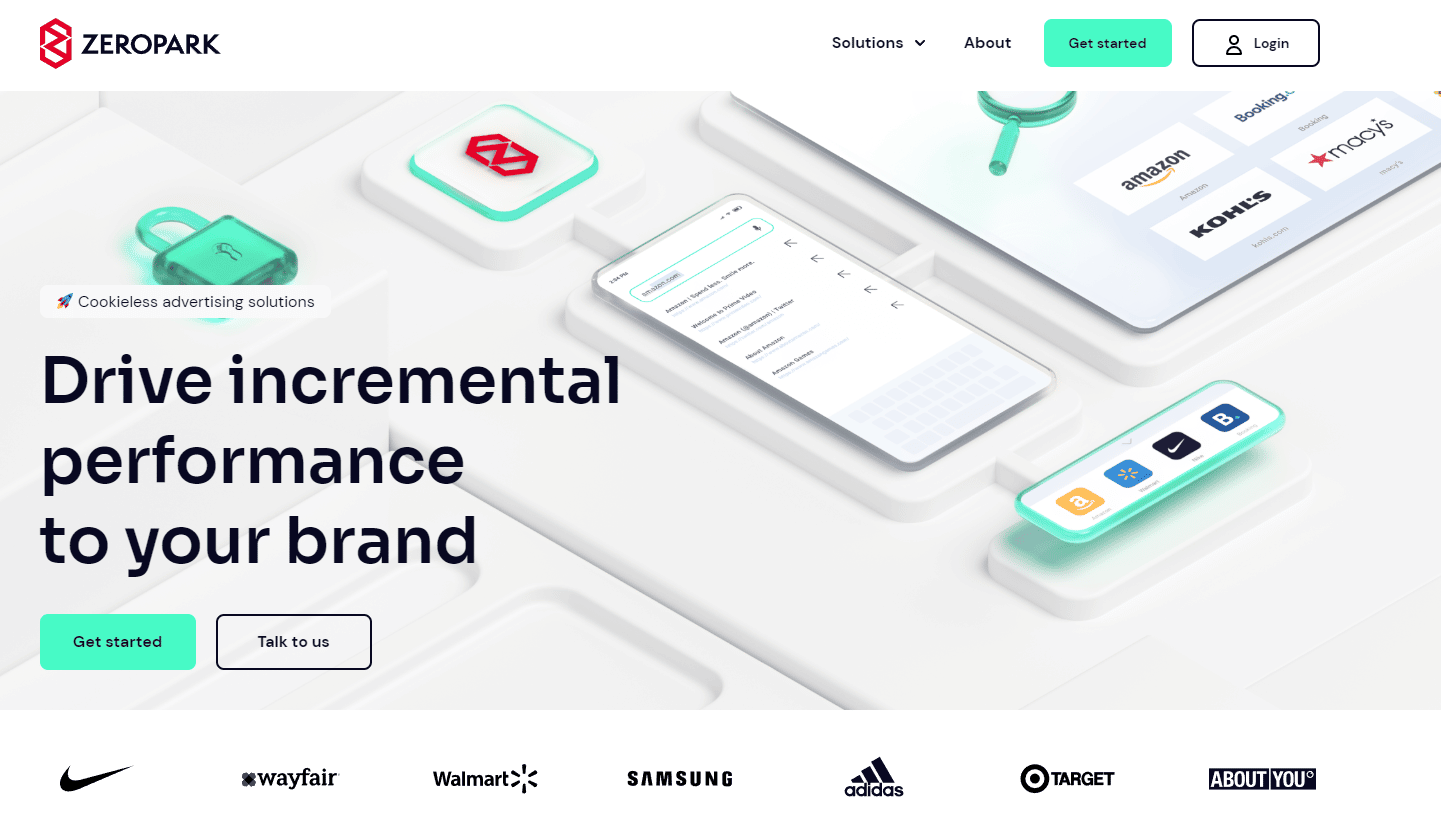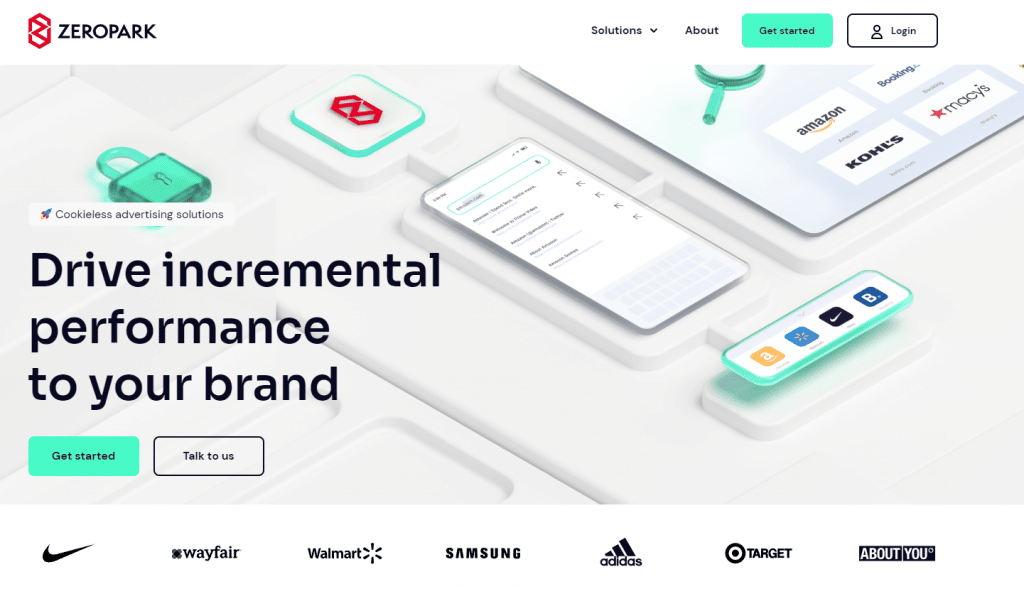 They are specialized in Pop, Push and Redirect traffic, so if you don't want to waste time searching and testing traffic sources you don't know, go with ZeroPark, which is proven to work by many affiliates and advertisers in general.
How To Track Your Campaigns Performance
Tracking your redirect campaigns properly is just as important as with any other ad format. If you are running an e-commerce store with various products, you might have different solutions for tracking, but if you are an affiliate running e-commerce CPA offers, proper tracking setup is mandatory.
When you run redirect campaigns, you need to be able to see which keywords and other granules (device type, OS, etc.) bring conversions so you can optimize for those later.
To track your campaigns properly, you will need a third party tracker. We use Redtrack but you can use any other tracking solution you want, the setup will be pretty much the same.
Once you have your tracker, you need to add a few things to it. First you need to select the Affiliate Network you are working with. Redtrack has pre-built templates for all the major CPA networks so all you need to do is find your network and click add.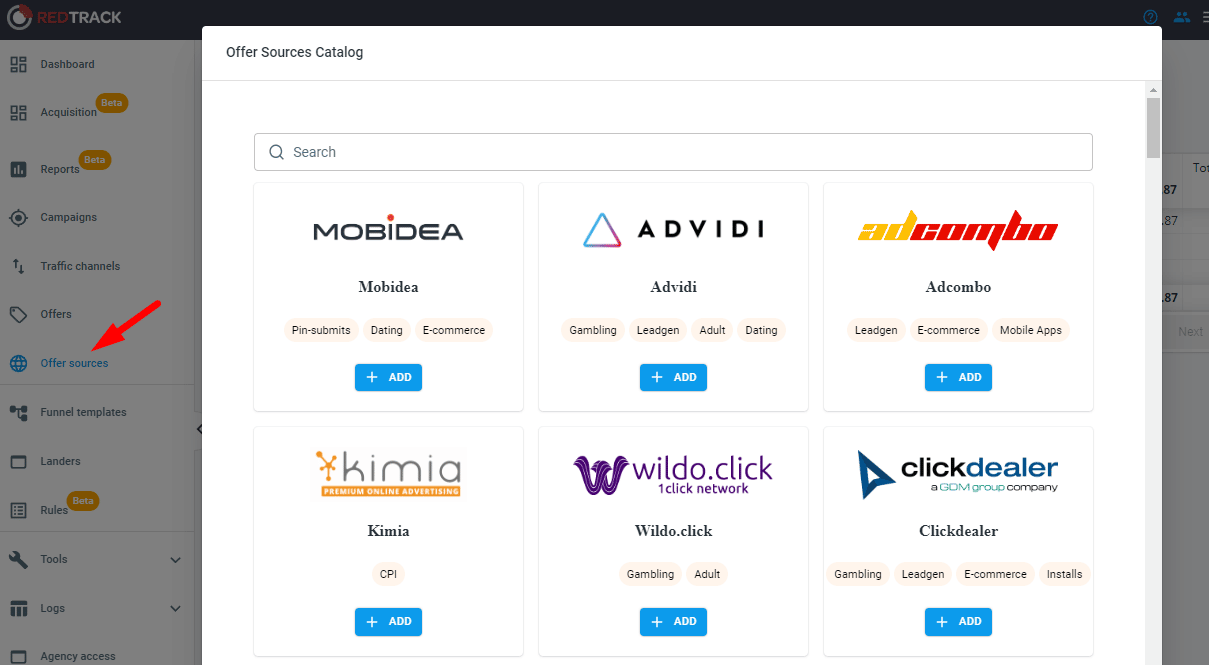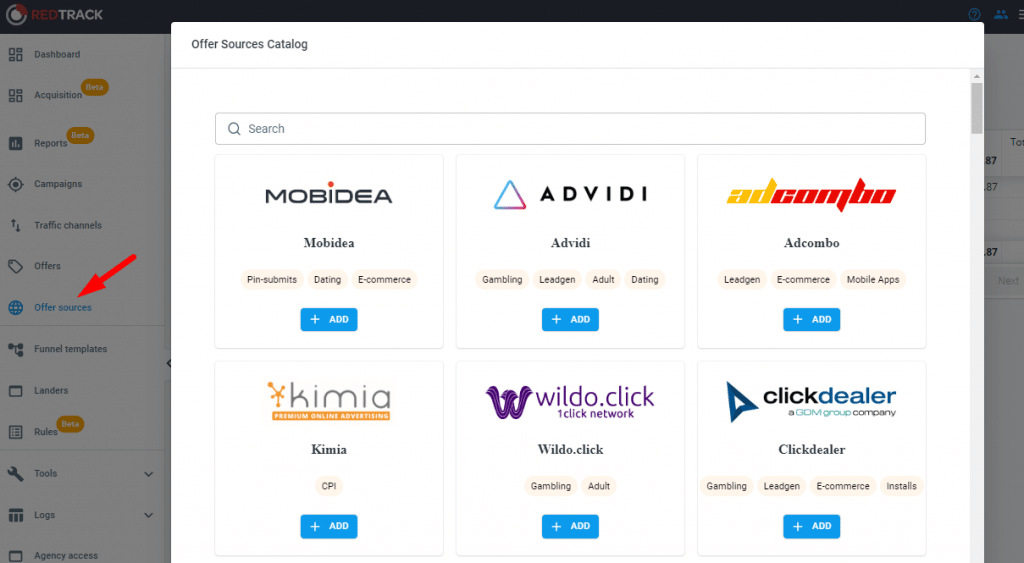 Make sure to set up Postback tracking correctly, you need to place your Redtrack postback URL on the affiliate networks side. If you don't know how to do that, ask your affiliate manager, and they will place it for you.
Next step is adding the offer you promote.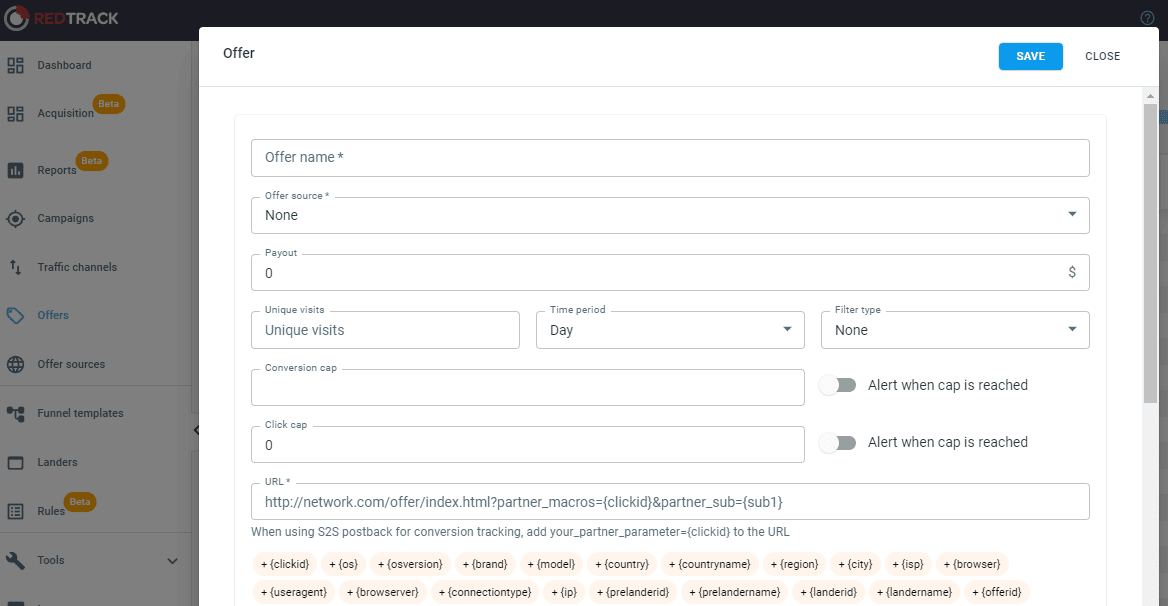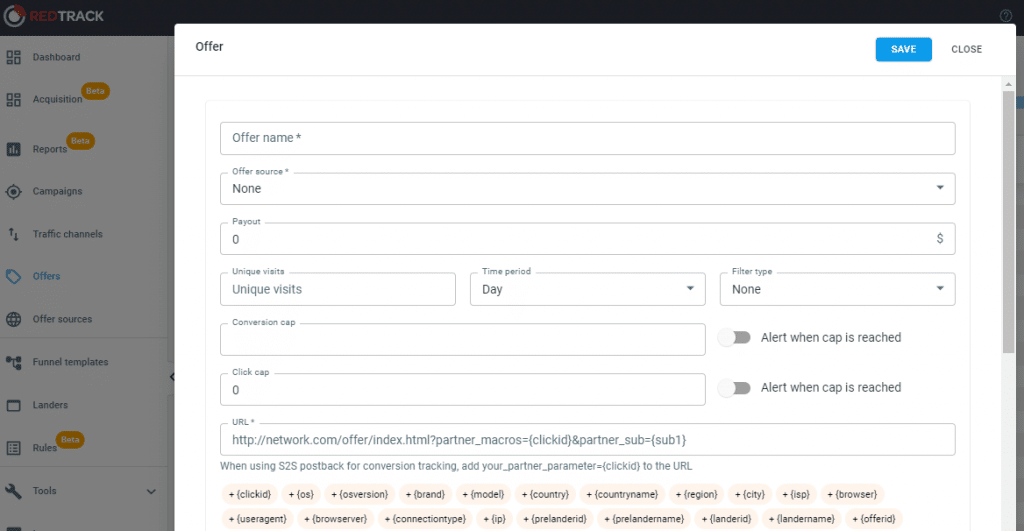 You just name the offer, select the Affiliate network and add your unique offer URL.
Next you need to add your landing page. It's not a must, but in most cases you need a good landing page to grab your visitors attention, since with redirect traffic you don't have ads.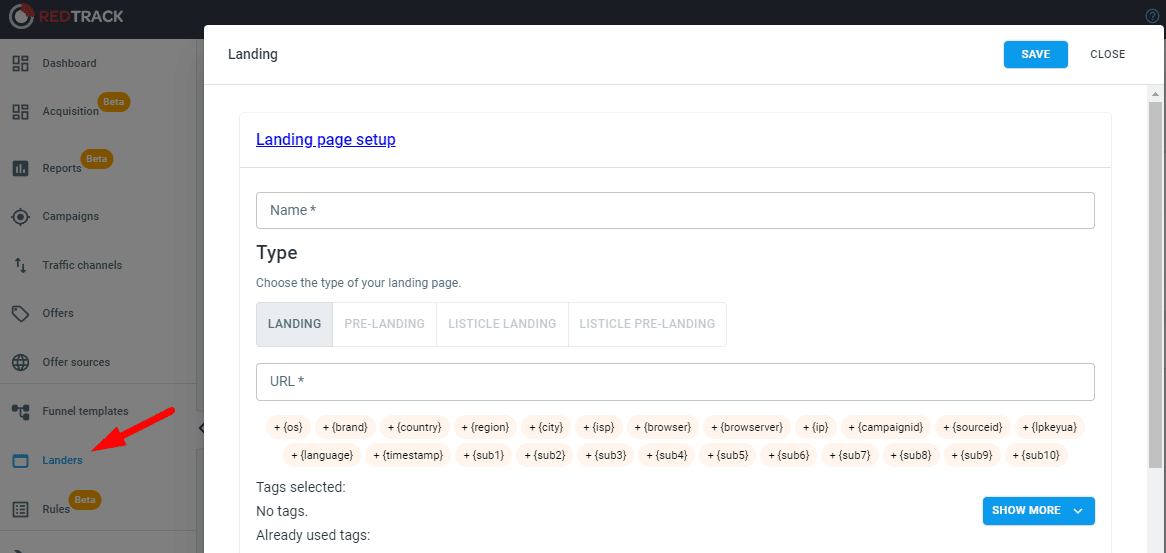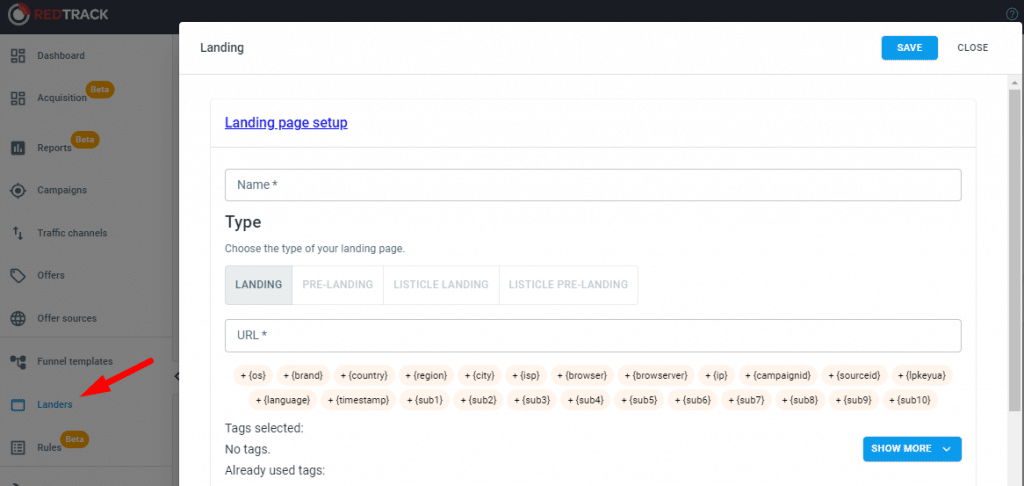 Finally you need to add Zeropark as the traffic channel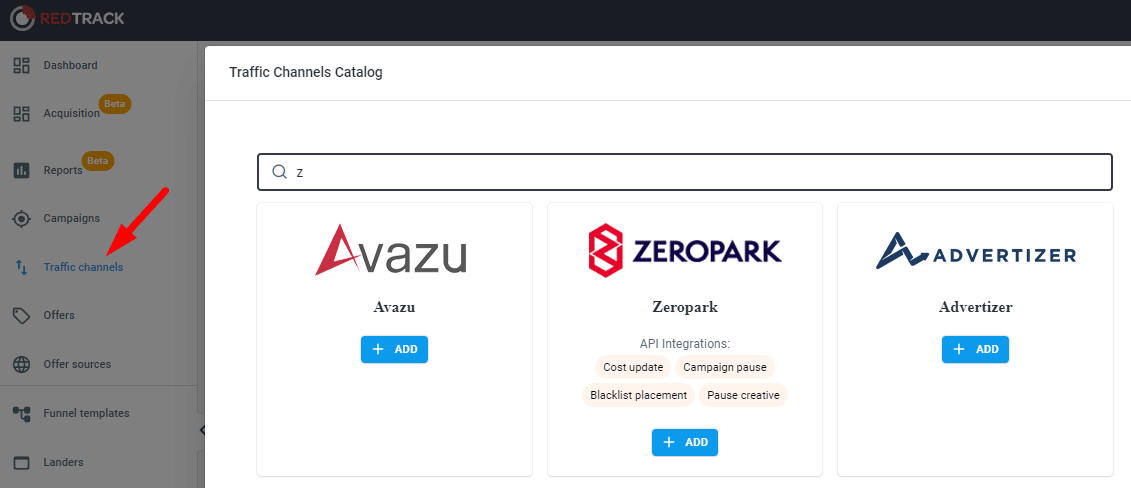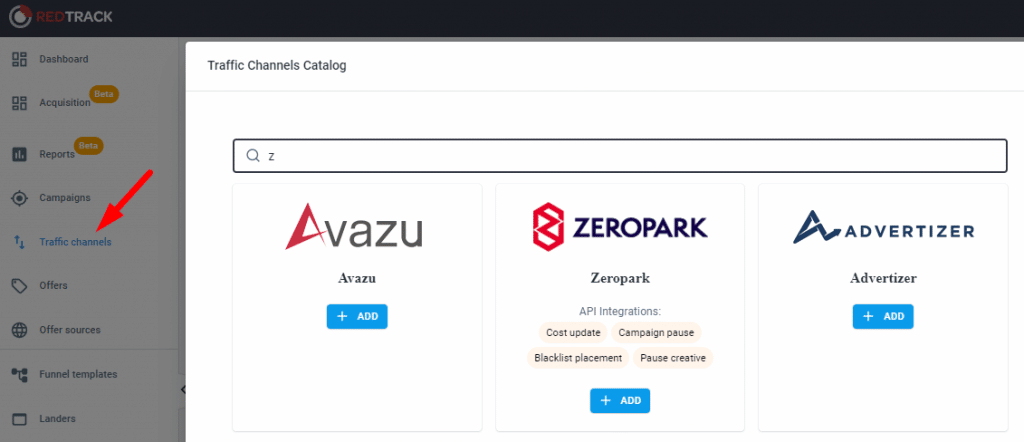 Then you can create your tracking campaign, by selecting your landers and offer.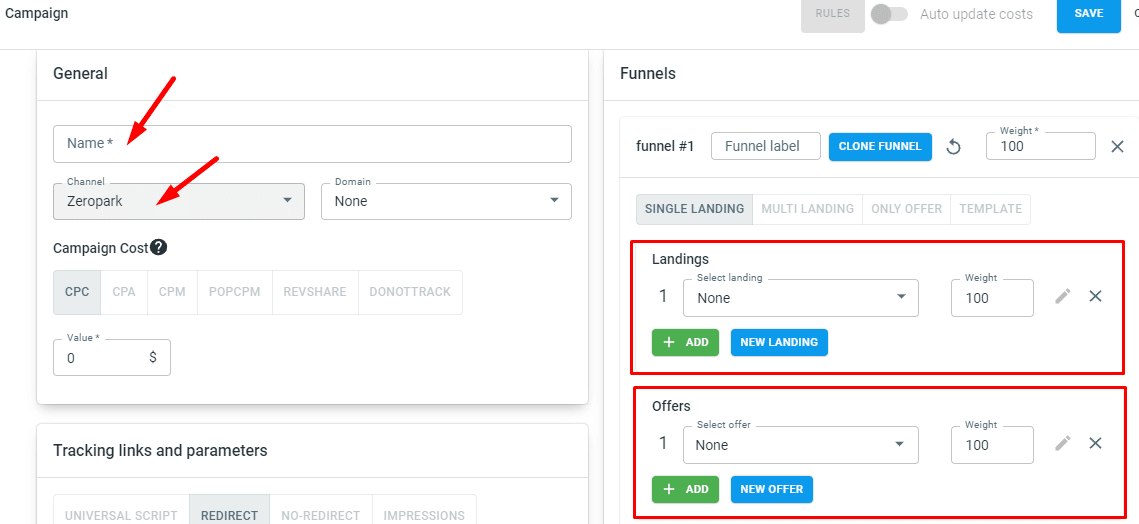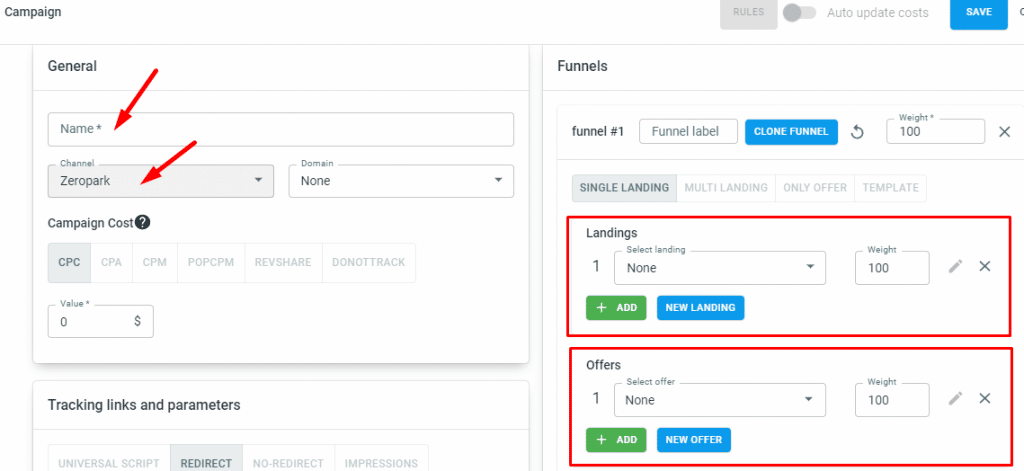 When it's all set, grab your tracking link from the tracking links and parameters section, and you can launch your first Zeropark campaign.

How To Launch a Domain Redirect Campaign on ZeroPark
To get started with setting up your first redirect campaign, click on the new campaign button from your Zeropark dashboard, select Domain as the ad format and type in a name for your campaign.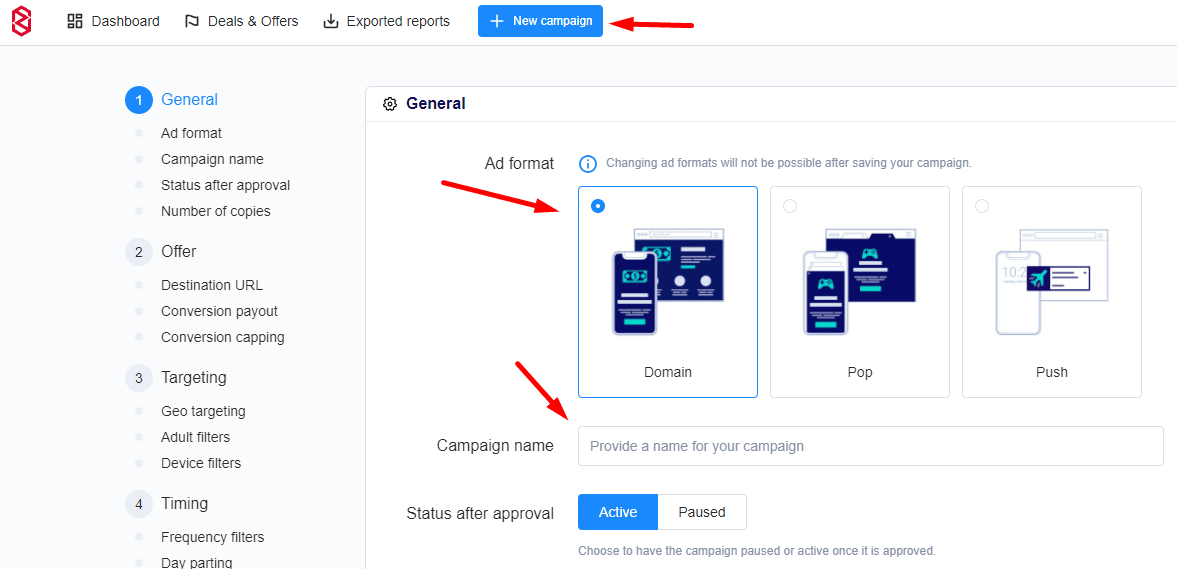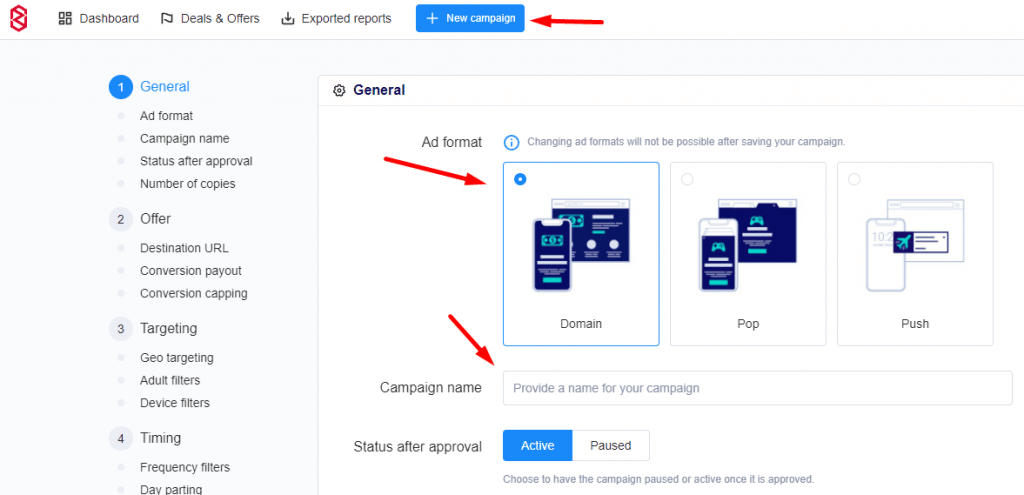 Next, add your Redtrack link as the destination URL, and select auto conversion payout.

The next step is targeting, you need to select your target Geo, select non adult (unless you run adult products) and select your device type. I highly recommend targeting only 1 device type per campaign. If you want to test both Mobile and Desktop, launch 2 separate campaigns.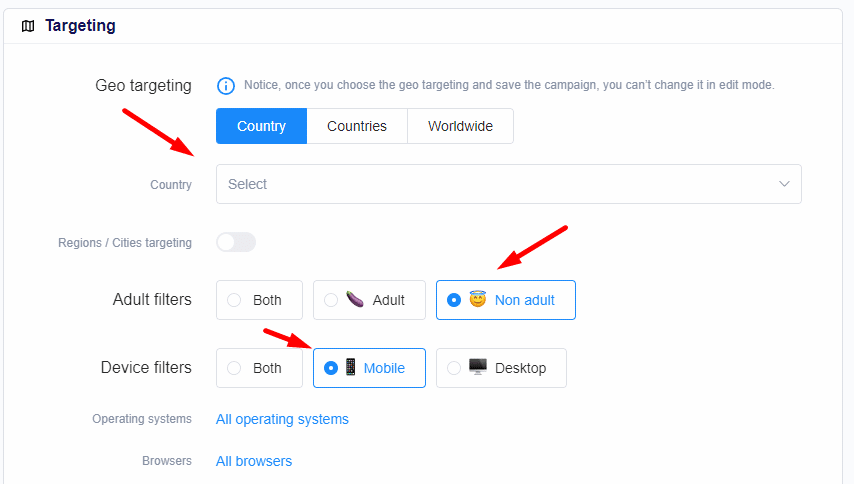 After that you need to choose a campaign type. When it comes to running e-commerce campaigns on redirect traffic, I highly recommend using the keyword targeting method. Basically you need to add keywords that are relevant and matching your product, and when visitors are using those keywords to search a product, they will be redirected to your offer.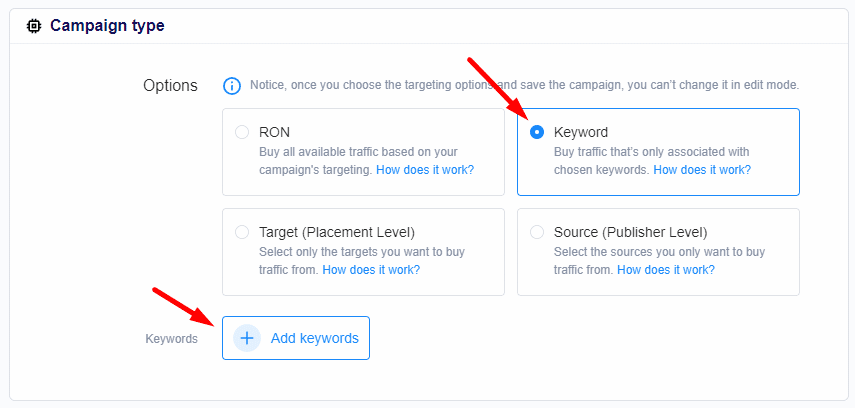 When adding your keywords, make sure you do it correctly. You can target exact match or Broad match keywords.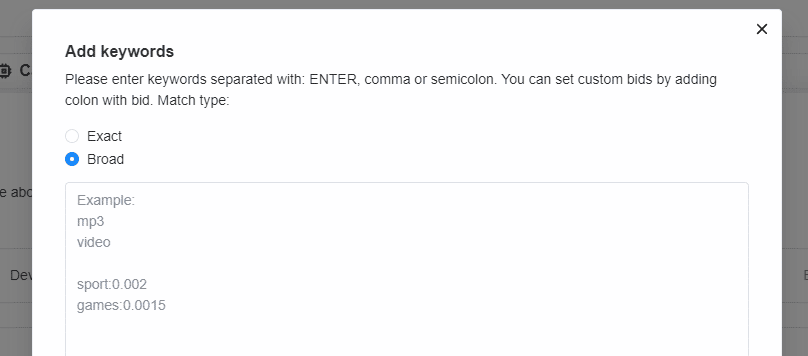 The scope of targeted traffic can be greatly reduced by using Exact keywords, which means that only the exact copy of the given keywords will be used to match the traffic.
Using Broad keywords means that to match the traffic, all versions of the provided keyword will be used. Although the scope can be greatly expanded, this might also result in large amounts of unrelated traffic to your campaigns.
Don't forget about domain misspells. You should use popular domain names that are often misspelled. Include highly searched phrases to bring more relevant traffic.
Next is budgets & bidding. You need to set a bid amount, and your daily budgets.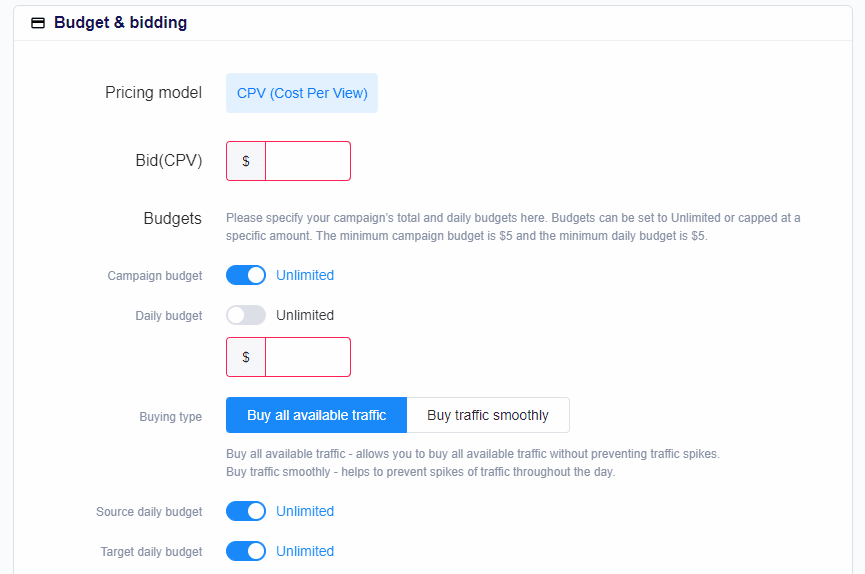 The final step is adding your Zeropark postback URL to your Redtrack campaign, in order to Redtrack pass conversion data to Zeropark. This is mandatory if you want to use auto optimization and other automated tools in Zeropark.
So select your tracking solution, copy the postback from Zeropark and add it to the S2S postback tracking section inside your Redtrack campaign setting.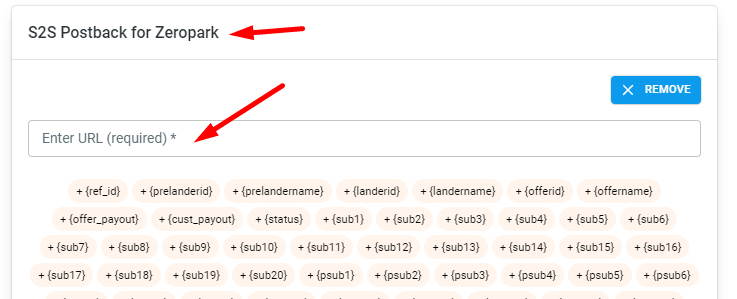 After that you can submit your campaign, and that's pretty much it.
Optimizing and Scaling Redirect Campaigns
Redirect campaigns are just like any other ad format in terms of optimization. You need to tweak your targetings and optimize to make the most profits out of your campaigns. So once you gather enough data to be able to compare variables, you can start optimizing.
Analyze the stats, you can start with the traffic placements (sources, targets). The goal is to get rid of all placements that are spending too much money without bringing conversions. You need to do this regularly, and slowly build a whitelist of your top performing sources that will allow you to scale later.
If you run multiple landers for testing, check the performance on those, and if one is much better than the other, continue using that one only.
With ZeroPark, you can also enable AI-powered solutions for optimizing your campaigns automatically. You can set up rule based optimisation features that allow you to get rid of the bad performing areas automatically.


You can add up to 6 different optimization rules per campaign.
When you find profitable areas (targets, sources, keywords) you need to start working on scaling. Raising the daily budget is the easiest way, but not always the best way, so be careful with raising the budget, do it gradually.
Other than that, create whitelists of your most profitable placements, and then create new campaigns targeting those placements only. This will help you to scale more and faster.
Conclusion
There has never been a better time to take your e-commerce campaigns to the next level. The holiday season is coming, more and more people deciding to move their shopping online, which makes even more sales during the season than ever before!
With domain redirect campaigns you can offer exactly the same products that they are looking for thanks to keyword targeting, and deliver immediately once they start searching.
For best results I highly suggest running your redirect campaigns on ZeroPark, so don't miss the opportunity, create your account, grab your e-commerce offers and start working on your campaigns while the holidays last.