Payment Card Solution for Marketers – A great eCommerce and Performance Marketing Companion – Juni! No monthly costs, low fees! Juni is perfect for affiliate marketers that don't want to overpay for card solutions! Click here to sign up now >>


When I check my inbox, I always get a lot of people asking "Where can I get more cards for my accounts?". Until now we had expensive solutions that cost anywhere from $1500/month plus load fees and card fees. Most affiliates I know that want to run affiliate marketing campaigns don't want these high monthly commitments. They want a pay-as-you-go way to acquire new cards with different bins, for the lowest cost possible. We all know Facebook/Google can be a pain in the ass and that you sometimes need many accounts. Of course, banks are not really happy with this.
Traditional banks are something most affiliates wanting to run marketing campaigns should avoid as they just aren't meant for such work. Scaling anything is quite difficult and expensive and in most cases, they just can't keep up with your business growth. This gets to be an issue very quickly when it comes to card limits. These limits frustrate me. Whenever I am running some campaigns I quickly spend my limit and then I can't continue to work normally. I have to call the bank, explain everything and then eventually cross that new limit as well.
Other card payment providers are expensive, Juni's the affordable alternative!
There are thousands of posts and hundreds of news articles about Facebook being impossible to reach for advertisers. They blatantly just disable ad accounts as they did for a friend of mine, that spent over 7 figures on ads and has many years of history. What can people do when this happens? Sadly, they have to go seek out solutions. These solutions require having access to different payment methods.
In the past, a marketer had to pay anywhere from $1500-3000 per month just for the 'seat' to get access to cards that can be used right away. Now that barrier of entry is gone, with Juni, anyone can get cards issued instantly for a fraction of the cost, on-demand.
As they say, modern problems require modern solutions, and this is where services like Juni come into play. Juni was founded in Sweden a few years ago. They started as a small fintech startup but quickly grew into a powerful performance marketing platform. Their goal is simple, help digital entrepreneurs gain financial power. This might sound ominous but it's really a simple concept. And this simplicity quickly propelled them to success.
What differentiates Juni from other financial solutions is its optimization for digital entrepreneurs as well as their connection with the community. When you think of payment systems and financial stuff, a community is not something you imagine to fit there, but in this case, they proved it as a vital part of the experience.
Juni decided to create an incredible frictionless experience for their customers and help them with scaling campaigns and costs. The way they have done this is by creating a financial companion and credit card solution. This credit card solution even offers a 1% cashback on all eligible Juni card spend. So the more you spend, the more you earn. This financial companion also offers you to get unlimited credit cards and those cards have unlimited spending.
What Is Juni's Financial Companion – Why It's Awesome for Marketers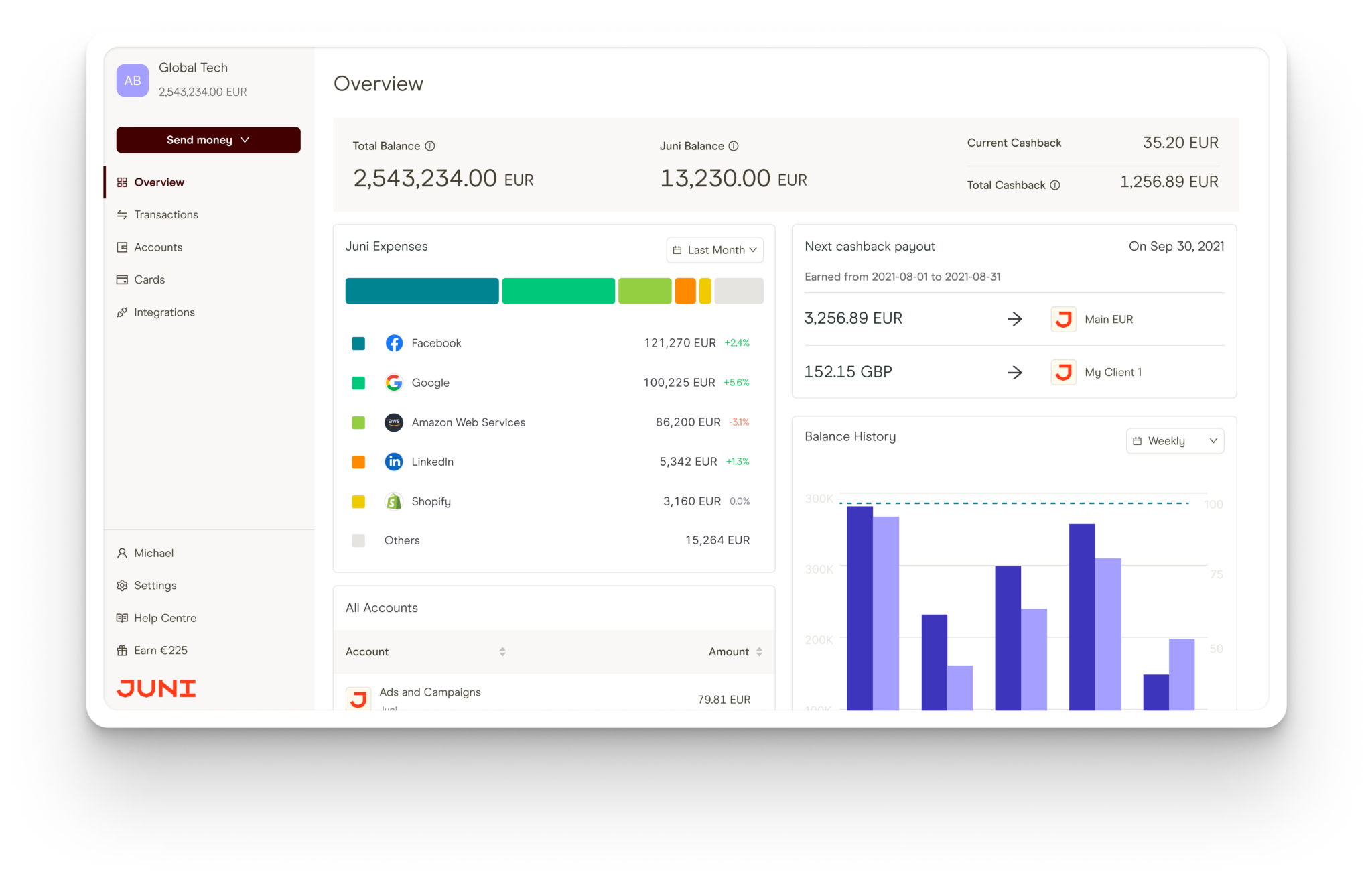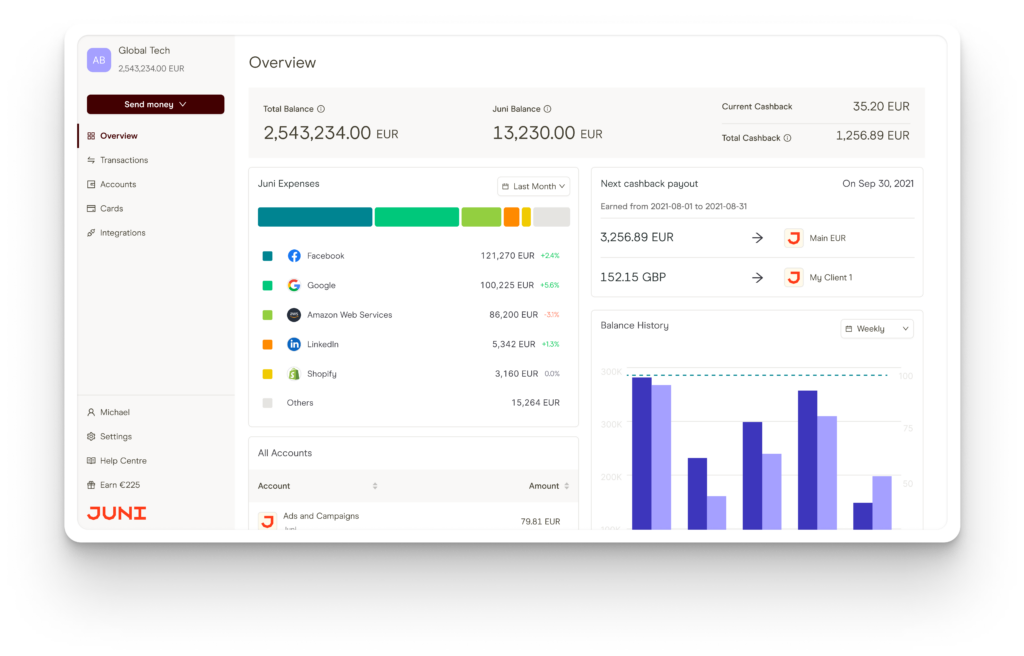 As any successful affiliate knows, keeping track of all of your incomes and spendings through a bunch of accounts can be quite difficult and time-consuming. Often affiliates even have to get people to do this job as it gets too cumbersome for one person. But this doesn't have to be that way. Juni's attempt to solve this is their financial companion app.
The company invested a lot of time and money to create their financial companion and make it as good as possible. The goal behind it was to allow you to connect everything and make things easier to use. This resulted in the possibility of connecting payment processing solutions (Paypal, Stripe, etc), subscriptions, and accounts in the EU and UK. This allows the financial companion to track your incomes and outcomes and give you an overview of your cash flow. In short, it tracks your entire business from one app.
Currently, the companion tracks your earnings and spendings as well as groups your transactions. So you can see exactly how much you are spending on Facebook for example. This method of tidying everything up helps a lot with readability and usability. No longer do you have to track dozens of transactions individually to find the one you need info on. Juni also offers the possibility to download these statements and easily forward them to your accountant for ease of use.
This incredible companion allows marketers to save their time and money. Instead of tracking 20 spreadsheets and 5 bank statements, you can do it all from inside the companion. But this integration doesn't stop with the banks. Juni is currently working on integrating their companion with popular affiliate networks so that the tracing can get even more precise and useful.
Platinum Payment Cards by Juni with Cash Back!
Juni knows about the hardships and issues marketers face when it comes to credit cards and banks. The idea behind the whole company came from the frustration dealing with this. They managed to create custom-tailored cards that are optimized for digital marketers.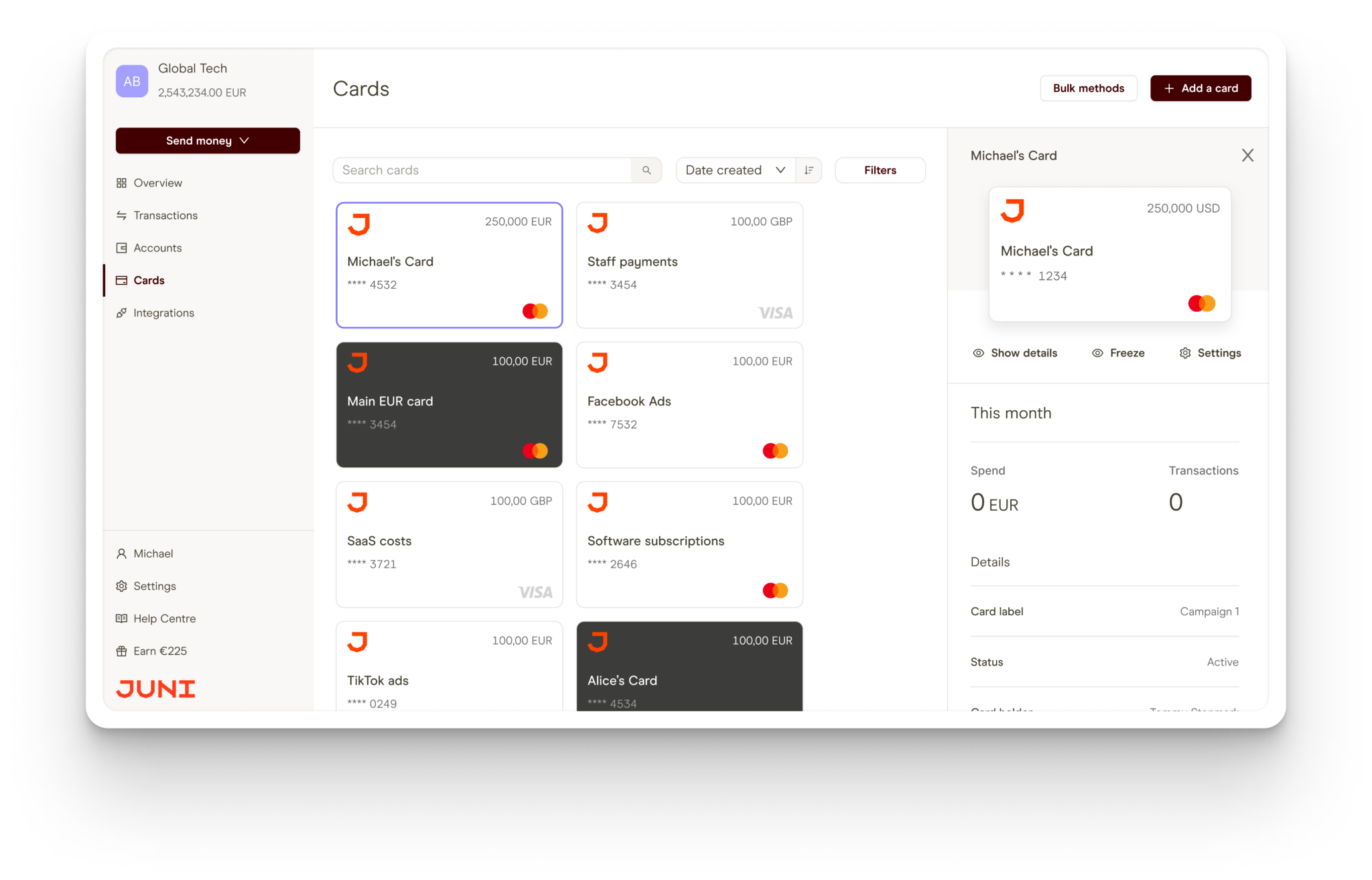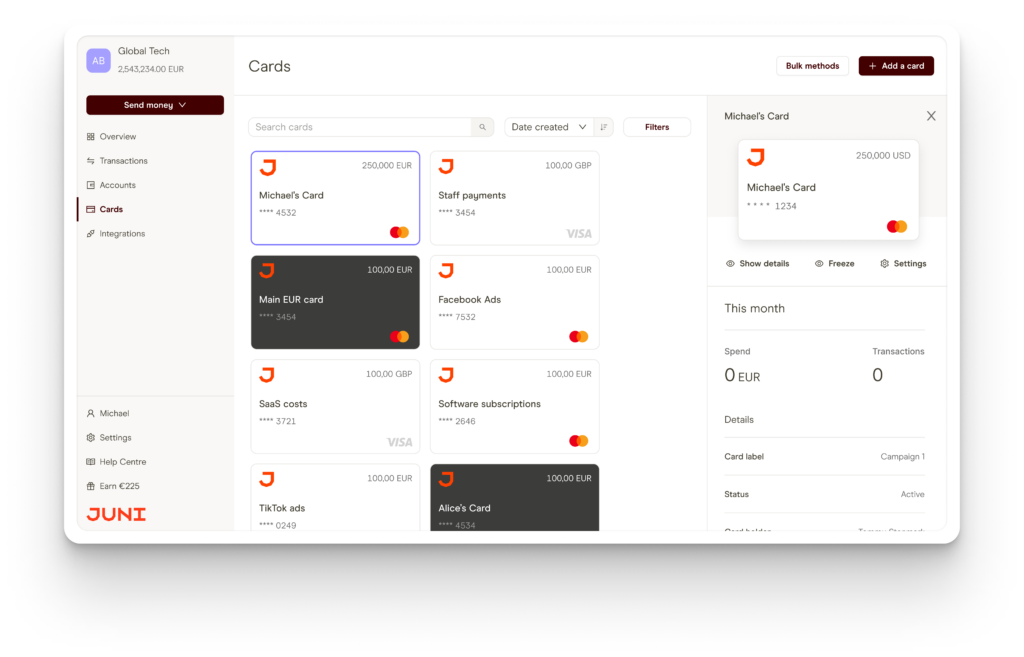 Juni cards thus have some features that are suited specifically for digital marketers.
1% cashback on all eligible Juni card spend (for our American readers, this is VERY rare in Europe)
High spending limits
Variety of currencies (EUR, GBP USD)
Unlimited Virtual Platinum cards
With these partnerships and cards, Juni made sure that media buyers, affiliate marketers, and other digital marketers don't get burned again by the banks. And they stand behind their product. Internally, their team uses their cards exclusively for media buying and other marketing purposes. For those affiliates that prefer the classic card in hand, they will start shipping physical cards as well at the end of this month.
What Else Does Juni Card Payment Solution Offer?
Juni knows how banks suck at customer service. They understand that when it comes to money, customers need to get help right away. This is why Juni gives every client a personal AM just like with CPA Networks that is designated to them, and who they can call for anything they need or want. This system makes it quick and simple to get help without waiting.
Juni also has a great relationship with business tools for digital marketing like Shopify or WooCommerce. Because of their good relationship, they can offer some incredible perks and discounts for some services and plugins on those platforms. So if you are a Juni user, you can save even more money.
I believe that Juni online payment card companies are the future of eCommerce and performance marketing.
Traditional banks are super slow to change and it seems like they lack the motivation to do so anyway. This is where such financial services like Juni can be a real game-changer. Currently, if you would like to try out Juni, it is available in the UK and EEA. They plan on expanding their services to other continents as well, so if you aren't from the EU, follow them to know when they launch overseas.
If you are interested in checking out Juni, click on the green button below and be sure to use iAmAttila as your referral to get fast approval and skip the wait!

What are payment cards?
Payment cards are used by internet marketers to fund paid ads (PPC) campaigns to buy targeted visitors to their product or services pages.
Why do I need multiple cards?
Affiliate Marketers need multiple payment cards in order to organize and divide their ad campaigns into different ad accounts. Each ad account needs its own, unique card so reporting can be crystal clear for clients.
AdMediaCards, and similar services charge $1500 per month and more JUST to sign up. Does Juni?
No There's no silly monthly fees with JUNI, this is why it's one of the most affordable card solutions out there for marketers.
How Many Cards Can I Have In My Account?
With a starter account you can cycle through 100 active cards at the same time. That's enough for most affiliate marketers.
What Does It Cost To Use My JUNI Account?
Absolutely nothing! There is no cost for having a Juni account, for creating cards, adding integrations, downloading statements, for making payments or receiving payments from your Juni account!