Everyone has heard of TikTok. It's a giant video-focused social media platform. Its millions of global users spend, on average, almost an hour a day on the network. This is great news for advertisers who aim to reach a wide audience and expand their brand or service. I also use TikTok as a platform of choice for my business.
The ultimate TikTok ads scaling hacks
When doing TikTok ads scaling, at first, things can get confusing. There are many buttons to click, fields to fill in, and numbers to look at. Admittedly, there is a lot of room for experimenting, but some things always apply. I will share with you my affiliate marketing expertise in the form of these 12 short tips.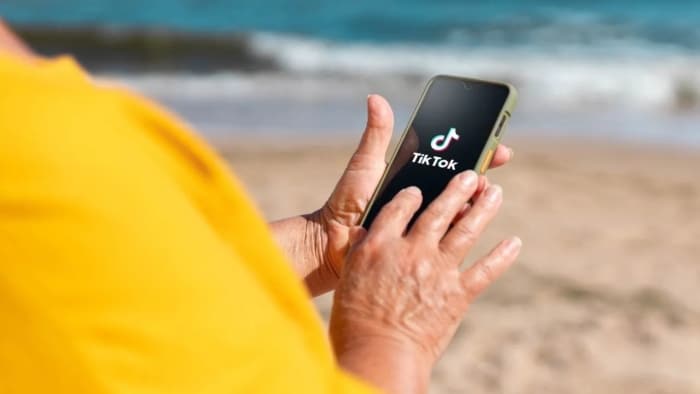 1. Don't increase the budget mindlessly
Most people make the mistake of trying to brute-force a campaign to work and simply increase the budget indiscriminately. While increasing the budget is the main way to achieve TikTok ads scaling, it should be done with caution.
If the advertisements group spends roughly 80–90% of the daily budget, you should progressively increase the daily budget by 30–50% and continue to monitor the ads group's spending level. This allows you to test your campaign further and identify the best-performing audiences.
Increase your budgets at a slower pace and ensure that the ads spend and deliver properly. If you go too aggressive too soon you might end up with a huge hole in your pocket!
2. Enable targeting expansion
Enabling this feature and setting it to expand on interest essentially gives TikTok's algorithm freedom to see what kind of people make the lion's share of conversions. If they share a common interest that you're not currently targeting, TikTok will automatically expand to aim for people with that interest too. This will lead to more conversions in the long term.
Target expansions usually work with audiences, gender, age groups, or interests. You can target any of them or all of them depending on what works the best for your campaigns. If you target things too broad you run the risk of sending ads to people that aren't really interested in your offers.
3. CPA and CPM are important, but not everything
In a perfect world, you get an ad group that has a very high CTR (click-through-rate) and very low CPA (cost per action). Ideally, you want to scale them up while still keeping CPA low. However, in reality, that's rarely the case, and if an ad group spends a suspiciously low amount of money that can signal an issue.
When running anything on TikTok, or any platform for that matter, you should pay attention to metrics like CPA, CPM, CPC, and other and always optimize for the best results. You can also set up specific automated rules that trigger when things aren't going according to plan. (We covered this in an article before!)
4. TikTok's prediction system takes time
It takes a certain amount of conversion before the platform can optimize and predict conversions well. When calculating your budget, make sure you leave enough room for at least 50 conversions. You should also strive for at least 25 conversions every week at the very least. These benchmarks will allow you to get the most out of TikTok's auction advertisements technology, which can forecast future conversions.
As usual, the more testing you do the better data you will have. Don't worry if you don't get the desired results right from the start, it takes time and money, and you should accept that as part of the business. Just stay consistent and always try to optimize what you can.
5. Don't limit your audience too much
Don't make the mistake of focusing on a too specific group of people. It can be very counterproductive. It will only decrease your odds of finding a good audience. Instead, try grouping your audience into broader categories. That way you will capture much more potential customers.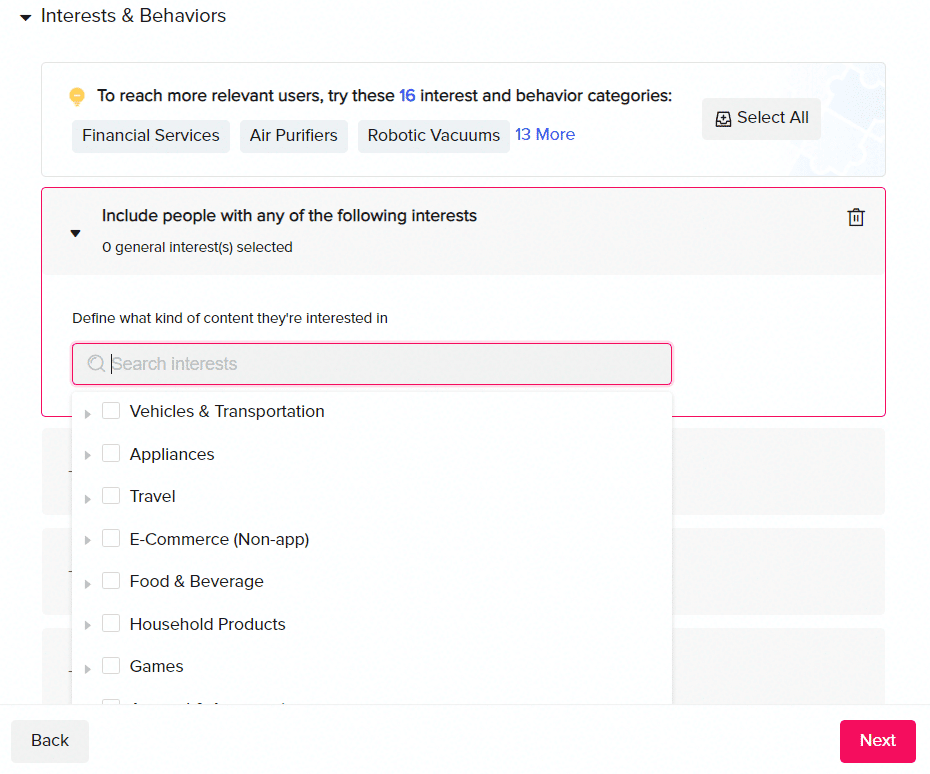 The other can also be said for targeting too broad. You can easily spend money on targeting people that aren't your real audience and get 0 sales and 0 useful data. Probably the best tactic is to target narrow and then let TikTok expand your audience through its algorithm.
6. Split your campaign into segments that would share a similar bid
If you've previously tested your campaign on a larger audience and received 50 conversions, you'll have a better notion of how to stretch your budget further. This is the moment to partition your audience into different groups. Because audience groups may have varied conversion values, you can divide your campaign into parts with similar bids.
This is all a part of optimizing your campaigns as you will quickly see what is working and what isn't. The more data you have the better choices you can make, and segmenting campaigns is a great way to gain valuable information.
7. Don't make changes to your campaign too often
Changing your ads every day can have detrimental consequences on the success of your project. Not only does it take a lot of effort to refresh things that often, but it also confuses the TikTok algorithm. If you have an ad group that's failing hard, it's not very likely a refresh will change enough to make it worth it anyway. For successful ads, sometimes not changing anything at all is the better solution.
If a campaign is going awfully, sometimes it's better just to just make a new campaign and start over. TikTok's algorithms work in mysterious ways and sometimes they can give you bad results if you decide to make drastic changes.
8. Refresh creatives to stay relevant
I always emphasize the importance of fresh content. Since trends on TikTok are rapidly changing, staying relevant without some effort is impossible. If you see an ad that was earning money but suddenly loses its momentum, this is the likely reason. A good rule of thumb is to refresh creatives once every week or two. Of course, if an ad is making insane amounts of money don't change anything while it's working.
You can also find new and unique creative ideas by trying Spy Tools. With them, you can find popular and unique approaches to advertising that you wouldn't think of yourself. Use them to improve your campaigns and make the most out of them.
9. Match your campaign objective with your business objective
The auction advertising on TikTok makes it simple and quick to discover the proper bidding objective on the site. Choose sales as a campaign aim if you want to increase sales. The auction advertisements system on TikTok will strive to locate the impressions that will provide you with the most clicks for your money.
Sometimes you will have to change things manually if you see the need to. But if everything is set up correctly the automated system should do most of the work for you.
10. Run campaigns on other TikTok platforms
TikTok recommends that you not only run ads on TikTok, but also on its TikTok For Business network of surfaces that encompass Helo, Pangle, BuzzVideo, Babe, and more. By doing that you can reach a wider audience and expand your business that way.
For some campaigns, these other platforms work perfectly, and you can see some incredible results on them. But for some, they are just awful. TikTok does automatically control the placements, but that is something you will have to double-check every now and then. don't be afraid to cut advertising on other platforms if they aren't working out.
11. Hire influencers
Because TikTok is such a fast-paced platform, content quickly becomes stale. Working with influencers to create user-generated content is critical if you want to ensure you have a large number of creatives to test per ads cycle.
If you aren't sure how to best find influencers, you can ask on iAmAffiliate for people that have experience with them. Somebody should be able to help you find good influencers for the least amount of money.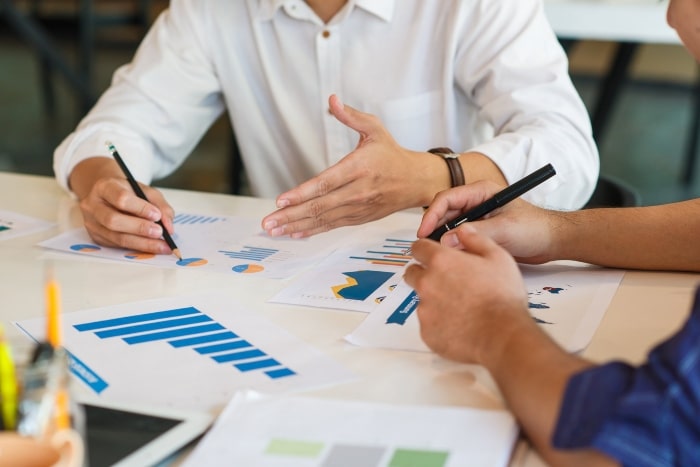 Conclusion
As you can see, many nuances make or brake TikTok ads scaling operation. Keep in mind these 12 tips on how to scale TikTok ads for your next business endeavor on the biggest social media platform of today and start making real money.
I personally love using TikTok since it offers me the opportunity to advertise in a way that was possible with Facebook in the golden days. If you know what you are doing you can make some serious cash running these campaigns. Since TikTok isn't as strictly regulated as other older platforms, you can do things that you have no chance of doing on other platforms, so use that to your advantage!
For more information about TikTok, affiliate marketing, and anything else hop to our premium forum iAmAffiliate. There you'll find everything you need to make a successful career in the industry and start making huge profits!