Back in 2018 I've reviewed Binom for the first time. It was on of the best trackers on the market in general and definitely the best self-hosted tracker, you can check my previous review here >>

Now, I want to give it an update, and check what's new with Binom.
It was version 1.12 back in December of 2018 and now it is 2020 and version 1.14 was released. I've counted SEVENTY-SIX feature updates in their changelog, but will outline only those 10 that are really caught my fancy

So, let's take a closer look to some of the new features that were added:
0. Multithreading algorithms, increased speed and stability

Back in 2018 Binom already was one of the fastest trackers on the market. You can run now up to 10-15M clicks per day on one server. Damn, that is quite a number
1. Landing ripper – Landing copy feature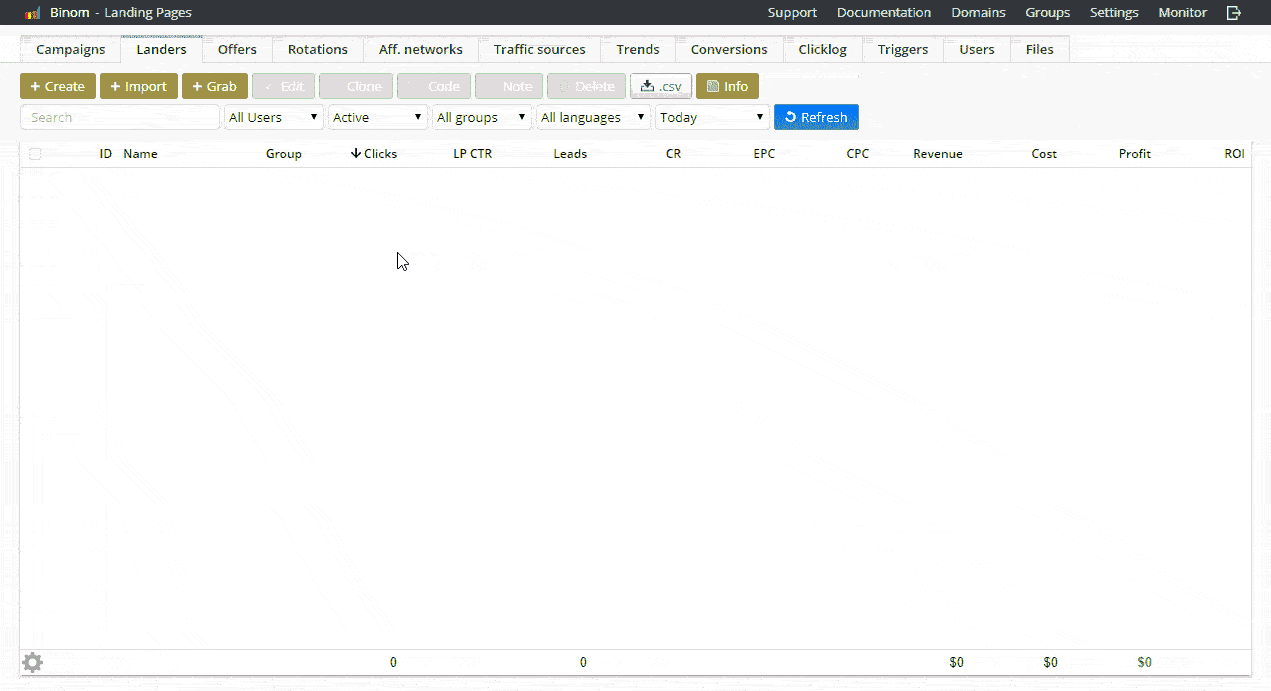 Well, this feature is pretty self-explanatory. You see a landing page you like – just take its URL and paste it in your tracker – you will see this landing downloaded. Done, now you can use it. If you have a tricky landing that simply doesn't want to be grabbed – write to Binom support about it, they actually helped me with one to grab.


2. SFTP Landing Editor
I always used FileZilla, would have to upload/download landers to make changes but now you can conveniently edit landing that you've grabbed right from inside the tracker without having to use a 3rd party tool.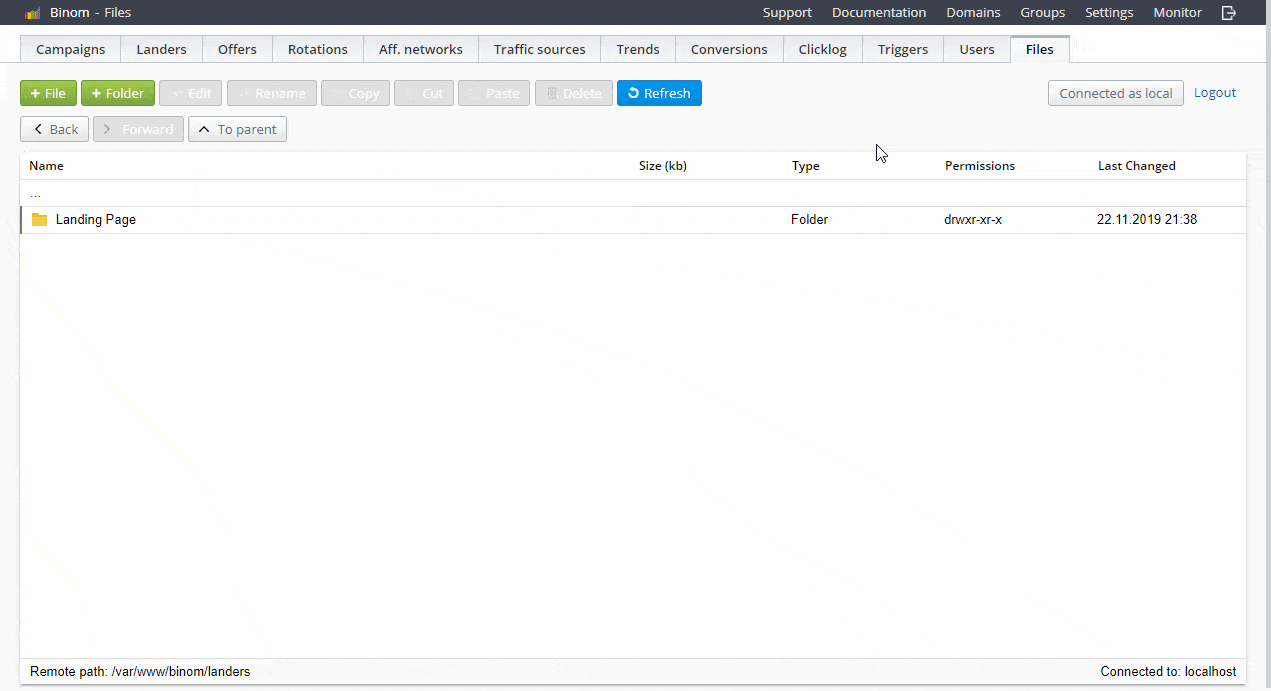 3. Integrations
I was pleasantly surprised that Binom released deep integration with Traffic Sources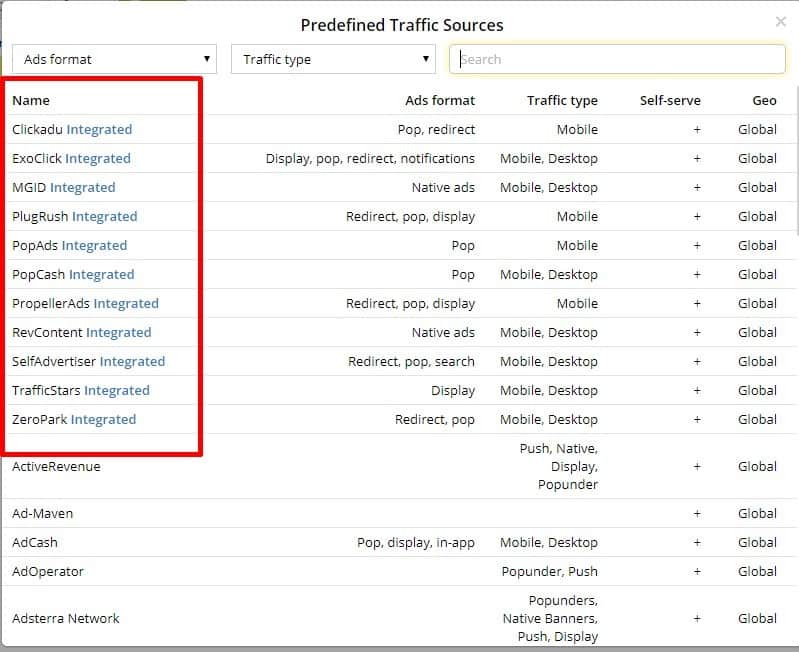 Now you can start/stop campaigns in your Traffic Source directly from your tracker, in some cases you can also change bid

Also Binom now have integration with cloaker MagicChecker

And inside the tracker you can create rules for your traffic according to the data from MagicChecker!
4. Automated data purging
Since Binom is a self-hosted tracker this neat feature will help you to never run out of space on your server. You won't be distracted by any irrelevant information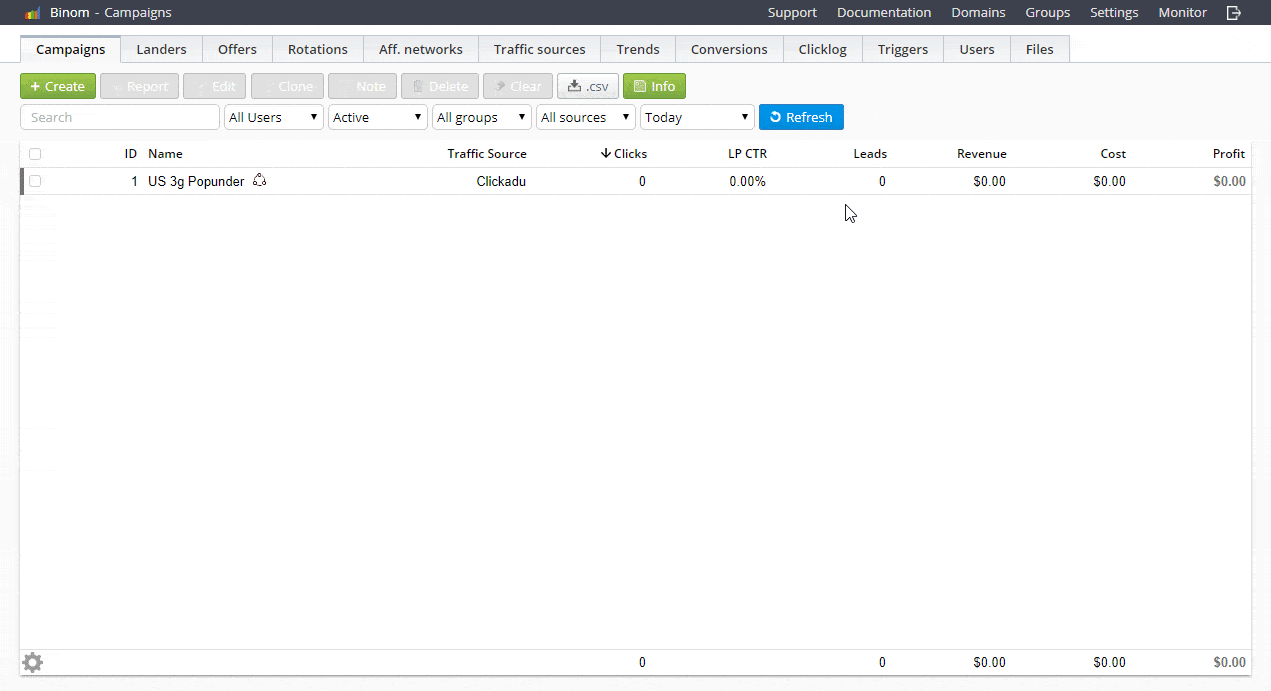 5. Responsive Design
Now you don't need a specific app for your device. You want just to be able to open your tracker right from your mobile device and have full access to its features or stats. Well now you have it:
6. MD5 encoding for tokens
Don't want anyone to understand token values that you're sending? Now you have an option to encode them and instead of meaningful value send just an alphanumeric value in the URL

But inside the tracker you will be seeing everything

7. SSL check for domains
In Binom you can add unlimited number of domains and their script is also providing you with FREE SSL as well. Now if it happens that for some reason your domain gets banned by Google or its SSL expires – in Binom will automatically check it and alert you

Btw, you can also setup Binom to send you alert to your Telegram messenger once it happens. Pretty convenient actually if your domain gets banned while you're in your bed or not if front of your computer for example.
Here they have a manual of how to set up a Telegram bot and Notification from the tracker.
8. Click API
Now that is just MINDBLOWWING.
Binom basically provides you with an option to get information from your tracker and send it to without even sending a user to it.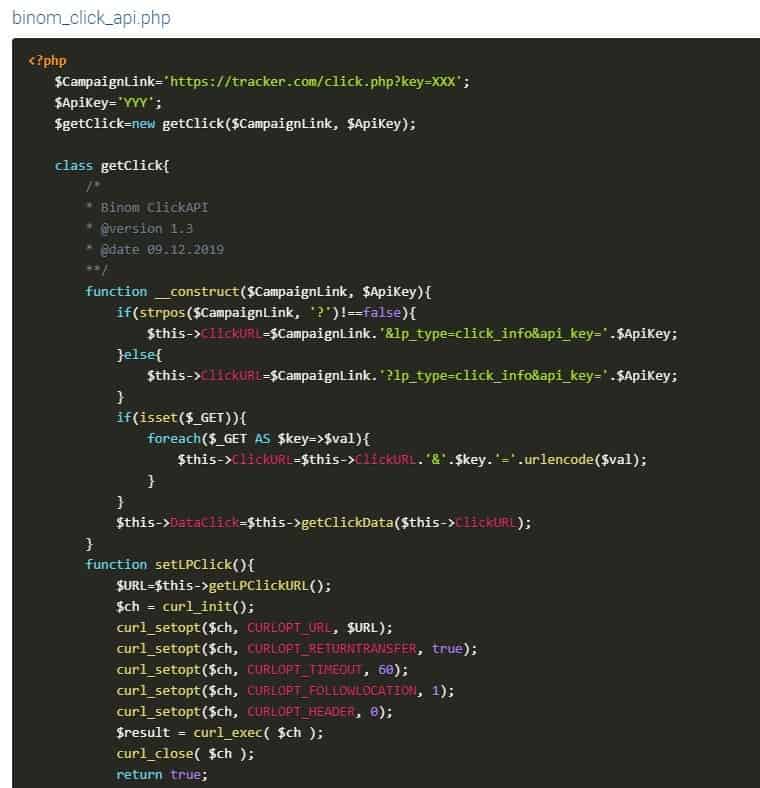 Just check this manual out. So now you can send a user to your landing page without additional redirect. Use tracker's rules without additional redirect. Send user from your landing page to your offer page without additional redirect. You can basically use all tracker's features on your landing page via API. You need to have some basic php knowledge for this of course, but man those possibilities for redirects tracking and cloaking are a now at a whole new level for tech savvy affiliates
9. Inbound/outbound conversions log

Aff. Network says that sent you a postback, but you can't find it? Your traffic source says that never receive a payout from you? Well now you can track all of that. With conversion log you can see everything that comes in your tracker and everything that comes out.
10. Customizable S2S Postback
Let's say you want to send only 70% of you payout to your traffic source. Or you want to send only 60% of your leads to your traffic source. Or you want to send only approved leads back to your traffic source. Well now you can do it. Meet me on the dark side of force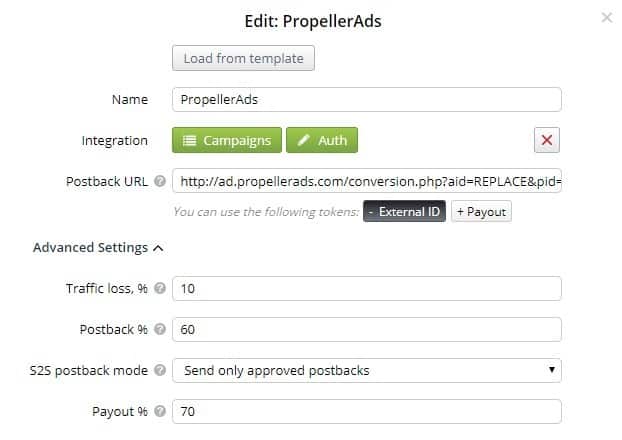 I'm quite happy on how this awesome tracking tool continues to evolve with useful new features that make it more effecient for affiliate marketers to do their work. Especially now, when there's an influx of new people wanting to get into affiliate marketing because of COVID-19. Time saved, using automation and doing things faster is going to be one of the most important moats an affiliate can have to set themselves apart.
Now if you want to try Binom they provided me with a coupon that will give you first month for free and 50% discount on the 2nd month.
CLICK HERE TO REGISTER >>>

P.S. You also might want to hit their support – they will tell you how to get a server for free for your first month testing, you can thank me later ?
PPS: If you are interested, here's a video overview of how to launch a campaign in Binom