We as affiliates are always looking at ways to improve our campaigns, business, and make the most out of what we have. One of the least utilized tools in our arsenal is undetectable browsers.
If you don't know what these are, or you don't think you need one, this article might change your mind. Today, I'll show you one of my personal favorite browsers from this category, Undetectable.io. So let's see what it has to offer and why you should start using it right away!
Account blocking is one of the most common problems encountered in traffic arbitrage, contextual advertising, bonus hunting, e-commerce, and SMM. If you often work with a large number of accounts, then you need a tool to manage them quickly. But not all of these tools are really a great choice.
The Undetectable Browser is a solution designed for marketing and e-commerce professionals. It contains all the most important qualities of the anti detect browser, as well as unique functionality that makes it much easier to work with a huge number of accounts.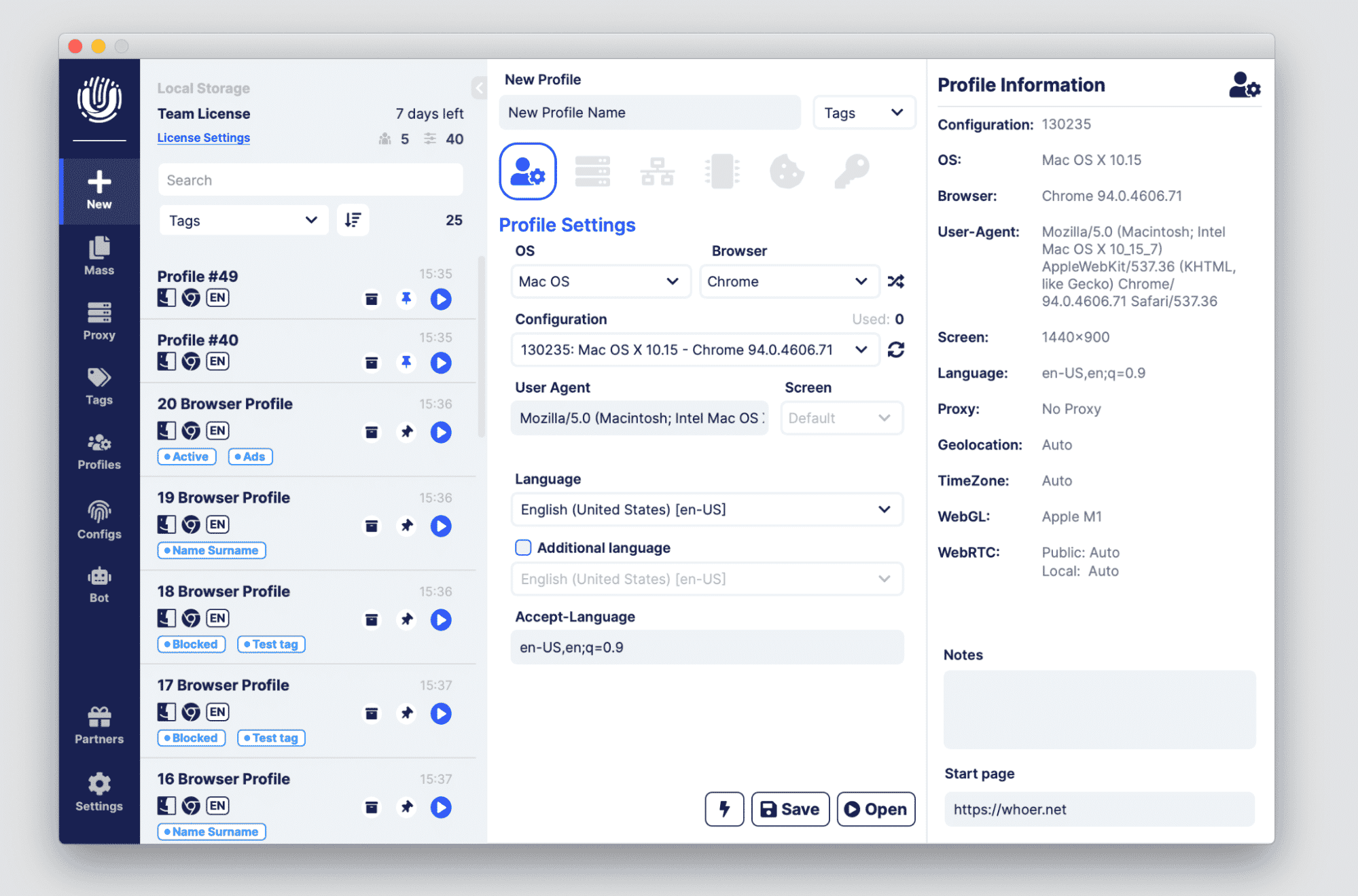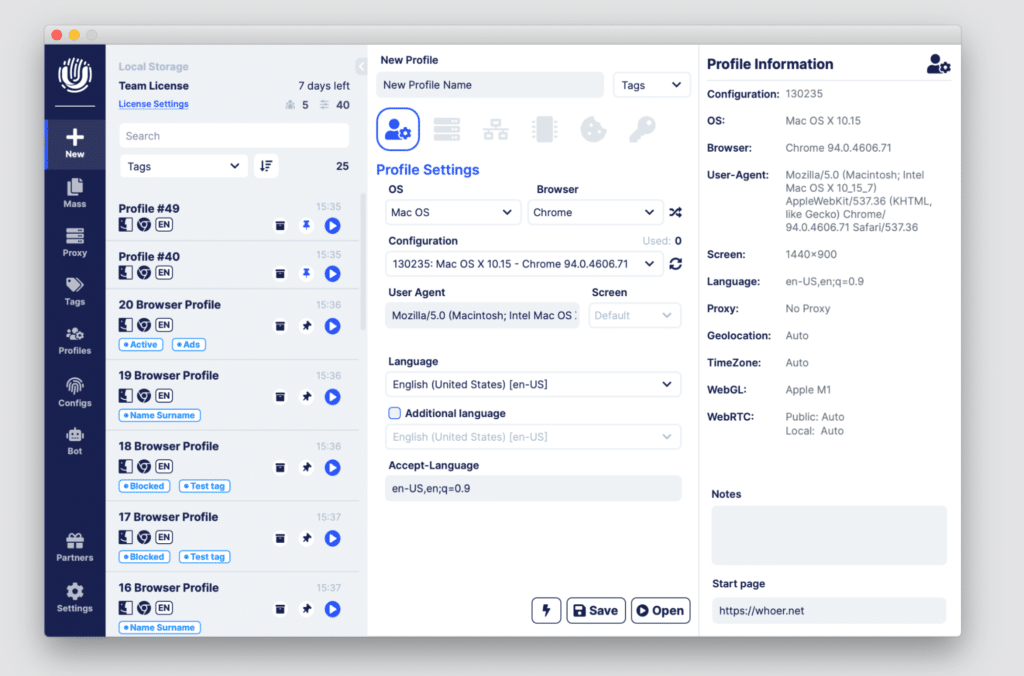 Undetectable.io is just one of the hundreds of similar browsers available online, so what makes it so special that I use it almost exclusively? Well, let's find out!
Key advantages of Undetectable
Intuitive and user-friendly interface
The developers of Undetectable.io have done their best to create the most convenient and intuitive interface of the program so that users can start working immediately after downloading and significantly reduce the time spent on learning the program. They took the best parts out of competing products and merged them into one easy-flowing system that simply works as intended.
Fast and stable operation of browser profiles
When using a browser or any software for that matter you want to make sure that it actually works in a stable and reliable way. This is often a problem for this sort of browser as they use custom code that doesn't often crash or experiences issues. Luckily Undetectable.io doesn't have any of these issues. They developed a special browser profile operation protocol that ensures stability and speed for its users. This is ensured by the fact that all actions with the profile take place locally on your PC, just like in a regular browser.
The program does not transfer or store any of your profile data on its server, but only checks the license expiration date. Nevertheless, quite a large number of users, especially teams, would like to see all or some part of the profiles in one place for convenient management.
And especially for such teams and solo users, cloud storage of profiles is currently being actively developed, including the ability to store profiles on your own servers. This will ensure:
the profile limit will depend only on the size of your storage
as well as the stability of the entire system thanks to distributed storage.
Unlimited creation and storage of local browser profiles and bulk profile generation
The Undetectable browser has a unique feature set that no competitor has. The program has a separate Mass Creator manager that allows you to create up to 1000 profiles simultaneously in a few minutes, you only need to set the initial settings. You can see just how easy it is in the video below!
Each Undetectable package includes unlimited creation and storage of local profiles. Create as many profiles as you want without overpaying for bundled packages!
Fresh fingerprints of all popular systems and browsers, including mobile
Each of the Undetectable.io packages includes a set of free system configurations (fingerprints) that are updated regularly, up to several times a month.
Configuration – it's a dataset collected from real browsers and devices. You can create a browser profile by choosing in the program a specific configuration. All fingerprints of your system are to be replaced with fingerprints from the configuration.
Why are these configurations better than randomly generated fingerprints?
In other solutions, you can generate a system fingerprint absolutely randomly.
In Undetectable it is possible to select the fingerprint you need using detailed and customized settings.
System inconsistencies are excluded – for example, creating a profile on iOS with a non-existent screen resolution is prevented.
Real data of browsers and devices, which makes it possible to bypass the anti-fraud system with a high probability.
Configurations from the store are sold strictly to one person
The program also keeps track of the use of configurations.
Fast profiles export/import
This function simplifies the transfer of accounts between devices when using the local version of the program. Fast export/import is perfect for transferring profiles between employees in a team and for stores that sell accounts. You can see how it works here:
Profiles are quickly exported to a special minimized .prof file format, due to which they can be instantly sent via instant messengers.
When importing, all previously installed settings and collected cookies will be imported correctly, and the profile will be immediately ready for use.
It is also worth noting that the Undetectable Team is always happy to cooperate and is ready to take into consideration your suggestions if you are the owner of an account store.
Built-in bot for profiles warming up
Warming up your profiles is always important when starting, and Undetectable.io has you covered! To warm up your profiles, a cookie-bot is included in the program's functionality, with the ability to start warming up several profiles in a queue.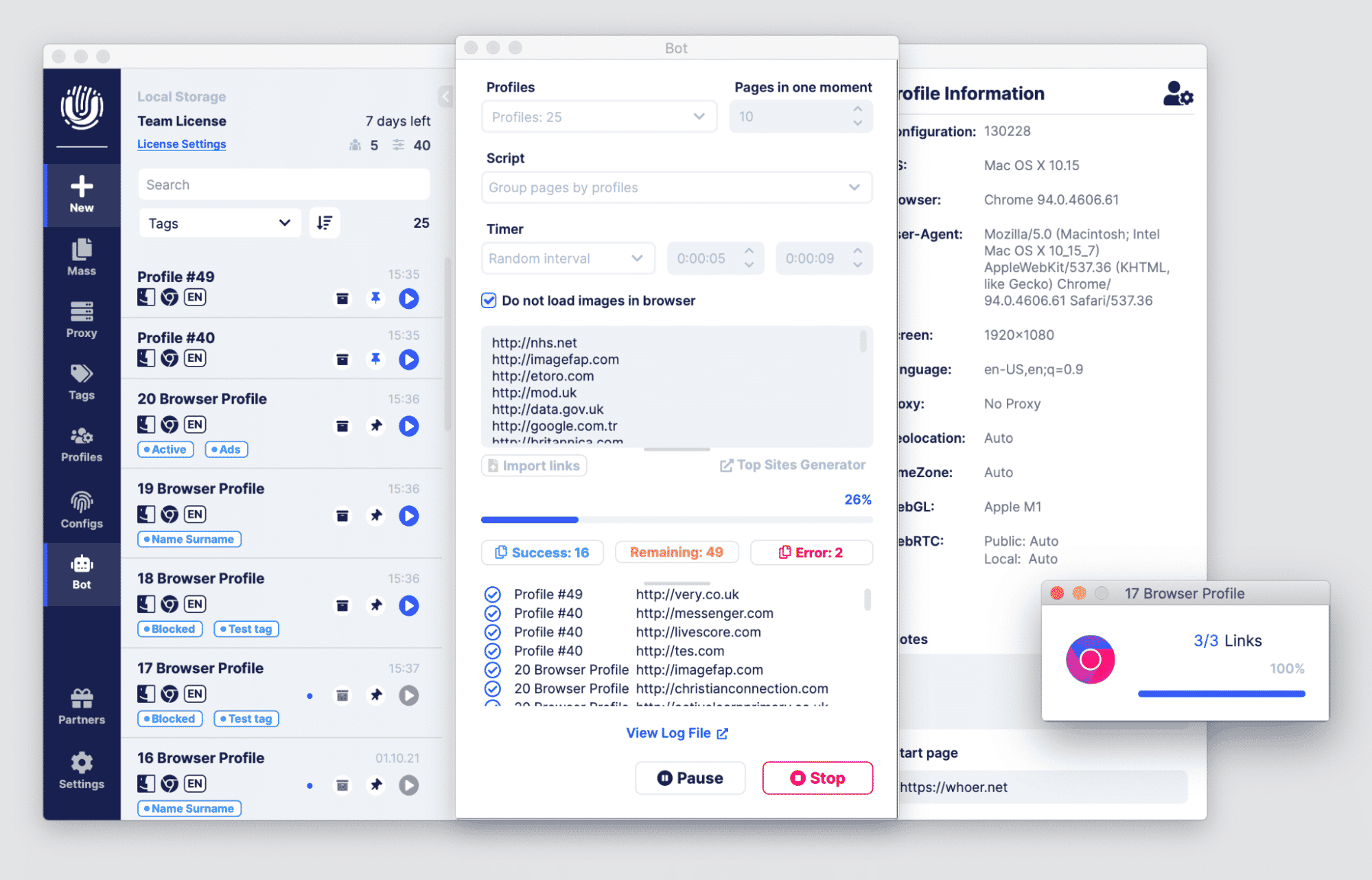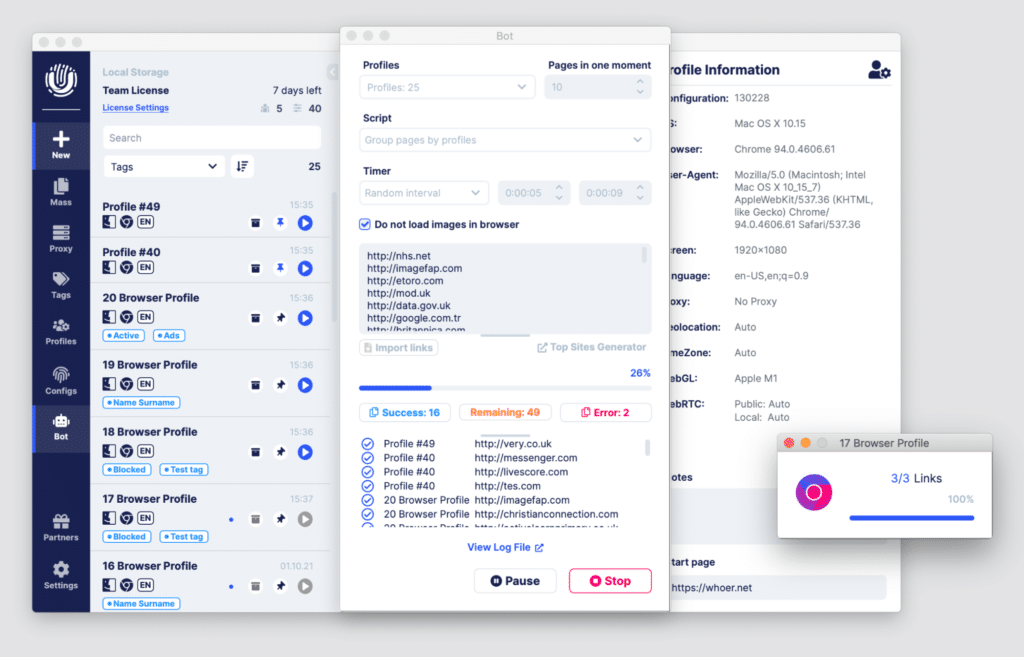 The bot's functionality allows you to set automatic browsing of websites for a selected period of time.
At the moment, there are three scripts available for the bot to operate:
Browse Pages In Order – Each profile navigates to the specified sites in the order of a list.
Browse Pages Randomly – Each profile goes to sites in a random order.
Group Pages by Profiles – Links are shuffled and distributed among all active profiles.
Script execution can be paused and resumed as needed. With the Timer option, you can flexibly adjust the time spent on the site and the intervals between actions. Or select Random interval, so that the bot is randomly on the site within the time from and to, specified by the user.
Also, I have been told by the browser's team that currently, some features additional are under development. Such features like tools for automatic navigation through links on pages, as well as emulation of mouse movement. All this allows you to "warm-up" your profile before registering on the sites.
And many other features:
Profiles grouping by tags;
Built-in IP change functionality by link (for mobile proxies);
Built-in data storage of accounts details (login&password) and auto-completion on sites;
Convenient and fast import of Json and Netscape cookies in any format;
Bulk import of proxies in any format using macros;
Fast proxy checker;
Customization of default bookmarks in all profiles;
Built-in scripts to copy the Facebook ad account token, as well as the Facebook ad account status script;
Ability to add your own JS scripts.
Another big plus for the Undetectable.io team is the great customer support team. The Undetectable team is almost always in touch and answers as quickly as possible to any questions from its users. Therefore, if you have any wishes or questions about the tool, we will always be happy to have a chat with you!
Configuration store
Undetectable have made the most convenient configuration store for you at https://app.undetectable.io/configs/store, adding search functions by User-Agent and WebGL and the ability to select configurations by the number of processor cores, RAM size, and screen resolution.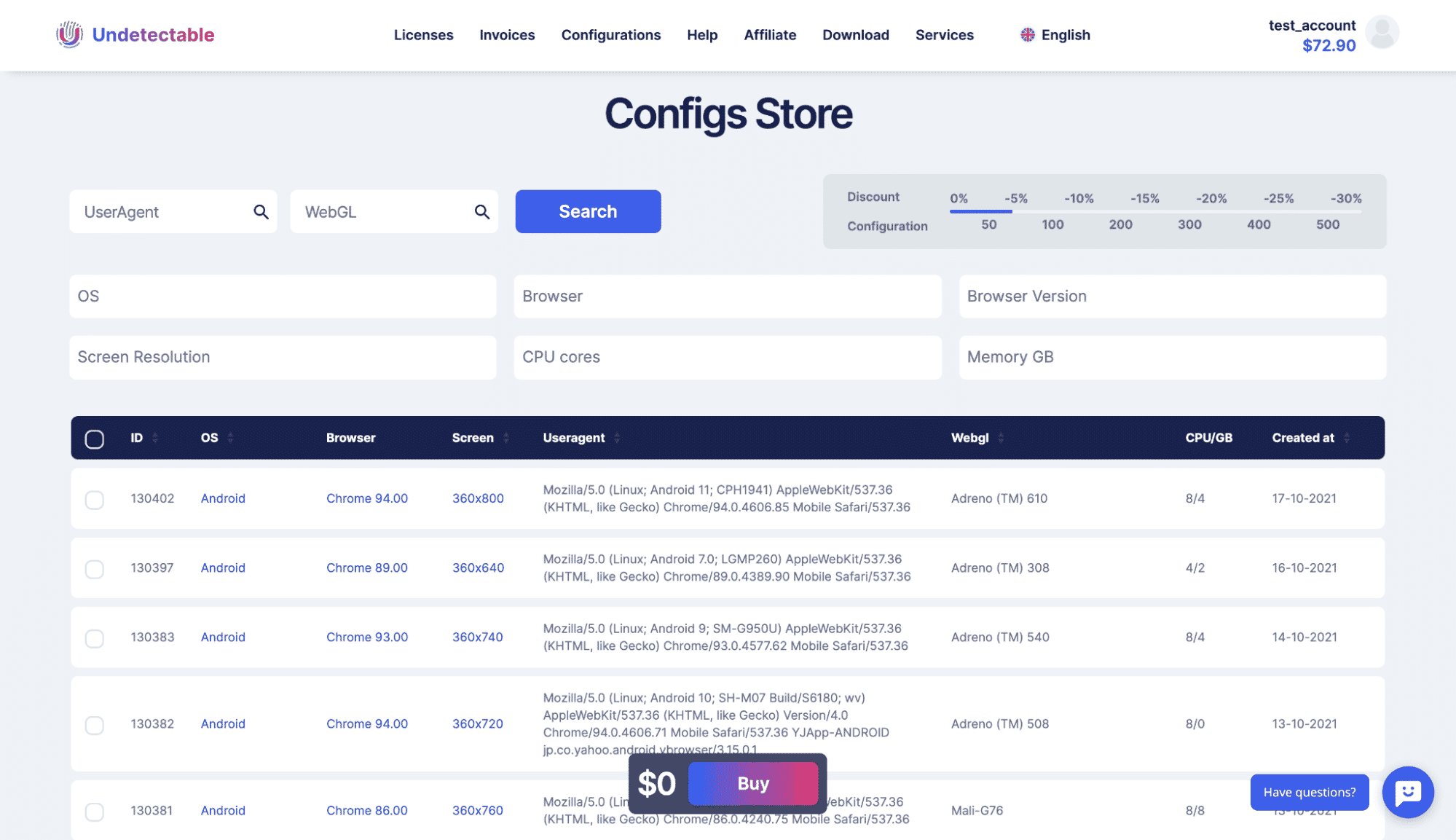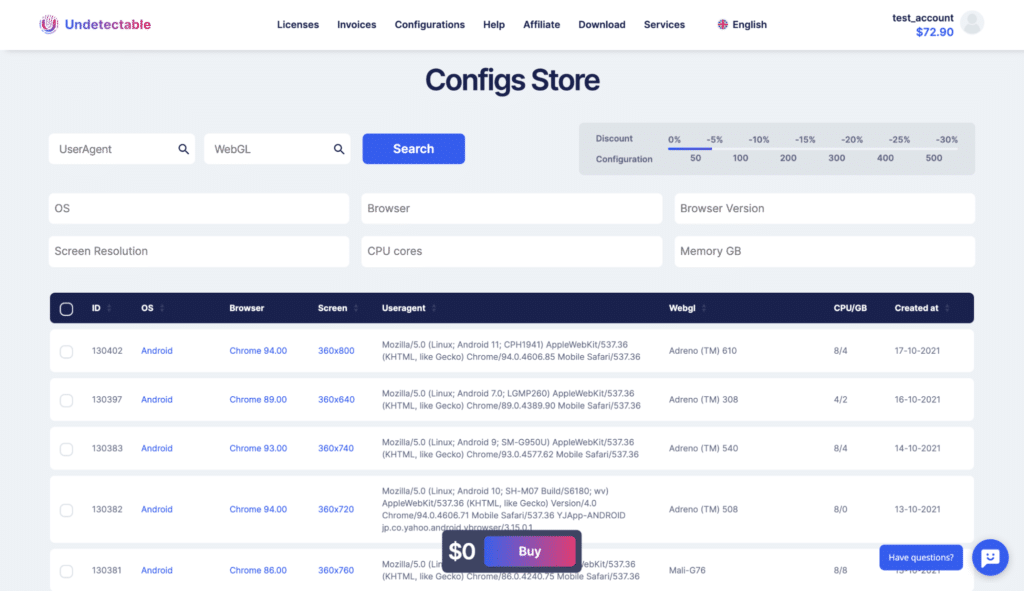 A limited number of free configurations is available on various packages, which are periodically updated, but you can buy each subsequent one for $1. Configurations are sold exclusively to one person and remain on your account forever.
Popular web-sites generator
This is another feature that not everyone knows about. What it is is a micro-service that allows you to quickly generate random lists of popular sites for a given GEO.
Now, to warm up profiles, it is not necessary to compile lists of sites in advance, just use our service at https://app.undetectable.io/top-websites.
The generator is absolutely free, it is enough to register on our website. But in conjunction with our embedded cookie-bot, it will be much more useful.
How to get started with Undetectable
Luckily starting with this great program is simple! To start utilizing all of its features, you need to get registered on the website, select the required package, and pay for the license. After that, links for downloading the program will appear in your account. To log in to the program, use the username and password of the licensed user.
The program is not tied to your device in any way, you can continue using the program on another PC by closing the current session.
You can read more about getting started in our documentation: ;
Pricing Plans
Pricing is always a debatable topic for most applications. Luckily Undetectable has made a heap of packages that are perfect for all kinds of users. Absolutely every package includes unlimited storage and generation of profiles.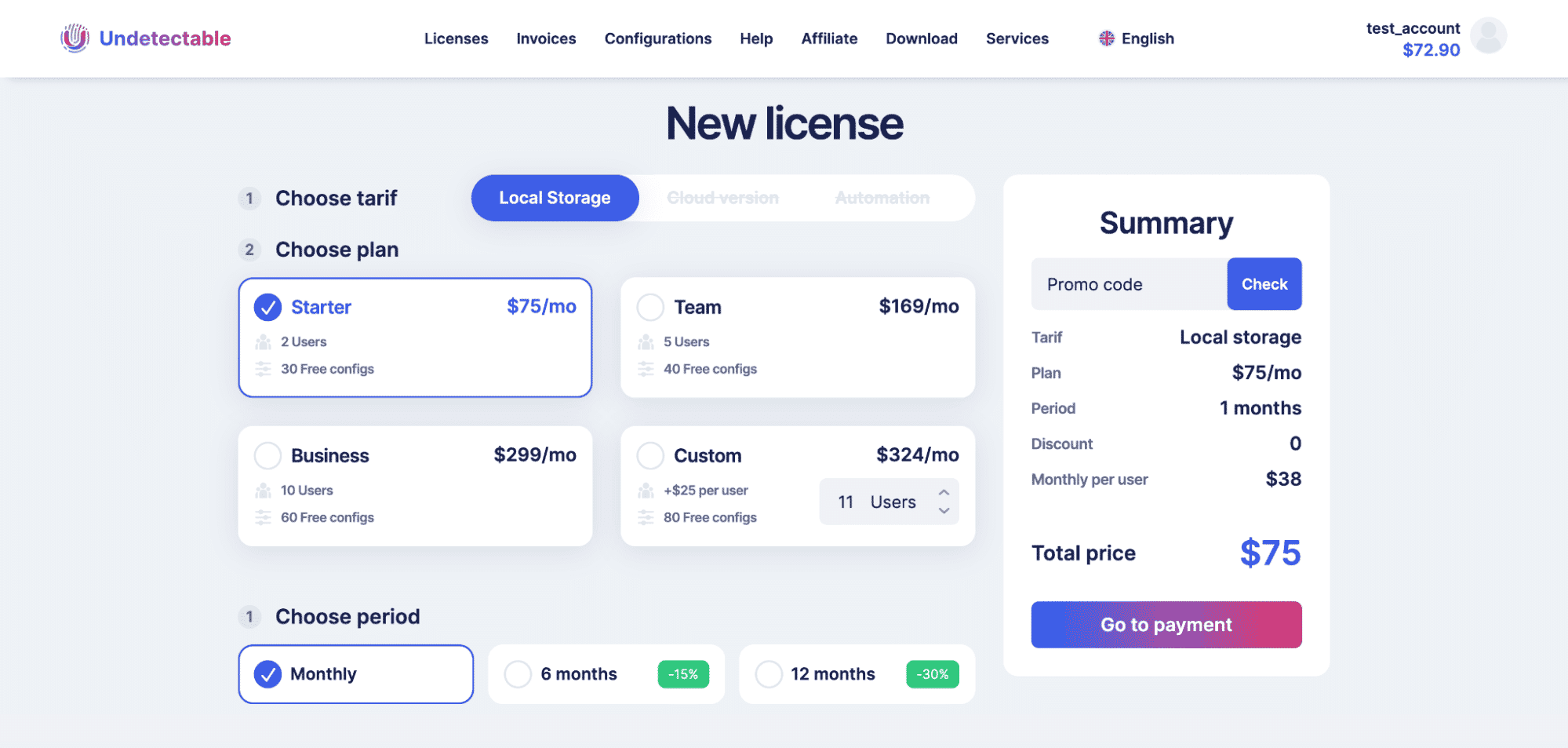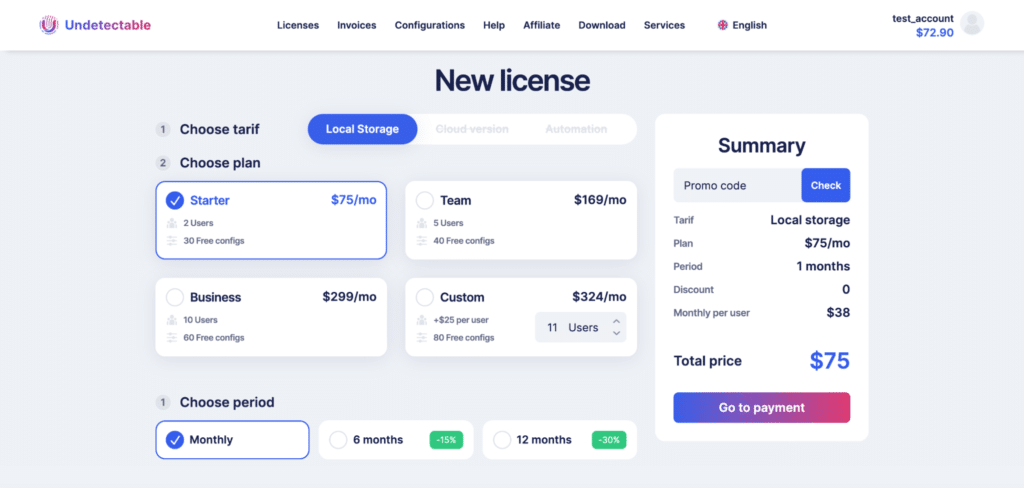 The difference between the packages consists of the number of users (PCs) on which the program is run at a time, the number of free configurations, and the time period. Also, depending on the package, there is a different number of free configurations.
Starter

75 dollars/month
2 users
20 free configurations

Team

169 dollars/month
5 users
30 free configurations

Business

299 dollars/month
10 users
50 free configurations

Custom

from $324
from 11 users and more + for each additional one is $25
80 free configurations
You can also choose any of the packages ahead for a period of six or twelve months to get a discount. In the first case, it is 15% of the total amount, and in the second – 30%.
What the Undetectable plan to do in the nearest future
When adopting a tool into your workflow, it is important to know not only what it can do at the moment, but what it will be able to do in the future. The young but rapidly growing tool has ambitious plans to improve its platform. In the near future, it is planned to add:
Cloud synchronization of profiles, access control to profiles at different levels;
Possibility to store and synchronize profiles on your own servers;
Add such tools as automatic navigation through links on web-pages to the cookie-bot, emulating mouse movement;
Automation and API.
The team behind Undetectable.io is full of motivation. They offer a unique blend of expert knowledge, creativity, and dedication, which are rare traits in this industry. The team is always open for suggestions and you can recommend new features or find out more about their roadmap by asking them directly!
To get 20% for first purchase of any package
Use this promo code that is valid from 25-10-2021 up to 25-10-2022
IMATTILA

You can Contact them Here:
Telegram Support: t.me/UndetectableBot
Telegram Channel: t.me/UndetectableBrowser
Telegram Chat: t.me/UndetectableChat
Or follow them on social media:
Facebook: https://www.facebook.com/UndetectableBrowser
Twitter: https://twitter.com/undetectable_io
VK: https://vk.com/undetectable_browser
Instagram: https://www.instagram.com/undetectablebrowser/
Youtube: https://www.youtube.com/channel/UCV9tsXR5wbVe6fezqYtaNzQ
Email: support@undetectable.io