Xsolla has been creating products and solutions for the video game industry for more than 16 years, and offers world-class payment systems, website building, and online stores to game developers of any shape and size. Today, Xsolla processes over 700 different types of game payments in more than 200 countries around the world, and they have moved into affiliate marketing as well.
For affiliate marketers, they have launched the Xsolla Associates Program where you can easily access numerous offers from international gaming companies using CPS, Revshare, and CPA models.
Let's take a look at why this gaming niche should be of interest.
What the video game industry has to offer
The video game market is huge, consisting of around 2.81 billion gamers in 2020; that's more than half of all internet users worldwide. In terms of revenue, in 2020 video games generated $174.9 billion USD,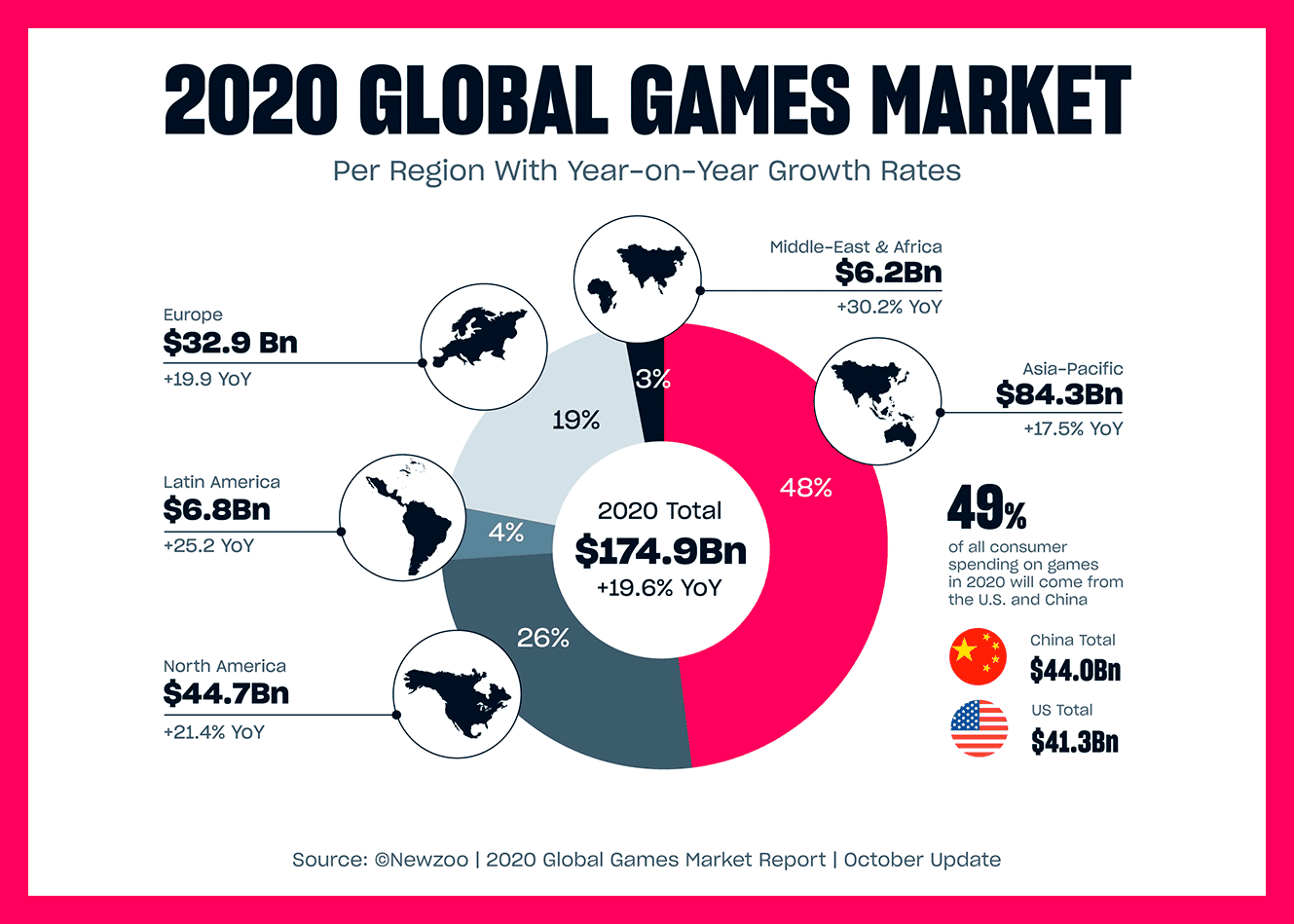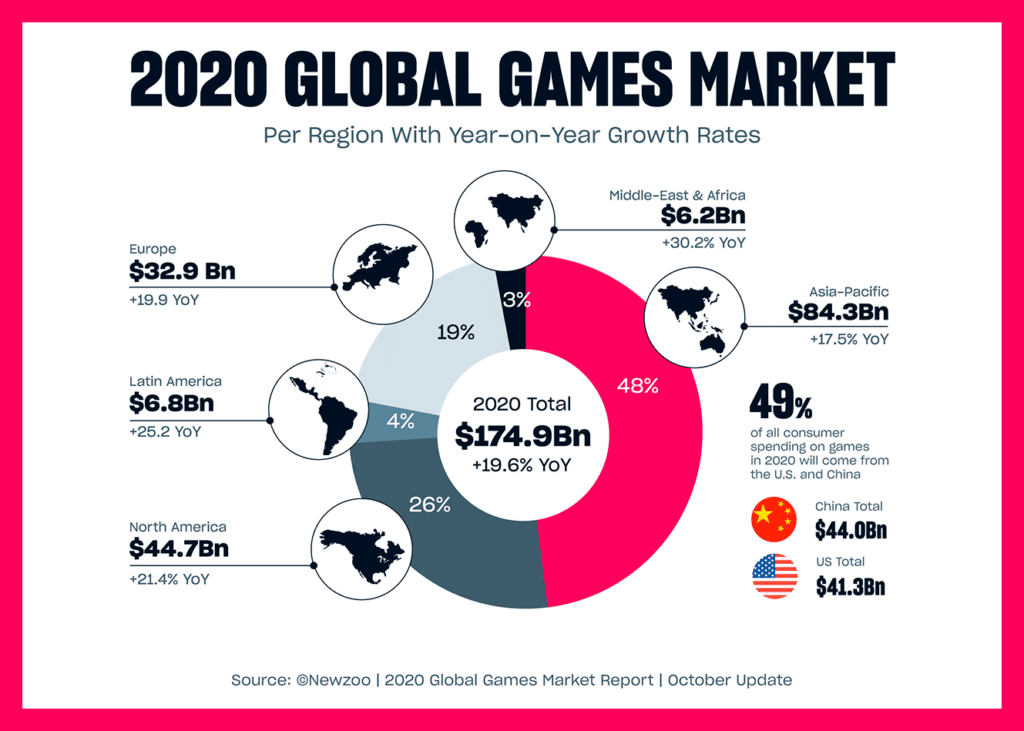 And that market shows no signs of slowing down! Newzoo predicts almost 3 billion players will be playing (and paying for) games by the end of 2021, and up to 3.3 billion in just three years. Those new players mean billions more in spending.
The video game industry is expanding more each day, so now is the perfect time to join in on the growth. With a huge potential revenue in video games, look no further than Xsolla's Associates Program to establish yourself and earn profits of your own.
How players spend their money
Before diving head first into the industry, it's important to know what gamers spend their money on. Mobile games make the most, with $90.7 billion in revenue this year alone. The PC market is huge as well, with its 1.4 billion gamers spending $36 billion in revenue, $2.6 billion of which comes from browser games alone.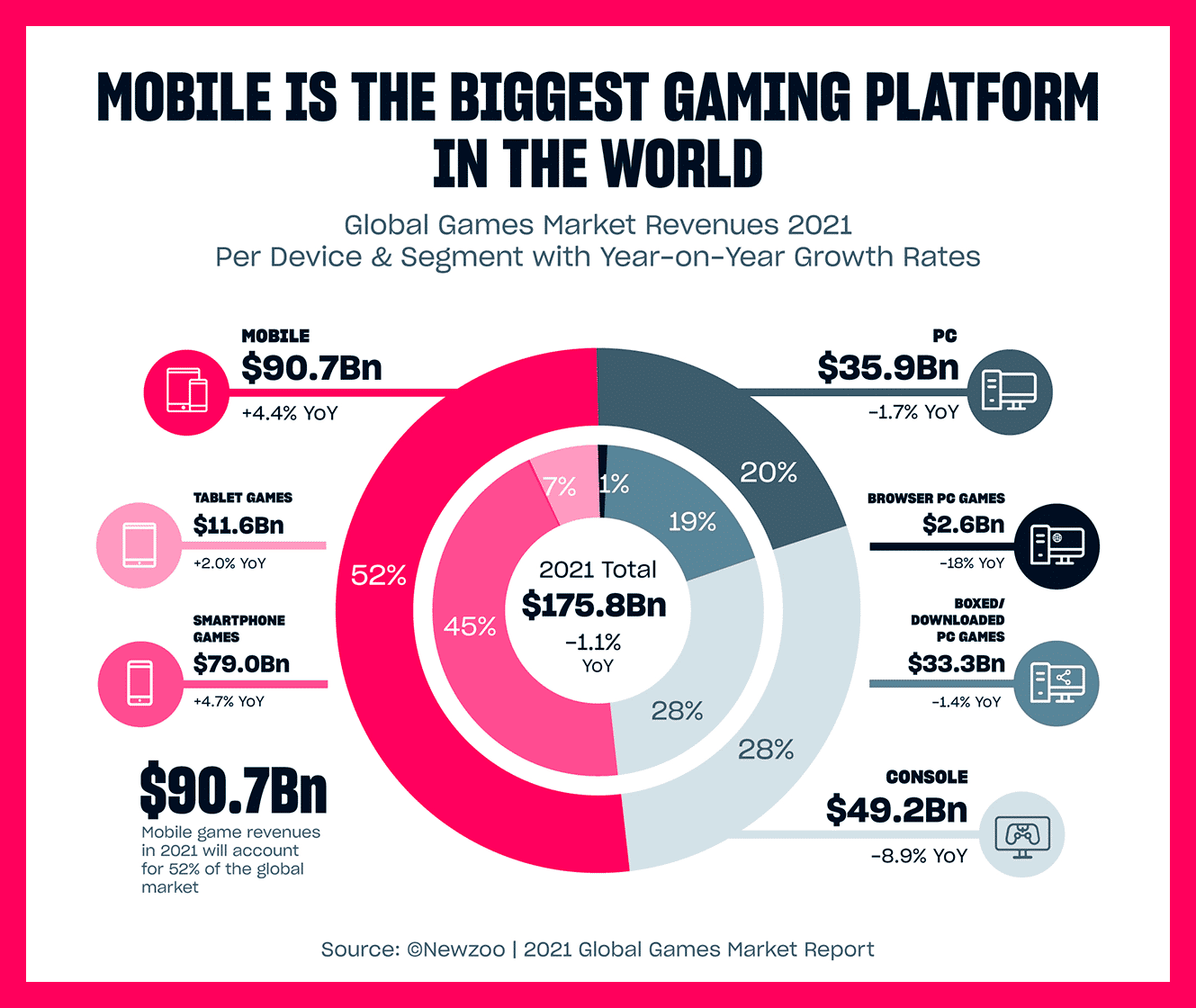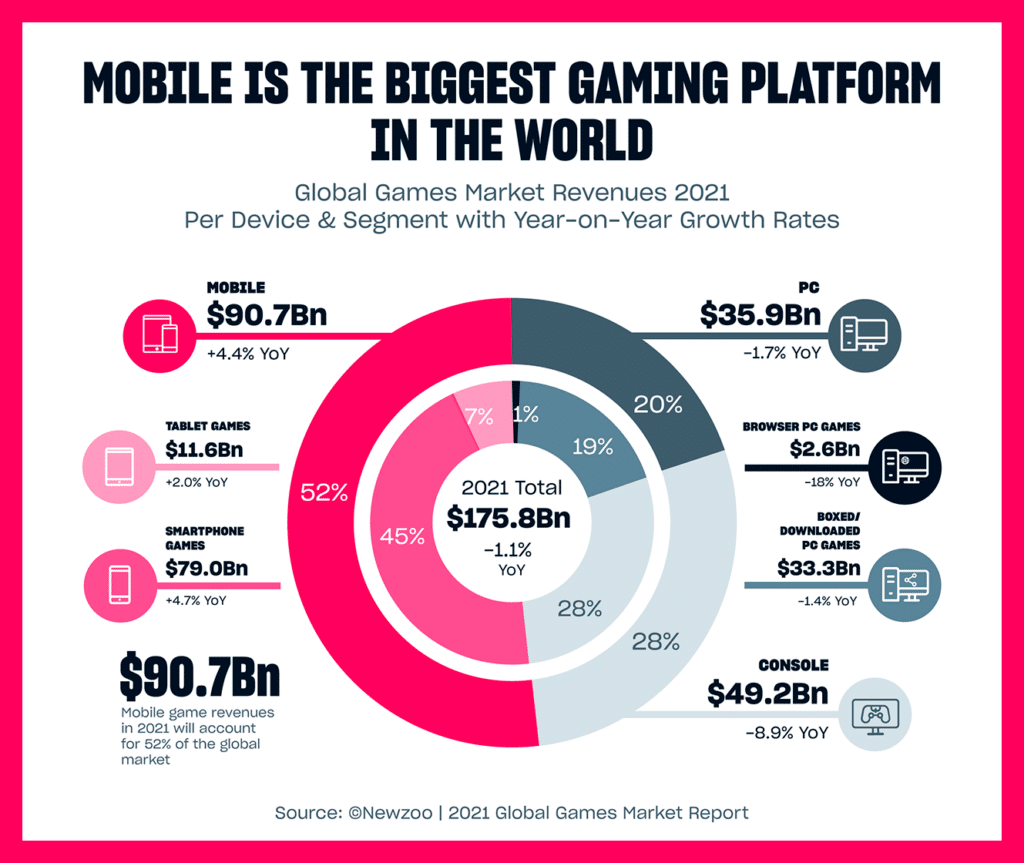 Newcomers tend to buy more and spend more than average gamers. New players in the US spend $27.20 on mobile gaming on average, and their German counterparts spend $32.34, according to Facebook Gaming. And these are just the average spenders. So-called "whales," or high spenders, are a small but lucrative audience that can spend tens of thousands of dollars in-game, paying hundreds or even thousands for a single purchase.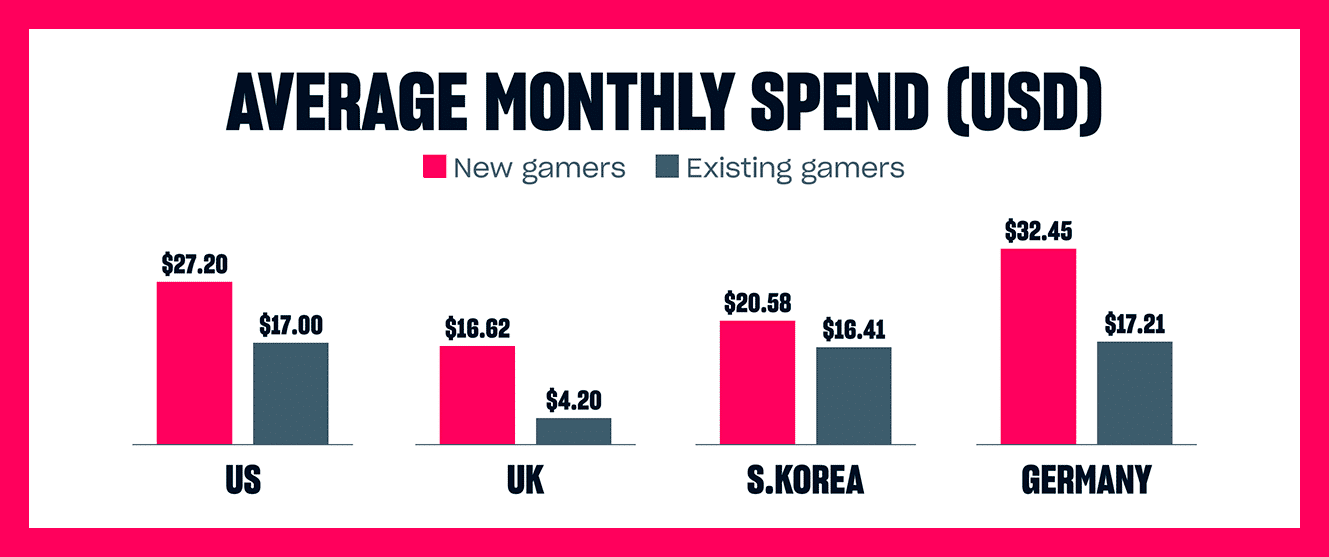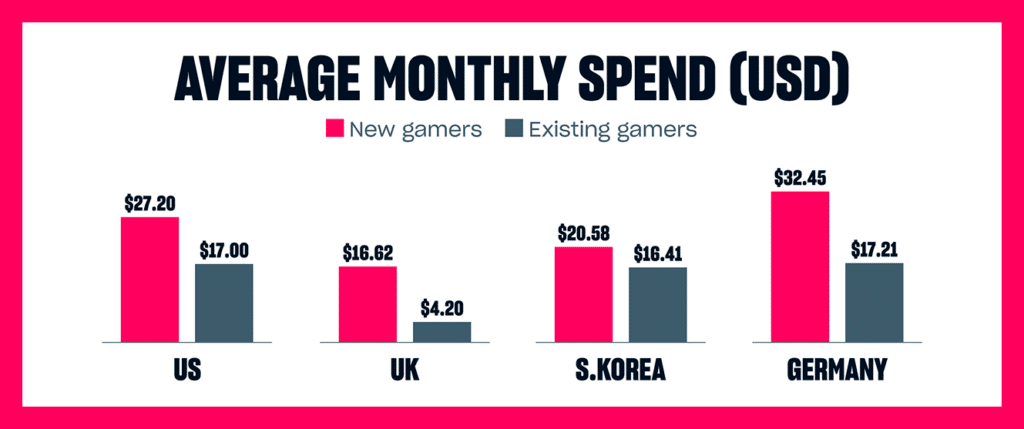 Now let's take a look at what gamers actually spend their money on.
In-game purchases are diverse and often depend on what kind of game it is. In games, like Tom Clancy's Rainbow Six Siege, players buy in-game currency to purchase and unlock in-game items, including skins, uniforms, operators, headgear, etc. Destiny 2 follows a similar model, where players can spend their money on Silver, the in-game currency, to purchase items. Other games, like Star Citizen, skip the purchasable in-game currency and let users pay for ships directly with cash.
In free-to-play games (where most of the game is available for free, but faster and more fun content is behind a paywall), players usually spend money on in-game currency to level up, boost their statuses, or buy rare items and resources. The price of a basic currency box, where the player buys in-game currency from, varies from game to game. For example, 30 gems in Brawl Stars will cost around $2, whereas the largest pack will cost up to $100.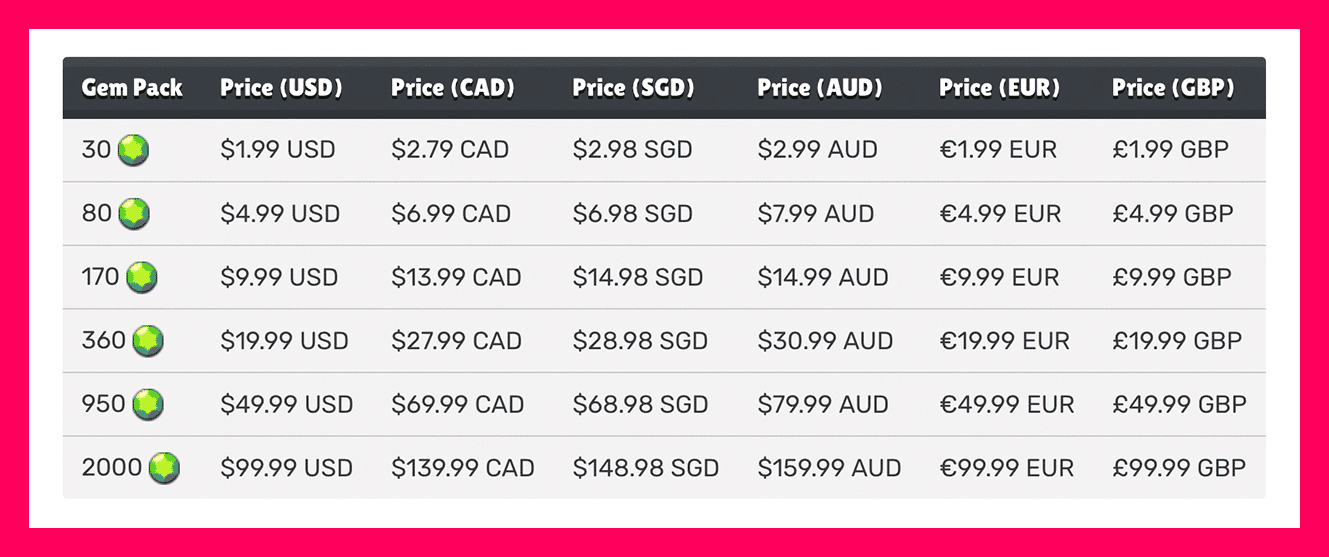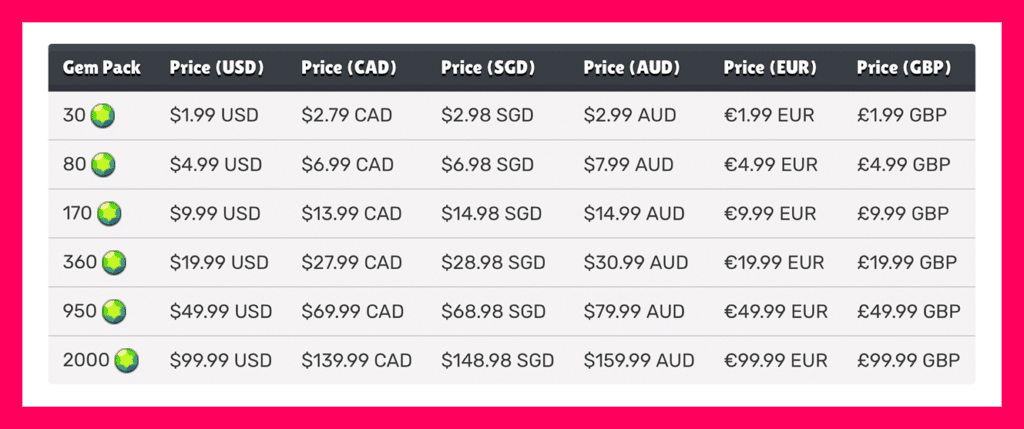 Free-to-play games also sell various upgrades and cosmetics. Some even offer to remove in-game ads — for a price, of course.
Player spending is not limited to in-game purchases. They also buy branded equipment, peripherals, and merchandise. There are even stores for streamers where they can buy decorations for the channel, consisting of overlays, sounds, and custom emotes. Some platforms even specialize in reselling in-game items.
Considering all of the potential revenue streams video games possess, associates have many options for earning in their gaming niche within a single game. The Xsolla Associates Program has offers that work with any type of game monetization, letting you choose what option suits you best.
How is money made with the Xsolla Associates Program?
There are two main payment models, Cost Per Sale (CPS) and Revenue Share. In either case, you would get a tracking link where you would direct traffic. This link in turn collects records, metrics, purchases, and other points of data.
Cost Per Sale (CPS)
In the case of CPS, you'll be paid when a newly referred user makes their first purchase. The rate can be fixed, or can be set as a percentage of their purchase, depending on the terms of the offer.
You will not gain anything from the user's subsequent purchases. However, this upfront payment can be substantial. The system is convenient for fast campaigns, especially if there are many lucrative offers around. The drawback is that you will not make any money from the referred users' purchases down the road, no matter how much they spend.
Revenue Share
Revenue Share offers a potentially more stable income stream, as you are paid a percentage of every purchase from all the users you refer. The more they spend, the more you make. Even if your traffic stops, and the program is over, you can still make money for one to three months, depending on the offer. The disadvantage is that your investments in traffic may not pay off immediately, as your revenue will build up over time. This is a more long-term approach.


This model works well for webmasters who have specialized websites such as news and entertainment portals or sites that feature game secrets and guides.
Over time, player spending may increase or even skyrocket thanks to new in-game content, and updates. For instance, when Clash Royale released a new resource in June of this year, the game set a new record for monthly sales, surpassing $42 million.
The percentage paid depends on the game, its popularity, release date, and business model. Offers typically start at 15% on average; however, new games that require greater investment in traffic may offer up to 50% of payable shares. Offers also depend on the price and type of purchased items. Cheap consumables that people buy all the time in freemium games tend to have lower returns than more expensive one-time purchases. That said, something like a battle pass can provide higher returns than a basic currency box.
The payment model an associate chooses depends on their goals and capabilities. If you're having a hard time deciding which program is best for you, you don't have to stick with one. The Xsolla Associates Program will assist you with finding great offers and will help you reach your goals.
What is the Xsolla Associates Program?
The Xsolla Associates Program targets the video game industry niche. The network is reliable and secure, and is suitable for companies and sole entrepreneurs alike. It helps grant access to high-ROI offers from all over the world.
Xsolla's partner portfolio includes more than 1,000 game projects, all from qualified companies. Xsolla chooses each partner through a vetting process to minimize risks. All transactions are processed by Xsolla, and affiliate partnerships are contractually backed.
Xsolla's current partners include OWN3D, an online store for streamers, and PUBG: Battlegrounds, an online shooter, among many others.
How do I join the Xsolla Associates Program?
To gain access to Xsolla's affiliate program, you only need to create an account. This personal account will be accessible online, where you can find notifications for new offers, track the statistics of current offers, and withdraw any money you've earned.
Xsolla's game developer partners make offers and set payment amounts themselves. Both CPS and Revenue Share are available from the start as payment models, so select what you think will fit you best. All new, pending, and current offers will show up in your account. From there, you simply have to pick an offer and start funneling traffic to it.
Start making money in games
The video game industry is one of the fastest-growing sectors of the global economy. More and more players start spending their time and money on games every year, growing the industry's market revenue potential. Capturing traffic through our affiliate program can generate meaningful, stable income, which you can track in real-time.
The Xsolla Associates Program makes it easy to start working with dozens of international video game companies. With all of Xsolla's partners being dependable, and payouts secure and regular, all you need to do is create an account.
Here is a post that may interest you: Top Business Ideas For Teens – Make Money Online in 2022.