A not so dirty secret about link building is that a lot of people are going to ask you for money in exchange for a link.
If you're seeing it for the first time, you may be thinking, "Is this common?", "Is this legitimate?", and "Is it worth it?"
The answer to the first question is – yes, it is very common.
And the answers to the second and third questions is – it depends.
In this article, I'm going to break down what to expect when you are trying to build links, and share some benchmarks, based on the experience of me and my outreach team, of what is reasonable.
The Link Building Landscape
As SEO has become increasingly competitive, it has become more difficult to increase websites' rankings in search engines.
From many different studies, we know that there is a very high correlation between high search rankings and the quality/quantity of inbound links from other websites.
The summary here is, if more real, relevant websites link to your website or blog articles, they will rank better in search results.
Now, how can you get other websites to link to yours?
Well, you can publish great content and then wait, hoping people will find your articles and link to them.
Or, you can promote your blog content, reaching out to other websites and blogs to pitch them to link to your content or let you write a guest post on their blog, which will link to your content.
This process of reaching out to other websites to pitch is often referred to as blogger outreach.
For this, you will need to:
Find relevant websites to pitch
Get contact details for the right people at those websites
Write an outreach email pitch
Send your email sequence
Reply to any good leads you get
If you reach out to other websites though, be prepared for some of them to ask you for payment.
If your content is amazing and link-worthy, you may get some links and not have to pay anything. But, the more-common response you are going to get will be from the recipient looking for something in exchange.
This could be either payment or an exchange of links.
Here is a typical outreach email reply asking for payment for a guest post or link insertion.
And here is one for a link exchange.

Are Link Exchanges or Payments for Links/Guest Posts Permissible?
Google will tell you that no, link exchanges or payments are not OK.
They will run afoul of Google's guidelines on "Link Schemes."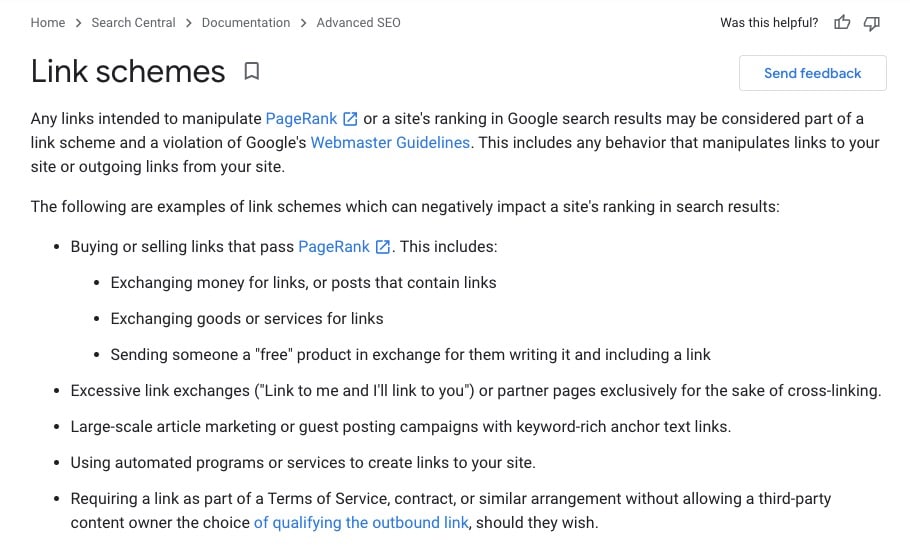 Google says, "Any links intended to manipulate PageRank or a site's ranking in Google search results may be considered part of a link scheme and a violation of Google's Webmaster Guidelines." This specifically includes: buying or selling links; exchanging goods or services for links; or "Excessive link exchanges ("Link to me and I'll link to you") or partner pages exclusively for the sake of cross-linking".
All that being said, I have seen many sites selling links or guest posting opportunities.
Many enterprise companies buy links or guest posts on authoritative websites, and have budgets of thousands of dollars per month set aside specifically for paid opportunities.
I've even seen a particular website (which I will not name) that, ironically, published an article specifically about how you should never pay for links, and then when approached, demanded payment for a link.
Some websites will use certain language, saying, "For a link insertion / guest post we require a sponsorship fee of $X."
They call it a sponsorship or administrative fee, but it's simply a paid-for link.
So, what should you do?
That's up to you to decide. But, just know that the practice is very common and engaged in by large companies around the world that have massive budgets.
Will you get penalized if you pay for links?
I can't guarantee that you won't ever get penalized for paying for links. But, you will decrease the likelihood that happens if your links are from relevant websites and contexts, and don't look spammy like you used some automated link building bot.
How to Evaluate Paid Link and Guest Post Opportunities
When I do outreach, probably the most-common response is one asking for payment.
If you are open to paying for an opportunity, you will need to evaluate it to determine whether it's worth it.
Look at Their Website
First, take a look at their website.
Does it look like a real website that people probably visit, or does it look like a cheap Wordpress blog template with irrelevant content thrown together? If there is a huge variety of content – cooking recipes with tech articles, etc. – run away. With a lot of unrelated content, chances are, that site is a link farm and you should stay away from that. An obviously-bad-looking website, even if it seems to be ranking well, is a red flag
Look at Ahrefs
Next, look at their website in a keyword research tool like Ahrefs.


Ahrefs and Moz both have their own ranking metrics to determine the authority of any given website. Ahrefs' metric is called Domain Rating or DR; Moz's metric is called Domain Authority or DA. DR/DA is a number value from 0-100. Less-authoritative sites have a low DR/DA; higher-authority sites have higher DR/DA. People tend to use these metrics when evaluating websites' quality.
Ideally, a website linking to you has a higher DR or DA than yours. Even better if it's 10+ higher. So, check to see what your DR/DA is, and then what the other website's is.
Next, take a look at the traffic stats that Ahrefs has for the website you are evaluating.
If their organic traffic is less than 500, shy away from that site. If the site somehow has a very high DR/DA but low traffic, you should be suspicious of any schemes the website is trying to pull to artificially inflate their DR/DA. If the site has organic traffic of at least 1,000, then it's looking like a much more legitimate website.
Next, it's time to figure out if that website is a link farm.
Do they have suspiciously more outgoing links to other websites than they have pages of content on their own website?
Using Ahrefs tools for Pages > Best by links or Top content, and also Outgoing links > linked domains – you can see how much content they have vs. how many outbound links they have.
Too many outbound links – more than 3 or 4 outbound links to 1 piece of content – and that can be a red flag for a link farm.
What is the Going Rate for Paid Links or Guest Posts?
Once you know that the website you are evaluating is legitimate, then you should consider the price being offered. 
First thing's first – for most all of this – websites are negotiable. They throw out a number, but you can always counter with something more reasonable. If they say $200, you can say, "I have $125 in my budget, can we make this work?"
Overall, there is a wide range of prices you may get quoted from websites, and it can seem like most have no rhyme or reason to them.
You may see a DR 30 blog demanding $700 for a paid link and a DR 50 blog asking for $75. And, they could both have similar traffic numbers and relevance to your blog. So, at the end of the day, there is no exact schedule of what the going rates are.
To help you get a sense of the typical ranges of prices that websites ask for to get a paid link or guest post on their website, I've come up with some tables breaking down the typical prices my team has seen quoted.
Also – one quick note about paid guest posts. For guest posts, I know some sites charge a lot more than the pricing I am sharing below, but, if sites are charging that much, I would worry about their editorial standards. If you are being asked to pay $500 for a guest post, is that website going to be willing to publish anything? Plus, since you would be providing them with content, one would think they should be happy with the free addition of content to their blog. I would be skeptical of very-high-DR sites offering expensive paid guest posts.
For paid guest posts:
Site that doesn't meet your minimum criteria – ignore them
Site with DR 40 – 50 – generally up to $60
Site with DR 50-60 – generally up to $100
Site with DR 60-70 – generally up to $125
Site with DR 70+ – generally up to $200
Aside from pay-for-guest posts, there's also pay-for link insertions. These might be preferable to paid guest posts because overall it can cost less since you will not need to create new content and get you the results quicker (i.e. you pay them, they drop in a link for you on a specific post and anchor text that you agree on).
For link insertions – where the site will link to your article in exchange for payment – you should follow the same evaluation criteria as above. But, the only difference would be that there should be a different threshold for pricing. For link insertions, you should expect to pay more than for guest posts because you are getting a link added to an article of your choosing and you don't need to do anything else like provide them with new content.
Typical rates for paid link insertions:
Site that doesn't meet your minimum criteria – ignore
Site with DR 40 – 50 -up to $100
Site with DR 50-60 -up to $150
Site with DR 60-70 – up to $200
Site with DR 70-80 – up to $500
Sites DR 80+ – can be up to $1000, especially for some high-value opportunities
With these rates for guest posts and links, keep in mind that whatever price you are quoted is likely negotiable. Some sites will throw out very high numbers, but can be talked down.
Also, you might be flexible on some of this depending on how relevant / niche the website is. If you have a product that helps with producing webinars, and you could get a link insertion into an article that's like "Best webinar tools" from a webinar-related website, that's more valuable to you.
Getting links from real, reputable DR 70+ sites are much harder to come by, so they generally command a premium.
A Guest Posting "Hack"
There is a big community of link builders who also regularly publish guest posts on other websites. They would love it if you could drop in a link to their content the next time you publish a guest post. You could use this to offer to trade links, saying something like, "Hey, I'm doing a guest post for a DR 60 website in the travel space. If you're looking for a link, I can drop one in for you. In exchange, I'd like a link from a similar kind of website when you have an opportunity in a guest post."
This is how you can effectively scale your links earned from guest posts.
So, if you are writing a guest post and linking to your website and 3 colleagues' websites, you can then expect that this one guest post would earn you 3 more links from 3 other domains since those colleagues would owe you one.
Hopefully this helps demystify the link building landscape for you a bit. Now that you have an understanding of the landscape and what pricing you can expect, you can use that knowledge to your advantage.
Author Bio
Andy Cabasso is a startup founder, digital marketing professional, speaker, and lawyer. He is the co-founder of Postaga, an all-in-one platform for link building and email outreach. Prior to Postaga, he started, grew, and then successfully sold a digital marketing agency.
Andy Cabasso
Co-Founder at Postaga
Personal Twitter: @andycabasso
Company Twitter: @PostagaApp