If you are looking to try new adult traffic sources or need a great place with a lot of volume to scale your existing dating, ED, health, casino, app installs offers then check this out.
TrafficStars is a self-serve ad network and ad exchange with a powerful and effective solution for advertisers and publishers.
It serves 3 to 5 billion ad impressions per day on their Exclusive Publisher xHamster and Premium Publishers such as Pornhub, Spankbang, Sex.com, GotPorn and many more.
In a nutshell what TrafficStars offers:
* Worldwide desktop and mobile traffic.
Top 10 GEOs: US, DE, GB, FR, IN, JP, IT, BR, CA, ES
* Expert support
Dedicated Account managers assigned to each account
* CPC, CPM and DCPM pricing models
* Various Ad Formats: Banners, Native, Video Pre-Roll, Video IM Slider, Push Notifications, In-page Push, Popunder, Full Page Interstitial, Image Interstitial
* Complete targeting options – GEO, Region, Category, Keywords, Language, Device, OS, Browser, Carrier, IP range, Day Parting, Scheduling, Frequency Capping, etc.
* Granular Reporting and A/B testing capabilities
* Powerful audience selection tool, allowing you to target only specific ad spots on specific websites.
* OpenRTB compliant platform.
If you are an affiliate, media buyer, program owner, CPA network or a webmaster looking to buy or monetize traffic,
Special Bonus on the first Deposit for IamAttila users!
For deposits up to $500 -> get $50 extra!
For deposits above $500 -> get 10% extra!
Use Promo code:TSAttila21
After creating an account tell your manager the promo code and receive your bonus! The Bonus is available only for the new advertisers.

Now let's get into details and talk a bit more about TrafficStars:
TrafficStars supports multiple ad formats:
Banners. Providing classic display banners with 100% fill rate for all popular formats (300×250, 315×300, 900×250, 728×90, 250×150, 300×100). Ready scripts are available for special banner formats such as the Instant Message and the Interstitial Banner.
HTML5 BANNER. Did you know that users respond better to animated banner adverts than to static ones? Statistics show that the click-through rate on rich media banner adverts is 267% greater than their static counterparts, which drives more traffic to your website.
The benefits of an HTML5 banner ad are tremendous. The biggest aspect is that no matter what device or browser you are on, the banner will display and animate the same.
Native Ads. Native ads fit in seamlessly with the site that they appear on to create a highly converting and fully compliant ad format. Our native widget is fully customisable and responsive, consisting of an image, brand name and headline. Our CPMV (cost per 1000 views) algorithm means that advertisers only pay for creatives that users actually see and publishers get paid for each and every thumbnail that is viewed.
Push notifications. Push notifications are sent on desktop, mobile and tablet to users who have subscribed to a publisher's website. This format consists of two images, a brand name and a headline.
In-Page Push. Similar to classic push ads, TrafficStars in-page push is a web adaption of a well-known ad format with no need to collect the database, it works on all browsers and platforms, including iOS. For better performance we developed new custom designs for top verticals.
Video Pre-Roll. A video ad which plays for up to 30 seconds before the start of the video, using VAST technology. The video pre-roll includes a clickable link and a call to action to ensure a high conversion rate. New Follow-up Banner which includes a brand name and a product logo increases user attention, gives higher CTR and definitely better conversion rate on Video Ad Format!
Video IM slider. Ready-to-use script is available for Video Instant Message Slider which features an instant message dialogue box containing a video ad of up to 30 seconds. Publisher can customize frequency capping and size of the slider which can be set up in pixels or % of the screen size.
Video X Pre-Roll. Our own overlay solution for video pre-rolls which works with all major video players and makes integration simple for publishers! This script can make the video ad non-clickable and includes an advertiser link in the top right, as well as a call to action in the middle.
Popunder. A popunder is triggered with the first user click on a webpage and appears hidden behind the main browser window or opens up in a side tab. This is an ideal format for grabbing and capturing the user's attention.
Full Page Interstitial. A brand new, compliant ad format which consists of a full screen, interactive landing page triggered on a user's click. This format loads between two pages of content and is immediately dismissible by a user.
So let's start and create a campaign!
The campaign creation process is very intuitive.
This simple interface helps you to get organized, and monetize traffic faster.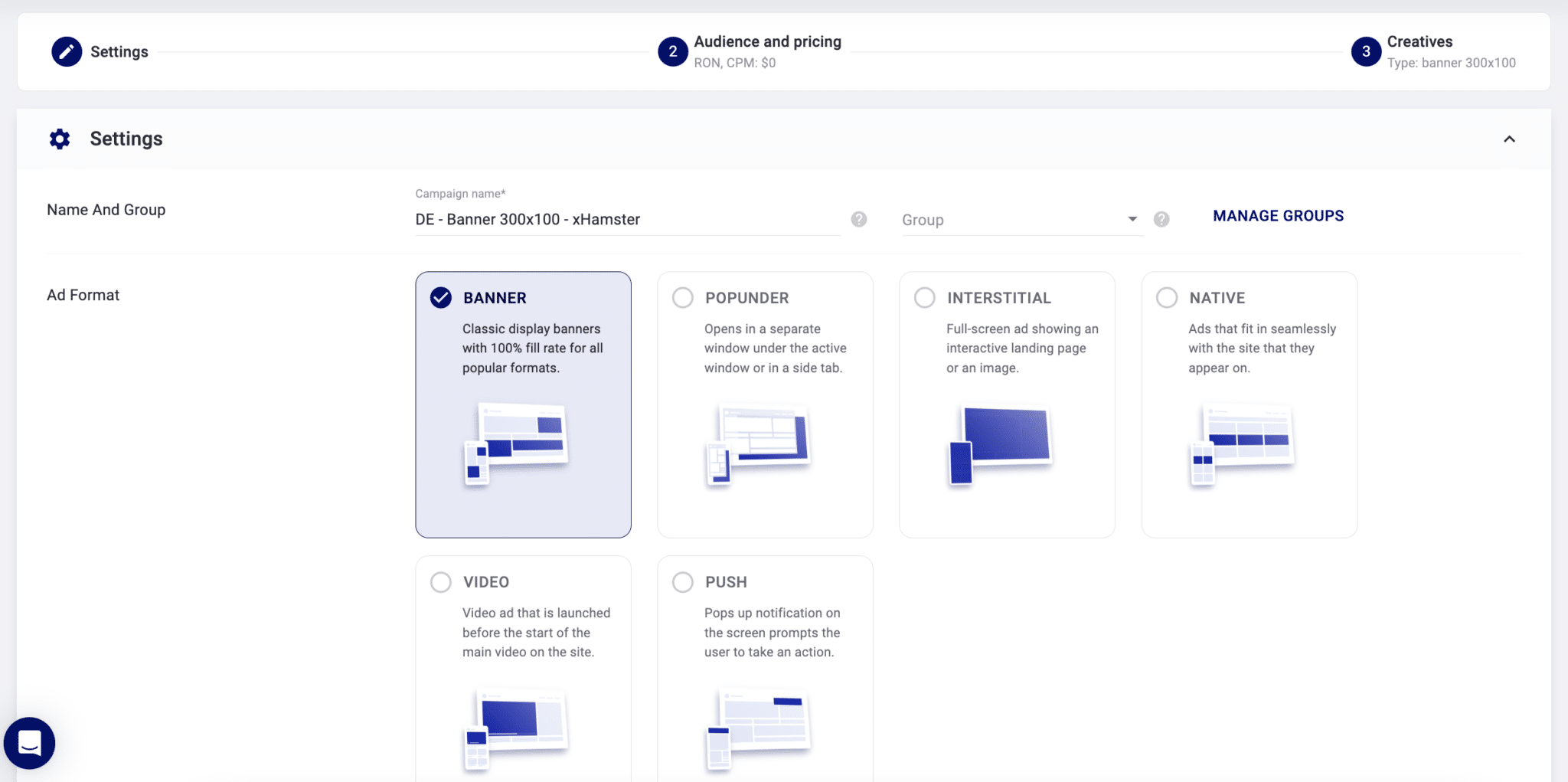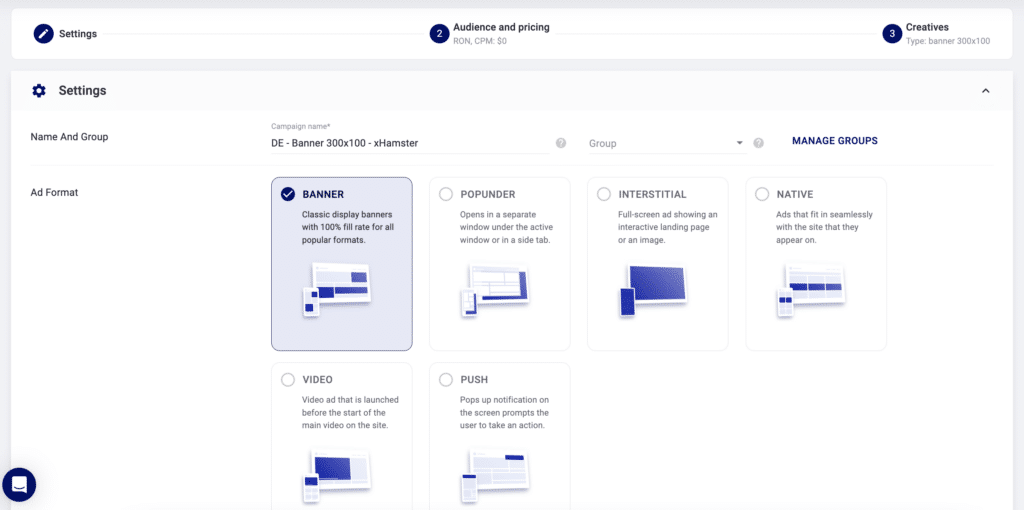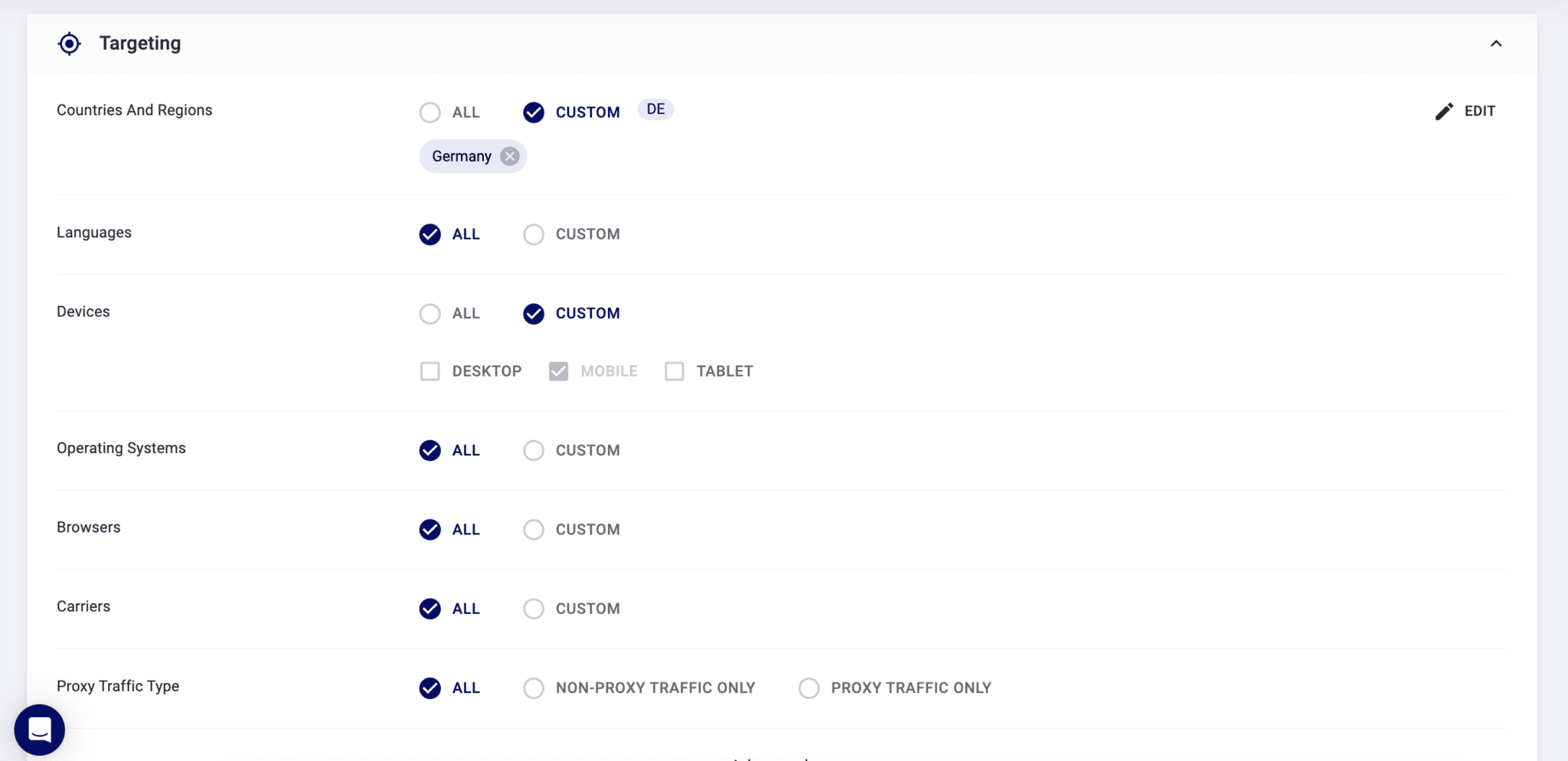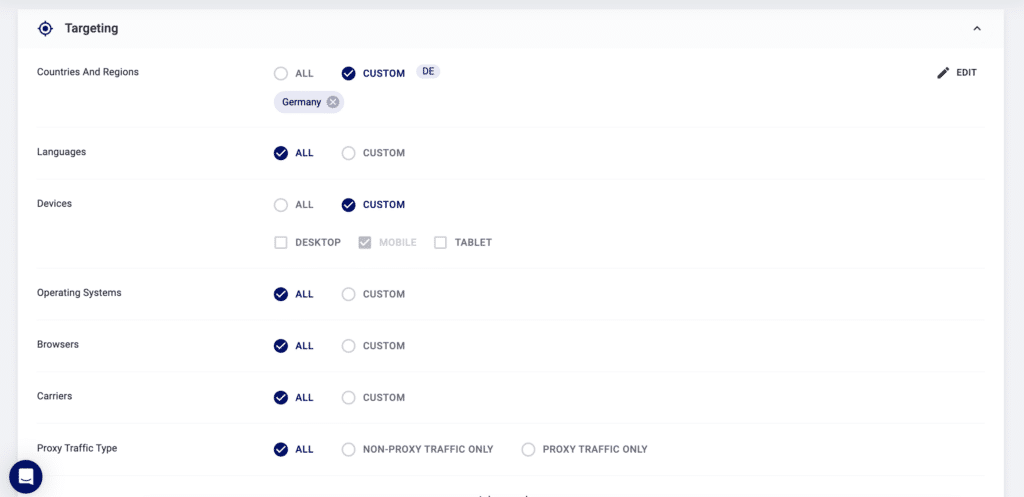 Settings
Select your campaign's general features:
Campaign name, Categories (to start, we recommend you select "All"), Ad format, Country and Ad Group (to organize your campaigns.)
Targeting
The complete targeting options available are:
GEO
Region
Category
Keywords
Language
Device
Operating Systems
Browsers
Carriers
IP ranges
Dayparting
Scheduling
Frequency capping
Retargeting
Collect users
Lookalike Targeting
TrafficStars has a powerful retargeting tool.
You can use it for positive and negative retargeting. You can also select the advanced retargeting setting, which they call "dynamic retargeting."
What happens with dynamic retargeting?
Dynamic retargeting allows you to retarget users of a specific age range or those who have subscribed to a product showcasing a certain value.
You can define these values in your user collection, then add the retargeting pixel to your landing page to start collecting users.
In this way, advertisers can set up their own parameters to retarget specific events on their landers.
Read the instructions on how to launch retargeting campaigns at TrafficStars in their FAQ.
What is a Lookalike audience?
A Lookalike Audience is a way to reach new people who are likely to be interested in your business because they're similar to your best existing customers.
An algorithm analyses your campaign's performance and identifies prospering ad spots. These are then used as an example for finding new ad spots, with the same performance potential.
How to launch Lookalike campaigns?
There are two places where you can find and use this feature.
The first option is in your Campaign Listing Page, from where you can create a new, identical clone of the original campaign, with a whitelist of the selected Lookalike audience.
The second place is from the Campaign Edit Page where it allows you to add Lookalike audiences to your already existing campaign, along with the rest of your Whitelisted spots.
Read the full FAQ article on how to launch Lookalike campaigns.
Audience
One of the most interesting features of TrafficStars is "Audience" targeting.
You can choose between RON (run-of-network), Prime, or Members Area.
Prime traffic is the cream of the crop and includes the top websites plus the top-performing ad spots!
It's the best in the market and is well worth testing in your own campaigns.
Now go ahead and contact your account manager! Ask them for the top bids for the premium spots and the banners compliance restrictions.
Some of those spots will allow you to use a more "aggressive" banner strategy.
In that case, we suggest you create two separate campaigns:
One for the more restricted ad spots, and another for the rest.
You can upload all your creatives on the "Ads" tab.
You'll also see the options for Members Area traffic.
Here you can find a selection of ad spots with advanced traffic that will convert well for specific offer types.
Pricing
TrafficStars has two common pricing models available depending on the ad format selected:
These are CPC and CPM.
You'll pay a fixed amount for either of these pricing models.
They also have a Dynamic CPM option.
For this, you'll basically set the maximum bid you're willing to pay and let the algorithm do the work for you – selecting the lowest possible bid for each individual ad impression.
The Dynamic CPM (DCPM) algorithm is quite complex and it'll adjust the bid according to the demand for every specific impression in real-time.
This means that the system of TrafficStars checks the top CPM for each individual ad request it receives, while cross-checking all the possible targeting options (ad spot, language, device, OS, browser, carrier, and IP ranges.)
Then it will adjust the campaign's CPM value accordingly, taking into account the demand at that specific moment.
This means that it'll effectively allow the advertiser to get the most traffic at the lowest possible price, up to the DCPM bid they set for the campaign.
Finally, the TrafficStars squad has launched a cool Native Ads format, which means they now also work with CPMV.
This means that the advertiser will only pay for impressions viewed.
Tracking
Already using a tracking service? TrafficStars has preconfigured all the settings for popular traffic sources.
On every advertiser's account in the "Tracking & API" section, you'll see a short text regarding the link you need to use, just like the one below.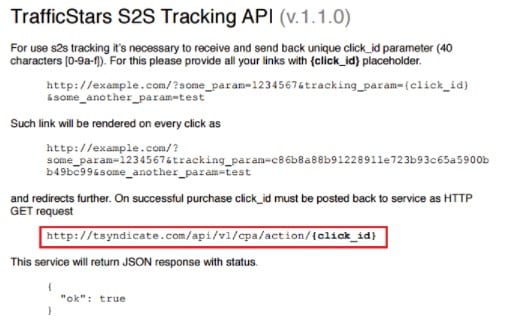 Reports & Optimization
After successfully launching your campaigns, you'll want to keep track of their performance.
You can access a full list of all your campaigns on your Dashboard (the blue "Campaign Listing" button) or by clicking the "Advertisers" button on top of your account menu and selecting "Campaign Listing."
From here, you can check an overview of the stats of all your campaigns for the dates you wish to see.
In "Actions", you can move to the stats (the little bar-chart symbol), pause/activate, edit, clone or archive your campaign.
This is easy to navigate and pretty straightforward.
TrafficStars campaign reports include hourly stats.
Moreover, you can take advantage of the possibility to track earnings and ROI directly on the platform.
Generally, TrafficStars allows you to see useful stats for your campaigns.
What kind of offers work best on traffic stars according to Spy Tools?
To find out what kind of campaigns work best on TrafficStars, I'm going to use Adplexity Adult.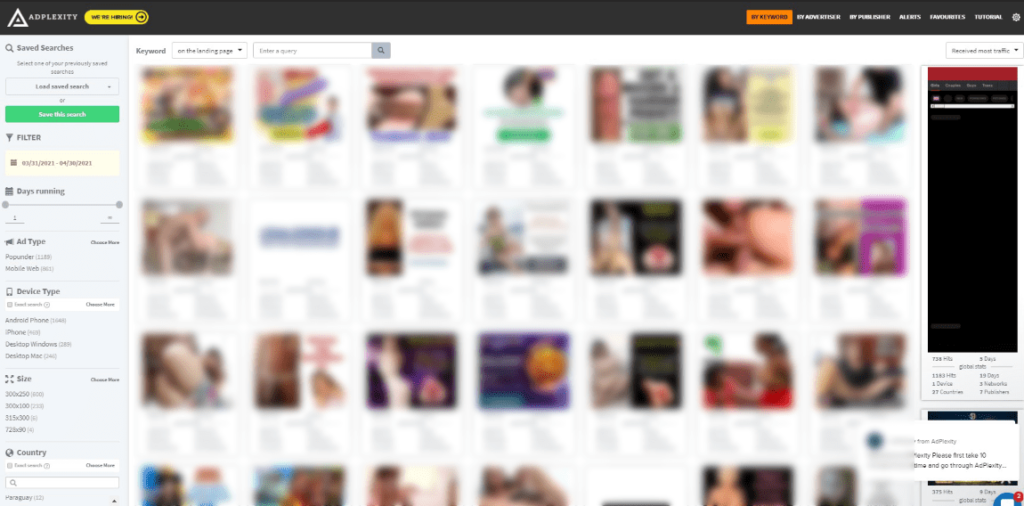 According to data, the best working verticals on TrafficStars are:
Dating
Cams
Male Enhancement Pills
Casino
Let's see some ad examples:
DATING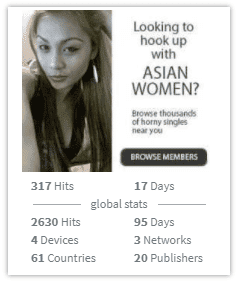 CAMS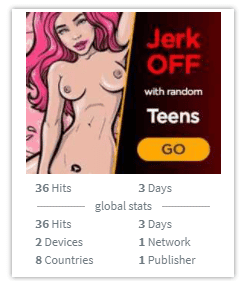 MALE ENHANCEMENT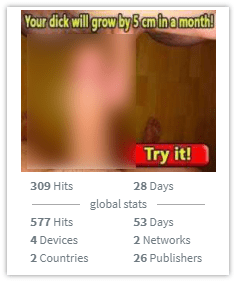 CASINO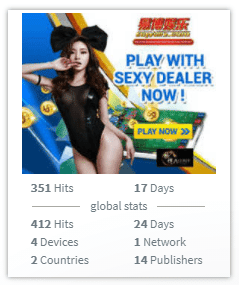 Conclusion
TrafficStars is definitely an ad network you should add to your list of adult networks.
It offers a very clean, intuitive interface that makes it easy to navigate.
With several well-known premium sites, the ad network offers good quality and great volumes of traffic.
TrafficStars: Payment
Minimum Deposit: 100$
Payment Methods: PayPal, Paxum, Wire Transfer, Visa, American Express, Discover, Mastercard, JCB, MIR, UnionPay
Special Bonus on the first Deposit for IamAttila users!
For deposits up to $500 -> get $50 extra!
For deposits above $500 -> get 10% extra!
Use Promo code: TSAttila21
After creating an account tell your manager the promo code and receive your bonus! The Bonus is available only for the new advertisers.
TrafficStars: Support
Personal Account Manager: yes
Support Response Speed: reply within 24 hours
Contact Methods: email or online helpdesk
Contact: support@trafficstars.com