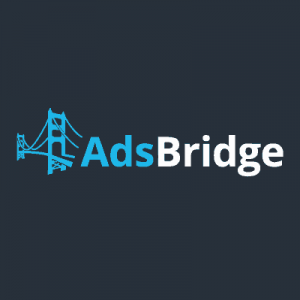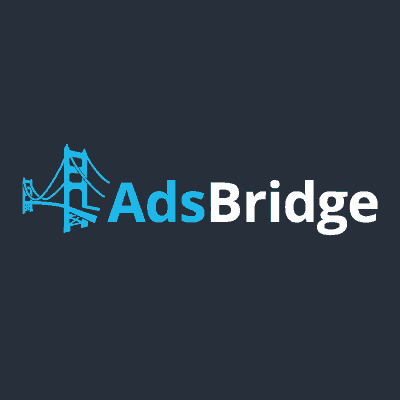 If you are a newbie, the plethora of tracking solutions might be confusing as heck, couple that with the fact you also have to learn HTML/CSS/Photoshop in many cases – things start looking daunting. That is why the guys at AdsBridge created their state of the art tracking solution, which lets you not only track your campaigns but also create landing pages with ease.
Setting up a campaign with AdsBridge is a breeze. This tracking platform makes sure that even the most inexperienced Affiliate Marketer can set up his/hers first campaign in a matter of minutes. If you don't already have an account get one here
We understand that some of you might feel a bit overwhelmed after logging in for the first time. AdsBridge dashboard is user friendly and intuitive, but we are aware that some might get a little bit scared, ergo this guide.
The first step is the easiest – Simply click on "Campaign" located on the left side of the AdsBridge dashboard and then proceed with clicking on "Create campaign".
General info setup:
Select a business vertical your campaign is related to (ie gambling, dating, coupons etc.)
Select a domain. You can use any of the available system domains or add your own in the "Domains" section. You can also add a domain for all your traffic and campaigns to go through.
Type in your domain name in the corresponding field. The domain will be added to the list and marked with a red triangle. AdsBridge system will ping your domains once an hour. If your domain is working you will see a blue checkmark in front of the domain name. If it doesn't you will see a red triangle.
Click on the plus sign to create a new group. Give it a name and then click the "Add Group" button to add it to the list. Otherwise, select and already existing one from the drop-down menu.
(Some of the fields are marked with an asterisk, so make sure to fill them out. Question marks are clickable and they briefly describe the functions of the fields as well as any extra set-ups that can be applied to them).
Choose a name for your campaign
Turn "Hide Referrer" ON if you would like to substitute your referrer URL with one of AdsBridge clean system domains and imitate a direct visit while the actual users will be passed to your target site URL. Some affiliate managers might give your referral URL to the competitors and sometimes you might not want the advertisers to see the creatives you are using.
Meta refresh is a feature which allows you to blank a referrer. In browsers where the referrers cannot be blank, the referrer will work the same way when the "Hide Referrer" option is enabled.
Choose the Traffic Source from the drop-down list to fill in the Tracking ID, Cost and Tokens automatically. Note that in this case the filled parameters will not be editable. You can also fill in the required fields manually, just click on the Custom option from the Traffic sources drop-down list. This way you will be able to add Token names and values.
You can add up to 6 Primary Tokens and as many Additional Tokens as you need. Click the Add Token and choose Primary token or Additional token in the drop-down box. You will be able to see the statistics based upon Primary tokens in the Statistics menu.
After you have completed all of these steps, you will notice your Campaign's URL. It is a dynamically formed URL, based on the information entered above, which you can run traffic on.
Click on "Save&Continue" to move to the targeting settings of your campaign.
Targeting settings:
Main attributes for any path setup are redirect rules, landing pages and offers. This means that you are able to distribute traffic among multiple landers and offers based on multiple redirect rules.
Default Path is used to receive traffic that doesn't fall into any of the rules you have set. If you have selected Default Path, you won't be able work with redirect rules.
In order to direct a user to the offer's URL without having him visit the landing page, choose Direct Link.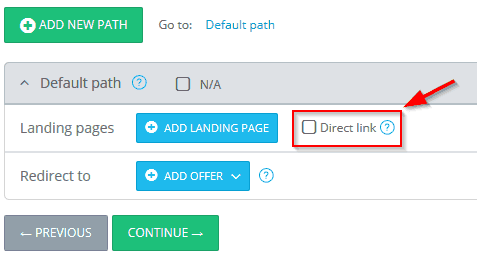 You can also split-test your landing pages against direct funnel.
Check the Direct Link box and add the desired amount of landers. Then set the share traffic of traffic you want each landing page or direct link flow to receive. Note that the total should always make 100%, otherwise you won't be able to proceed.
Traffic will be redirected to Default Path if none of the traffic distribution rules are met.
To set up a Default Path click the "Add landing page" button. You will see a pop-up list of account landings available for your account. Use the filters to simplify the search and see only the necessary criteria. Opposite every landing page you will see a preview icon. Point at it with the cursor and you will see a screenshot of it.
You can easily add several landing pages to the target at once and change the splitting settings in the main menu. Do not forget to click on "Save" after applying your changes.
You can also set up multiple redirects easily. In the "Share" column you will need to specify the percentage split of your landing pages' display. You can set the share equally for every landing page or set share for every landing page manually. Just don't forget that the sum of all values has to be 100% in total.
When the landing pages are added and each of them is receiving its share of the traffic, it is time to set the offer where the users will be redirected to from the landing page, or directly if you have chosen the "Direct link" function.
Click the "Add offer" button and you will see a pop-up message. You will be able to chose one of the following options: Create new offer, Select offers, Select Partner Plarform's offer.
If you would like to add a new offer to your campaign, click on "Create offer". A Pop-up form will have you choose a name, URL and a Vertical for your offer. (Keep in mind that the offer's URL must start with http:// or https://. There are optional fields to select from:
Campaign Tokens: With the "Campaign tokens" option ON, each time a user clicks the target URL, the Tokens you have previously specified in "General Info" for your current campaign will be attached to the URL.
Landing page Token: With the "Landing page Token" option ON, each time a user clicks the target URL an additional token will be attached to the URL including the ID of the landing page the uses has come from. You can enter the token name yourself or use a default name instead.
Tracking token: With the "Tracking Token" option ON, each time a user clicks the target URL an additional token indicating a unique user's ID will be attached to the URL. This unique ID is important in indicating which user has performed the desired action.
Important information – Be sure to read!
In case you are delivering traffic to an affiliate network, you will need to enter the name of your network's token.
If your affiliate network uses HasOffers platform, you must enter either aff_sub2, aff_sub3, aff_sub4 or aff_sub5 in the "Tracking Token" field.
If your network uses Cake platform, enter either s2, s3, s4 or s5.
If your affiliate network uses a custom platform or you're working with the advertiser directly, ask your manager which token they are using to pass the unique parameters.
After you are finished with setting up the "Tracking Token" field you should enter the value of Payout. For calculating financial results use the dynamic value of payour in "amt=" parameter, returned from the target site. If this value is not returned, use the value from the fierld "Payout".
After you have filled out all of the required fields, click on the "Save" button. Your offer will be saved and you will be redirected to the Targeting settings section.
You can also choose offers from your partner's platform. You will see all the information about your offers the same as at your partner's platform. After you add offers from your partner's platform, they will be copied to AdsBridge. When you unlink your partner's platform from AdsBridge, these offers will be working in your AdsBridge campaigns.
After you have finished the Default Path setup, you can create as many paths with your own specific rules.
Click the "Add new path" button and you will notice that the background is yellow, this means that it is currently inactive. You can either activate it after finishing the setup, or leave it inactive until you decide to activate it later.
Each path you add can handle an unlimited number of rules. Click the drop-down list to select the parameter you want traffic filtered by. You can rename the Path name by clicking on the "Edit" icon next to it.
You can set redirect rules for every single path. Select the required parameters for your traffic identification from the drop-down list. These can be: traffic type, connection type, geolocation, browser, language, device, token, day of the week and time of day.
After you have selected the rules, then select either the "is equal" or "is not equal to" parameter. You can create as many offers and landing pages as you would like to within one rule. You can also split-test them with direct linking funnel. Just be sure to divide the shares.
You can have several rules at a time, just click on "+Add rule". When you are using multiple rules within one path, keep in mind that they will work only if there is a match for every value selected. Traffic which doesn't match at least one of your rules will go to your Default Path.
Adding Landing Pages and Offers to the path you have created is the same as in "Default Path" setup. You can add as many landing pages as you would like to as well as split-test them against direct funnel. You can also add as many offers as you need.
When you are satisfied with the Path setup, click on "Save" to save the changes. You can either proceed to the next stage or create another Path.
If you are done with the entire setup, click on "Continue → ", and that's it.
I hope that this guide has shed some light on creating your first campaign using AdsBridge and that you will be creating your first campaign in no time.
Another guide will soon be put up and it will teach you how to set up postback in AdsBridge tracking platform, so be sure to come back and check it out.